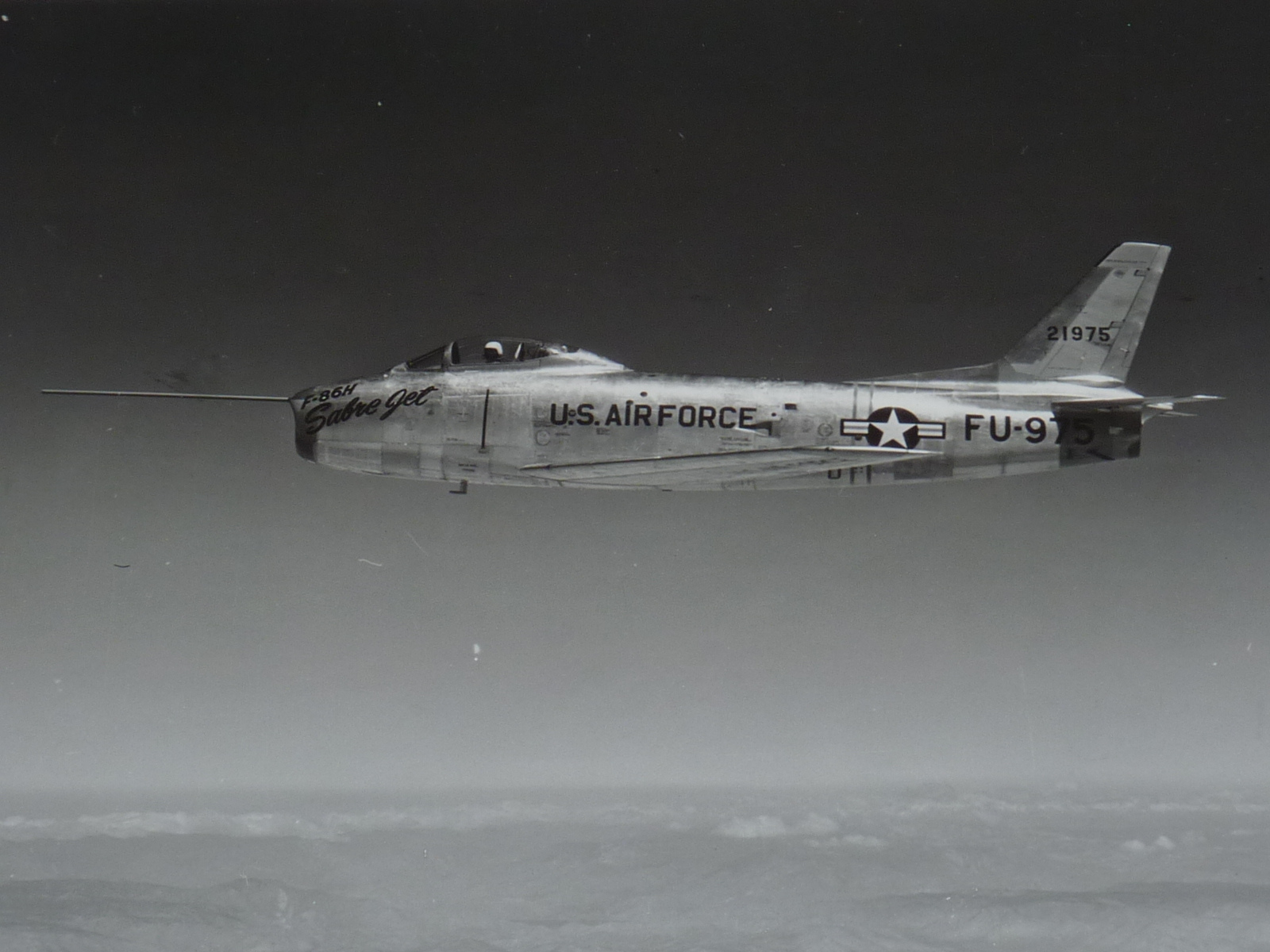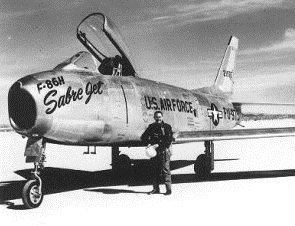 30 April 1952, the first North American Aviation F-86H Sabre fighter bomber, YF-86H-1-NA 52-1975, made its first flight with test pilot Joseph A. Lynch, Jr., in the cockpit. It was flown from the Inglewood, California, factory to Edwards Air Force Base for evaluation and testing.
While the F-86A, E and F Sabres were air superiority fighters and the F-86D and L were all-weather interceptors, the F-86H was a fighter bomber, designed to attack targets on the ground with guns, bombs and rockets.
Larger and with a maximum gross weight nearly 4,000 pounds (1,814 kilograms) heavier than an F-86F, the H model's J73 engine provided almost 40% more thrust. The engine was larger that the J47 used in previous F-86 models, and this required a much larger air intake and airframe modifications. The fuselage was 6 inches deeper and two feet longer than the F-86F. This accommodated the new engine and an increase in fuel load. The tail surfaces were changed with an increase in the height of the vertical fin and the elevators were changed to an "all-flying" horizontal stabilizer. Though it's top speed was only marginally faster, the F-86H could take off in a shorter distance and climb faster with a higher service ceiling than the earlier models.
The two pre-production aircraft were built at Inglewood, California, but all production airplanes were built at Columbus, Ohio. The serial numbers of those F-86H Sabres have the suffix -NH.
The North American Aviation F-86H Sabre was 38 feet, 10 inches (11.836 meters) long with a wingspan of 39 feet, 1 inch (11.913 meters) and overall height of 14 feet, 11 inches (4.547 meters). Empty weight was 13,836 pounds (6,276 kilograms) and gross weight was 24,296 pounds (11,021 kilograms).
The F-86H was powered by a General Electric J73-GE-3D or -3E engine, a single-spool, axial-flow, turbojet engine, which used a 12-stage compressor section with variable inlet vanes, 10 combustion chambers and 2-stage turbine section. It produced 8,920 pounds of thrust (39.68 kilonewtons) at 7,950 r.p.m.  (5-minute limit). The J73 was 12 feet, 3.2 inches (3.739 meters) long, 3 feet, 0.8 inches (0.935 meters) in diameter and weighed 3,650 pounds (1,656 kilograms).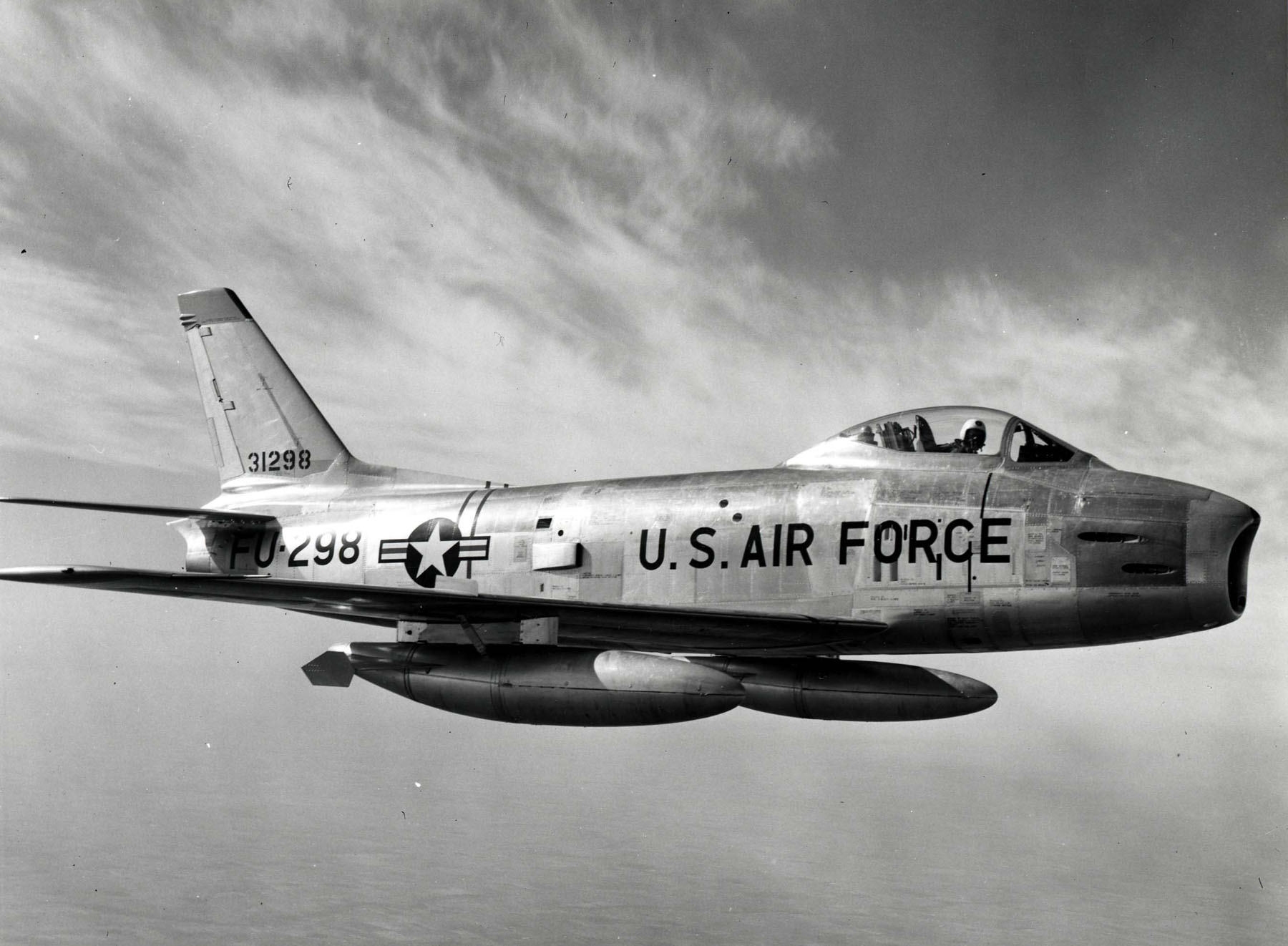 The F-86H had a maximum speed of 601 knots (692 miles per hour/1,113 kilometers per hour) at Sea Level and 536 knots (617 miles per hour (993 kilometers) at 35,000 feet (10,668 meters). The fighter bomber had an initial rate of climb of 12,900 feet per minute (65.53 meters per second) and it could reach 30,000 feet (9,144 meters) in 5.7 minutes. The service ceiling was 50,800 feet (15,484 meters). With a full load of bombs, the F-86H had a combat radius of 350 nautical miles (402 statute miles/648 kilometers) at 470 knots (541 miles per hour (870 kilometers per hour). The maximum ferry range was 1,573 nautical miles (1,810 statute miles/2,913 kilometers).
The two pre-production YF-86Hs were unarmed. The first ten production airplanes were built with six .50 caliber Browning machine guns, the same as the F-86F Sabre, but the remaining F-86H Sabres were armed with four M39 20 mm revolver autocannon with 600 rounds of ammunition. In ground attack configuration, a maximum bomb load of 2,310 pounds (1,048 kilograms) could be carried, or one 12–24 kiloton Mark 12 "Special Store" that would be delivered by "toss bombing."
The F-86H Sabre became operational in 1954. 473 F-86H Sabres were built before production ended. By 1958 all that remained in the U.S. Air Force Inventory were reassigned to the Air National Guard. The last one was retired in 1972.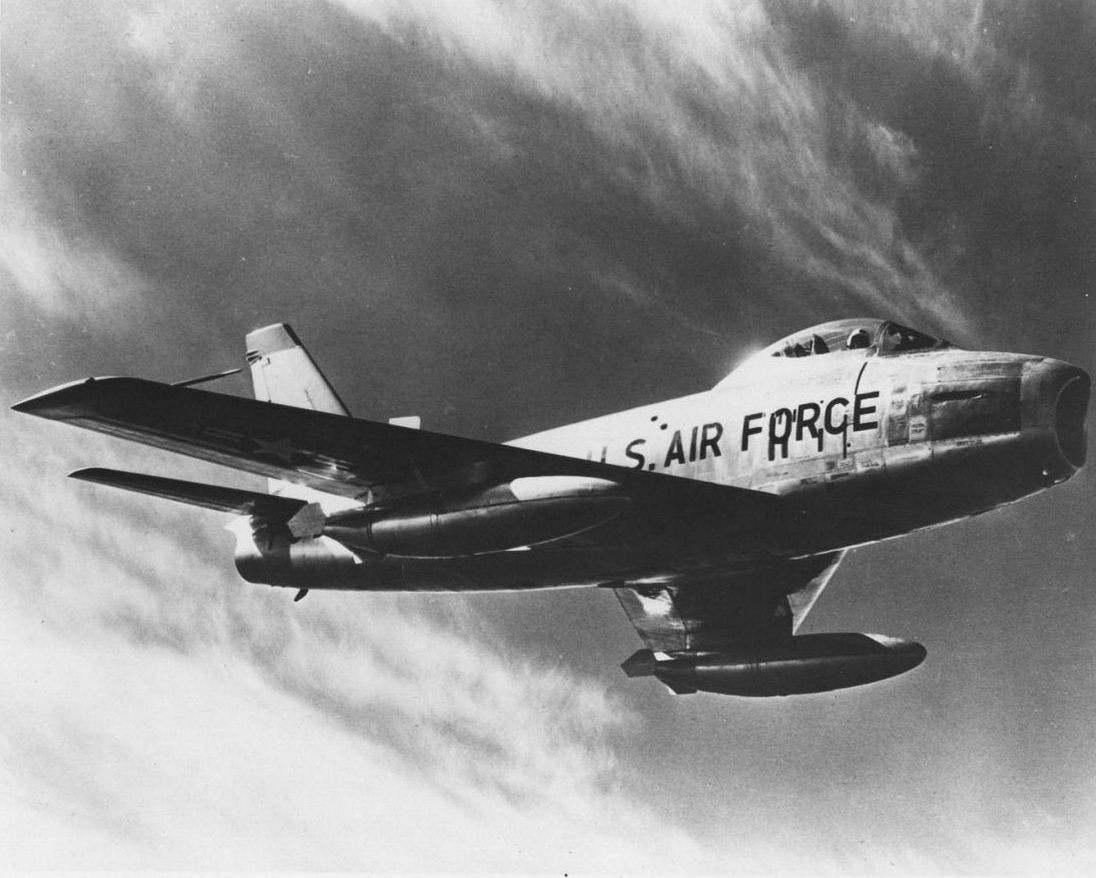 © 2019, Bryan R. Swopes