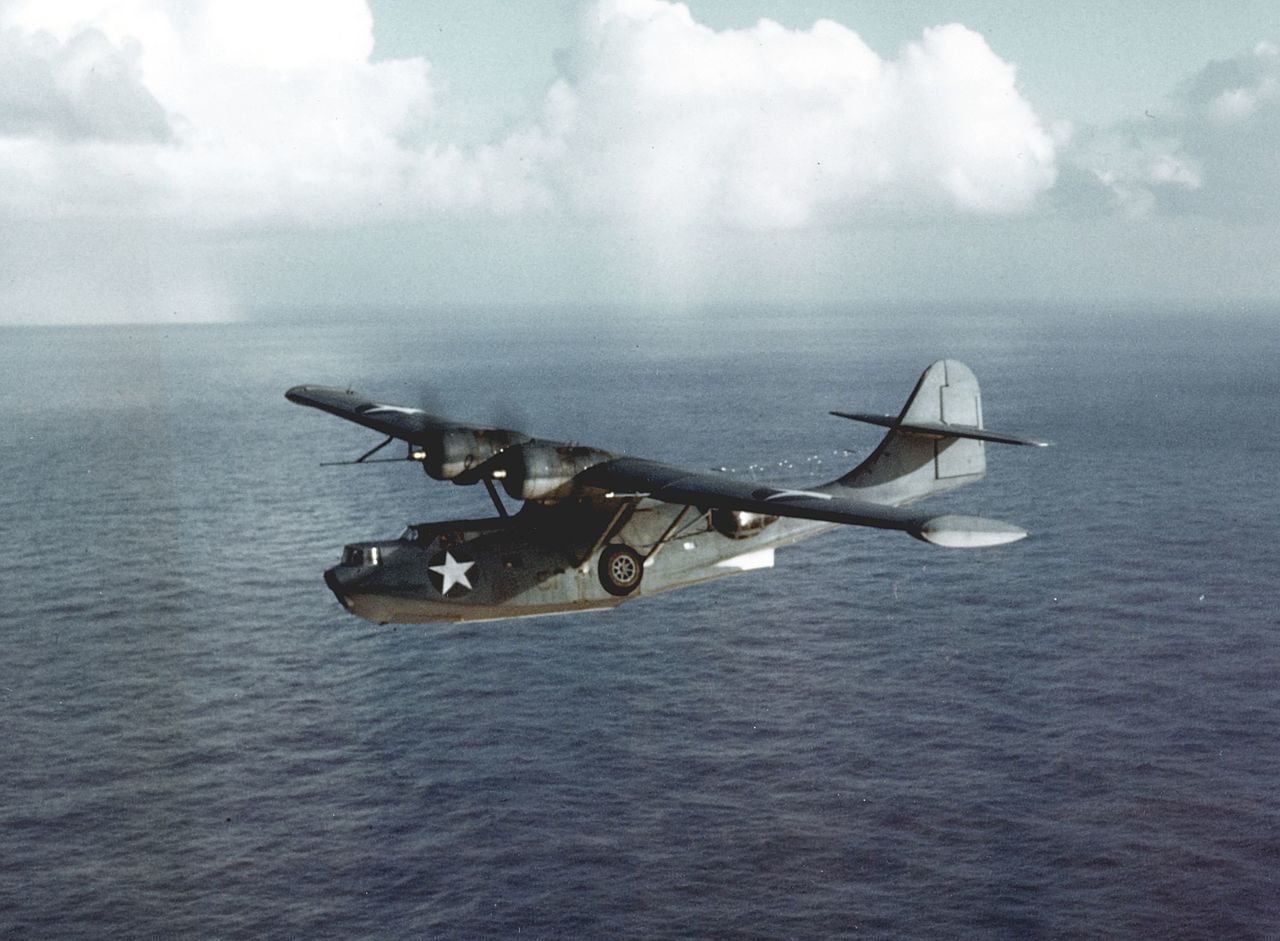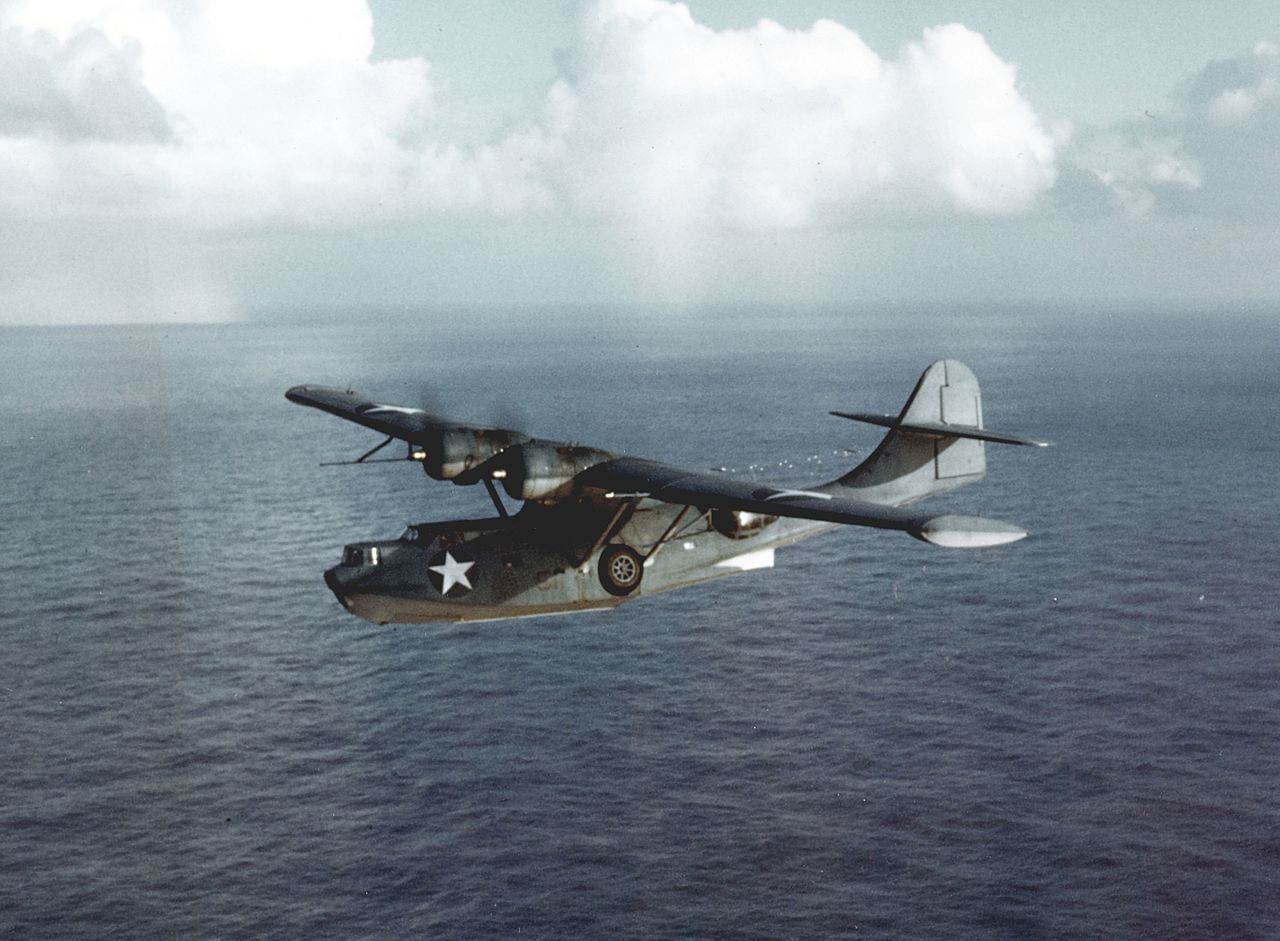 3 June 1942: At dawn, twenty-two U.S. Navy PBY-5A Catalina patrol bombers launched from Midway Island to search for a Japanese fleet which was expected to be heading toward the American island base. One of them, 44-P-4, (Bu. No. 08031) commanded by Ensign Jewell Harmon ("Jack") Reid of Patrol Squadron 44 (VP-44), sighted Admiral Raizo Tanaka's Midway Occupation Force, 700 nautical miles (1,296 kilometers) west of the atoll, shortly before 9:00 a.m.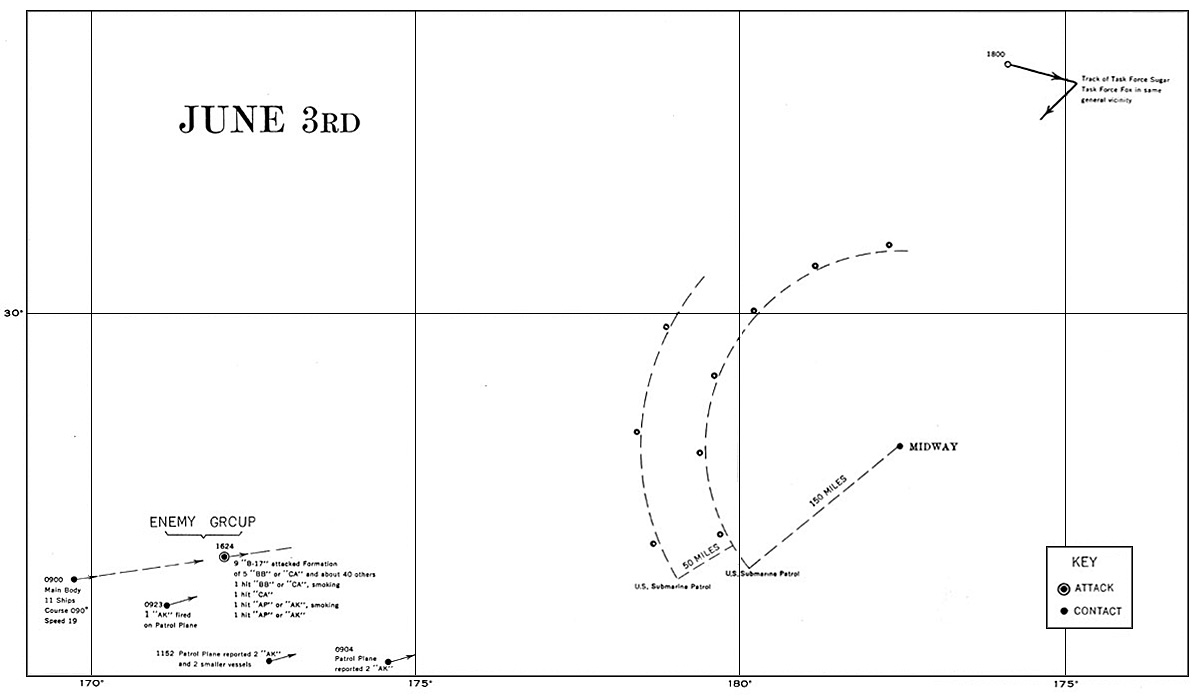 The Catalina scouted the enemy task force, which they believed to be the "main body" of the Japanese fleet and radioed information back to their base. The task force consisted of 1 light cruiser, 12 transports carrying 5,000 soldiers, 11 destroyers, 2 seaplane tenders, 1 fleet oiler and 4 patrol boats.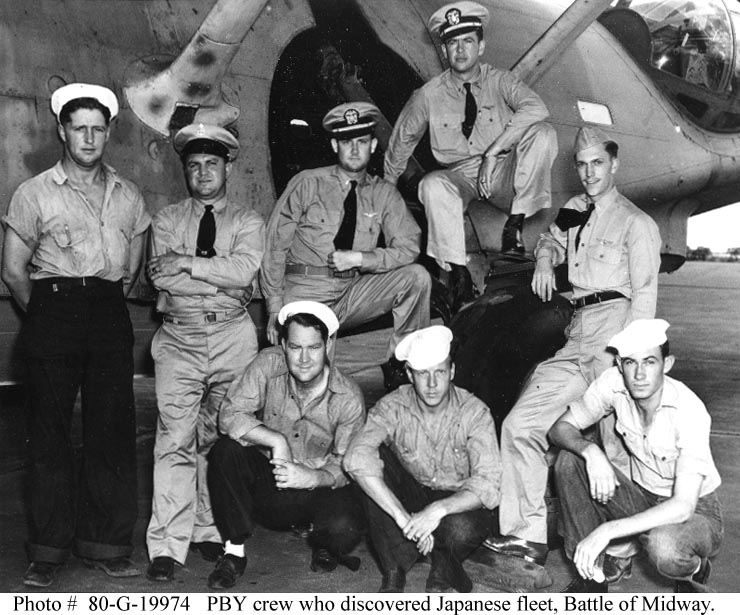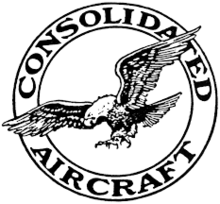 The Consolidated PBY Catalina made its first flight on 28 March 1935, with chief test pilot William B. Wheatley in command. It was a twin-engine flying boat produced from 1936 to 1945. It was utilized primarily as an anti-shipping and anti-submarine patrol bomber and for search and rescue operations.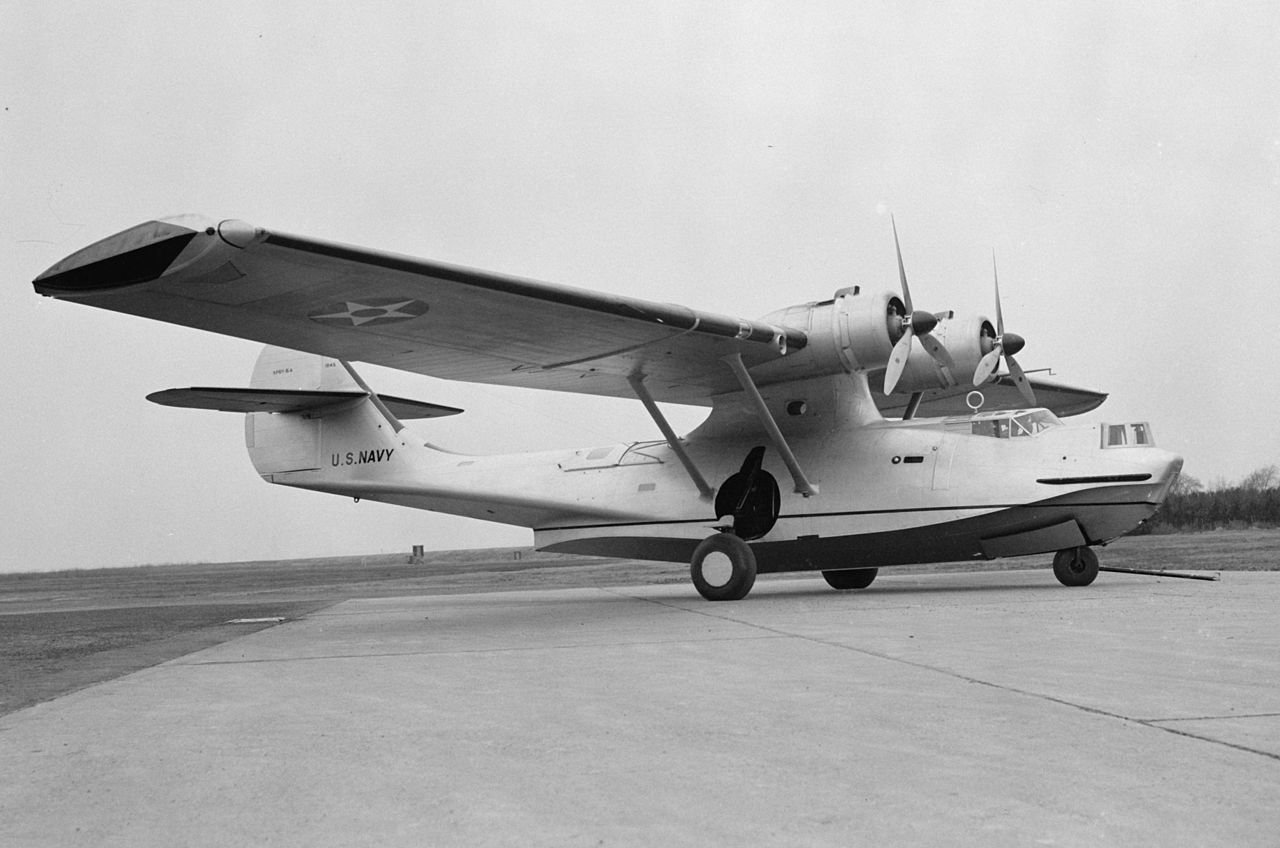 The PBY-5A was an amphibious variant equipped with retractable tricycle landing gear. It was 63 feet, 10-7/16 inches long (19.468 meters) with a wing span of 104 feet, 0 inches (31.699 meters) and overall height of 20 feet, 2 inches (6.147 meters). The parasol wing was mounted above the fuselage on a streamlined pylon and supported by four external braces. The wing has 6° incidence and the center section has no dihedral or sweep. The outer wing panels are tapered. There are no flaps. The total wing area is 1,400 square feet (130 square meters). The PBY-5A had an empty weight of 20,910 pounds (9,485 kilograms), and gross weight in patrol configuration of 33,975 pounds (15,411 kilograms). Its maximum takeoff weight (land) was 35,420 pounds (16,066 kilograms).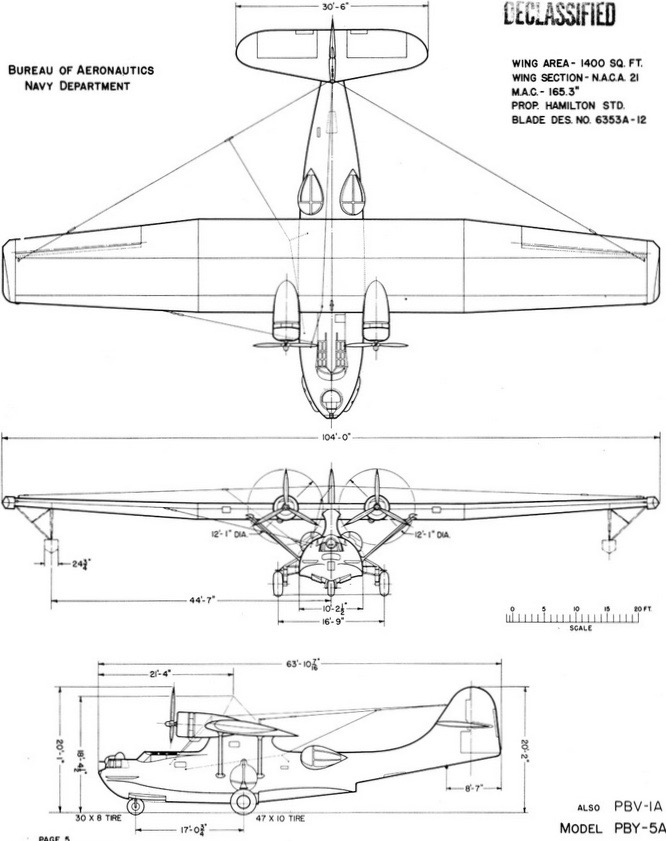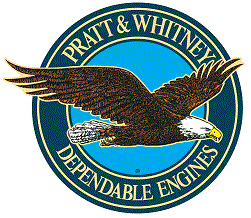 The PBY-5A was powered by two air-cooled, supercharged, 1,829.4-cubic-inch-displacement (29.978 liter) Pratt & Whitney Twin Wasp S1C3-G (R-1830-92) two-row 14-cylinder radial engines. These were rated at 1,200 horsepower at 2,700 r.p.m. at Sea Level for takeoff. The maximum continuous rating for normal operation was 1,060 horsepower at 2,550 r.pm., up to 7,500 feet (2,286 meters). The engines drove three-bladed Hamilton Standard controllable-pitch propellers with a 12 foot, 1 inch (3.683 meter) diameter through a 16:9 gear reduction. The R-1830-92 is 48.19 inches (1.224 meters) long, 61.67 inches (1.566 meters) in diameter, and weighs 1,465 pounds (665 kilograms).
The PBY-5A Catalina had a cruise speed of 124 miles per hour (200 kilometers per hour). Its maximum speed was 169 miles per hour (272 kilometers per hour) at Sea Level and 179 miles per hour (288 kilometers per hour) at 7,000 feet (2,134 meters). The service ceiling was 14,700 feet (4,481 meters) and maximum range was 2,545 miles (4.096 kilometers) at 117 miles per hour (188 kilometers per hour.).
The patrol bomber could carry 4,000 pounds (1,814 kilograms) of bombs or depth charges, or two torpedoes on hardpoints under its wing. Two Browning M2 .30-caliber air-cooled machine guns were mounted in a nose turret with 2,100 rounds of ammunition. A third .30-caliber machine gun was positioned in a ventral hatch with 500 rounds of ammunition. Two Browning AN-M2 .50-caliber heavy machine guns were mounted in the waist with 578 rounds of ammunition per gun.
3,305 Consolidated PBY Catalina's were built, of which 802 were the PBY-5A variant. In addition to United States service, many other countries operated the Catalina during and after World War II. The last PBY in U.S. service was a PBY-6A which was retired 3 January 1957.
© 2019, Bryan R. Swopes