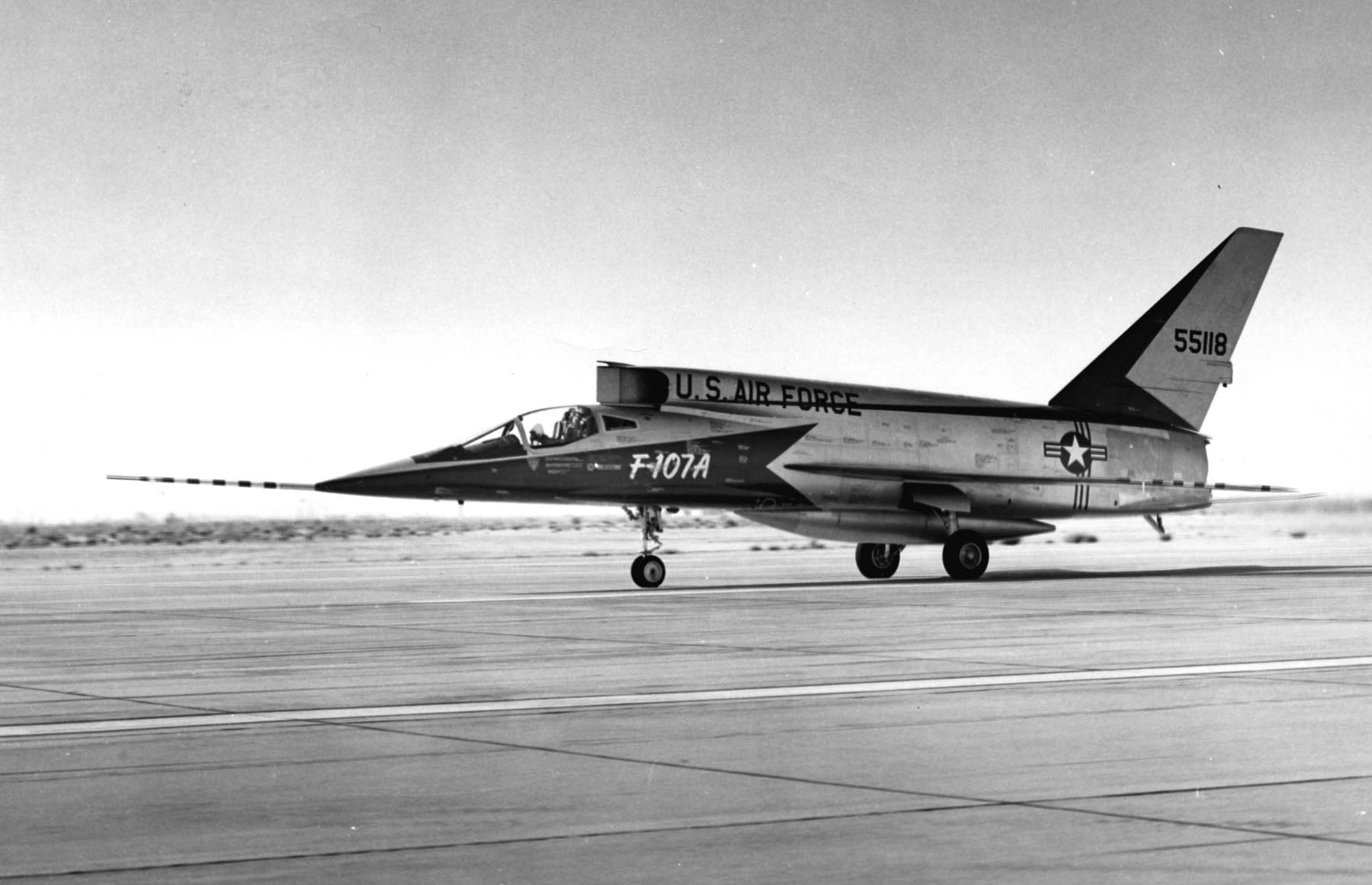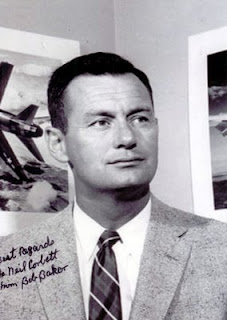 10 September 1956: North American Aviation test pilot Joel Robert ("Bob") Baker made the first flight of the F-107A-NA 55-5118, a pre-production tactical fighter bomber, reaching a speed of Mach 1.03. On landing the drogue parachute did not deploy and due to the high speed on rollout, the nose gear strut collapsed, causing minor damage to the new aircraft.
The F-107A was designed as a Mach 2+ fighter bomber capable of carrying nuclear weapons. The plan to carry a Mark 7 bomb in a centerline recess in the aircraft's belly resulted in the radical appearance of the airplane, with the engine intake mounted above and behind the cockpit.
Based on the F-100 Super Sabre, it was originally designated F-100B, but this was changed to F-107A prior to the first flight.
The North American Aviation F-107A was a single-seat, single-engine supersonic fighter bomber. It was equipped with a very sophisticated stability augmentation system. The F-107A was 61 feet, 10 inches  (18.847 meters) long with a wingspan of 36 feet, 7 inches (11.151 meters) and height of 19 feet, 8 inches (5.994 meters). Its empty weight was 22,696 pounds (10.295 kilograms) and had a maximum takeoff weight of 41,537 pounds (18,841 kilograms).
The airplane was powered by a Pratt & Whitney YJ75-P-11 afterburning turbojet which produced a maximum 24,500 pounds of thrust (108.98 kilonewtons).
This gave the F-107A a maximum speed of 890 miles per hour (1,432 kilometers per hour) at Sea Level, and 1,295 miles per hour (2,084 kilometers per hour) at 36,000 feet (10,973 meters). It could climb at an initial rate of 39,900 feet per minute (202.7 meters per second) and had a service ceiling of 53,200 feet (16,215 meters).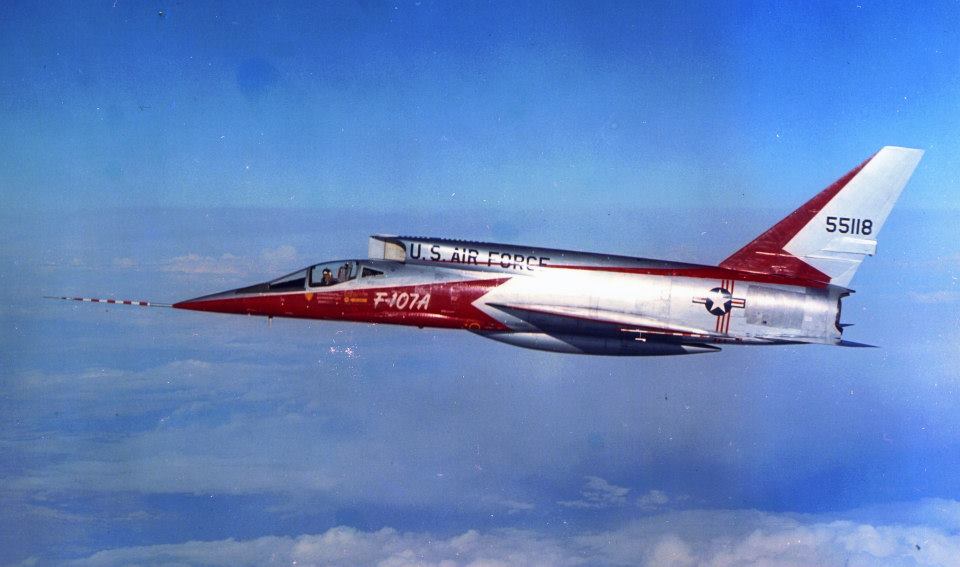 The Mark 7 was a variable-yield fission bomb that could be pre-set to detonate with ranges between 8 and 61 kilotons. It weighed approximately 1,700 pounds (771 kilograms).
The second F-107A, 55-5119, was the weapons test aircraft and was armed with four 20mm M39 cannon with 200 rounds per gun.
The F-107A was in competition with Republic's F-105 Thunderchief, which was selected by the Air Force for production. Only three F-107A test aircraft were built.
After Air Force testing, two F-107s, 55-5118 and 55-5120, were turned over to the NACA High-Speed Flight Station for use as research aircraft. John Barron ("Jack") McKay was assigned as the project pilot. 55-5118 made only 4 flights for NACA before being grounded. 55-5120 made 42 flights.
Today, 55-5118 is at the Pima Air and Space Museum, Tucson, Arizona. Its sister ship, 55-5119, is at the National Museum of the United States Air Force, Wright-Patterson AFB, Ohio. The third airplane, 55-5120, was damaged on takeoff with test pilot Scott Crossfield in the cockpit, 1 September 1959. It was not repaired.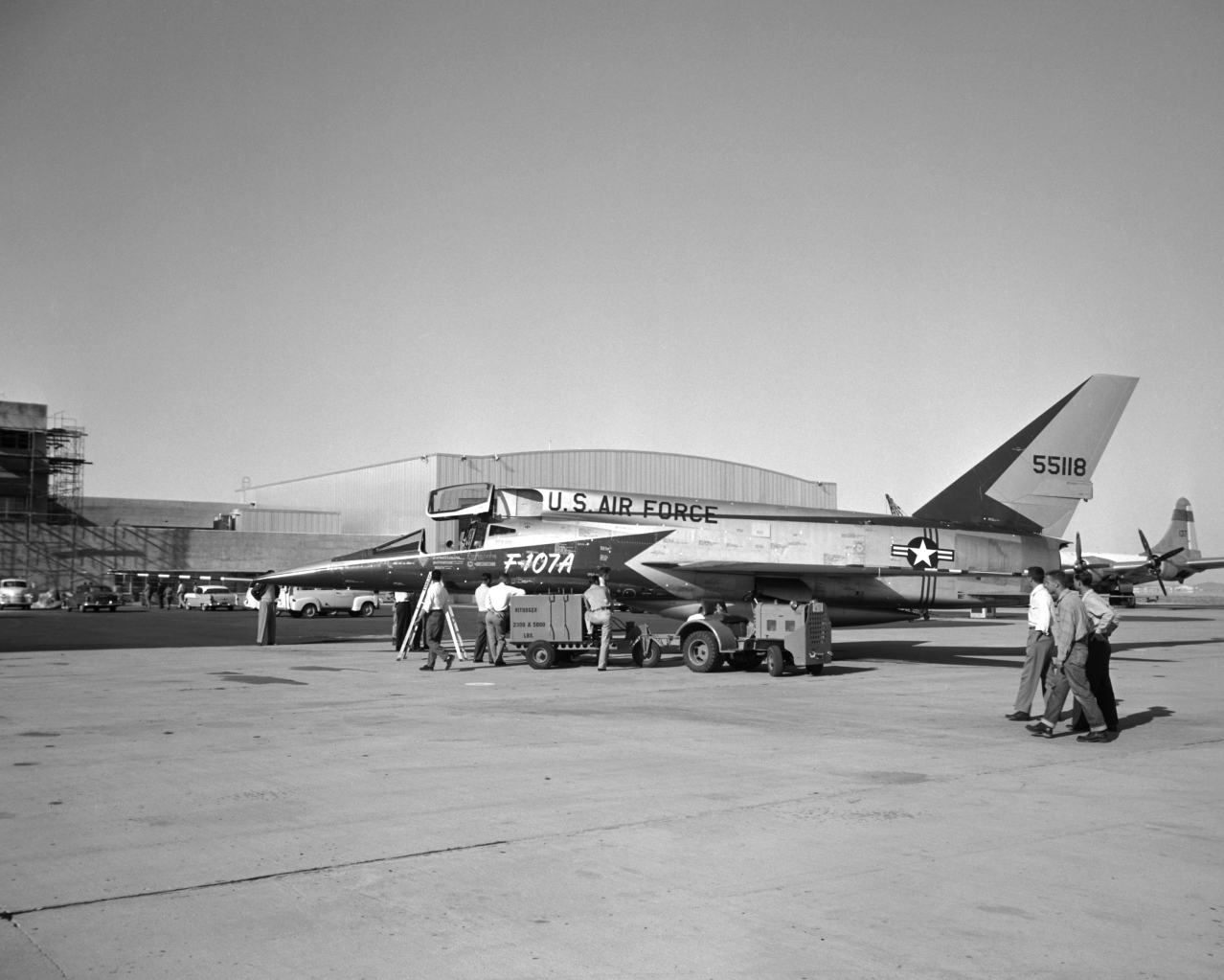 © 2015, Bryan R. Swopes