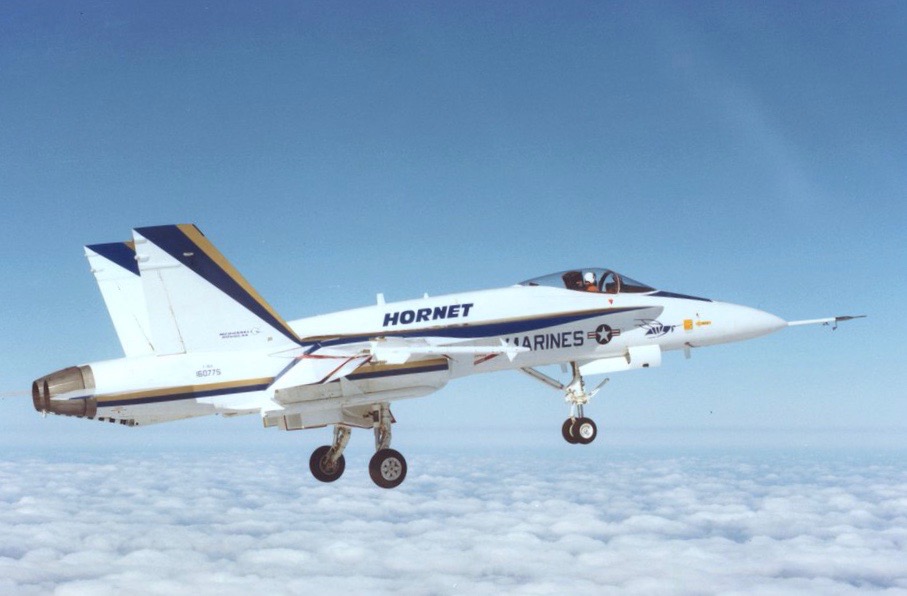 18 November 1978: At Lambert Field, St, Louis, Missouri, McDonnell Douglas Corporation Chief Test Pilot John Edward ("Jack") Krings, took the number one Full Scale Development (FSD) F/A-18A-1-MC Hornet, Bu. No. 160775, for its first flight. During the 50-minute test flight, Krings flew the Hornet to 24,000 feet (7,315 meters) before returning to STL.
The F/A-18 Hornet was developed for the United States Navy from the prototype Northrop YF-17, a competitor for a U.S. Air Force fighter program. (The rival General Dynamics F-16 was selected for production.) Initially, it was planned that there would be fighter variant, the F-18, and a ground attack version, the A-18. The Navy and manufacturers determined that a single airplane could perform both assignments. The Hornet was produced by McDonnell Douglas, with Northrop Corporation as the prime subcontractor.
The F/A-18 remains in production as the Boeing F/A-18 Block III Super Hornet. Current orders should keep the Hornet in production until 2025.
McDonnell Douglas F/A-18A-1-MC Hornet Bu. No. 160775 is on static display at Naval Air Warfare Center Weapons Division (NAWCWD) China Lake, near Ridgecrest, California.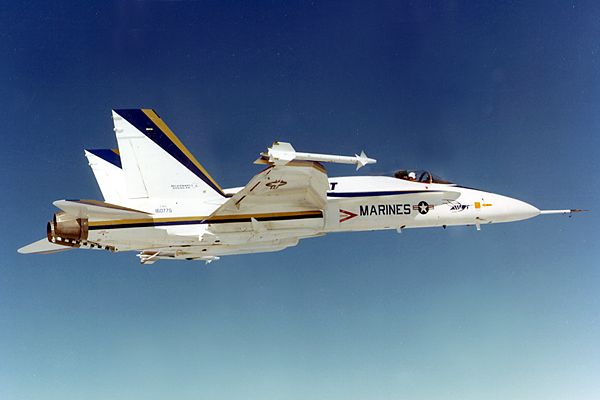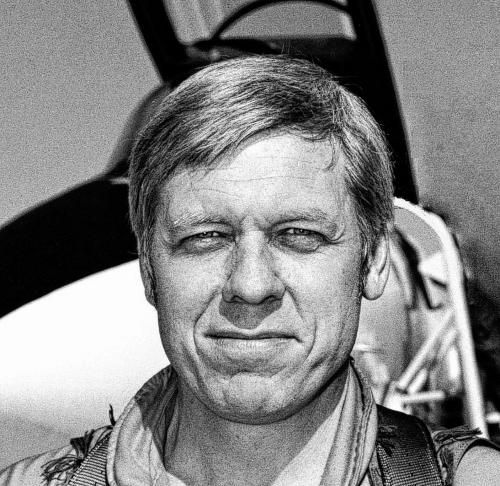 John Edward ("Jack") Krings was born 2 April 1930 at Pittsburgh, Pennsylvania. He was the son of John J. Krings, a refrigeration salesman, and Jean Molamphy Krings. Jack Krings attended Central Catholic High School, in Pittsburgh, graduating in 1948. He then attended Louisiana State University, graduating in 1952 with a Bachelor of Science Degree in Chemistry and Physics, with a minor in mathematics. While at LSU, Krings played football and was a member of the Phi Chapter of the Sigma Nu fraternity.
On 27 December 1952, Krings married Miss Marilyn Dill at Kirkwood, a suburb of St. Louis. They would have several children, but later divorced.
After graduating from LSU, Krings joined the United States Air Force and was trained as a fighter pilot. He flew the Republic F-84 and served in combat during the Korean War. In 1956, Krings left the Air Force and was employed as an engineer at the McDonnell Corporation in St. Louis, Missouri. He continued to serve with the Air National Guard until 1966.
Krings was sent to the U.S. Naval Test Pilot School at NAS Patuxent River. He was a production test pilot and then moved on to development programs. He flew the F3H Demon, and F4H Phantom II. In 1962, Jack Krings was promoted to Chief Test Pilot. For his work as project pilot on the F-15A Eagle test program, Krings won the Iven C. Kincheloe Award of the Society of Experimental Test Pilots for 1975, and in 1979, the Jack Northrop Award and Ray E. Tenhoff Award for for the most outstanding technical paper. In 1986, the SETP presented Krings with its J.H. Doolittle Award for outstanding technical management of engineering achievement in aerospace technology.
On 27 March 1980, Kring married Joan Christian at St. Louis. It was the second marriage for both. They divorced 22 July 1988.
In 1985, Jack Krings retired from McDonnell Douglas. He then went to work in the U.S. Department of Defense as Director of Operational Test and Evaluation. He was twice warded the Department of Defense Medal for Distinguished Public Service. In 1989, he left the Pentagon and formed a consulting company, Krings Corporation.
Jack Kring married his third wife, Barbara Lynn McKemie, at Arlington, Virginia, 7 October 1988.
John Edward Krings died at Austin, Texas, 7 March 2014, at the age of 83 years. he was buried at Cook Walden Forest Oaks Cemetery in Austin.
© 2018, Bryan R. Swopes