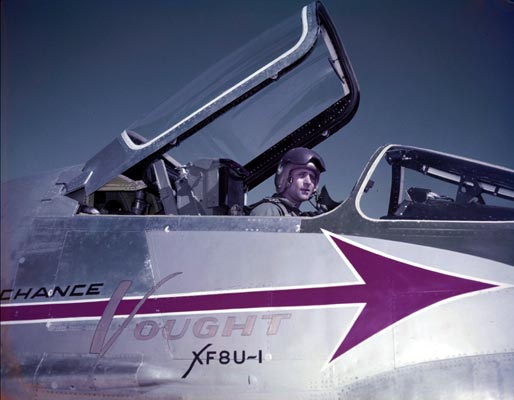 25 March 1955: Chance Vought Aircraft Corporation experimental test pilot John William Konrad took the first prototype XF8U-1 Crusader, Bu. No. 138899, for its first flight at Edwards Air Force Base in the high desert of Southern California.
The new fighter had been transported from the factory at Dallas, Texas, aboard a Douglas C-124C Globemaster II, on 3 March 1955. It was reassembled and all systems were checked. Taxi tests began on 14 March.
During the first flight on 25 March, the Crusader went supersonic in level flight. It was able to maintain supersonic speeds (not only for short periods in a dive) and was the first fighter aircraft to exceed 1,000 miles per hour in level flight (1,609 kilometers per hour).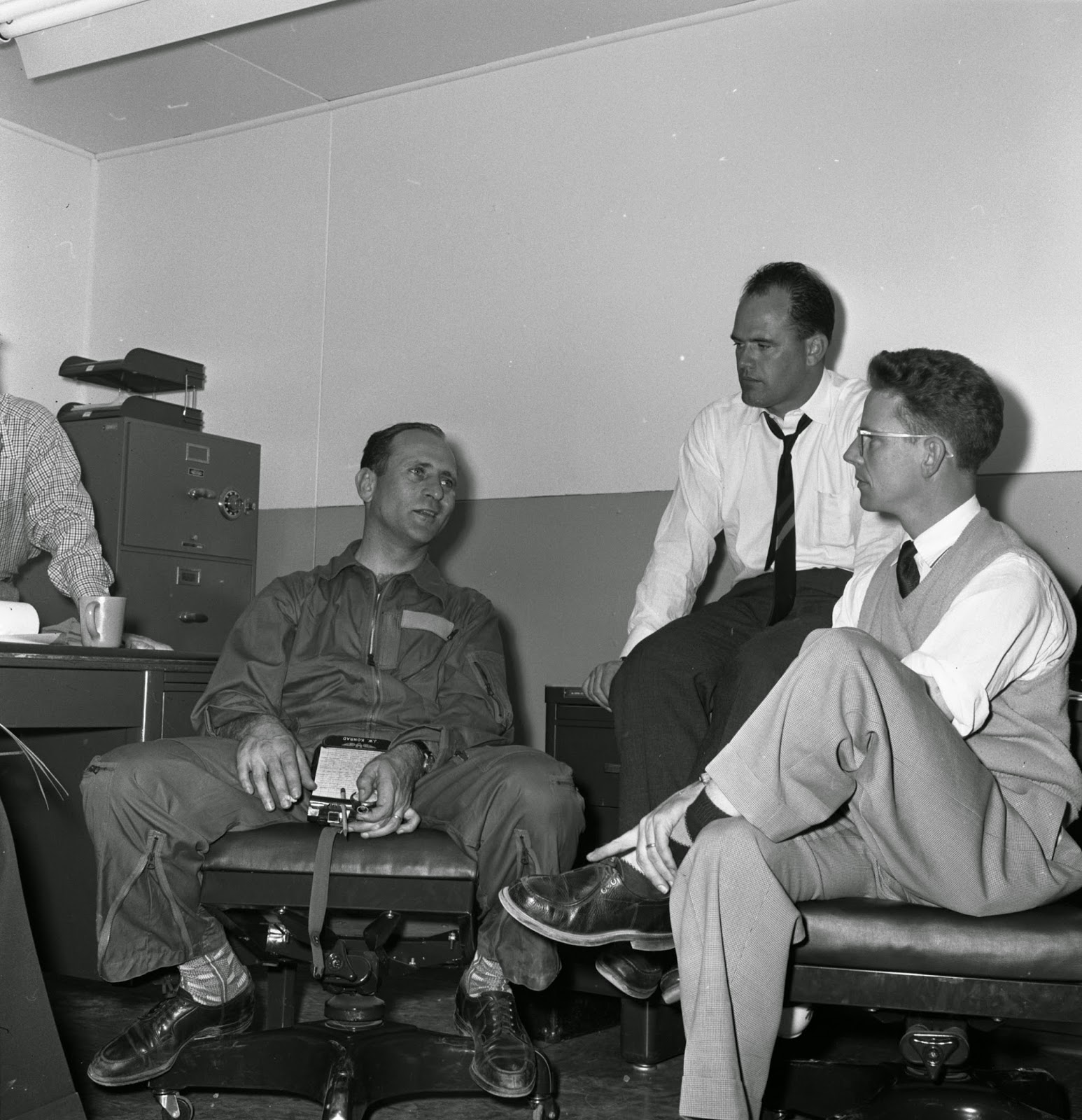 The F8U Crusader has a unique variable-incidence wing which can be raised to increase the angle of attack. This created more lift at low speeds for takeoff and landing aboard aircraft carriers, but allows the fuselage to remain fairly level for better forward visibility.
The test program went so well that the first production airplane, F8U-1 Crusader Bu. No. 140444, made its first flight just over six months after the prototype's.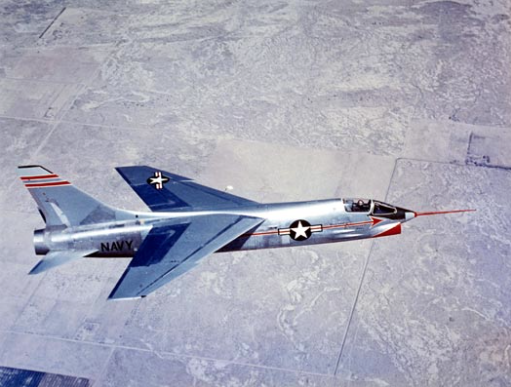 The Chance Vought F8U-1 was nearly identical to the prototype XF8U-1. It was a single-place, single-engine swept-wing fighter designed to operate from the United States Navy's aircraft carriers. The F8U-1 was 54 feet, 2.75 inches (16.529 meters) long with a wingspan of 35 feet, 8 inches (10.871 meters) and height of 15 feet, 9.1 inches (4.803 meters). With wings folded, the airplane's width was reduced to 22 feet, 6 inches (6.858 meters).
The Crusader's wing angle of incidence was adjustable in flight. It had a total area of 375 square feet (34.8 square meters). The leading edges were swept aft to 47°, and the outer panels had a 1 foot, 0.7 inch "dog tooth." The wings had 5° anhedral, while the horizontal stabilator had 5° 25′ dihedral. The stabilator's leading edges were swept 50°.
Its empty weight was 15,513 pounds (7,037 kilograms) and maximum takeoff weight was 27,500 pounds (12,474 kilograms).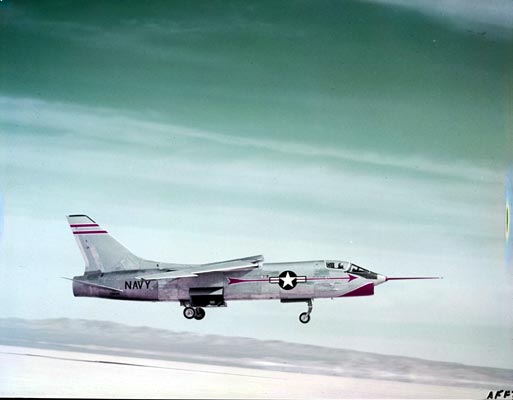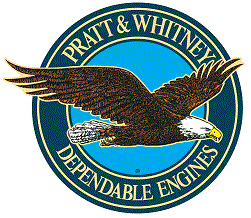 Early production aircraft were powered by a Pratt & Whitney J57-P-4 engine. This was a two-spool, axial-flow turbojet engine with a 16-stage compressor and 3-stage turbine. The J57-P-4 had a normal power rating of 8,700 pounds of thrust (38.70 kilonewtons); military power, 10,200 pounds (45.37 kilonewtons), and a maximum rating of 16,000 pounds (71.17 kilonewtons) with afterburner. The engine was 20 feet, 10 inches (6.350 meters) long and 3 feet, 5 inches (1.041 meters) in diameter.
The F8U-1 had a cruising speed of 494 knots (569 miles per hour/915 kilometers per hour). Its maximum speed was 637 knots (733 miles per hour/1,180 kilometers per hour) at Sea Level—0.95 Mach—and 860 knots (990 miles per hour/1,180 kilometers per hour) at 35,000 feet (10,668 meters)—Mach 1.50.  It had a service ceiling of 42,300 feet (12,893 meters) and combat range of 1,280 nautical miles miles (1,473 statute miles/2,371 kilometers).
The F8U Crusader was known as "The Last of the Gunfighters" because it was the last American fighter aircraft to be designed with guns as the primary armament. It carried four Colt Mark 12 20-mm autocannon with 500 rounds of ammunition. It could also carry two AIM-9 Sidewinder infrared-homing air-to-air missiles.
Because of a high accident rate, the Crusader has also been called "The Ensign Killer."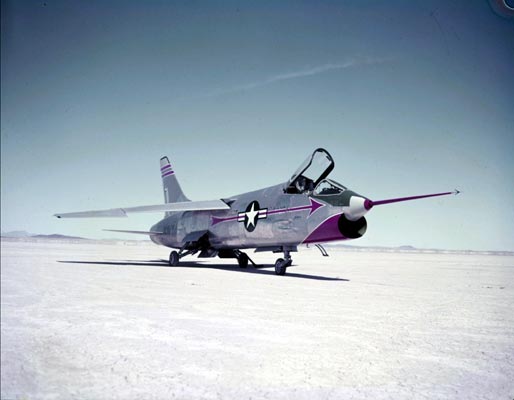 The Vought F8U Crusader was in production from 1955 through 1964 with a total of 1,261 built in both fighter and photo reconnaissance versions.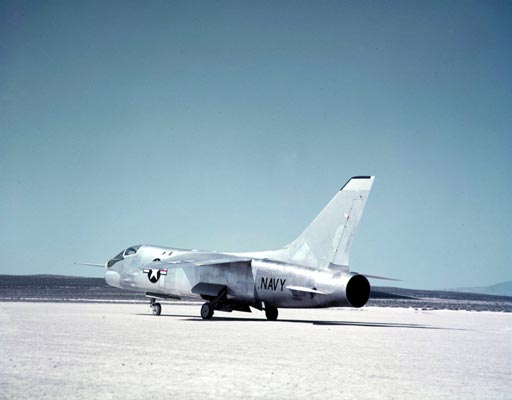 During five years of testing, Bu. No. 138899 made 508 flights. It was donated to the Smithsonian Institution in 1960. The restored prototype is now at The Museum of Flight, Seattle, Washington.
According to information recently discovered by The Museum of Flight, fighter pilot, test pilot and future astronaut John Herschel Glenn, Jr., made his first flight in a Crusader when he flew Bu. No. 138899 on 4 May 1956. According to Glenn's logbook, he made two flights in the prototype on that date, totaling 2 hours of flight time. Many thanks to Mike Martinez, a docent for the museum for providing this information.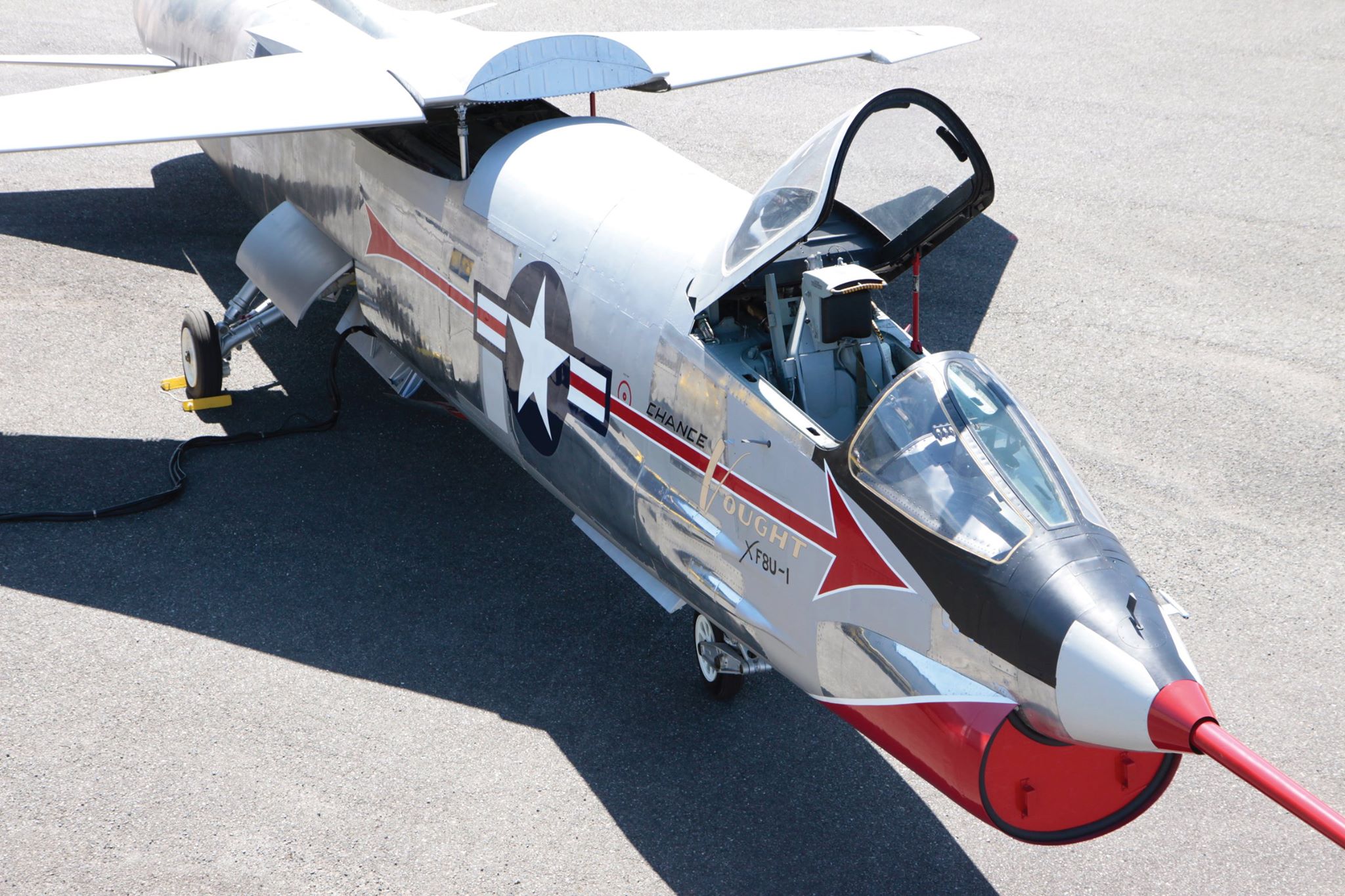 John William Konrad was born 25 November 1923 at San Diego, California. He was the second of three children of  William Konrad, a salesman, and Emma Louise Stensrud Konrad.
Konrad became interested in aviation at an early age, learning to fly in a Piper Cub at the age of 15. After graduating from high school, he enlisted as a private in the U.S. Army Air Corps at San Diego, 26 February 1943. Konrad was 5 feet, 3 inches (1.60 meters) tall and weighed 118 pounds (53.5 kilograms). He trained as a pilot and flew Boeing B-17 Flying Fortress heavy bombers with the 305th Bombardment Group (Heavy), stationed at RAF Chelveston, during World War II. He later flew Douglas C-47 Skytrains during the Berlin Airlift.
Konrad married Miss Harriet Marilyn Hastings at Clearwater, Florida, 11 February 1945. They would have two children.
Following the War, Konrad was selected for the first test pilot training class at Wright Field, then was assigned to Muroc Army Airfield (Edwards Air Force Base) in California, where he graduated from the Air Force Experimental Flight Test Pilot School, Class 51-C, 19 May 1952.
Konrad resigned from the Air Force in 1953 and joined the Chance Vought Aircraft Corporation in Dallas, Texas, as a test pilot. In addition the the XF8U-1 Crusader, he also made the first flight of the Ling-Temco-Vought A-7 Corsair II, and the experimental LTV XC-142 tiltwing V/STOL transport in 1964. He was appointed Director Test Operations in 1965. Konrad retired from Vought in 1988 after 25 years with the company.
After retiring, John Konrad continued to fly a Goodyear FG-1D Corsair with Commemorative Air Force.
John William Konrad, Sr., Captain, United States Air Force, died 20 September 2006 at Dallas, Texas. He is buried at the Dallas–Fort Worth National Cemetery.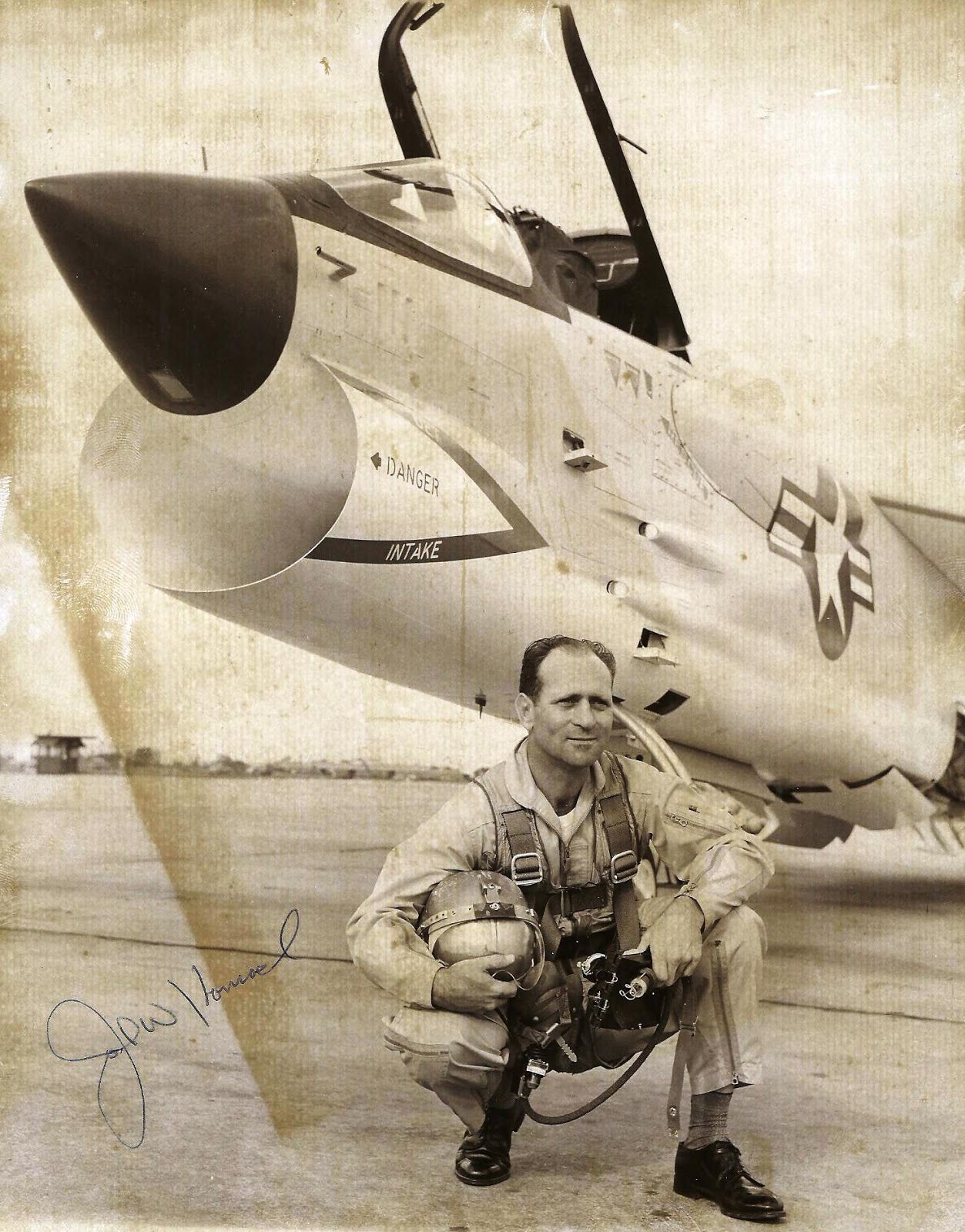 © 2019, Bryan R. Swopes