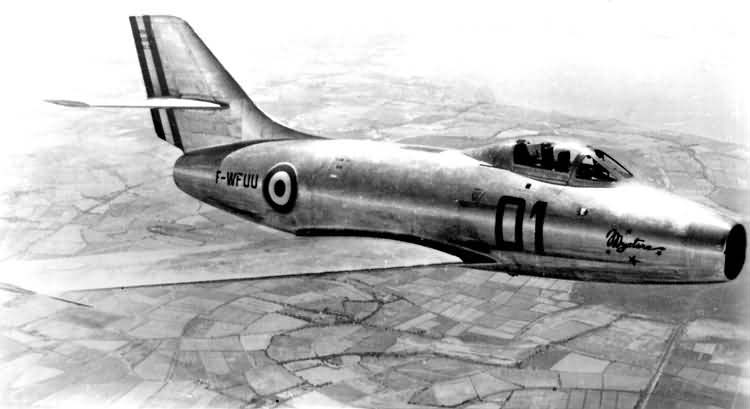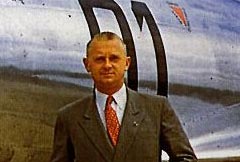 23 February 1951: At Istres, France, Société des Avions Marcel Dassault chief test pilot Konstantin Wladimir ("Kostia") Rozanoff made the first flight of the Mystère MD.452 prototype, F-WFUU, c/n 01. This was a development of the Dassault Ouragan MD.450 with the wings' leading edge swept from 14° to 30°. It was powered by a Rolls-Royce Nene turbojet engine. Rozanoff believed, though it was not confirmed, that he had broken the Sound Barrier.
A series of prototypes were built before the fighter bomber was put into production as the Mystère IIC. 171 were built between 1954 and 1957.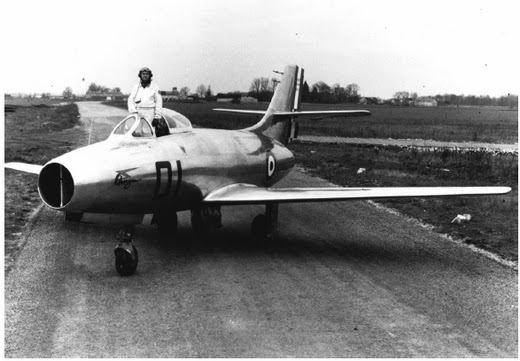 The Mystère IIC was a single seat, single engine turbojet-powered fighter bomber produced for the Armée de l'Air. It was 38 feet 6 inches (11.735 meters) long with a wingspan of 42 feet, 9 inches (13.030 meters) and overall height of 14 feet (4.267 meters). The fighter had an empty weight of 11,495 pounds (5,214 kilograms) and maximum takeoff weight of 16,480 pounds (7,475 kilograms). The powerplant was a SNECMA ATAR 101D-1 turbojet which produced 6,610 pounds of thrust (29.403 kilonewtons).
The maximum speed of the Mystère IIC was 660 miles per hour (1,062 kilometers per hour). Its range was 550 miles (885 kilometers) and the service ceiling was 50,000 feet (15,240 meters).
The MD.452 was armed with two Direction des Études et Fabrications d'Armement (DEFA) 30mm revolver cannon with 150 rounds of ammunition per gun, and up to 2,000 pounds (907 kilograms) of bombs.
The prototype Dassault Mystère, F-WFUU, crashed at Istres 3 March 1953 when a wing tip fuel tank broke away and struck the airplane's tail, killing test pilot Charles Monier.
Kostia Romanoff was killed 3 April 1954 while demonstrating a Mystère IVB.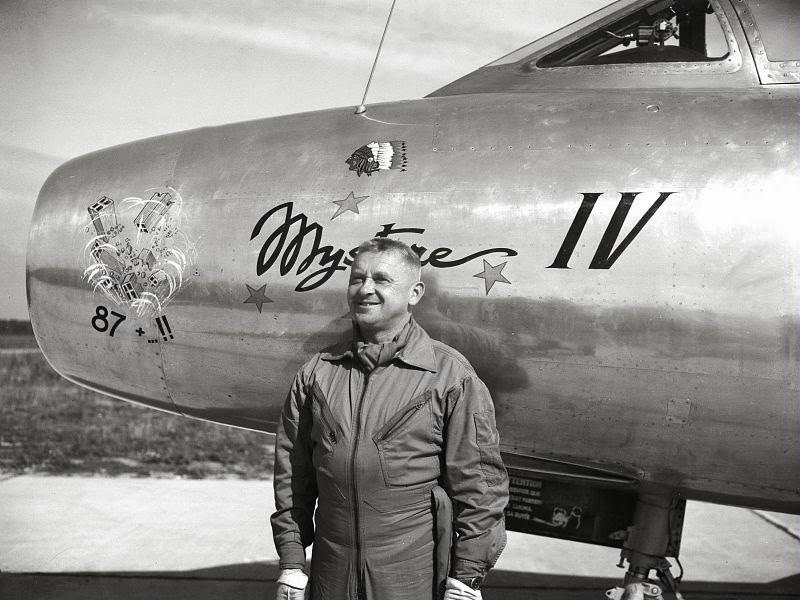 © 2017, Bryan R. Swopes