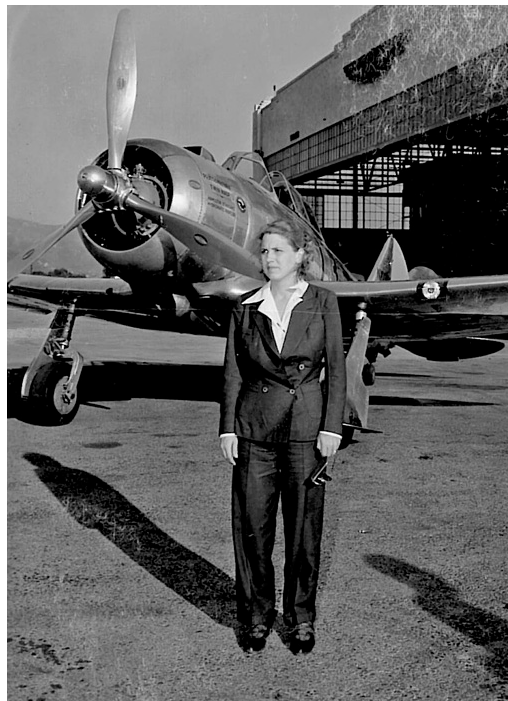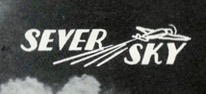 15 September 1939: Jackie Cochran set a Fédération Aéronautique Internationale (FAI) World Speed Record flying a Seversky AP-7A, civil registration NX1384, over a 1,000 kilometer course, from Burbank, California, to San Mateo, approximately 20 miles (32 kilometers) south of San Francisco, and back to Burbank. Her average speed was 492.34 kilometers per hour (305.93 miles per hour).¹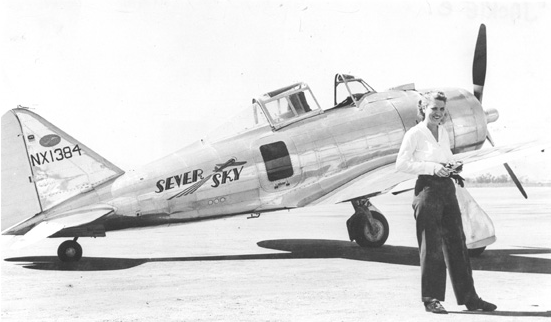 The Los Angeles Times reported:
Woman Flyer Sets Air Record
Jacqueline Cochran Betters Speed Mark for 1000 Kilometers
     Streaking a path across the hills to the north of Union Air Terminal, a tiny silver pursuit plane yesterday roared a successful climax to Jacqueline Cochran's bid for a new 1000-kilometer speed record. Her time: 2h. 2m. for an average of 309 m.p.h. to San Mateo and return.
     The slim, brown-eyed pilot, America's No. 1 woman speed flyer, settled her sleek Seversky on the runway, braked the ship to a stop and pulled off her helmet to loose a flood of tawny hair before the propeller blades stopped turning.
STARTS AFTER LUNCH
     "Whew!" she said. "Has anyone got a cigarette?"
     It was shortly after lunch that Miss Cochran, clad in green slacks and coat, climbed into her 1200-horsepower ship and thundered down the runway to climb in circles to 10,000 feet. Loosing a trail of blue smoke at this altitude she was officially clocked on the course by Larry Therkelson, Southland representative of the National Aeronautic Association, who checker her in again at the same level 2h. and 2m. later.
KEEPS PLANE HIGH
      After entering the course, Miss Cochran said, she nosed her low-wing monoplane upward again, climbing to 15,000 feet. At San Mateo, she dropper to 10,000 feet again to circle a pylon, and climbed back to the higher level for the return race.
     Miss Cochran said she used oxygen almost continuously during the flight.
     It was the second time the comely woman flyer attempted to shatter her own record of 203 m.p.h., her first try last Aug. 26 having gone awry because N.A.A. officials were unable to clock her as she swung above Union Air Terminal at 14,700 feet.
—Los Angeles Times, Vol. LVIII, Saturday, 16 September 1939, Page 6, Column 6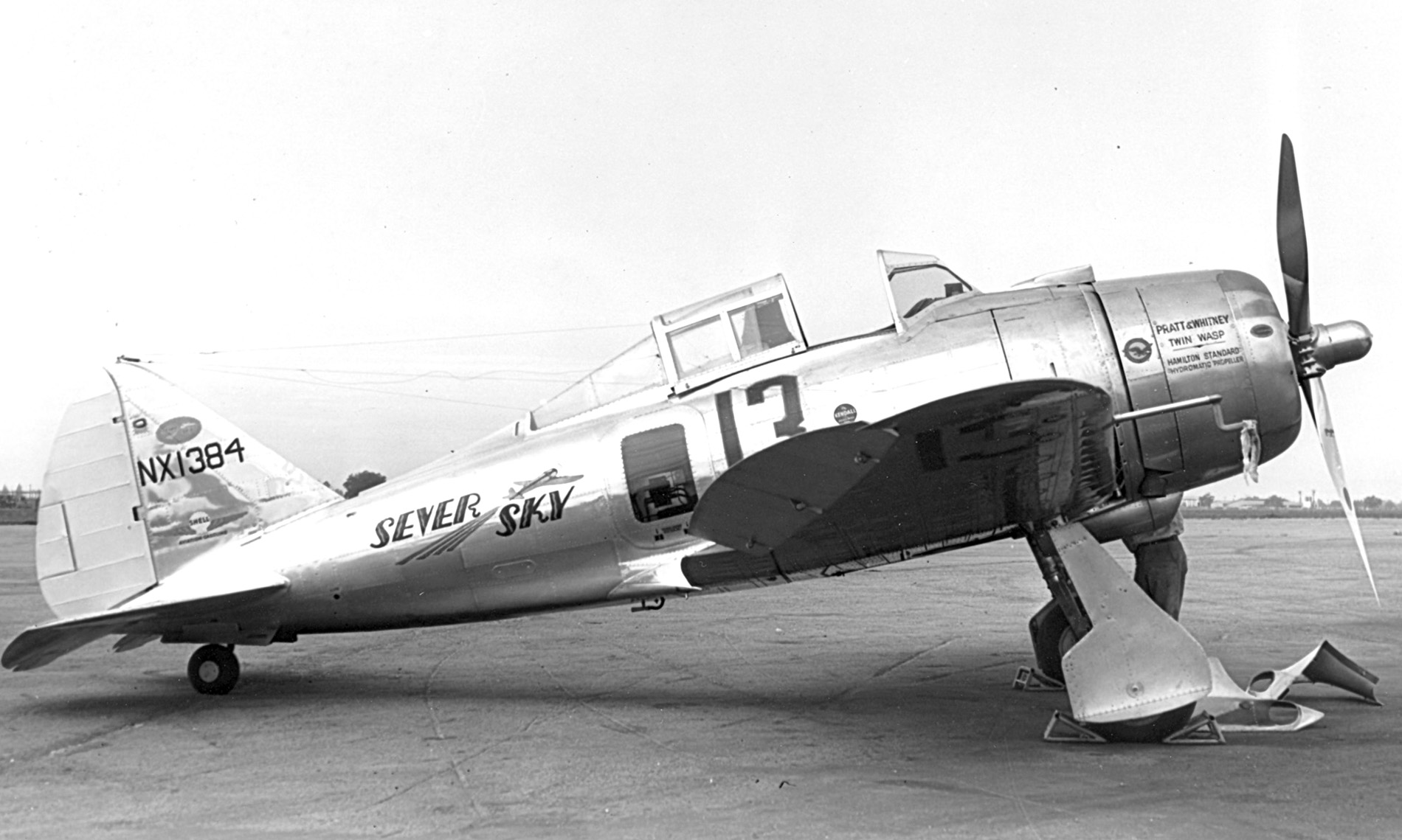 The Seversky AP-7 was an improved civil version of the Seversky P-35 fighter, which was the first U.S. Army Air Corps single engine airplane to feature all-metal construction, an enclosed cockpit and retractable landing gear. It was designed by Major Alexander Nikolaievich Prokofiev de Seversky, a World War I Russian fighter ace.
Cochran's AP-7A was a specially-built racer, modified from the original AP-7 with a new, thinner, wing and different landing gear arrangement. It was powered by a an air-cooled, supercharged, 1,829.39-cubic-inch-displacement (29.978 liter) Pratt & Whitney Twin Wasp S1B3-G (R-1830-11) two-row 14-cylinder radial engine rated at 850 horsepower at 2,450 r.p.m. at 5,000 feet (1,524 meters), and 1,000 horsepower at 2,600 r.p.m. for take off. The engine turned a three-bladed Hamilton-Standard controllable-pitch propeller through a 3:2 gear reduction. The R-1830-11 was 4 feet, 8.66 inches (1.439 meters) long with a diameter of 4 feet, 0.00 inches (1.219 meters), and weighed 1,320 pounds (599 kilograms).
This is the same airplane in which she won the 1938 Bendix Trophy.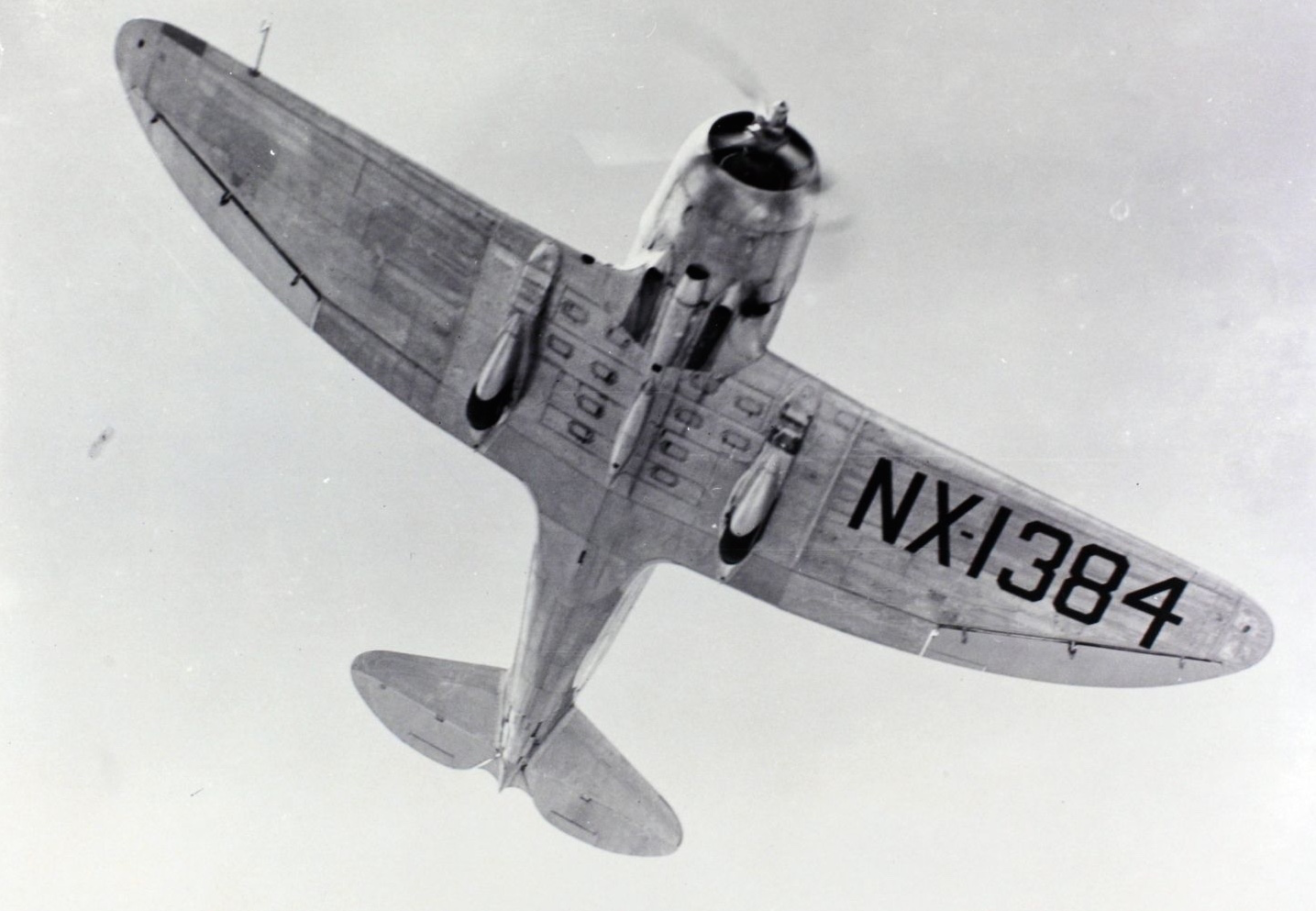 ¹ FAI Record File Number 12027
© 2018, Bryan R. Swopes