1 September 1938: Jackie Cochran departed the Lockheed Air Terminal, Burbank California, at 3:00 a.m., flying her Seversky AP-7, NX1384, c/n 145. Her destination was Cleveland, Ohio, the finish line for the Bendix Trophy Race,  2,042 miles (3,286 kilometers) away.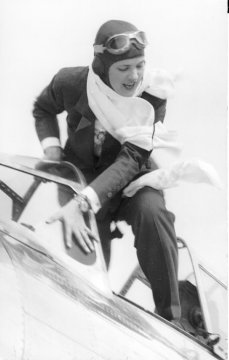 NX1384 was built especially for Jackie Cochran, and had been flown from the factory to Burbank by Major de Seversky just two days earlier. His flight set an East-to-West Transcontinental Speed Record of 10 hours, 2 minutes, 55.7 seconds.
The specially built AP-7 racer was an improved version of Major Alexander Nikolaievich Prokofiev de Seversky's P-35A fighter, which was the U.S. Army Air Corps' first all-metal single-engine airplane with an enclosed cockpit and retractable landing gear. Cochran's AP-7 was powered by an air-cooled, supercharged, 1,829.39-cubic-inch-displacement (29.978 liter) Pratt & Whitney Twin Wasp S1B3-G (R-1830-11) two-row 14-cylinder radial engine rated at 850 horsepower at 2,450 r.p.m. at 5,000 feet (1,524 meters), and 1,000 horsepower at 2,600 r.p.m. for take off. The engine turned a three-bladed Hamilton-Standard controllable-pitch propeller through a 3:2 gear reduction. The R-1830-11 was 4 feet, 8.66 inches (1.439 meters) long with a diameter of 4 feet, 0.00 inches (1.219 meters), and weighed 1,320 pounds (599 kilograms).
"Finally the P-35 arrived. I decided that I didn't want to take it into the air for a test even if I could. The racing officials impounded it because it was a prototype and there was some kind of rule about untested planes. I would test it en route. . . Finally, I got to sit in the cockpit. I began to study all the instruments by the hour. I can almost see them still.
 "There are about a hundred or more buttons, levers, and other gadgets to push, pull or twirl. . .  I close my eyes and reach for everything in the dark. And I keep at this until I can get to them blindfolded and with no false moves. . . 
"I finally see Cleveland. . . (a)nd am going so fast that I pass the airport and come in from the wrong side. . . Have I won? The crowds are cheering. It's a standing ovation. . . I have won the Bendix."
— Jackie Cochran: An Autobiography, by Jacqueline Cochran and Maryann Bucknum Brinley, Bantam books, New York 1987, Pages 160–165.
Jackie Cochran was the third pilot to leave Burbank, but the first to arrive at Cleveland. Her elapsed time for the flight from California to Ohio was 8 hours, 10 minutes, 31.4 seconds, for an average speed of 249.774 miles per hour (401.895 kilometers per hour).
After being congratulated on her win by Vincent Bendix and other race officials, Cochran had her Seversky monoplane refueled. She then got back in to its cockpit and took off for Bendix, New Jersey. She landed there 10 hours, 7 minutes, 1 second after leaving Burbank at 3:00 a.m. This was a new West-to East Transcontinental Speed Record.
© 2016, Bryan R. Swopes
by