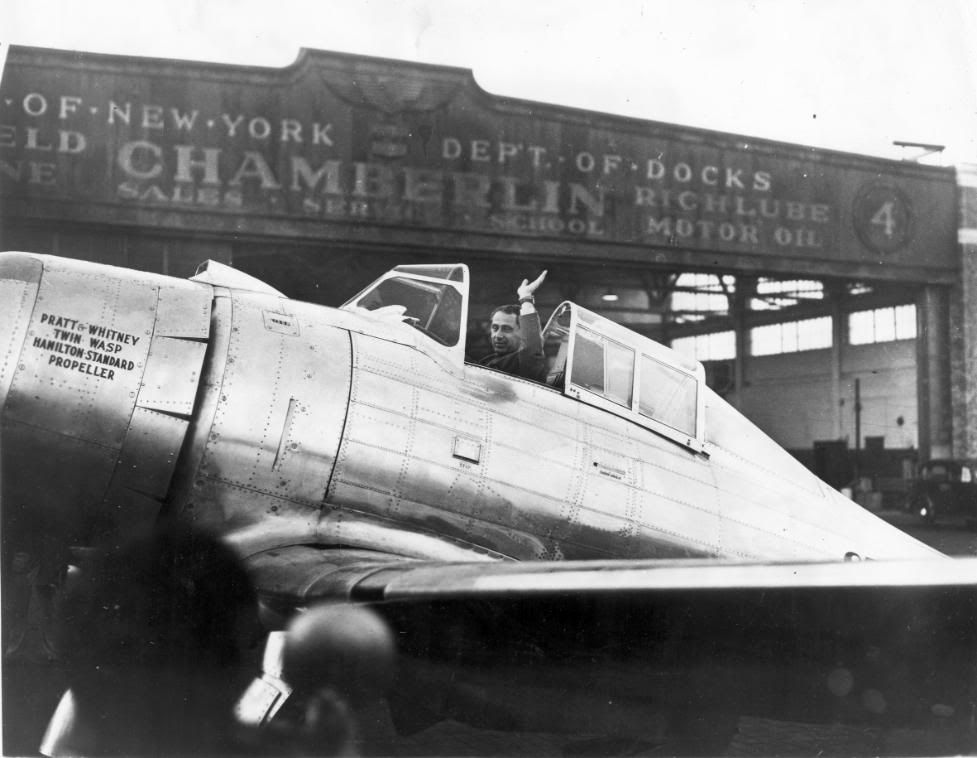 29 August 1938: At 7:37 a.m., Alexander Nikolaevich Prokofiev-Seversky departed Floyd Bennett Field, Brooklyn, New York, flying a Seversky AP-7 Pursuit, NX1384, an all-metal monocoque monoplane of his own design and manufacture, enroute to the Lockheed Air Terminal, Burbank, California, a distance of 2,457 miles (3,954 kilometers). He completed the flight in 10 hours, 2 minutes, 55.7 seconds, setting a new speed record for an East-to-West Transcontinental Flight. Major Seversky refueled during a 30-minute stop at Kansas City.
Larry Therkelson of the National Aeronautic Association was the official timer for the record attempt.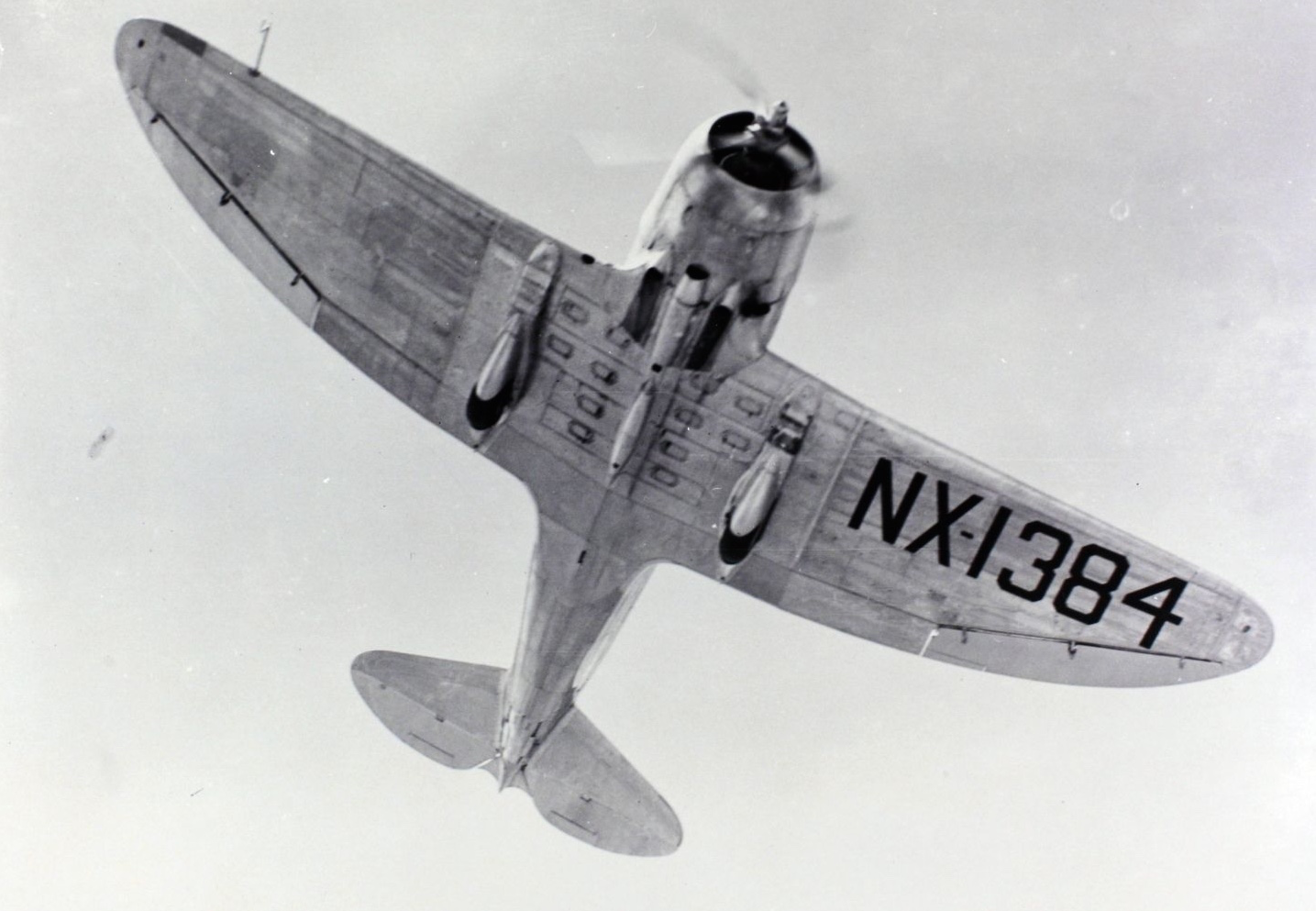 The Los Angeles Times reported:
SEVERSKY SETS RECORD
Flies across Country in Few Minutes More than Ten Hours
     Maj. Alexander P. (Sascha) de Seversky, who flew fighting planes for the Czar of Russia and now builds pursuit ships for the American Army, yesterday notched another hour off the already incredibly narrow time-space separating the Atlantic and Pacific coasts.
     In a "civilianized" fighter made at his Long Island factory, de Seversky thrashed along the 2600-mile airway from Floyd Bennett Field, N.Y., to Union Air Terminal, Burbank, in ten hours, three minutes, seven seconds, better than 260 miles per hour.
START AND FINISH
     He had gobbled a husky breakfast of oatmeal, orange juice and toast in Manhattan as dawn arose over the skyscrapers (at 3:37 a.m. P.S.T.)
     Under a blazing Southland sun that shot the mercury to 100 deg. at Burbank, he toyed with a chicken sandwich fifteen minutes after he set his pursuiter's trim wheels down at exactly 1:40:07 p.m.
     De Seversky was greeted—warmly—by Jacqueline Cochran, America's No. 1 woman speed flyer for whom he was ferrying the all-metal monoplane to Los Angeles. She will retrace his course in the small hours of Saturday, seeking the lion's share of the $30,000 Bendix Trophy purse.
     It was, he said, "Practically nothing."
TIME WASTED
     In a new age of aeronautics, when pilots break records just in the day's work during routine assignments, de Seversky stands with the best of 'em.

      His time and speed would have been materially bettered if he'd been "trying," he admitted. At Kansas City, plopping down into TWA's hangars for refueling, he wasted a precious twenty-nine minutes while mechanics tinkered with his tricky gasoline system.
      "Once I was traveling more than 300 miles an hour," De Seversky admitted.
MERELY A WARM-UP
     How much faster he could have flown, the esrtwhile White Russian declined to say—"Wait until 'Jacky' starts for Cleveland in the Bendix race," he interposed.

      "I used oxygen part of the way, especially when I climbed to 16,000 over the Kansas prairies during a hailstorm," he said. "This whole flight was nothing but a warm-up. I could have flown nonstop. Instead, I tried different wing loadings and paused at Kansas City. Sometimes I throttled down to less than 240 miles an hour."

     Two hundred and forty!
     Between bites of chicken sandwich, De Seversky pointed out that his 1200-horsepower plane can soar 3000 miles without refilling its wing-to-wing tanks that carry 540 gallons of high octane fuel. That, he observed, carries huge military significance.
     "We are learning in the Army," this builder of the nation's fastest pursuit ships declared, "that bombardment craft are vulnerable to attack from the air unless properly convoyed.

Turn to Page 5, Column 2
Record Upset by Seversky
Continued from First Page
So—the 'flying fortress' that cruises 5000 miles must be accompanied by pursuit ships that can go equally as far nonstop. To Europe from America, for example.
THREE UNDER WAY
     "In the United States at least three such planes are underway today. I am building one. Others may be twin-engined—such as the ship being readied at the Lockheed plant—and capable of terrific speeds."
     By Christmas of this year, de Seversky promised, a standard military fighter, soon to be released to Air Corps testers, will crack the long-sought-after 400-miles-an-hour mark.
BENDIX MARK SEEN
     De Seversky was cool as he braked his craft to a halt under the gaze of Larry Therkelson, official National Aeronautic Association timer. He removed his earphones, slipped out of his jumper and asked, "When's lunch?" To statements that he had knocked Roscoe Turner's five-year-old record of 11h. 30m. silly, he only shrugged.
OTHERS IN RACE
     Others in the Bendix race will be Frank Fuller and Miss Cochran in Seversky planes, Robert Perlick, Glendale, in a Beechcraft; Robert Hinschey and Charles LaJotte, Glendale, in a Sparton; Ross Hadley, Burbank, in a Beechcraft; George Armistead, Los Angeles, in a Q.E.D. Special; Bernarr Macfadden, New York publisher, and Ralph Francis, former TWA pilot, in a Northrop Gamma; Paul Mantz, Burbank, in a Lockheed Orion; Frank Cordova, New York, in a Bellanca; Lee Gehlbach, New York, in a Wedell-Williams, and Max Constant, Burbank, in a Beechcraft.

—Los Angeles Times, Vol. LVII, Tuesday Morning, 30 August 1938, Page 1, Column 5, and Page 5, Column 2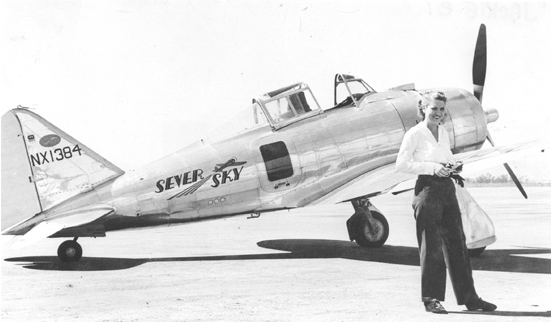 NX1384 was built especially for Jackie Cochran. The AP-7 racer was an improved version of Seversky's P-35A fighter, which was the U.S. Army Air Corps' first all-metal single-engine airplane with an enclosed cockpit and retractable landing gear.
Cochran's AP-7 was powered by an air-cooled, supercharged, 1,829.39-cubic-inch-displacement (29.978 liter) Pratt & Whitney Twin Wasp S1B3-G (R-1830-11) two-row 14-cylinder radial engine with a compression ratio of 6.7:1. It was rated at 850 horsepower at 2,450 r.p.m. at 5,000 feet (1,524 meters), and 1,000 horsepower at 2,600 r.p.m. for take off. The engine turned a three-bladed Hamilton-Standard controllable-pitch propeller through a 3:2 gear reduction. The R-1830-11 was 4 feet, 8.66 inches (1.439 meters) long with a diameter of 4 feet, 0.00 inches (1.219 meters), and weighed 1,320 pounds (599 kilograms).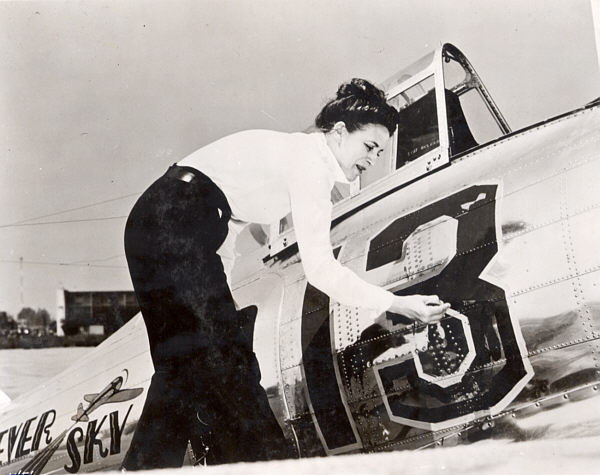 Two days later, 1 September 1938, Jackie Cochran flew this same airplane to win the Bendix Trophy Race from Burbank to Cleveland, Ohio, a distance of 2,042 miles (3,286 kilometers). Her winning time was 8 hours, 10 minutes, 31.4 seconds, for an average speed of 249.774 miles per hour (401.895 kilometers per hour). After a 40 minute refueling stop, and being congratulated for her Bendix win, she flew on to Bendix, New Jersey, setting a West-to-East Transcontinental Speed Record with a total elapsed time of 10 hours, 7 minutes, 1 second.
The Seversky AP-7 and its military version, the P-35, would be developed over the next few years to become the Republic P-47 Thunderbolt.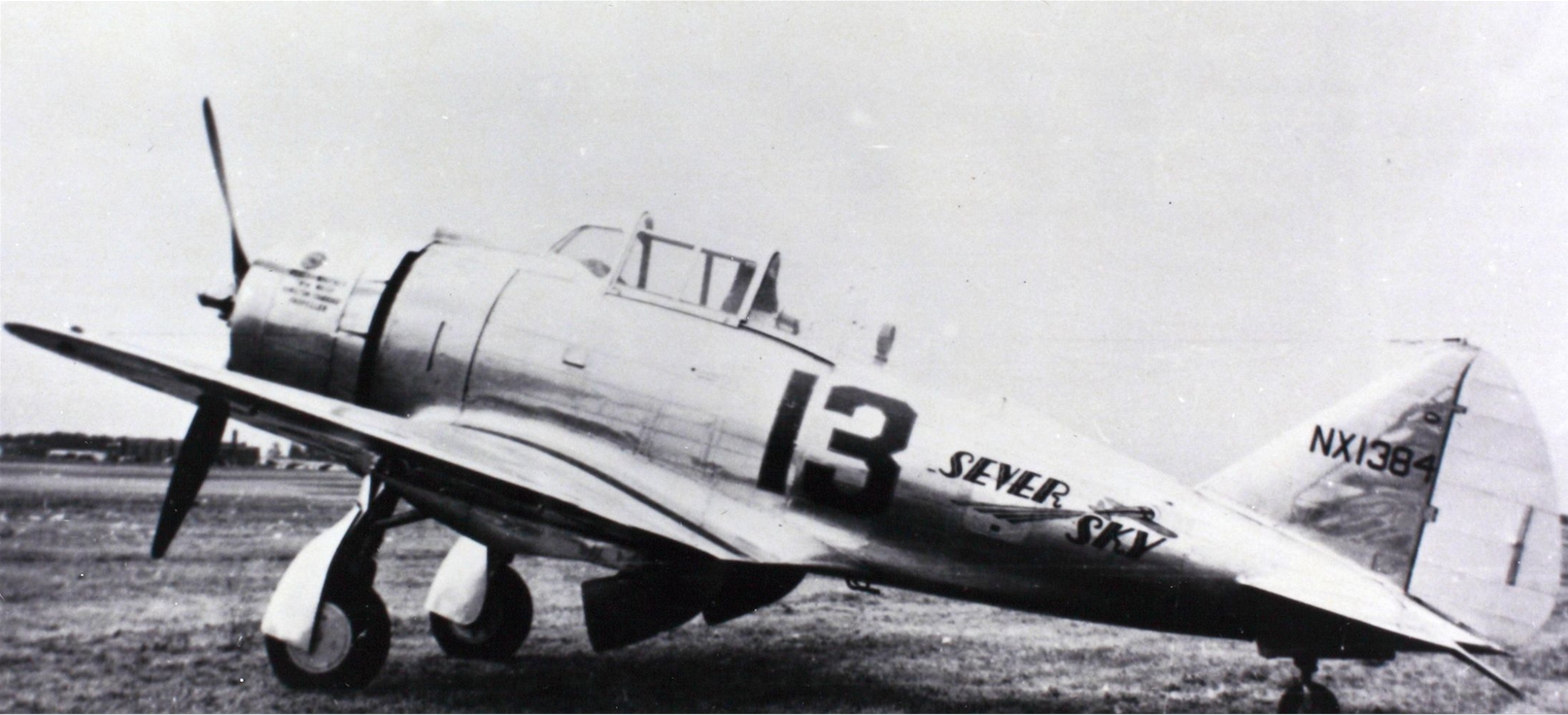 © 2017, Bryan R. Swopes