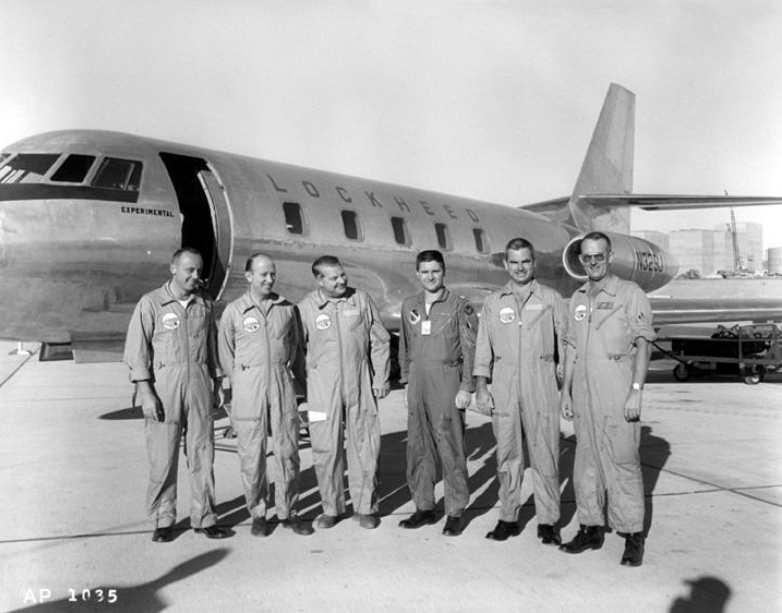 4 September 1957: 8:58 a.m., First Flight, Lockheed JetStar c/n 1001. EDW→EDW 39 minute flight. Test pilot Ray J. Goudey, pilot, with Bob Schumacher, co-pilot.
Two prototypes built at Lockheed Burbank; production aircraft built at Lockheed Marietta

Bristol Siddeley Engines Ltd. Orpheus BOr.3 Mk.803 (Wright TJ37A1) 4,130 pounds of thrust (18.37 kilonewtons), 4,850 (21.57 kN) @ SL for takeoff; later, BOr.3 Orpheus Mk.810D, 4,850 pounds (21.57 kN). Dry weight 990 lbs. (449 kg.)
Tony LeVier flew chase in a T2V-1 SeaStar
The Los Angeles Times reported:
New JetStar Plane Takes to Air Ahead of Deadline
     Lockheed's new JetStar turbine-powered utility transport was test-flown for 39 minutes yesterday out of Edwards Air Force Base.
     With Pilots Ray Goudey and Robert Schumacher at the controls, the twin-engine, 10-passenger jet lifted off the runway just two minutes ahead of a deadline set 241 days ago when engineering started on the 500-m.p.h. aircraft.
     The pilots described the flight as "silky smooth" and added the JetStar showed ample speed, responsive handling and remarkably low sound levels in both cabin and cockpit.
Easy of Access
     A unique feature of the swept-wing plane is the location of its Bristol Orpheus engines (totaling 10,000 thrust pounds) mounted in pods on both sides of the rear fuselage aft of the wing. This position places them well clear of passengers and fuel areas and permits an uncluttered wing configuration and easy accessibility for maintenance.
The new transport is 58 feet long, spans 53 feet (with a 34-deg. sweep angle) measures 21 feet in over-all height and incorporates a horizontal stabilizer mounted high on teh vertical fin and clear of jet exhaust.
1700-Mile Range
     Pressurized and designed for a range of 1700 miles and a cruising altitude of 40,000 feet, the JetStar was designed and built with Lockheed funds after the Air Force reported a need for a small, fast transport for utility passenger and cargo work and trainer operations.
     Expansion of the project beyond the prototype stage depends on military acceptance of the plane.
—Los Angeles Times, Vol. LXXVI, Thursday Morning, September 5, 1957, at Page 15, Columns 1 and 2
Length: 58′ 10″ ( 17.932 m.); wingspan: 53′ 8″ (16.3358 m.); Height: 20′ 6″ (6.248 m.). Wing area 523.00 square feet (48.59 m²)
JetStar I: leading edge 33° sweep, 30° sweep at ¼-chord; 2° dihedral aspect ratio 5.3. Leading edge flap; double-slotted trailing edge flap. Ailerons/no spoilers.
Vertical fin pivots fore-and-aft to change horizontal stabilizer angle of incidence
Empty weight: 15,139 pounds (6.867 kg.); Gross weight: 38,841 pounds (17,618 kg.)
Speed: 613 m.p.h. (987 km/h)
Range: 1,725 miles (2,776 km.)
Ceiling: 52,000′ (15,850 m.); 630 m.p.h. (1,014 km/h); 0.92 Mach (clean)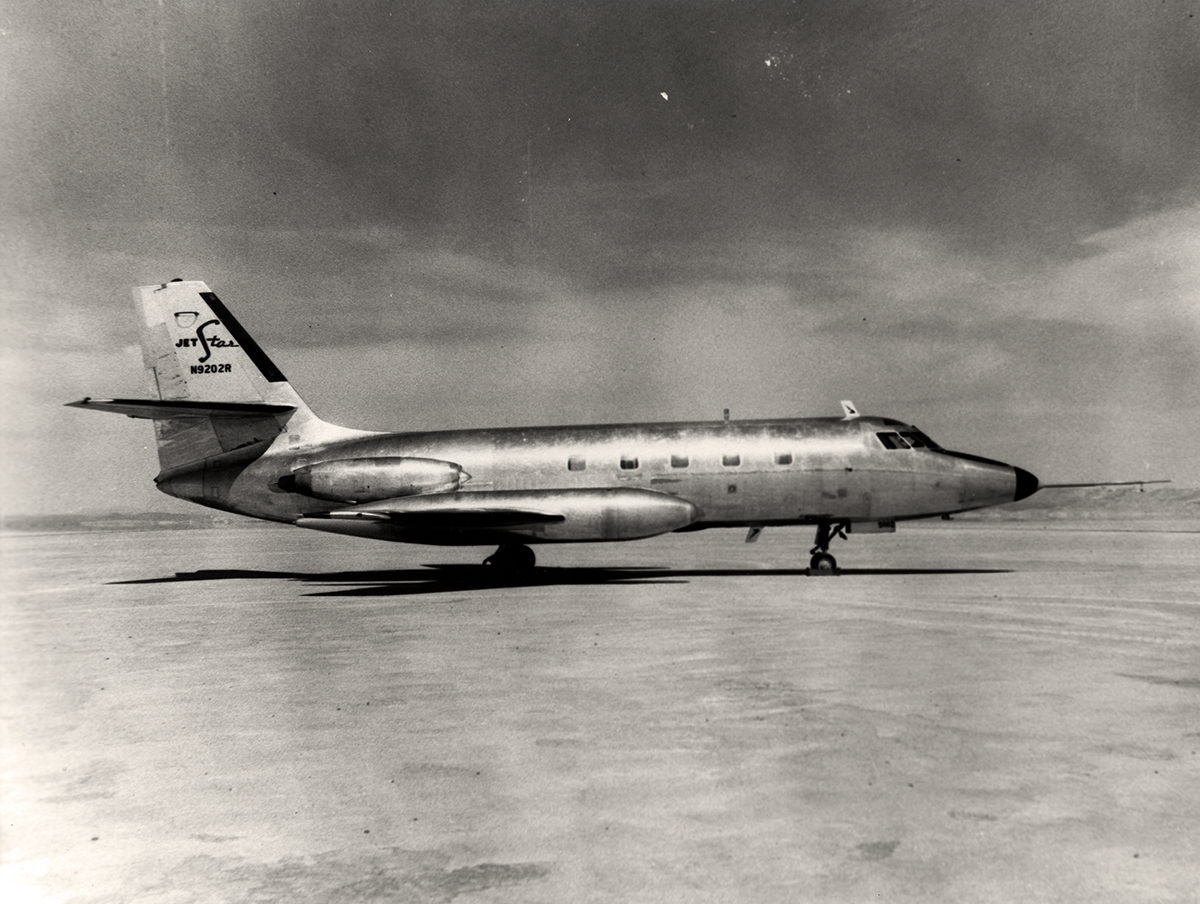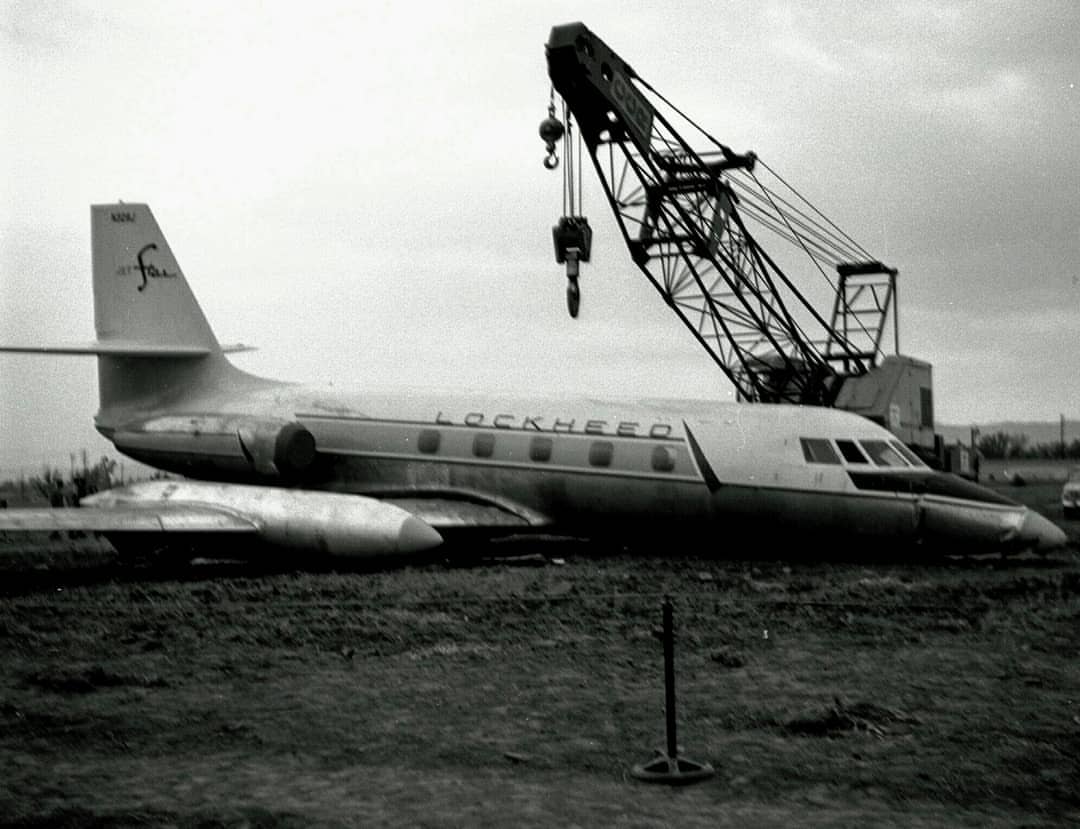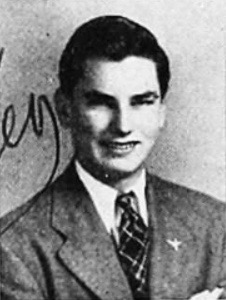 Ray Jewett Goudey was born at Los Angeles, California, 25 September 1921. He was the first of six children of Raymond Freeman Goudey, a municipal sanitation engineer, and Gladys Ellen Jewett Goudey. Ray attended John Marshall High School in Los Angeles, graduating in 1940.
Ray J. Goudey was commissioned an ensign, United States Navy, 22 June 1943. During World War II, he flew the Grumman F4F Wildcat fighter.
Lieutenant (j.g.) Ray Goudey married Mrs. Crystal Relph Tanner 12 December 1945. They would have six children. They divorced in April 1966.
Lt. (j.g.) Goudey was promoted to lieutenant, 19 November 1948.
Goudey married Jeanette Nelson in Reno, Nevada, 29 September 1976.
Ray Goudey flew 258 different aircraft, including 74 Lockheed models. He had a total of 23,708 flight hours.