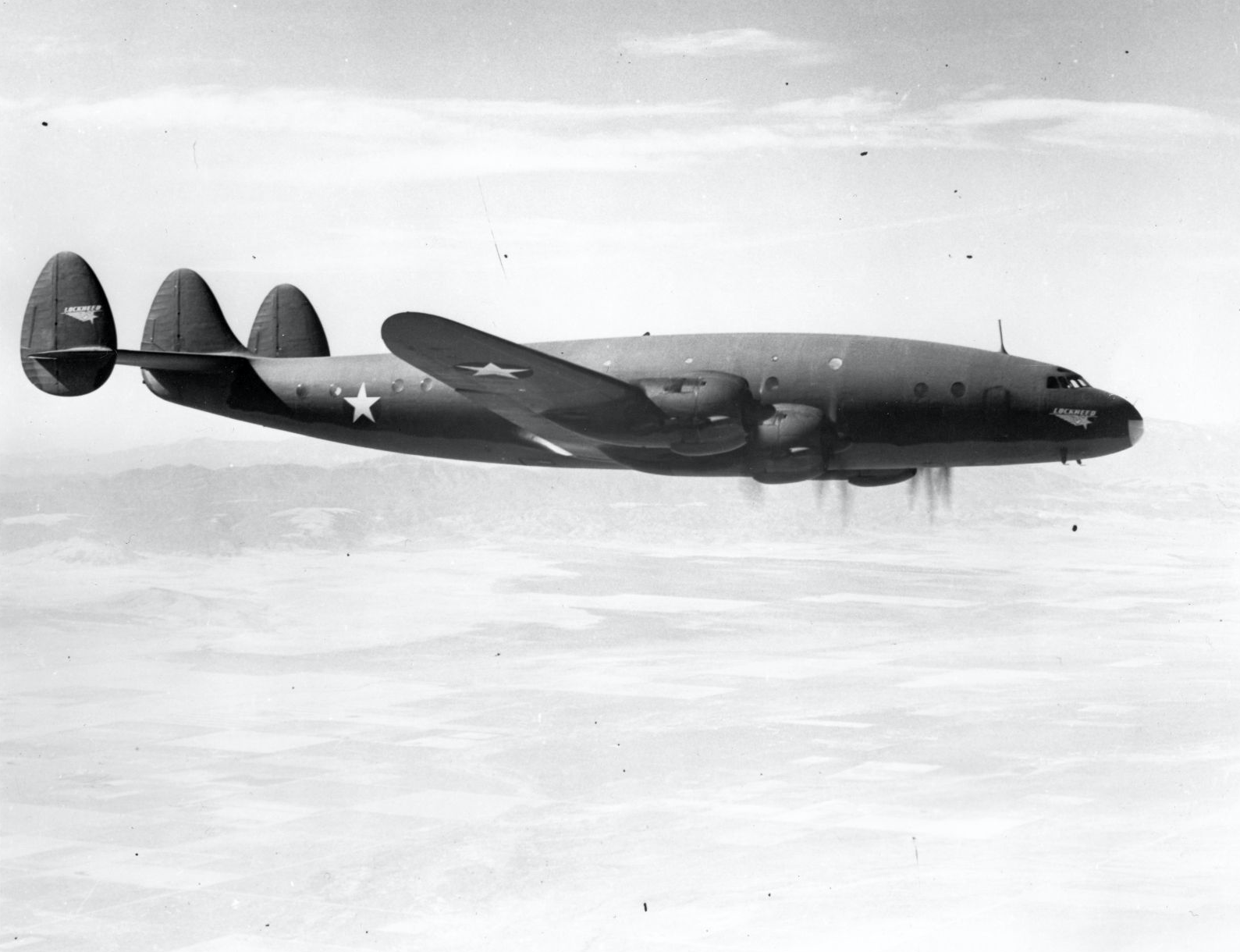 9 January 1943: At the insistence of the United States Army Air Forces, Boeing's Chief Test Pilot, Eddie Allen, made the first flight of the Lockheed L-049 Constellation prototype, NX25600, from Lockheed Air Terminal at Burbank, California, to Muroc Army Airfield (today known as Edwards Air Force Base). Lockheed's Chief Test Pilot, Milo G. Burcham, was the co-pilot.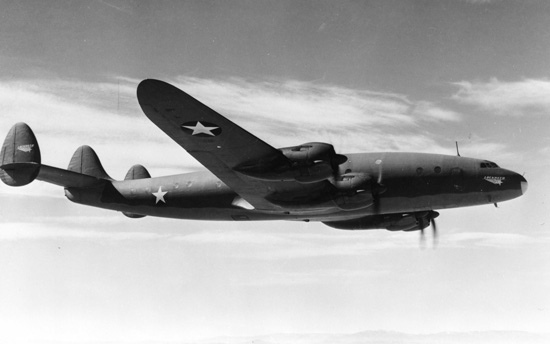 Also on board were Lockheed's chief research engineer, Clarence L. ("Kelly") Johnson; Rudy Thoren, Johnson's assistant; and Dick Stanton, chief mechanic.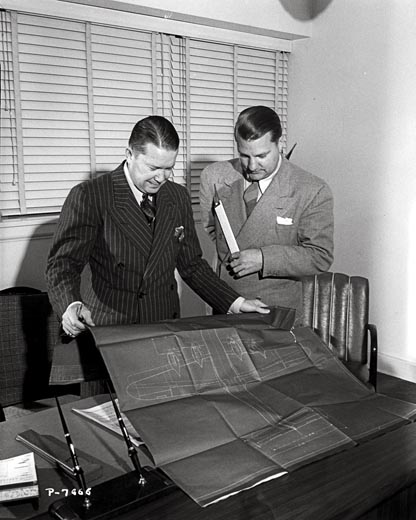 When the flight ended after 58 minutes, Allen said, "This machine works so well that you don't need me anymore!" With that, Allen returned to Seattle.
The Los Angeles Times reported: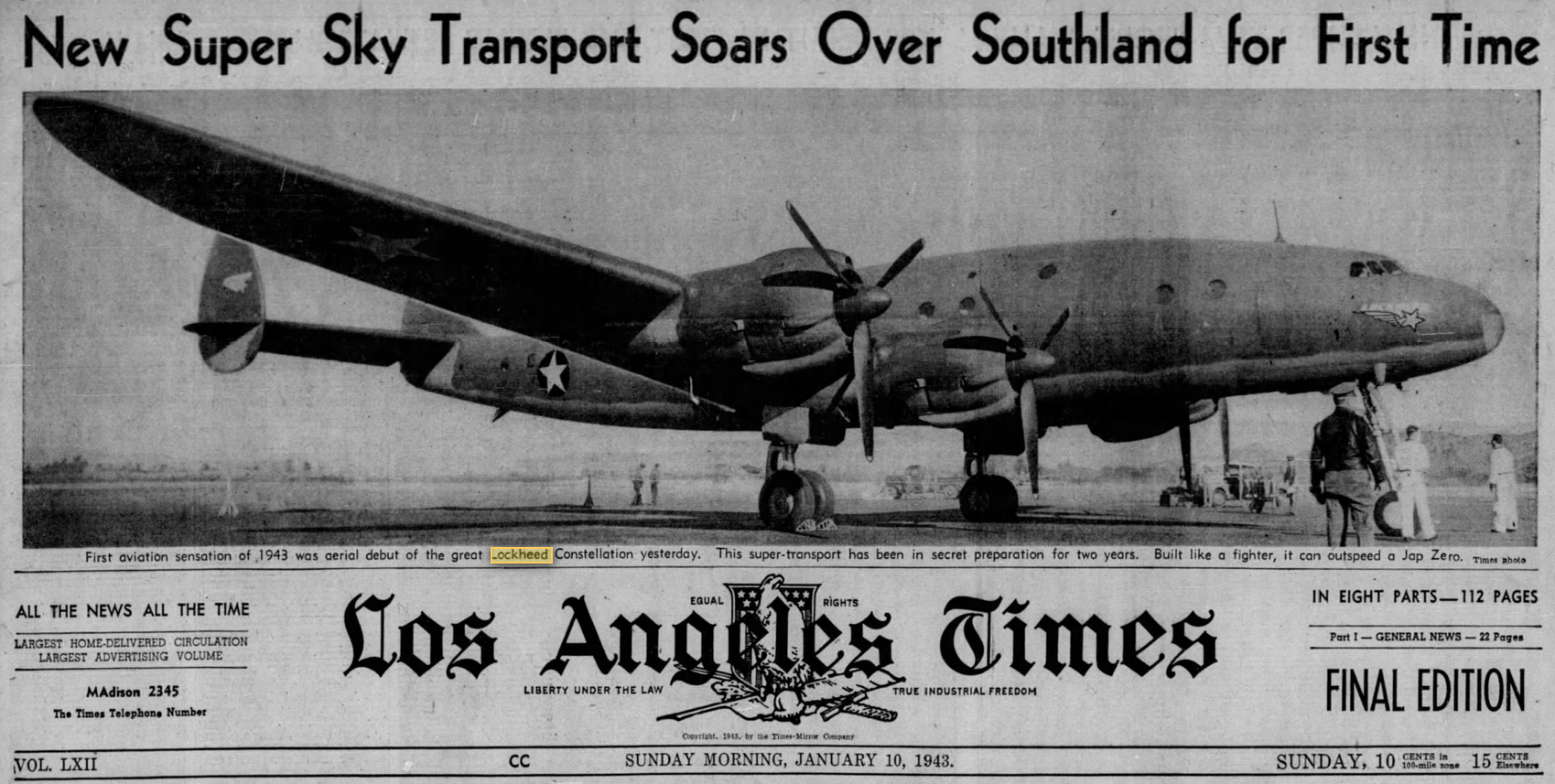 SUPER TRANSPORT PLANE IN DEBUT
Lockheed's Air Marvel Makes First Flight; Believed to Be World's Largest and Fastest; Built Like Fighter, Can Outspeed Jap Zero
BY MARVIN MILES
     Into the winter sky yesterday swept a brilliant new star—Lockheed super-transport Constellation.
     First of a galaxy to come, the four-engine colossus sped down the long east-west runway at Lockheed Air Terminal, skipped nimbly off the concrete and boomed upward with the surging roar of 8000 unleashed horses.
     A few breath-taking seconds' full throttle had written a matter-of-fact climax to two years of secret development that evolved a 60-passenger transport faster than a Jap Zero fighter.
     There were no fanfares, no speeches—simply an unvarnished war production takeoff, emphasizing as nothing else could the grim driving need for huge work planes to carry the battle swiftly to the ends of the earth.
     Yet it was the first significant aviation event of 1943.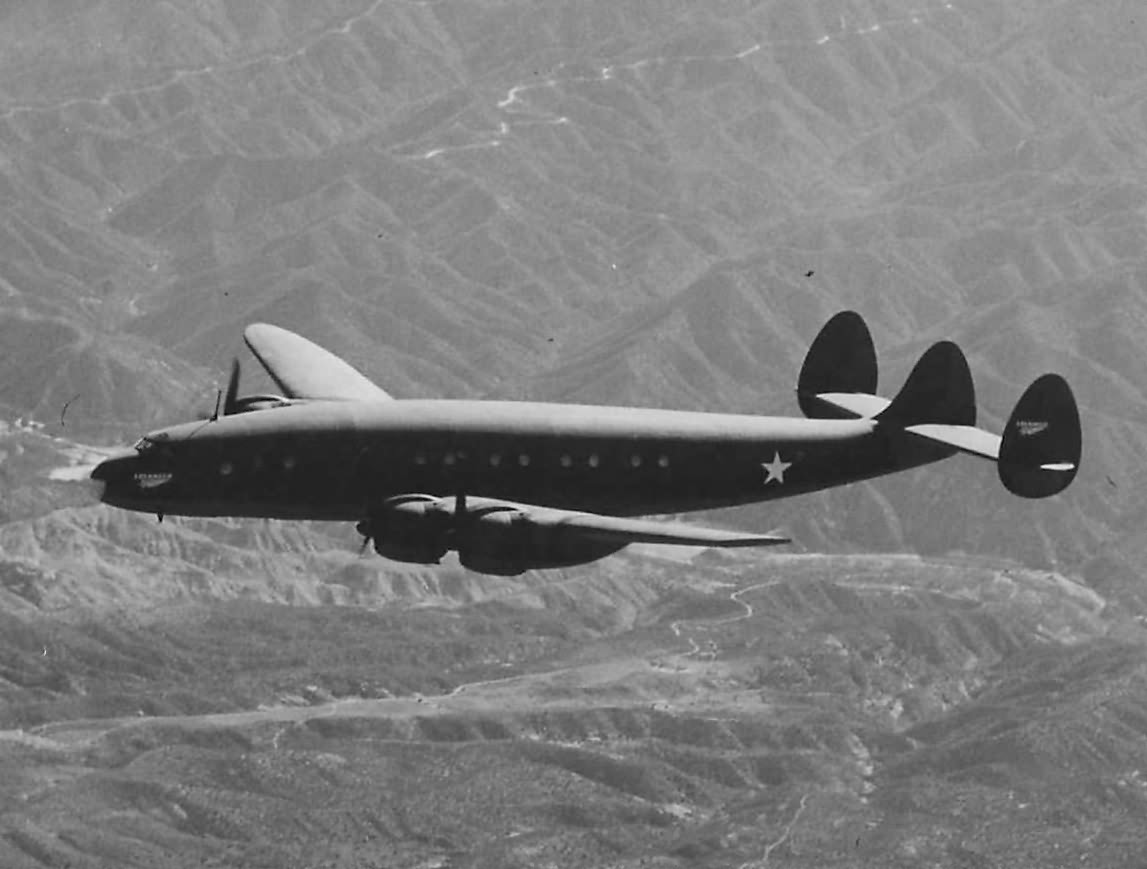 Built along the slim, graceful lines of a fighter the craft is faster than any four-engine bomber now in service. It can cross the continent in less than 9 hours,fly to Honolulu in 12. Even at half power its cruising speed is approximately 100 miles per hour faster than that of a standard airliner!
     Within its supercharged cabin, air-density will remain at the 8000-foot level when the Constellation is cruising at "over-the-weather" altitudes up to 35,000 feet. So great is its power that the monster can maintain 25,000 feet on three engines, 16,500 on two.
     As for economy of operation, the new sky queen can fly her full load hour after hour using but one gallon of gasoline per mile.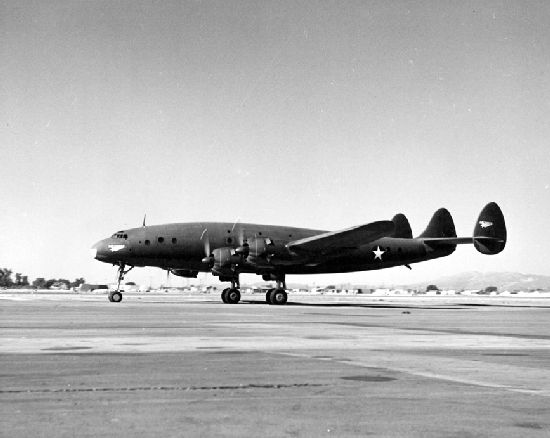 ONE TAXI TEST
     At the controls when the super-transport lifted its tricycle gear in flight were Eddie Allen, Army pilot and veteran four-engine flyer, and Milo Burcham, Lockheed test pilot noted for his substratosphere testing of the P-38. Also in the ship were C.L. (Kelly) Johnson, chief research engineer for the aircraft company; Rudy Thoren, Johnson's assistant, and Dick Stanton, chief mechanic.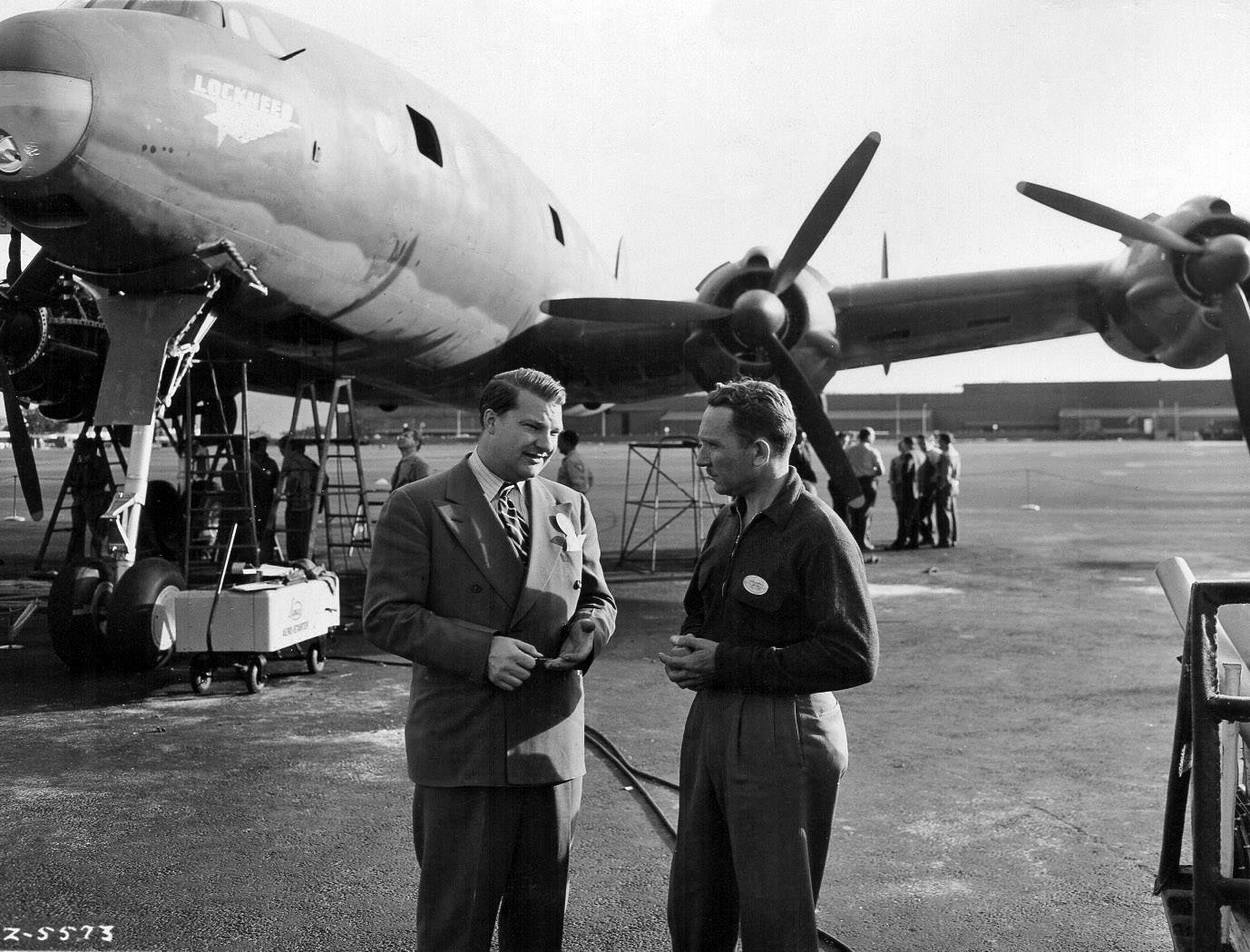 There was but one taxi test yesterday, highlighted by a brief blaze in one of the four engines following a backfire as the ship turned to roll back to the head of the runway.
     The fire was doused quickly and the Constellation stood ready for her maiden flight, he nose into a gentle breeze, the focal point of hundreds of eyes of workers, Army guards and officials watched expectantly.
     Each engine "revved up"in turn, sending deep-throated echoes over the sun-drenched terminal.
     Then the four black propellers whirled as one.
     The Constellation shot forward, the wind in her teeth, a hurtling, bellowing land monster—until her propellers plucked her from the earth in an incredibly short span of runway and sent her thundering triumphantly toward the sun.
GLIDES BACK EASILY
      In a moment she had almost vanished, only to bank in a wide turn and drone back over the terminal twice before leading her covey of lesser following craft off toward the desert to the Army airport at Muroc Dry Lake where she landed gracefully an hour later.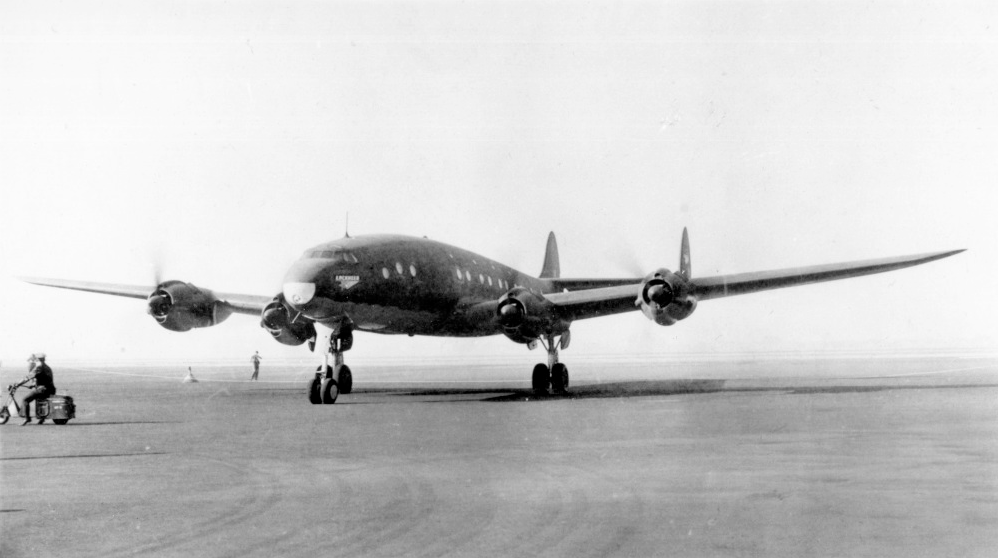 Shortly before dusk the giant craft returned to the Burbank terminal, slipped down the long "landing groove" of air and settled easily to the runway.
     Her debut was over.
     Today she will begin the exhaustive test flights to determine her performance before she is turned over to T.W.A. and the Army for the grueling business of war. . . .
—Los Angeles Times, Vol. LXII, Sunday morning, 10 January 1943, Page 1, Columns 1 and 2; Page 2, Columns 2 and 3. The article continues in Column 4. (The photographs are not a part of the original article.)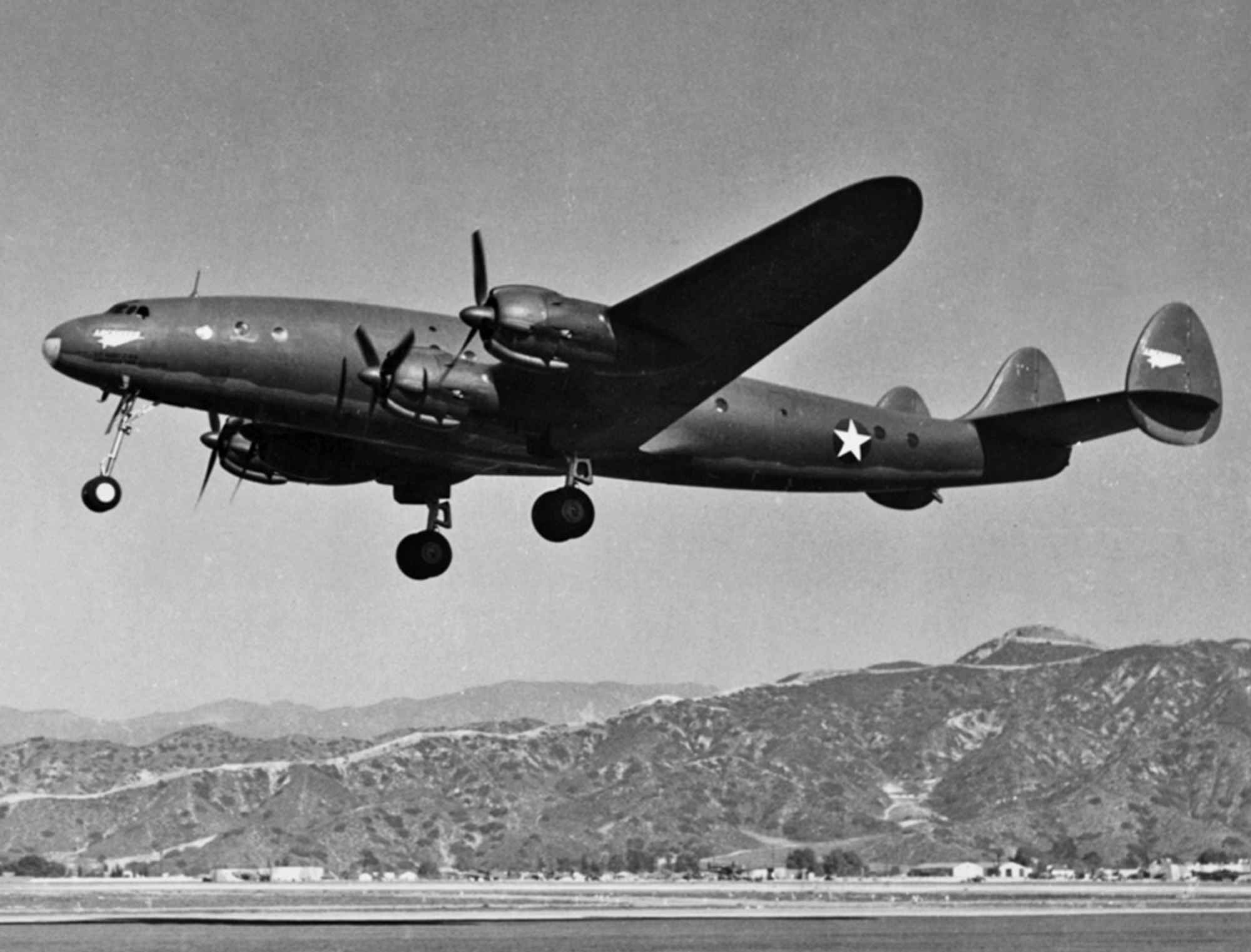 The Lockheed Model 49-46-10, company serial number 049-1961, was designated XC-69 by the U.S. Army Air Forces and assigned serial number 43-10309.
The Constellation was operated by a flight crew of four: two pilots, a navigator and a flight engineer. It could carry up to 81 passengers. The airplane was 95 feet, 1 3⁄16 inches (28.986 meters) long with a wingspan of 123 feet, 0 inches (37.490 meters), and overall height of 23 feet, 7⅞ inches (7.210 meters). It had an empty weight of 49,392 pounds (22,403.8 kilograms) and maximum takeoff weight of 86,250 pounds (39,122.3 kilograms).

The XC-69 was powered by four air-cooled, supercharged, 3,347.662-cubic-inch-displacement (54.858 liter), Wright Aeronautical Division Cyclone 18 745C18BA2 engines. Also known as the Duplex Cyclone, these were a two-row, 18-cylinder radial engines with a compression ratio of 6.5:1, which required 100/130-octane aviation gasoline. They were rated at 2,000 horsepower at 2,400 r.p.m., or 2,200 horsepower at 2,800 r.p.m. for takeoff, (five minute limit), The 745C18BA2 was 6 feet, 4.26 inches (1.937 meters) long, 4 feet, 7.78 inches (1.417 meters) in diameter and weighed 2,595 pounds (1,177 kilograms). The engines drove 15 foot, 2 inch (4.623 meter) diameter, three-bladed Hamilton Standard Hydromatic 43E60 constant-speed propellers through a 0.4375:1 gear reduction.
The L-049 had a cruise speed of 313 miles per hour (504 kilometers per hour) and a range of 3,995 miles (6,429 kilometers). Its service ceiling was 25,300 feet (7,711 meters).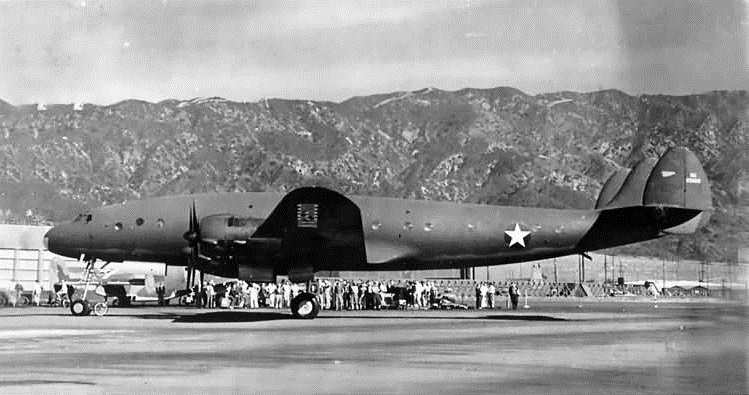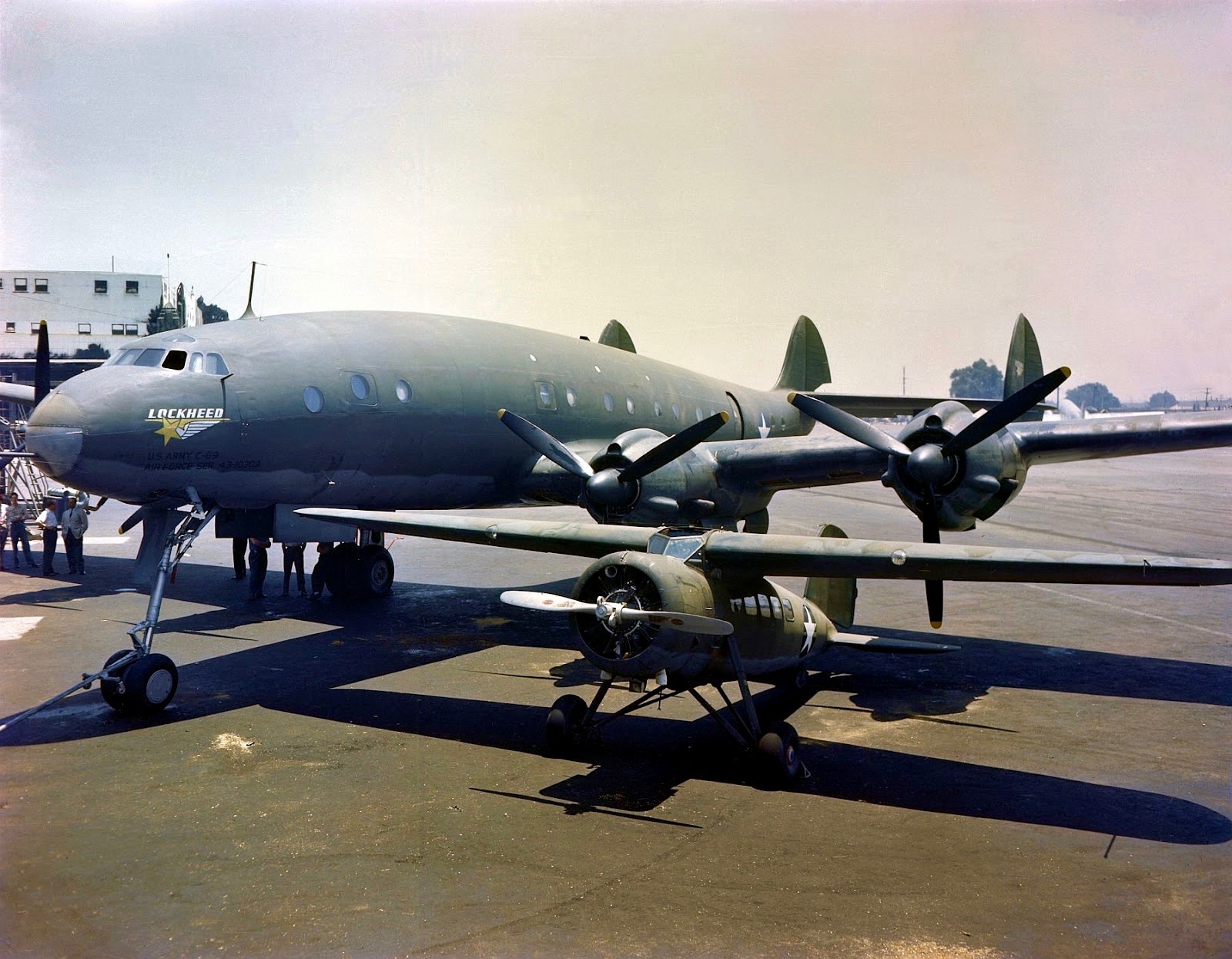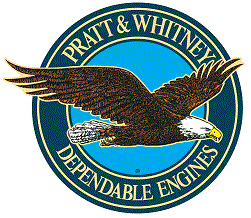 The prototype XC-69 was later re-engined with Pratt & Whitney Double Wasp 2SC14-G (R-2800-83) engines and designated XC-69E. These had a Normal rating of 1,700 horsepower at 2,600 r.p.m., to 7,300 feet (2,225 meters), 1,500 horsepower at 17,500 feet (5,334 meters), and 2,100 horsepower at 2,800 r.p.m. for Takeoff.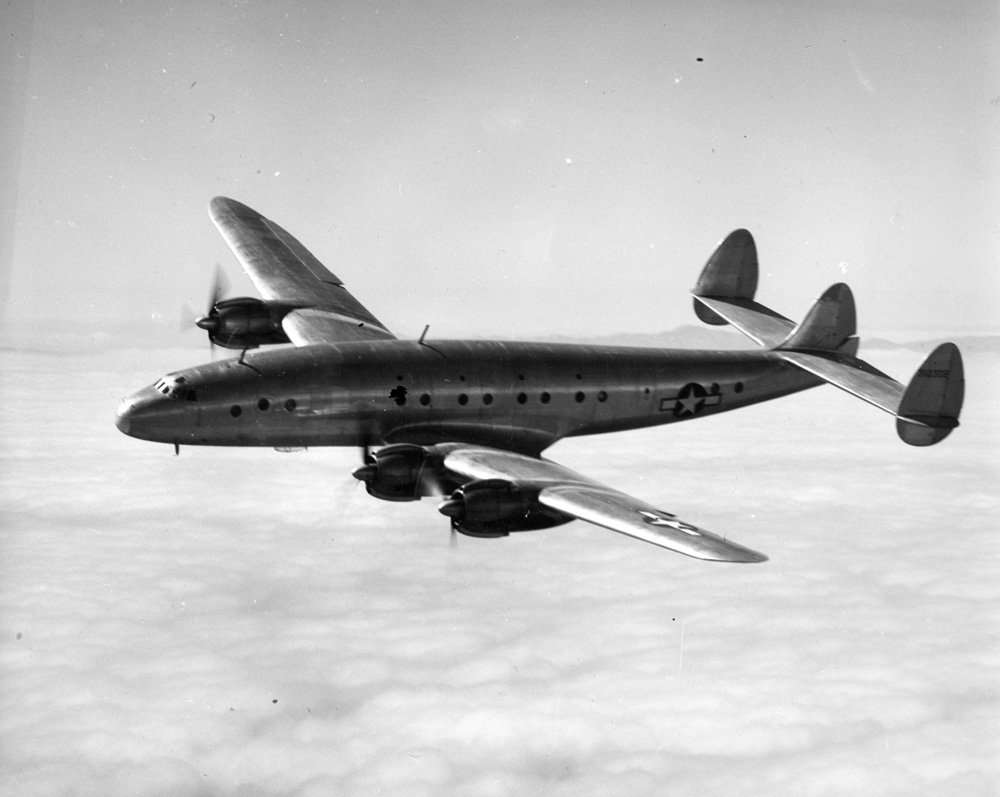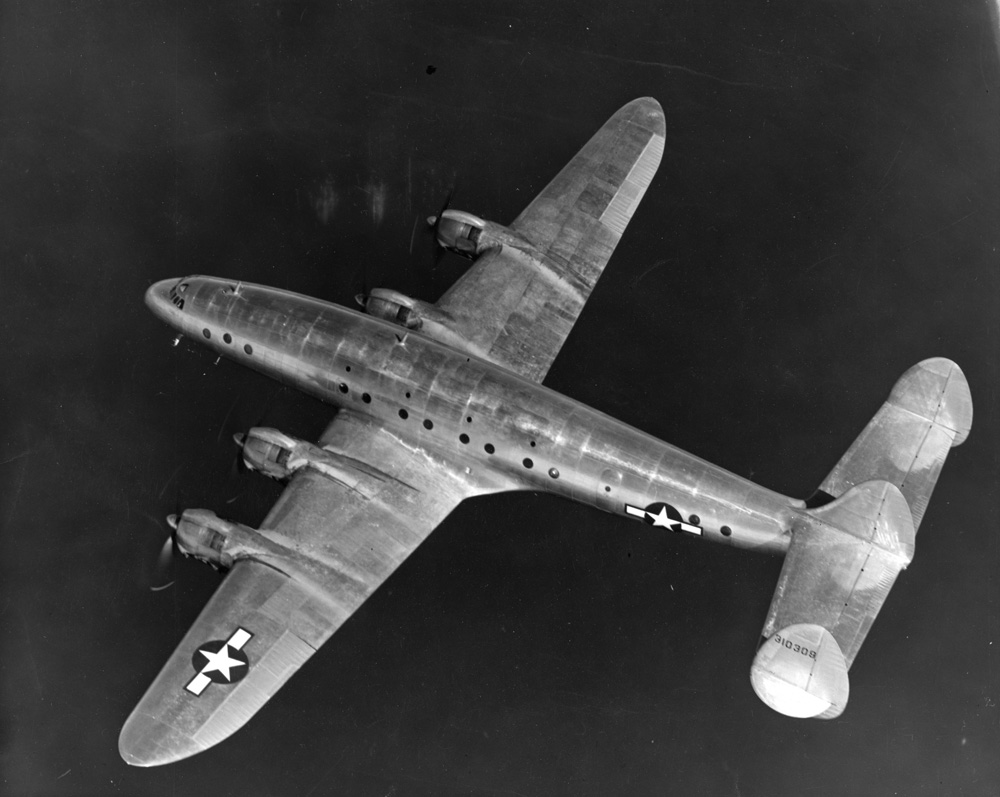 After the war, the Constellation prototype was sold to Howard Hughes' Hughes Aircraft Company for $20,000 and registered as NX67900. In May 1950, Lockheed bought the prototype back from Hughes for $100,000 and it was again registered as NC25600. It had accumulated just 404 flight hours up to this time.