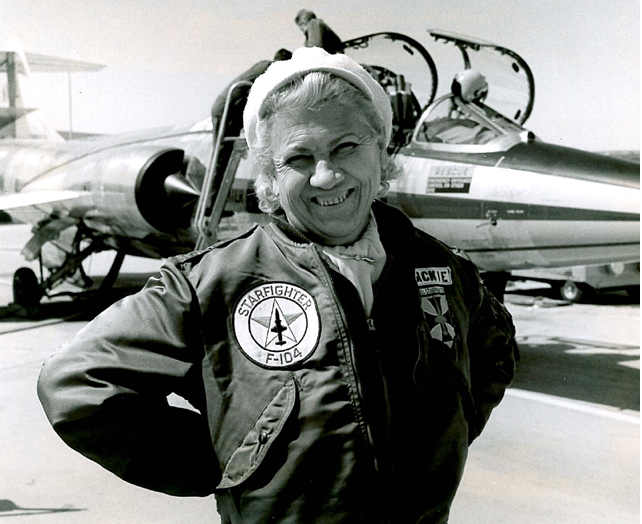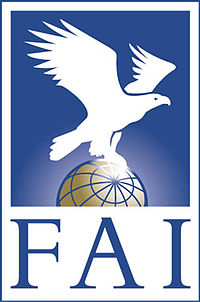 1 May 1963: At Edwards Air Force Base, California, Jacqueline ("Jackie") Cochran, Colonel, U.S. Air Force Reserve, established a Fédération Aéronautique Internationale (FAI) World Speed Record when she flew this two-place Lockheed TF-104G Starfighter, FAA registration N104L, named Free World Defender, over a 100-kilometer (62.137-mile) closed circuit at an average speed of 1,937.15 kilometers per hour (1,203.69 miles per hour).¹
Jackie Cochran wrote about flying the 100-kilometer course in her autobiography:
The 100 kilometer closed course was so damn difficult. Imagine an absolutely circular racetrack, about a quarter of a mile wide, on the ground with an inner fence exactly 63 miles long. Now, in your mind's eye, leave the track and get into the air at 35,000 feet. Fly it without touching the fence in the slightest. It's tricky because if you get too far away from the inner fence, trying not to touch, you won't make the speed you need to make the record. And if you get too close, you'll disqualify yourself.
Eyes are glued to the instrument panel. Ears can hear the voice of the space-positioning officer. You are dealing in fractions of seconds. And your plane isn't flying in flat position. It's tipped over to an 80-degree bank to compensate for the circle. That imaginary inner fence may be to your left, but you don't head your plane left. That'd lose altitude. Instead, you pull the nose up a bit and because the plane is so banked over, you move closer to the fence. You turn.
—Jackie Cochran: An Autobiography, by Jacqueline Cochran and Maryann Bucknum Brinley, Bantam Books, New York 1987, Page 314.
She had flown this same F-104 to an earlier speed record at Edwards Air Force Base, 12 April 1963.
N104L was retained by Lockheed for use as a customer demonstrator to various foreign governments. In 1965 Lockheed sold N104L to the Dutch Air Force, where it served as D-5702 until 1980. It next went to the Turkish Air Force until it was retired in 1989.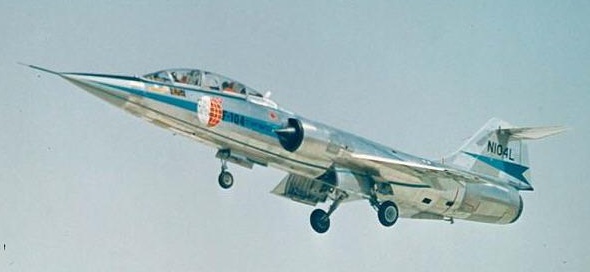 ¹ FAI Record File Number 12390
© 2019, Bryan R. Swopes