31 March 1945: Messerschmitt Aktiengesellschaft test pilot and technical inspector Hans Fay (1888–1959) defected to the Allies at Frankfurt/Rhein-Main Airfield, Frankfurt, Germany.
He brought with him a brand-new Messerschmitt Me 262 A-1 twin-engine jet fighter.
Fay had been waiting for an opportunity to bring an Me 262 to the Americans, but feared reprisals against his parents. When he learned that the U.S. Army controlled their town, he felt that it was safe to go ahead with his plan.
On 31 March, Fay was ordered to fly one of twenty-two new fighters from the Me 262 assembly factory at Schwäbisch-Hall to a safer location at Neuburg an der Donau, as they were in danger of being captured by advancing Allied forces. His airplane was unpainted other than low visibility Balkenkreuz markings on the wings and fuselage, and standard Luftwaffe markings on the vertical fin. Fay was the fourth to take off, but instead of heading east-southeast toward Neuburg, he flew north-northwest to Frankfurt, arriving there at 1:45 p.m.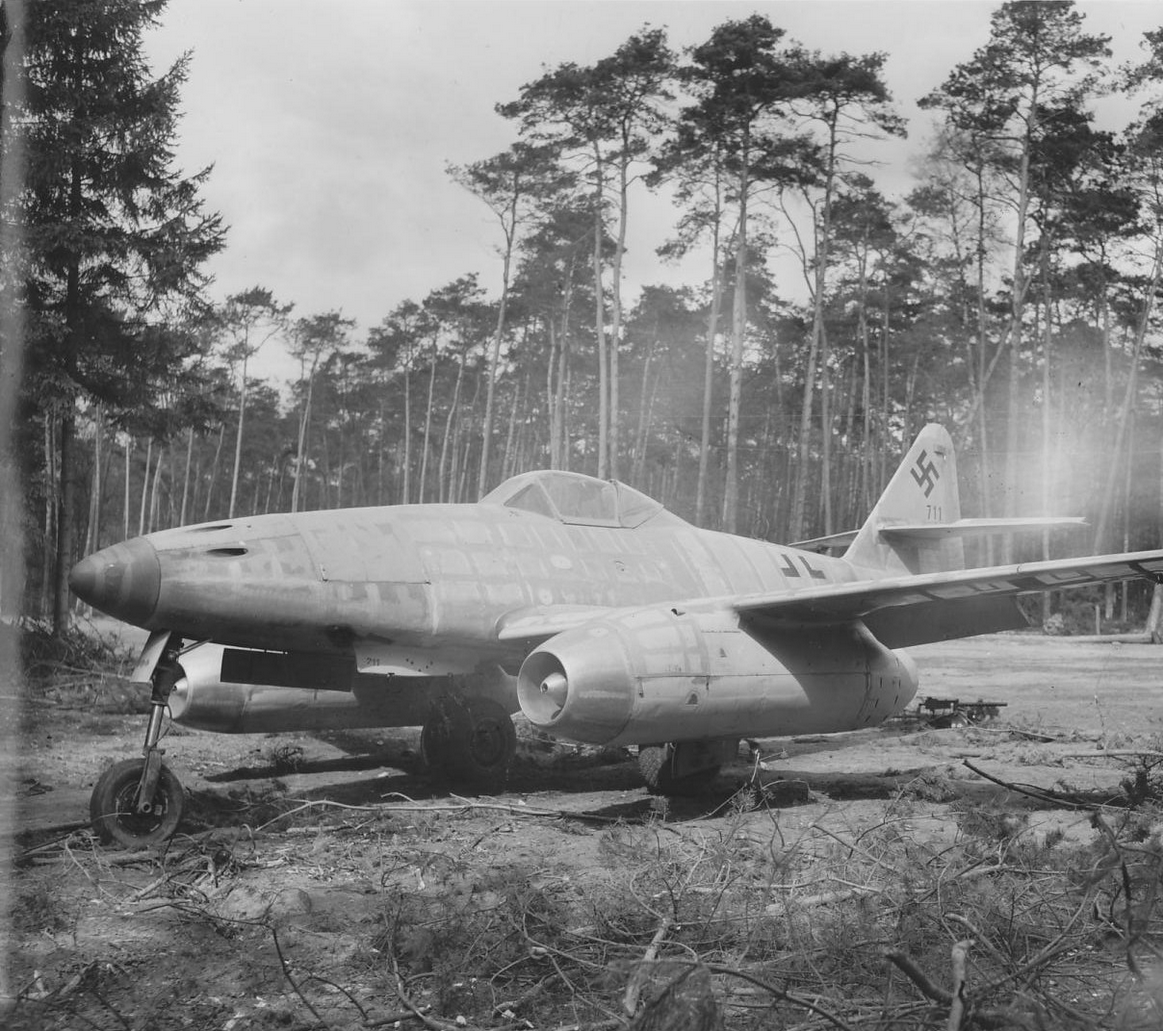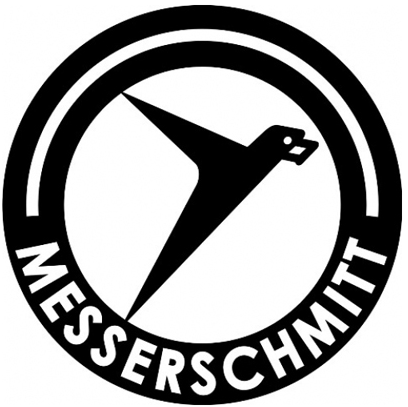 The Messerchmitt Me 262 Schwalbe was the first production jet fighter. It was a single-place, twin-engine airplane with the engines placed in nacelles under the wings. It was 10.6 meters (34 feet, 9.3 inches) long with a wingspan of 12.51 meters (41 feet, 5.2 inches) and overall height of 3.85 meters (12 feet, 7.6 inches). According to Fay, the fighter's empty weight was 3,760 kilograms (8,289 pounds) and the maximum gross weight was 7,100 kilograms (15,653 pounds) at engine start.¹
The Me-262 wings had 6° dihedral. The leading edges were swept aft to 20°, while the trailing edges of the inner panels swept forward 8½° to the engine nacelle, then outboard of the engines, aft 5°. The purpose of the sweep was to keep the airplane's aerodynamic center close to the center of gravity, a technique first applied to the Douglas DC-2. The total wing area was 21.7 square meters (233.6 square feet).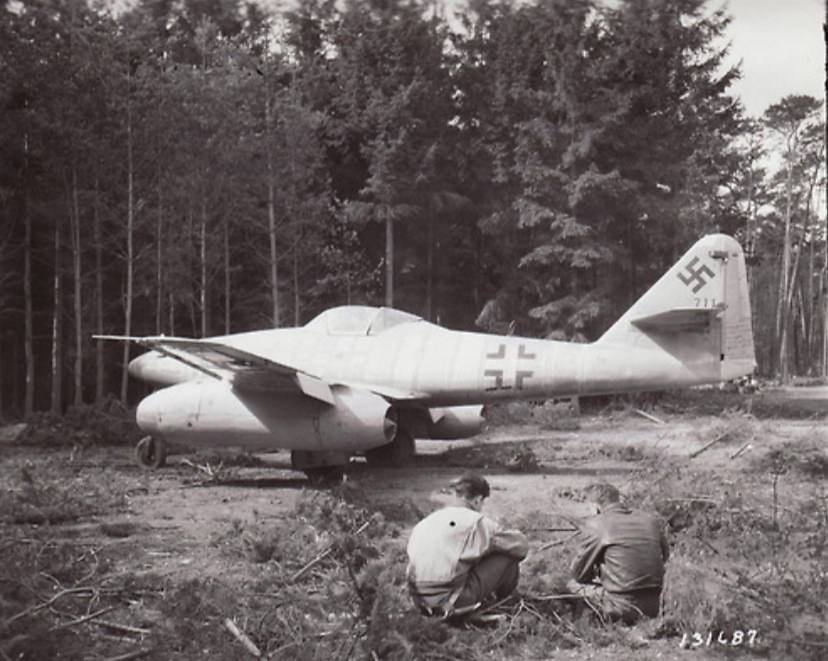 The Me 262 A-1 was powered by two Junkers Jumo TL 109.004 B-1 turbojet engines. The 004 was an axial-flow turbojet with an 8-stage compressor section, six combustion chambers, and single-stage turbine. The 004 engine case was made of magnesium for light weight, but this made it vulnerable to engine fires. The engine was designed to run on diesel fuel, but could also burn gasoline or, more commonly, a synthetic fuel produced from coal, called J2. The engine was first run in 1940, but was not ready for production until 1944. An estimated 8,000 engines were built. The 004 B-1 idled at 3,800 r.p.m., and produced 1,984 pounds of thrust (8.825 kilonewtons) at 8,700 r.p.m. The engine was 2 feet,  inches (0.864 meters) in diameter, 12 feet, 8 inches (3.861 meters) long, and weighed 1,669 pounds (757 kilograms).
During interrogation, Hans Fay said that for acceptance, the production Me 262 was required to maintain a minimum of 830 kilometers per hour (515 miles per hour) in level flight, and 950 kilometers per hour (590 miles per hour) in a 30° dive. The fighter's cruise speed was 750 kilometers per hour (466 miles per hour).
A number of factors influenced the Me 262's maximum range, but Fay estimated that the maximum endurance was 1 hour, 30 minutes. U.S. Air Force testing establish the range as 650 miles (1,046 kilometers) and service ceiling at 38,000 feet (11,582 meters).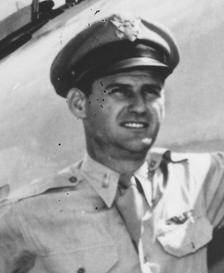 The Me 262 A-1 was armed with four Rheinmetall-Borsig MK 108 30 mm autocannons with a total of 360 rounds of ammunition. (The Me 262 A-2 had just two autocannons with 160 rounds.) It could also be armed with twenty-four  R4M Orkan 55 mm air-to-air rockets. Two bomb racks under the fuselage could each be loaded with a 500 kilogram (1,102 pounds) bomb.
1,430 Me 262s were produced. They entered service during the summer of 1944. Luftwaffe pilots claimed 542 Allied airplanes shot down with the Me 262.
Hans Fay's Messerschmitt Me 262 A-1, WNr. 111711, was transported to the United States and was tested at Wright Field, Dayton, Ohio.
711 was lost during a test flight, 20 August 1946, when one of its engines caught fire. The test pilot, Lieutenant Walter J. "Mac" McAuley, Jr., U.S. Army Air Corps, safely bailed out. The Me 262 crashed 2 miles (3.2 kilometers) east of Lumberton, Ohio, and was completely destroyed.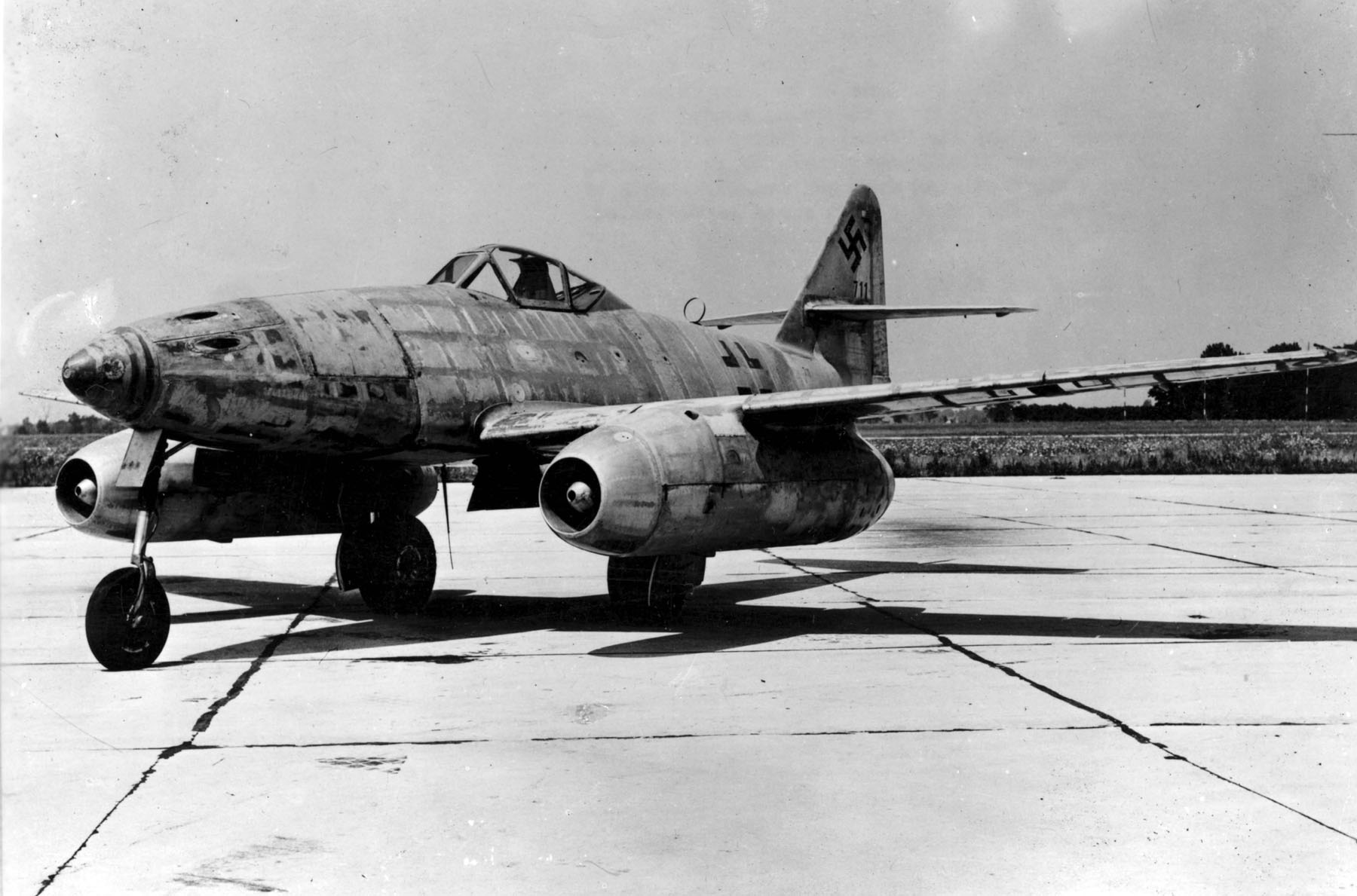 Walter J. McAuley, Jr.,²  was born 10 March 1917 at Fort Worth, Texas. He was the fourth child of Walter J. McAuley and Lola Mahaffey McAuley. Walter attended Texas A&M College at College Station, Texas. While there, he also worked as a mechanic. He graduated with a bachelor of science degree in 1941.
McAuley had brown hair, blue eyes, was 5 feet, 9 inches (1.75 meters) tall and weighed 160 pounds (75.6 kilograms).
McAuley enlisted as a seaman, second class, United States Naval Reserve, and served from 11 April to 3 December 1941. He transferred to the U.S. Army as a private, Air Corps Enlisted Reserve Corps (A.C.E.R.C.), 2 May 1942. Private McAuley was accepted as an aviation cadet, Air Corps, 18 October 1942.
Aviation Cadet McAuley was commissioned as a second lieutenant, Army of the United States (A.U.S.), 29 July 1943, and placed on active duty. He was promoted to first lieutenant, A.U.S., one year later, 1 August 1944.
Lieutenant McAuley was promoted to captain, Air-Reserve, 30 July 1947. On 10 July 1947, he received a permanent commission as a first lieutenant, Air Corps, United States Army. His date of rank was retroactive to 10 March 1945.
After the establishment of the United States Air Force, Lieutenant McAuley was transferred to the new service. He was number 6,626 on the register of Air Force first lieutenants.
McCauley rose to the rank of lieutenant colonel in the U.S. Air Force. He was released from duty 31 December 1962.
Walter J. McAuley Jr., married Miss Mary Elizabeth Sloss, 8 May 1943. They divorced 25 March 1969. He then married Lillian R. Zwickl, 3 April 1969. They also divorced, 10 September 1971.
Lieutenant Colonel McAuley died 11 March 1985. He was buried at Greenwood Memorial Park, Fort Worth, Texas.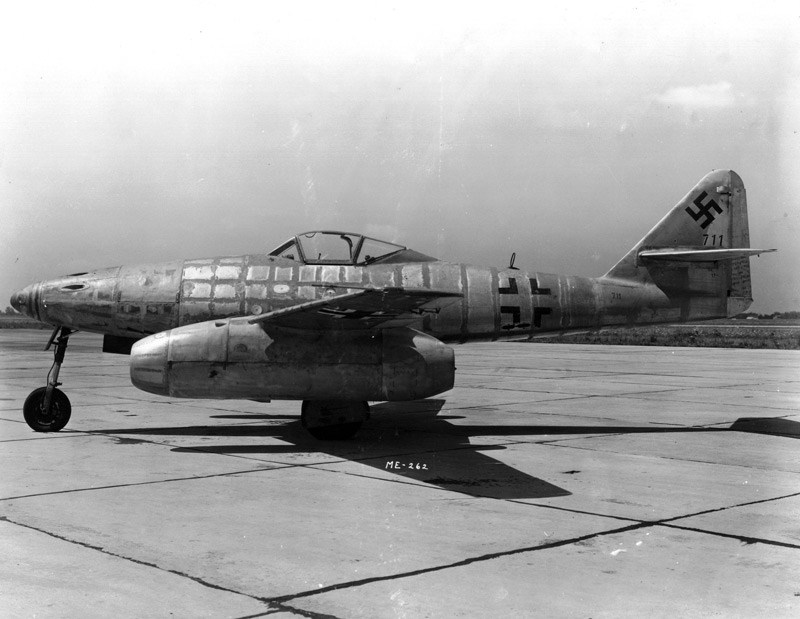 ¹ A technical report from RAE Farnborough gave the empty weight of the Me 262 as 11,120 pounds (5,044 kilograms). Its "all up weight," less ammunition, was 14,730 pounds (6,681 kilograms).
² Initial only, no middle name
© 2019, Bryan R. Swopes