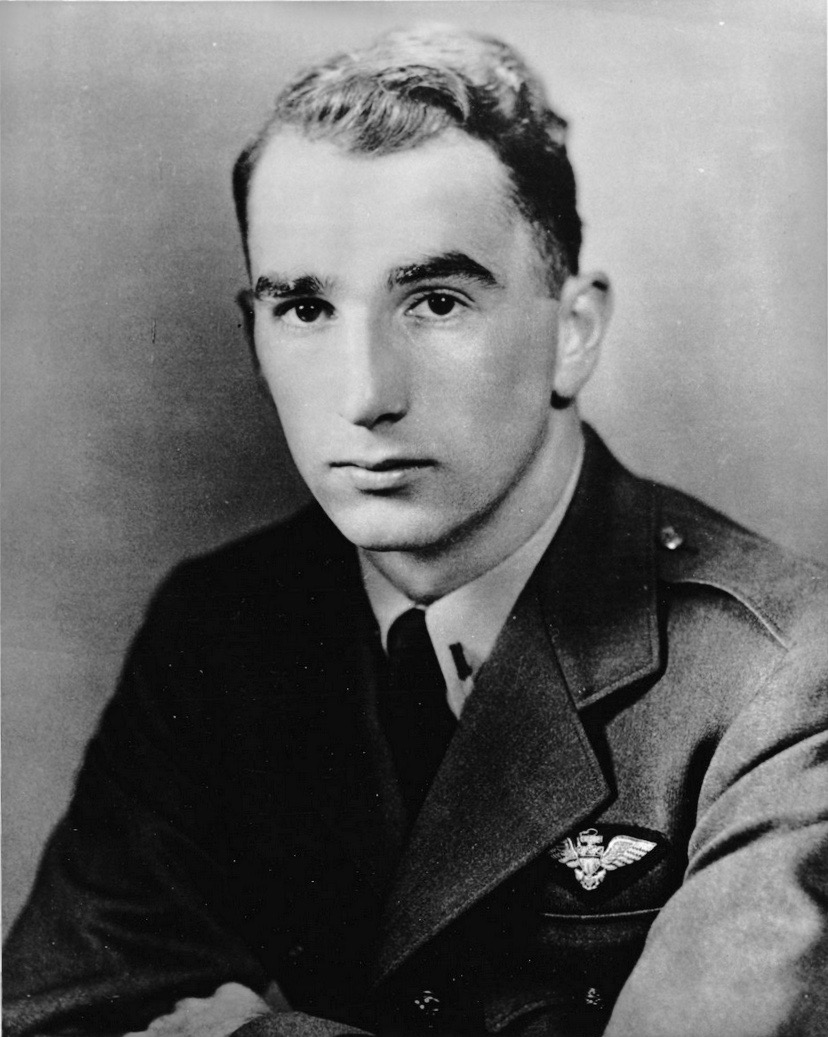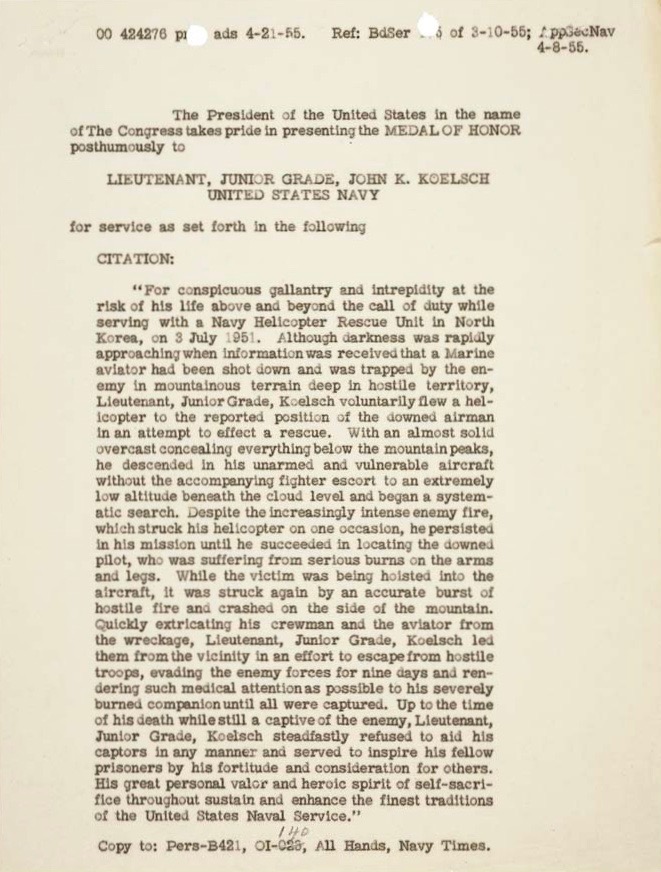 3 July 1951: With his Chance Vought F4U-4B Corsair, Bu. No. 63056, hit and on fire, Captain James V. Wilkins, United States Marine Corps, of Marine Fighter Squadron 312 (VMF-312) stationed aboard USS Sicily (CVE-118), bailed out approximately 35 miles (56 kilometers) southeast of Wonson, North Korea. He parachuted onto a mountainside in the Anbyon Valley.
Severely burned and with an injured leg, Captain Wilkins was seen by North Korean soldiers along a heavily-traveled supply route. While enemy soldiers shot at him, Wilkins tried to escape by crawling up the mountainside.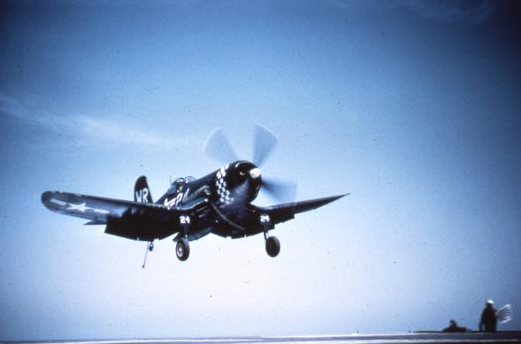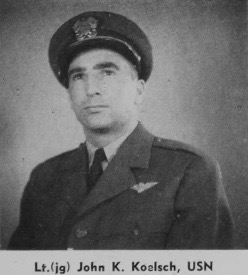 Lieutenant (j.g.) John Kelvin Koelsch, United States Navy, was a helicopter pilot in charge of a detachment of Helicopter Utility Squadron Two (HU-2), stationed aboard a former U.S. Navy Landing Ship (Tank), USS LST-488. The LST had been transferred to Japan after World War II and converted to a merchant ship. During the Korean War, it and its 45-man Japanese crew were contracted to the U.S. Navy. The LST was reconverted to a helicopter support ship, designated Q-009.
A torpedo bomber pilot during World War II, Lieutenant Koelsch transferred to Helicopter Utility Squadron One (HU-1) at NAS Lakehurst, New Jersey, in 1949, and was trained to fly the Sikorsky HO3S-1 helicopter, a Navy variant of the commercial Sikorsky S-51. He had completed a combat tour aboard USS Princeton (CV-37) but rather than return to the United States with his squadron, requested a transfer to HU-2. Koelsch told his shipmates that he felt rescuing downed pilots was his mission.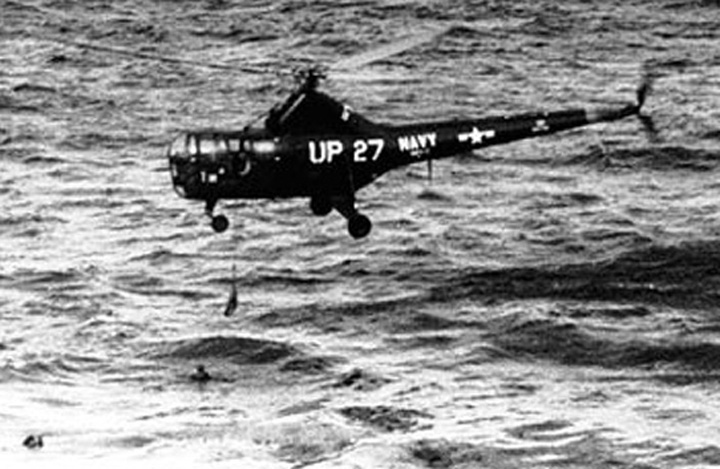 When Captain Wilkins' Corsair went down, Lieutenant Koelsch volunteered to attempt a rescue. Shortly before sunset, he and his rescue crewman, Aviation Machinist's Mate 3rd Class George Milton Neal, boarded their helicopter, Sikorsky HO3S-1, Bu. No. 122715, and took off from Q-009 in a mist and low clouds.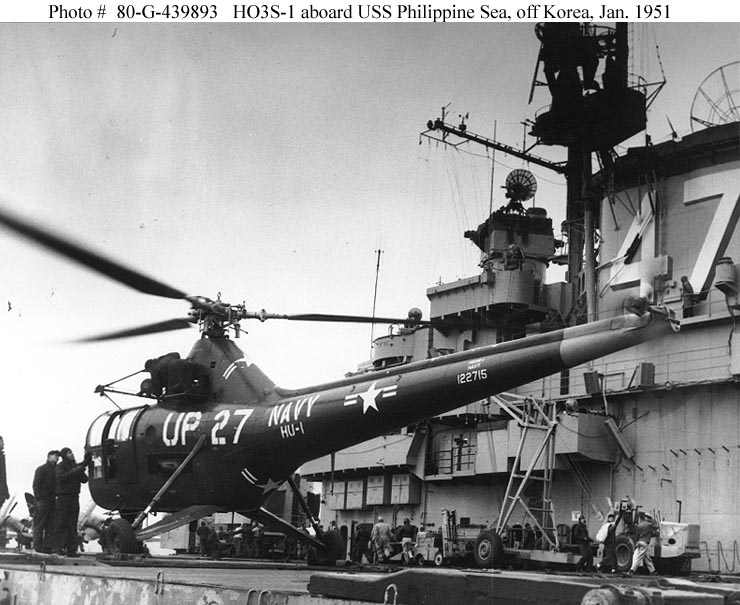 Wilkins heard Koelsch's helicopter approaching and moved back down the mountain toward his parachute. He saw the Sikorsky flying at about 50 feet (15 meters) below a layer of clouds. The helicopter was receiving heavy ground fire from the North Korean soldiers along the road. The Sikorsky was hit and Koelsch turned away, but he quickly returned. Koelsch located Wilkins and brought the HO3S-1 to a hover while rescue crewman Neal lowered a "horse collar" harness on a hoist cable. Neal then lifted the fighter pilot up to the helicopter.
The helicopter continued to be targeted by ground fire and it was finally shot down. 122715 crashed on the mountainside and rolled upside down. Koelsch and Neal were unhurt and Wilkins suffered no new injuries. Koelsch and Neal carried Wilkins and they moved away from the enemy forces, heading toward the coast. The three Americans evaded the enemy for nine days before they were captured.
John Koelsch refused to cooperate with his captors. He was held in isolation and subjected to torture. He soon became very ill. Just three months after being captured, Lieutenant (j.g.) John Kelvin Koelsch died. For his actions during and after 3 July 1951, he was awarded the Medal of Honor.
Captain Wilkins and AM3 Neal survived the war and were eventually returned to the United States. George Milton Neal was awarded the Navy Cross.
In 1965, the Garcia-class destroyer escort USS Koelsch (DE-1049, later classified as a frigate, FF-1049, in 1975) was christened in honor of the first helicopter pilot to be awarded the Medal of Honor.
John Kelvin Koelsch was born 22 December 1923 in the family home at 2 Draycott Place, Chelsea (a borough in the southwest part of  London, England). He was the third son of Henry August Koelsch and Beulah Anne Hubbard Koelsch. Mr. Koelsch was an American banker. The family returned to America aboard White Star liner R.M.S. Adriatic, sailing from Liverpool on 26 April 1924, and arriving at the Port of New York on 5 May.
In America, the Koelsch family lived in Briarcliff Manor, Westchester County, New York.
John K. Koelsch enlisted as an aviation cadet in the United States Navy 14 September 1942. He was trained as a pilot. When qualified as a Naval Aviator, Koelsch was commissioned as an ensign, 16 October 1944. He was promoted to the rank of lieutenant (junior grade) 1 August 1946.
Following the Korean Armistice Agreement, Lieutenant Koelsch's remains were returned to the United States and interred at Arlington National Cemetery, 14 October 1955.
© 2018, Bryan R. Swopes