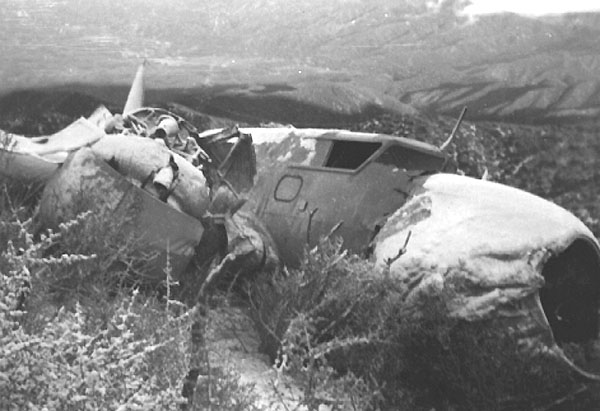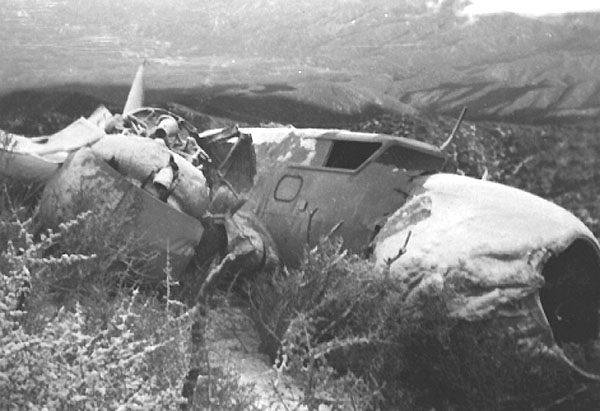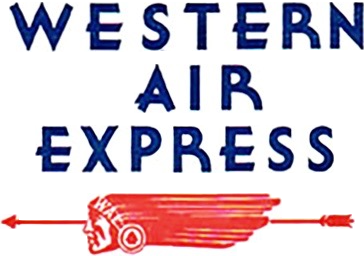 12 January 1937: Western Air Express Flight 7, a Boeing 247D airliner, NC13315, had originated at Salt Lake City, Utah, and after a stop at Las Vegas, Nevada, continued on toward Union Air Terminal, Burbank, California. Aboard were a crew of three and ten passengers.
In fog and falling snow, Captain William Walker Lewis and co-pilot Clifford P. Owens crossed over Saugus, California,
". . . at 5,200 feet [1,585 meters], aircraft was already 300 feet [91 meters] too low. . . Pilot tried to contact Burbank without any success. Due to low visibility caused by fog, pilot did not realize he was flying at an insufficient altitude. In a descent rate of 525 feet per minute [2.667 meters per second], aircraft hit Pinetos Peak."
— Bureau of Air Commerce report.
According to statements after the accident, Captain Lewis suddenly saw a ridge immediately ahead, and unable to avoid it, cut his engines and raised the nose in an attempt to reduce the impact. The accident occurred at 11:07 a.m., Pacific Time.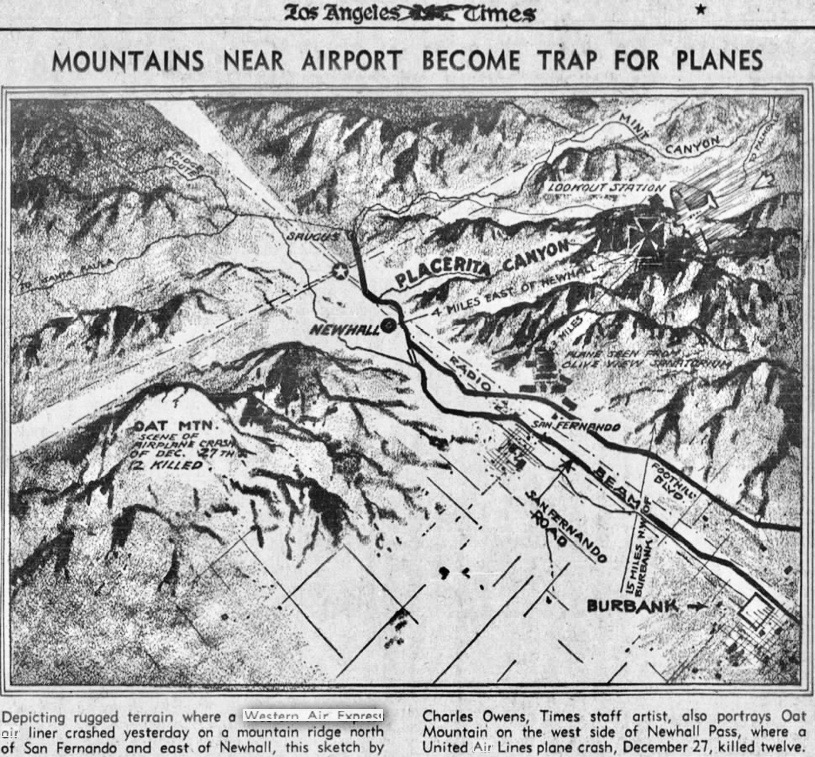 The crash was heard by patients at the Olive View Sanitorium and ranchers on the north side of the mountains. Two hours later, passenger Arthur S. Robinson arrived at the hospital and said, "Get help up there for the twelve others. It was a forced landing—they're all injured but I believe they're all alive."
One passenger, James A. Braden, president of the Braden-Sutphin Ink Co., of Cleveland, Ohio, was killed immediately. The co-pilot, Owens, and three more of the passengers died of injuries within the next several days.
One of those who died was famed adventurer and film maker Martin Johnson. His wife, Osa Johnson, was also aboard Flight 7 and was seriously injured. Another survivor, Robert T. Anderson, would later own Pea Soup Anderson, a famous restaurant in Buellton, California.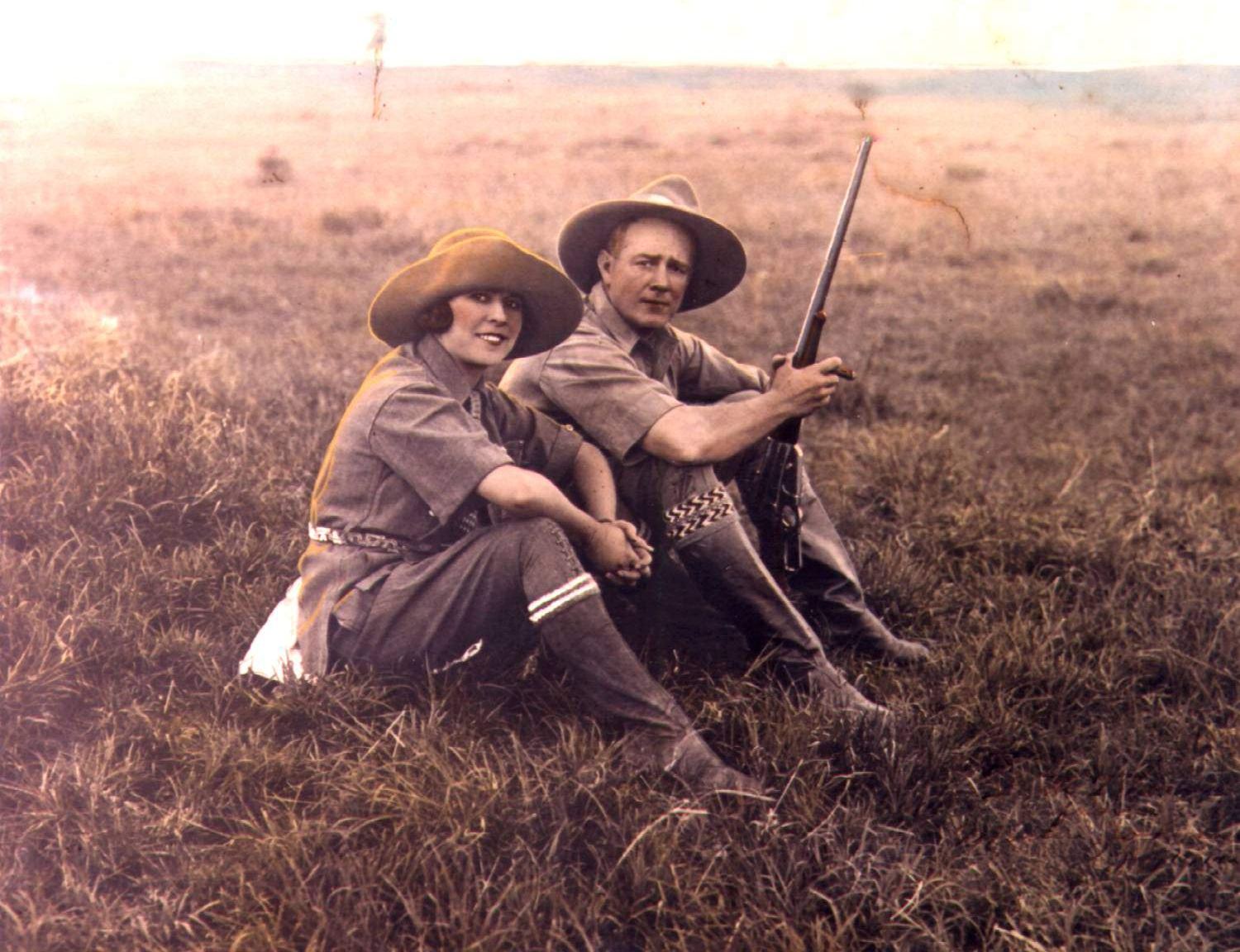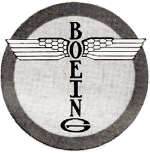 The Boeing Model 247 is considered to be the first modern airliner because of its all-metal, semi-monocoque construction, cantilevered wing and retractable landing gear. It was 50 miles per hour (80 kilometers per hour) faster than its contemporaries, and could climb on one engine with a full load.
The Model 247 was operated by a pilot, co-pilot and a flight attendant and carried up to ten passengers. The airplane was 51 feet, 5 inches (15.672 meters) long, with a wingspan of 74 feet, 1 inch (22.581 meters) and overall height of 12 feet, 5 inches (3.785 meters). The empty weight was 8,921 pounds (4,046.5 kilograms) with a maximum takeoff weight of 16,805 pounds (7,622.6 kilograms).
The Duralamin skin panels were anodized, rather than painted, for corrosion protection. This saved weight, and resulted in the 247's characteristic gray-green color.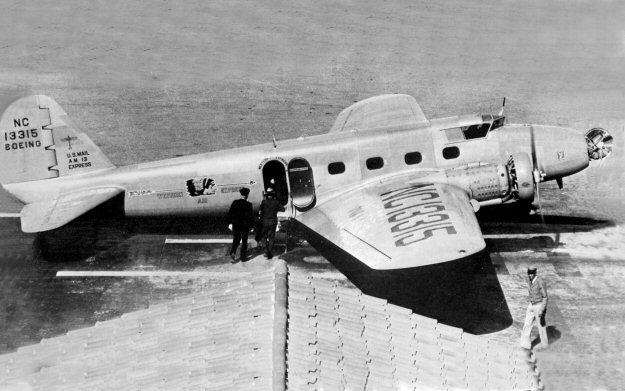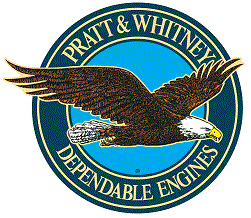 The airliner was powered by two air-cooled, supercharged, 1,343.804-cubic-inch-displacement (22.021 liters) Pratt & Whitney Wasp S1H1-G nine-cylinder radial engines with a compression ratio of 6.03:1. The S1H1-G had a Normal Power rating of 550 horsepower at 2,200 r.p.m., to 8,000 feet (2,438 meters), and 600 horsepower at 2,250 r.p.m. for Takeoff. They drove three-bladed Hamilton Standard constant-speed propellers through a 3:2 gear reduction, when installed on the 247D. The Wasp S1H1-G was 3 feet, 11.80 inches (1.214 meters) long, 4 feet, 3.61 inches (1.311 meters) in diameter, and weighed 930 pounds (422 kilograms).
The Boeing 247 had a maximum speed of 200 miles per hour (322 kilometers per hour) with a cruising speed of 188 miles per hour (303 kilometers per hour. It had a range of 745 miles (1,199 kilometers) and a service ceiling of 25,400 feet (7,742 meters).
75 Model 247s were built. 60 were operated by Boeing Air Transport.
[Note: the windshield was canted forward to prevent instrument panel lighting from reflecting into the cockpit at night. Unfortunately, ground lighting was reflected instead. This was soon changed to a rearward slant and resulted in a slight increase in speed.]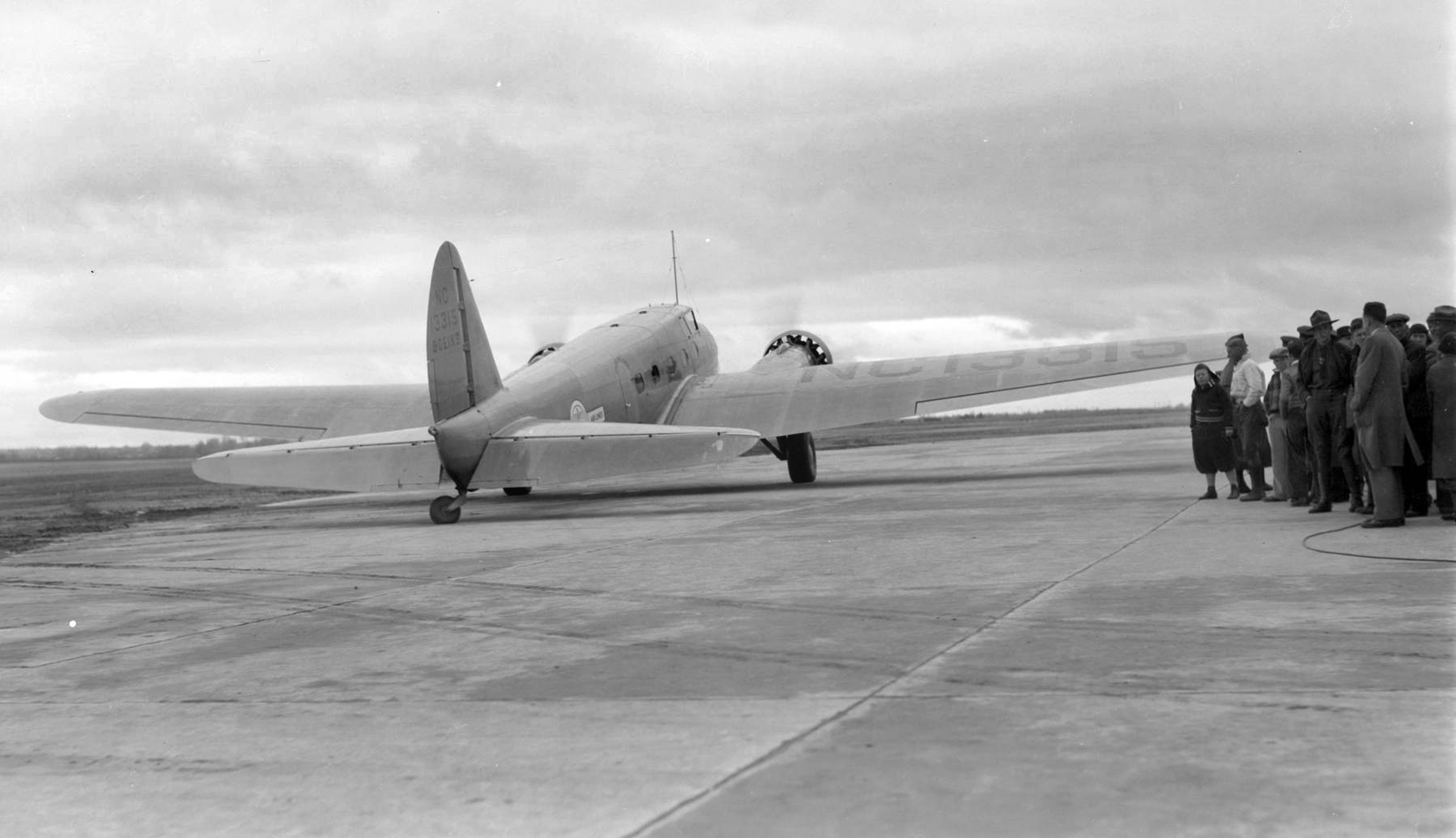 © 2019, Bryan R. Swopes