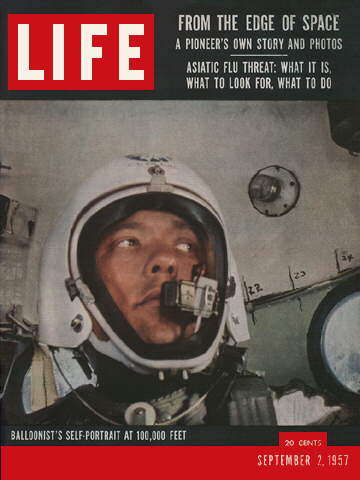 19–20 August 1957: At 9:22 a.m., Central Daylight Time (1422 UTC), 19 August 1957, Major David G. Simons, M.D., United States Air Force, lifted off aboard a helium-filled balloon at an open pit mine near Crosby, Minnesota. This was the second flight of Project MANHIGH, MANHIGH II, a series of experiments to investigate the physiological effects of extreme high altitude flight. The balloon and its 1,648 pound (748 kilogram) gondola were deployed from the bottom of Portland Mine as protection from wind while it inflated.
After 2 hours, 18 minutes, Major Simons had reached 100,000 feet (30,480 meters) above the surface of the Earth. The peak altitude, 30,942 meters (101,516 feet), set a Fédération Aéronautique Internationale (FAI) World Record for Altitude.¹
Major Simons wore a slightly modfified David Clark Co. MC-3A capstan-type partial-pressure suit and MA-2 helmet for protection should the gondola lose pressure while at high altitude. During his flight, Dr. Simons performed 25 aeromedical experiments.
32 hours, 10 minutes after lift off, at 5:32 p.m., CDT (2232 UTC), 20 August, the MANHIGH II gondola touched down 10 miles (16 kilometers) northwest of Frederick, South Dakota.
Major Simons was awarded the Distinguished Flying Cross, presented to him 24 August 1957 by Lieutenant General Samuel E. Anderson, at the Air Force Research and Development Command (ARDC) Headquarters, Andrews Air Force Base, Maryland.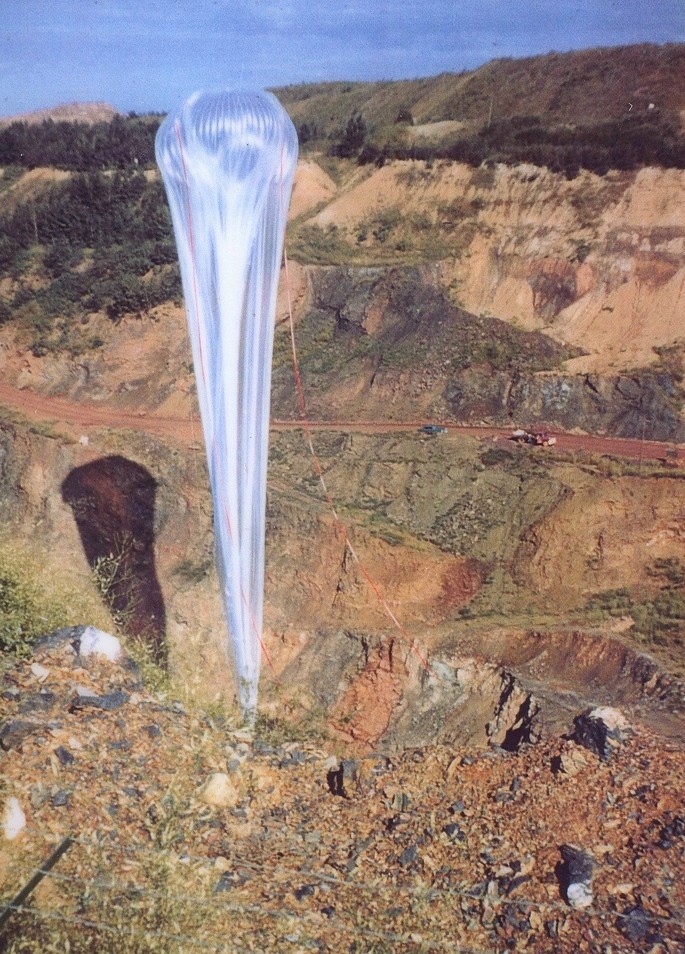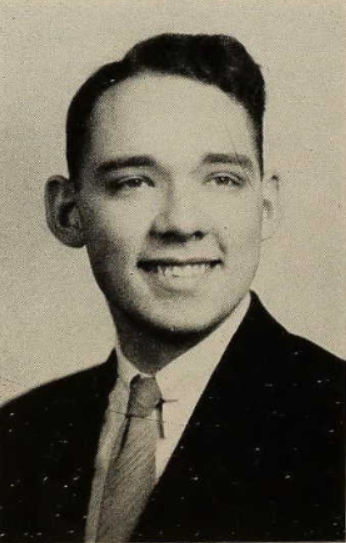 David Goodman Simons was born in Lancaster, Pennsylvania, 7 June 1922. He was the first of two children of Dr. Samuel Shirk Simons, a physician in private practice, and Catherine Rebecca Goodman Simons.
Dave Simons entered the Franklin & Marshall Academy at Lancaster in 1936. He was a member of the science club, and the swimming and tennis teams. He was on the school's honor roll for 1938 and 1939.
Simon entered Franklin & Marshall College in Philadelphia, Pennsylvania, in September 1940. At the age of 20 years, Simons was described as 6 feet (1.83 meters) tall, weighing 180 pounds (82 kilograms), with brown hair, hazel eyes, and a ruddy complexion.
From 15 August 1942 to 20 January 1944, Simons was on inactive service, assigned the Medical Administrative Corps, Army of the United States. (The MAC was responsible for officer training schools for medical professionals at Carlisle Barracks in Carlisle, Pennsylvania, and Camp Barkeley, southwest of Abilene, Texas.) On 21 January 1944, Simons was enlisted as a private, Enlisted Reserve Corps.
Following his graduation from Franklin & Marshall College, Simon entered the Jefferson Medical College, Philadelphia, Pennsylvania, and graduated in 1946.
On 22 March 1946, Private Simons was discharged from the ERC to accept a commission as an officer in the Army Medical Corps.
Lieutenant David Goodman Simons married Miss Mary Elizabeth Heagey, 23 June 1946. They would have five children, one of whom died in infancy. They divorced in 1959.
Lieutenant Simons was assigned to the Aero-Medical Laboratory, Wright-Patterson Air Force Base, Ohio. He was involved in early experiments which used captured V-2 rockets to launch rhesus monkeys into space. In 1948, Dave Simons was promoted to the rank of captain.
Captain Simons next attended the Air Force Advanced Course in Aviation Medicine at Randolph Air Force Base, San Antonio, Texas. During the Korean War, he served as a flight surgeon at Yakota Air Base in Japan.
Captain Simons returned to scientific research at the Aeromedical Field Laboratory at Holloman Air Force Base, Alamogordo, New Mexico, where he investigated cosmic radiation.
After divorcing his wife, Mary, Major Simons on 12 June 1959 married Mrs. Vera Winzen (née Wera Maria Habrecht), the divorced founder and owner of Winzen Research, Inc., manufacturers of the MANHIGH balloons and gondolas. They also divorced, 5 May 1969.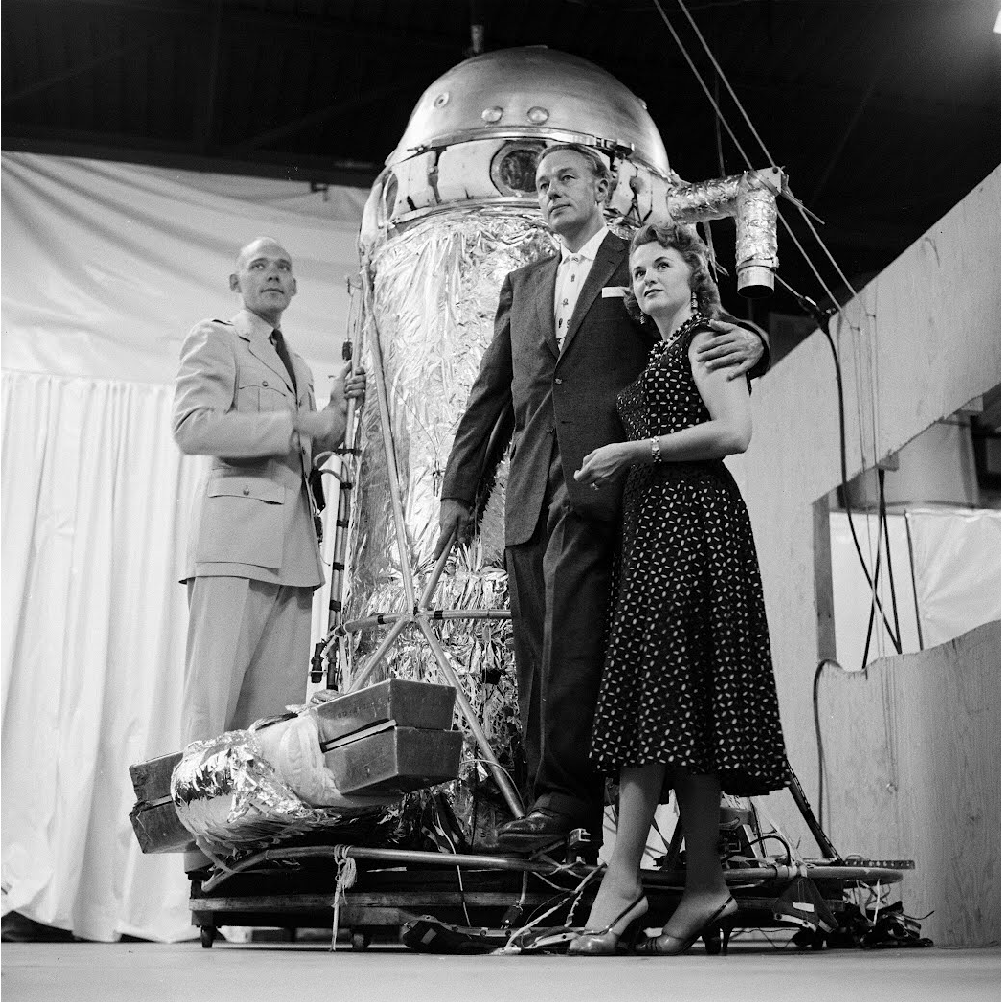 Lieutenant Colonel Simons retired from the United States Air Force 30 June 1965.
Dr. Simons married Mrs. Ute Margarete McConnell (née Ute Margarete Jordan) a reference librarian at the Texas Medical Center, 20 May 1971. Ms. Jordan, like Simon's second wife, was also a native of Germany. They would also divorce.
Dr. Simons became the leading authority on myofascial pain and co-authored a text book on trigger points and chronic pain management, Myofascial Pain and Dysfunction: The Trigger Point Manual.
Later, Dr. Simons was Clinical Professor of Rehabilitation Medicine at Emory University, Atlanta, Georgia.
Prof. Dr. Dr. h.c. David G. Simons, M.D., Ph.D., Hon., Lieutenant Colonel, United States Air Force (Retired), died at his home in Covington, Georgia, 5 April 2010. He was 87 years old.
¹ FAI Record File Number 10709
© 2018, Bryan R. Swopes