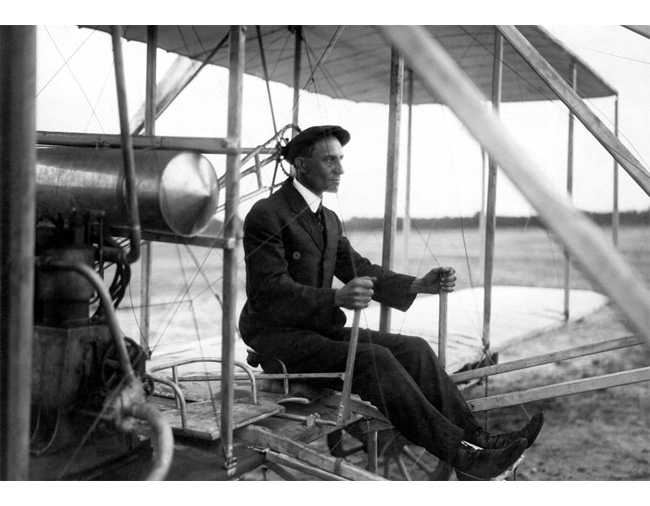 31 December 1908: At Camp d'Auvours, 11 kilometers (6.8 miles) east of Le Mans, France, Wilbur Wright flew a 1907 Wright Flyer a distance of 124.7 kilometers (77.48 miles) over a triangular course in 2 hours, 20 minutes, 23 seconds, setting a record for duration and distance. He won the first Michelin Trophy and a ₣20,000 prize.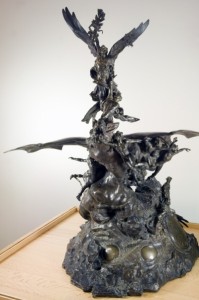 The International Michelin Trophy was a prize given over eight years by Michelin et Cie, the French  tire company, to the Aéro-Club de France, to award on behalf of the Fédération Aéronautique Internationale. The winner would be the pilot who by sunset, 31 December of each year, held the record which had been established by the Aéro-Club. The actual trophy would be given the aeronautical club whose members had won the most times during the eight year period. ₣160,000 was to be divided and presented to each winning pilot.
The Wright Model A, produced from 1907 to 1909, was the world's first series production airplane. It was slightly larger and heavier than the Wright Flyer III which had preceded it. It was a two-place, single-engine canard biplane built of a wooden framework braced with wires and covered with muslin fabric. A new system of flight controls allowed the pilot to sit upright rather than lying prone on the lower wing.
The dual horizontal elevators were placed forward and the dual vertical rudders aft. The biplane was 31 feet (9.449 meters) long with a wingspan of 41 feet (12.497 meters). The wings had a chord of 6.6 feet, and vertical separation of 6 feet. The airplane had an empty weight of approximately 800 pounds (363 kilograms).
The Model A was powered by a single water-cooled, fuel-injected, 240.528 cubic-inch-displacement (3.942 liter) Wright vertical overhead-valve inline four-cylinder gasoline engine with 2 valves per cylinder and a compression ratio of 4.165:1. It produced 32 horsepower at 1,310 r.p.m. During three years of production (1908–1911) Wright "4-40" engines were built that operated from 1,325 to 1,500 r.p.m. Power output ranged from 28 to 40 horsepower. These engines weighed from 160 to 180 pounds (72.6–81.6 kilograms).
Two 8½ foot (2.591 meters) diameter, two-bladed, counter-rotating propellers, driven by a chain drive, are mounted behind the wings in pusher configuration. They turned 445 r.p.m.
The Wright Model A could fly 37 miles per hour (60 kilometers per hour).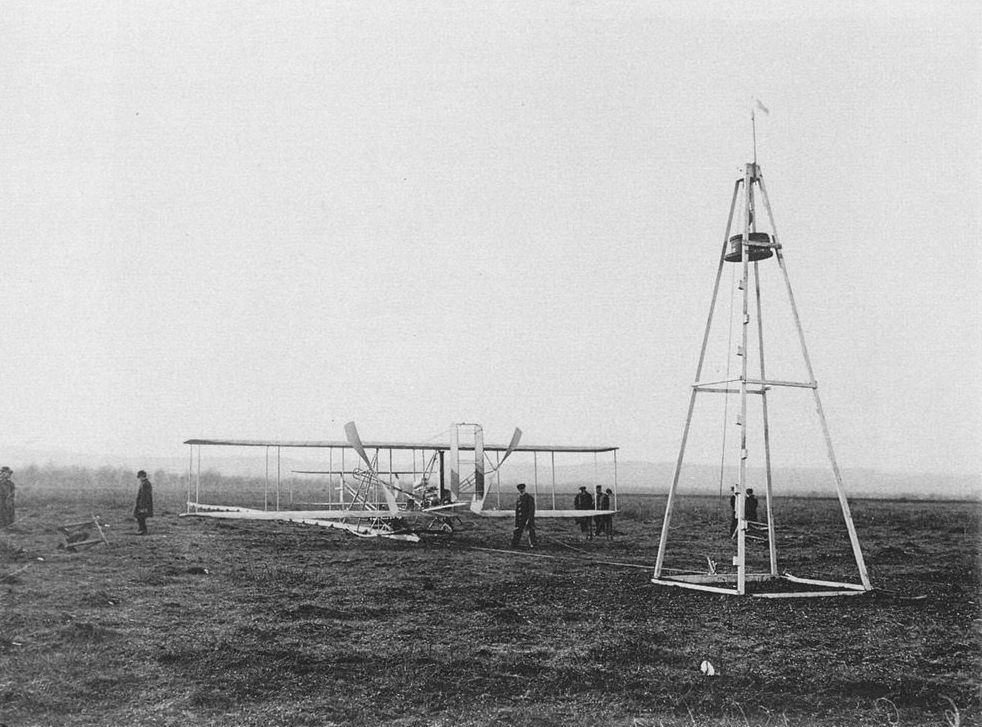 © 2018, Bryan R. Swopes