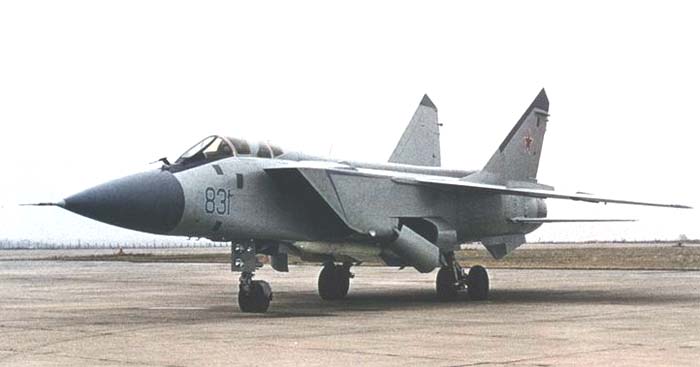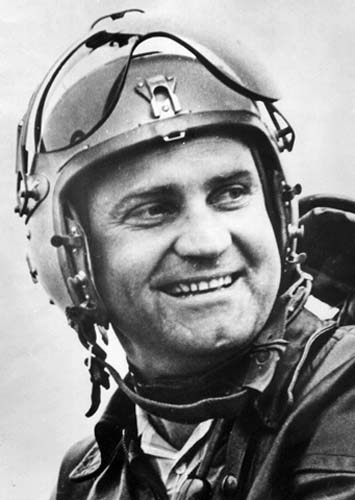 16 September 1975: Alexander Vasilyevich Fedotov, Mikoyan Experimental Design Bureau's chief test pilot, took the Product 83 prototype, E-155MP 83/1, for its first flight.
Project 83 was a two-seat, twin-engine, Mach 2.8+ interceptor, designed as a successor to the Mikoyan-Gurevich MiG 25 "Foxbat" and would be designated the MiG 31. The Soviet Ministry of Defense assigned odd numbered designators to fighter-type aircraft, while NATO, the North Atlantic Treaty Organization, gave them identifying names beginning with the letter F. NATO calls the MiG 31 "Foxhound."
The E-155MP is 22.69 meters (77 feet, 5 inches) long with a wingspan of 13.46 meters (44 feet, 2 inches) and overall height of 5.15 meters (16 feet, 11 inches). Its empty weight is 20,800 kilograms (45,856 pounds), normal takeoff weight 40,600 kilograms (89,508 pounds) and maximum takeoff weight of 46,000 kilograms (101,413 pounds).

The aircraft is powered by two low-bypass-ratio Soloviev Design Bureau D-30 F6 turbofan engines, producing 91.00 kN (20,458 pounds of thrust), each, and 152.00 kN (34,171 pounds thrust), each, with afterburners.
The E-155MP had a maximum speed of Mach 2.82 (2,995 kilometers per hour/1,861 miles per hour) at 17,500 meters (57,415 feet) and 1500 (932 miles per hour) at low altitude. The prototype's service ceiling was 20,000 meters (65,617 feet), and it had a range of 2,150 kilometers (1,336 miles).
The aircraft is unsuitable for air combat manuevering. The airframe is limited to a load factor of 5 Gs.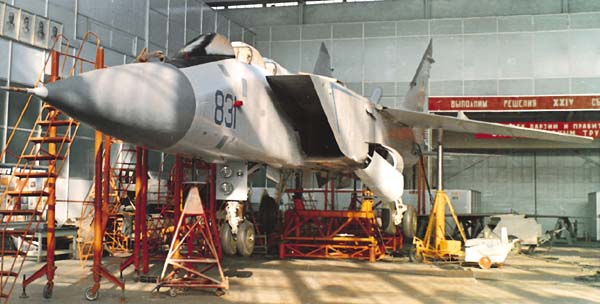 The production MiG 31 is armed with one Gryazev-Shipunov GSh-6 23 23mm six-barrel rotary cannon with 260 rounds of ammunition. Four Vympel R-33 long-range air-to-air missiles are carried in fuselage recesses, and various combinations of short and medium range missiles can be carried on pylons under the wings.
The MiG 31 was in production from 1979 until 1994. Beginning in 2010, a modernization program to bring the up to the MiG 31BM configuration. It is believed that approximately 400 MiG 31 interceptors are in service.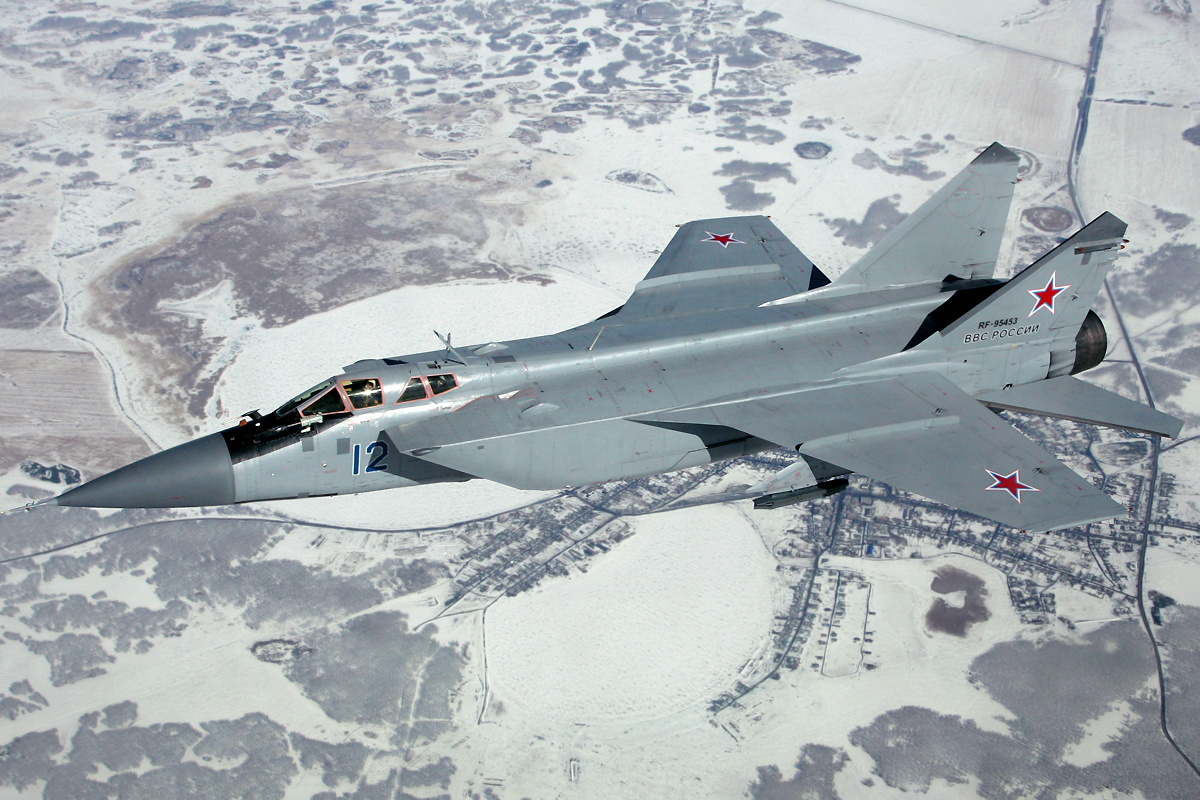 Alexander Vasilievich Fedotov born 23 June 1932 at Stalingrad, Russia (renamed Volgograd in 1961). He graduated from the Air Force Special School at Stalingrad,  and in 1950, entered the Soviet Army. Fedotov attended the Armavir Military Aviation School of Pilots at Amravir, Krasnodar Krai, Russia, graduating in 1952, and then became a flight instructor. In 1958 he attended the Ministry of Indutrial Aviation Test Pilot School at Zhukovsky. He was a test pilot for the Mikoyan Experimental Design Bureau from 1958 to 1984. In 1983, Alexander Fedotov was promoted to the rank of Major General in the Soviet Air Force.
On 22 July 1966, Fedotov was honored as a Hero of the Soviet Union. He was named an Honored Test Pilot of the Soviet Union, 21 February 1969. He was qualified as a Military Pilot 1st Class. Fedotov was twice awarded the Order of Lenin, and also held the Order of the Red Banner and the Order of the Red Banner of Labor.
During his career as a test pilot, Major General Fedotov had been forced to eject from an airplane three times. He had also set 15 Fédération Aéronautique Internationale world records for speed, altitude and time to altitude. One of these, FAI Record File Number 2825, in which he flew a Mikoyan E-266M to 37,650 meters (123,534 feet), 31 August 1977, remains the current record. The FAI has also honored him three times with The De la Vaulx Medal (1961, 1973 and 1977), and in 1976 awarded him the FAI's Gold Air Medal.
Major General Alexander Vasilyevich Fedotov and his navigator, Valerie Sergeyvich Zaytevym, were killed when the second MiG 31 prototype, number 83/2, crashed during a test flight. Neither airman was able to eject.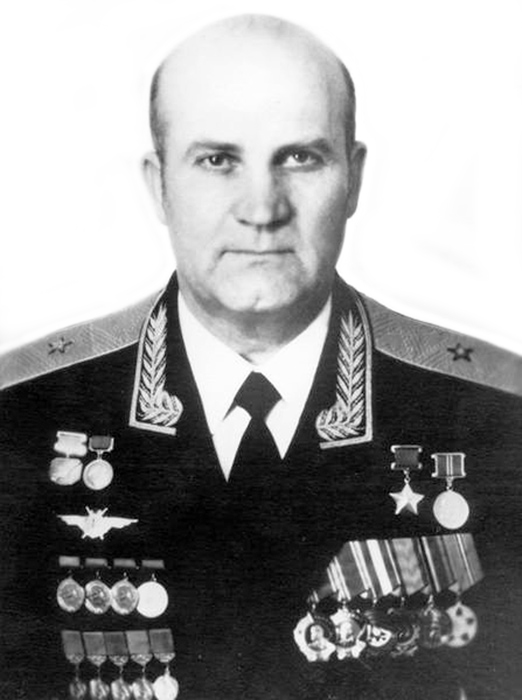 © 2017, Bryan R. Swopes