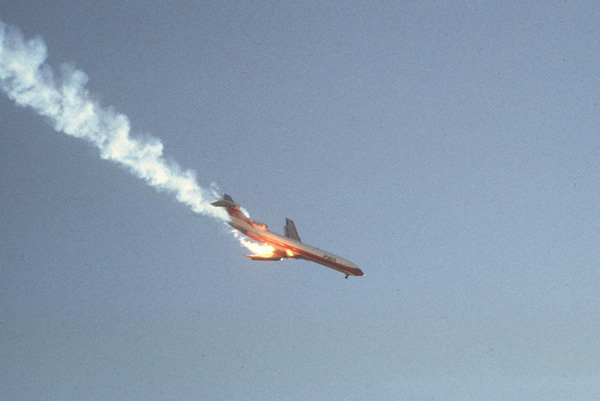 25 September 1978: At 09:02:07 a.m., local time, the worst aircraft accident in California history occurred when a Boeing 727-214 airliner, civil registration N533PS, operated by Pacific Southwest Airlines (PSA) as Flight 182, crashed at the intersection of Dwight Street and Nile Street in the North Park neighborhood of San Diego, 4,830 meters (3.00 miles) northwest of Lindbergh Field (SAN), today known as San Diego International Airport.
Flight 182 was a regularly scheduled commercial airline flight from Sacramento, California to San Diego, with a stopover at Los Angeles. Captain James E. McFeron, a 17-year veteran of PSA, was in command. First Officer Robert E. Fox was the pilot flying the 727 on this leg. The Flight Engineer (also called the Second Officer) was Martin J. Wahne. Also in the cockpit, occupying the two "jump seats" were two off-duty PSA captains. Four flight attendants were on duty in the passenger cabin along with 126 passengers, which included 30 PSA employees.
In clear weather and early morning sunlight, the airliner was on an visual approach to Lindbergh. The 727 passed over the Mission Bay VORTAC (MZB), a navigation aid 3.4 miles (5.5 kilometers) northwest of the airport, and turned left to a heading of 090° to intercept the downwind leg of the approach.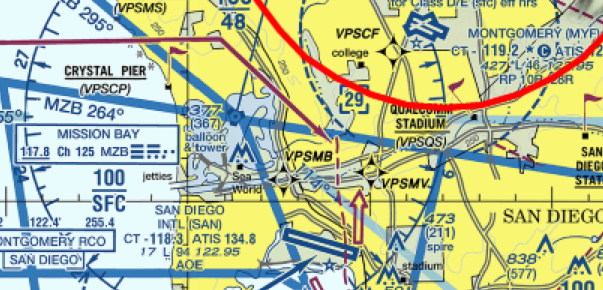 Ahead of the 727, a single-engine light airplane, a Cessna 172, N7711G, with an instructor and student aboard, had made two practice ILS approaches to Runway 9 at Lindbergh and departed to the northwest, returning to its base at Montgomery Field (MYF), 6.4 miles (10.3 kilometers) north-northeast of SAN.
Approach Control called, "Cessna 7711G, radar contact, maintain VFR at or below 3500 [1,067 meters], fly heading 070, vector (for) final approach course." The pilot of the Cessna, David T. Boswell, acknowledged the east-north-easterly heading and the altitude restriction. About 15 seconds later, at 08:59:39, the controller informed the 727, "Additional traffic's twelve o'clock, three miles, just north of the field, northeastbound, a Cessna One Seventy-Two climbing VFR out of one thousand four hundred." [427 meters] At 08:59:50, First Officer Fox reported, "Okay, we've got that other twelve."
Radar tracks show that N7711G initially maintained the assigned heading but after about one minute, turned 20° right to 090°, the same heading as that of Flight 182.
At 09:00:23, Approach Control acknowledged Flight 182: "Okay, sir, maintain visual separation, contact Lindbergh Tower 133.3. Have a nice day, now!"
Flight 182 switched radio frequencies and Captain McFeron checked in with the tower: "Lindbergh, PSA 182. Downwind." The Tower Controller responded, "PSA 182, Lindbergh Tower, traffic 12 o'clock, one mile, a Cessna."
In the cockpit there was confusion about the reported conflicting traffic ahead. Captain McFeron asked, "Is that the one we're looking at?" Flight Engineer Wahne replied, "Yeah—but I don't see him now." McFeron called the Tower, "Okay, we had it there a minute ago." The Controller replied, "One Eighty-Two, roger." The Captain continued, "I think he's passed off to our right."
Inside the cockpit, McFeron said, "He was right over there a minute ago." Wahne agreed, "Yeah."
Lindbergh Tower authorized Flight 182 to land, "PSA 182—cleared to land," and McFeron acknowledged with, "PSA 182's cleared to land." He then asked the Flight Engineer, "Are we clear of that Cessna?" Wahne said, "Supposed to be!" McFeron responded, "I guess." In the cockpit's jump seat, one of the two off-duty captains said, "I hope!"
At 09:01:21, Captain McFeron stated, "Oh, yeah, before we turned downwind, I saw him about one o'clock, probably behind us now."
First Officer Fox called for the wing flaps to be lowered and then at 09:01:31 he asked for the landing gear to be lowered. At 09:01:38, Fox said, "There's one underneath [pause] I was looking at that inbound there." Flight 182 was now descending through 2,600 feet (793 meters).
At 09:01:47, the Flight 182's Cockpit Voice Recorder picked up the sound of the collision.
The Boeing 727 struck the Cessna 172 from above and behind, with the impact occurring on the forward underside of the 727's right wing, approximately 12.5 feet (3.8 meters) outboard of the wing root. The airliner was heavily damaged and on fire, having lost both the number 5 and 6 leading edge flaps. The number 3 leading edge slat and number 4 inboard leading edge flap were damaged. Chordwise damage penetrated to the forward wing spar. The airplane's System A hydraulic lines and pressurized fuel lines were routed along the wing's leading edge, in front of the forward wing spar. The NTSB estimated that only partial hydraulic pressure would have been available. With the flight controls damaged, Flight 182 rolled and turned to the right. On a heading of approximately 200°, it crashed into residential neighborhood in a 300 mile per hour (483 kilometers per hour), 50° dive.
According to seismographs at the Museum of Natural History, San Diego, the impact occurred at 09:02:07 a.m., Pacific Daylight Savings Time (16:02:07 UTC).
The Cessna 172 was also heavily damaged and on fire. The largest piece of the Cessna impacted six blocks away from the scene of the 727 crash, near 32nd Street and Park Avenue.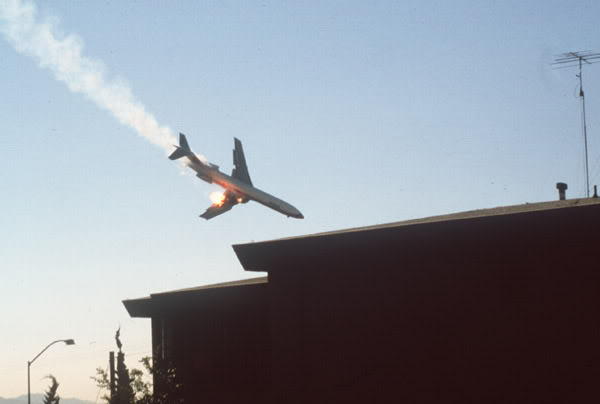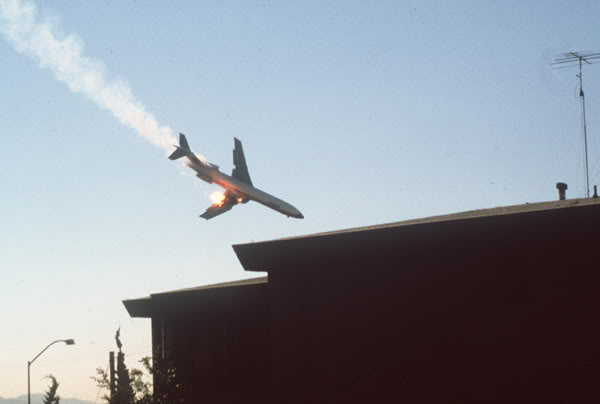 All 135 persons aboard the 727, both persons on the Cessna, and seven persons on the ground were killed. Another nine persons on the ground were injured. Twenty-two homes in a four-block area were destroyed or damaged.
The last words of the flight deck personnel recorded by the Cockpit Voice Recorder were that of an unidentified voice saying, "Ma, I love you."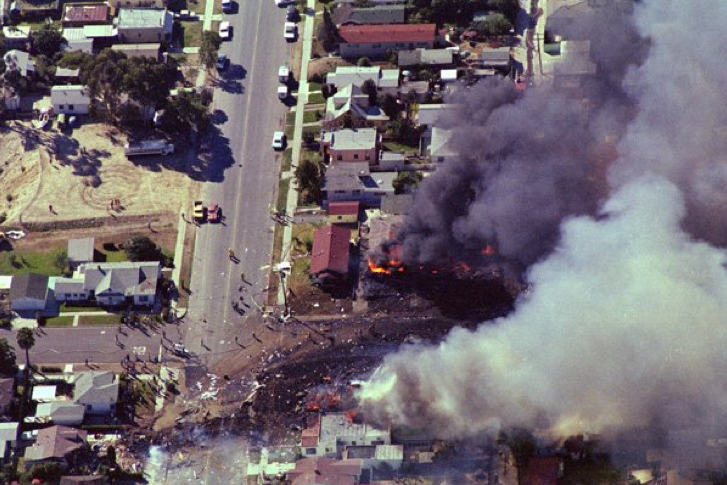 The Pilot in Command of Flight 182, Captain James E. McFeron, had been employed by Pacific Southwest Airlines since 1961. He held an Airline Transport Pilot Certificate and was type-rated in both the Lockheed L-188 Electra and the Boeing 727. He had a total of 14,382 flight hours, with 10,482 hours in the Boeing 727.
First Officer Robert E. Fox, Jr., also held an ATP certificate. Of his 10,049 flight hours, 5,800 were in the 727. He had been with PSA for 9 years.
Flight Engineer Martin J. Wahne had worked for PSA for 11 years. He had 10,800 hours, with 6,587 hours in the Boeing 727.
The Pilot in Command of the Cessna was Gunnery Sergeant David Lee Boswell, U.S. Marine Corps, who was stationed at Camp Pendleton, north of San Diego. Gunnery Sergeant Boswell held Commercial Pilot and Flight Instructor certificates, with Airplane—Single– and Multi–Engine Land ratings. He was receiving instrument flight instruction to apply for an Instrument Rating. Boswell had 407 total flight hours, and had flown 61 hours in the previous 90 days.
The Instructor Pilot on board the Cessna was Martin B. Kazy, Jr., an employee of the aircraft owner, Gibbs Flight Center at Montgomery Field. He held Commercial Pilot and Flight Instructor certificates, with Airplane Single– and Multi–Engine Land, and Instrument–Airplane ratings. He had a total of 5,137 flight hours. Kazy had flown 347 hours in the previous 90 days.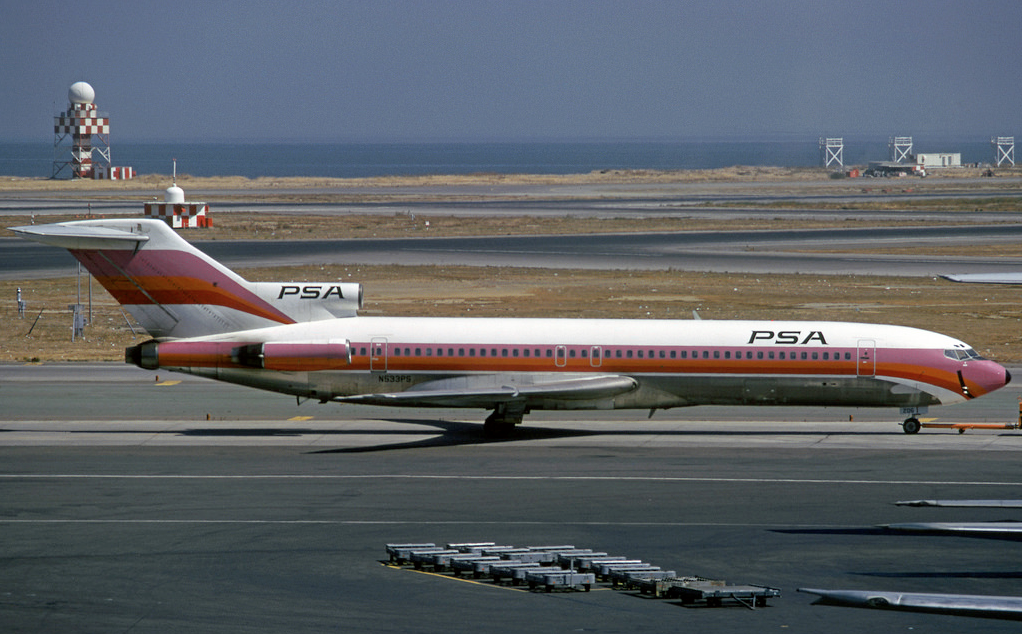 The aircraft operated as PSA Flight 182 was a Boeing 727–214, serial number 19688, which made its first flight 4 June 1968. At the time of the accident, the total time on the airframe (TTAF) was 24,088.3 hours. It had made 36,557 takeoffs and landings.
The Boeing 727–200 series was a stretched version of the original –100 model. It was designed to be operated by a flight crew of three, and could carry up to 189 passengers. The –200 was 153 feet, 2 inches (46.685 meters) long with a wingspan of 108 feet, 0 inches (32.918 meters) and overall height of 34 feet, 0 inches (10.363 meters). The empty weight was 98,400 pounds (44,633 kilograms) and maximum takeoff weight (MTOW) was 184,800 pounds (83,642 kilograms). The airliner was powered by three Pratt & Whitney JT8D-9 low-bypass axial-flow turbofan engines, rated at 14,500 pounds of thrust at Sea Level for takeoff (5-minute limit), and 12,600 pounds of thrust, maximum continuous power. This gave the 727–200 a maximum cruise speed of 0.9 Mach (610 miles per hour, or 982 kilometers per hour, at 30,000 feet/9,144 meters). Its service ceiling was 42,000 feet (12,802 meters), and the maximum range was 1,956 miles (3,148 kilometers).
1,832 727s were built by Boeing between 1963 and 1984. 1,245 of these were 727-200s.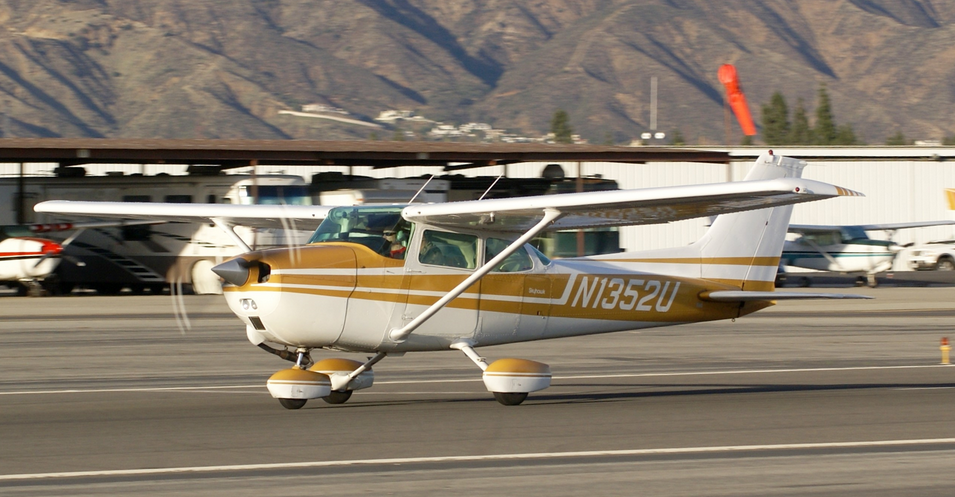 Cessna 172 N7711G was a 1975 Cessna 172M, serial number 17265788. It had 2,993 total flight hours on the airframe (TTAF). It was a single-engine, four-place light airplane with a high wing and fixed tricycle landing gear. 711G was painted white with "mustard" yellow trim. The 172M is 26 feet, 11 inches (8.201 meters) long with a wingspan of 36 feet, 0 inch (10.973 meters) and height of 8 feet, 9½ inches (2.680 meters). The empty weight is 1,350 pounds (612 kilograms) and gross weight is 2,300 pounds (1,043 kilograms). It is powered by an air-cooled, normally-aspirated 319.749-cubic-inch-displacement (5.240 liter) Lycoming O-320-E2D horizontally-opposed 4-cylinder direct-drive engine rated at 150 horsepower at 2,700 r.p.m. The engine drives a two-bladed McCauley fixed-pitch propeller with a diameter of 6 feet, 3 inches (1.905 meters). The engine installed on N7711G engine had 3,086 total hours since new (TSN) and 879 hours since overhaul (TSO). The 172M has a cruise speed of 138 miles per hour (222 kilometers per hour) at 8,000 feet (2,438 meters), and a maximum speed of 142 miles per hour (229 kilometers per hour) at Sea Level. The airplane's service ceiling is 13,100 feet (3,993 meters) and its maximum range is 875 miles (1,408 kilometers).
More than 43,000 Cessna 172s have been built, more than any other airplane type.
© 2016, Bryan R. Swopes