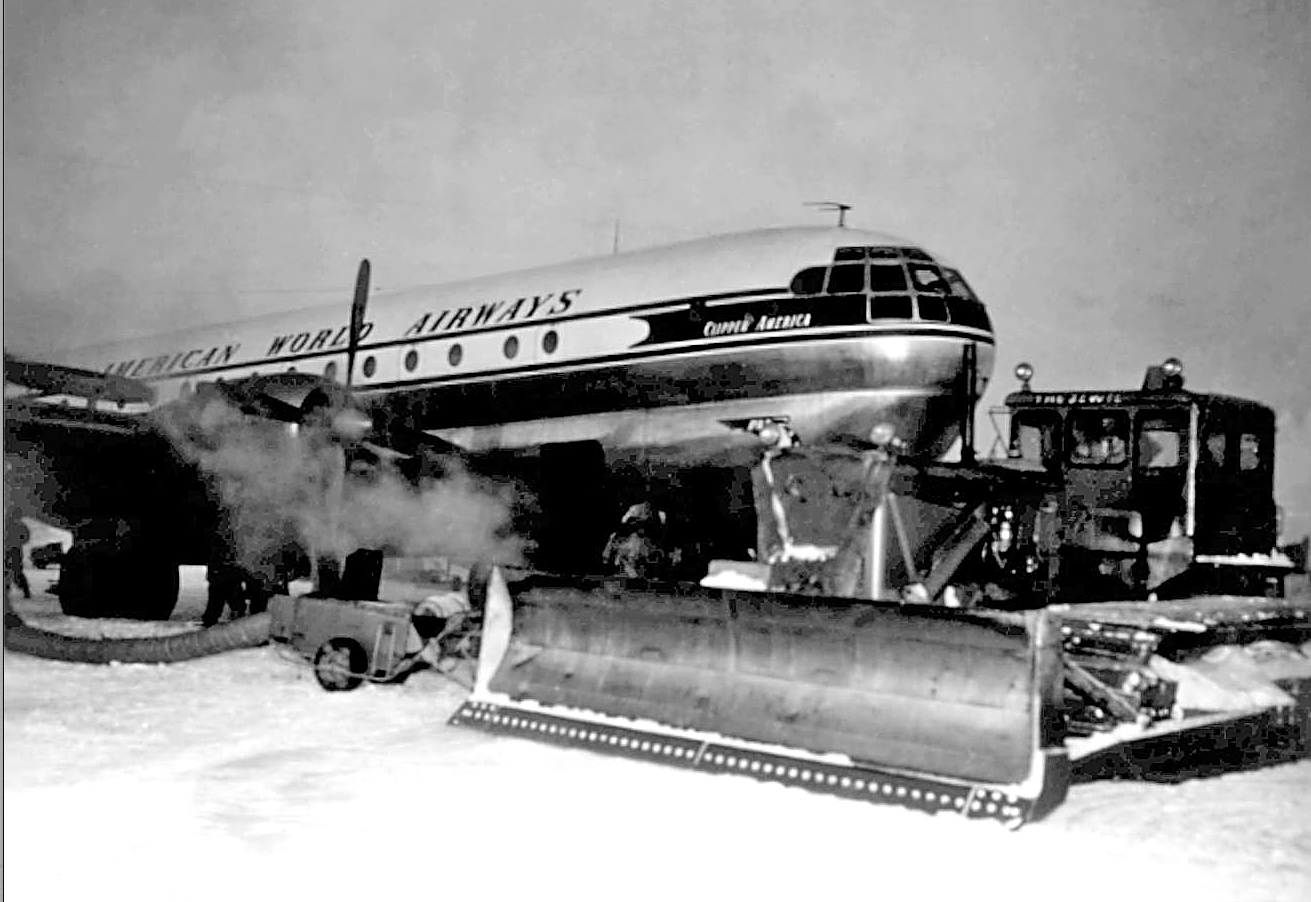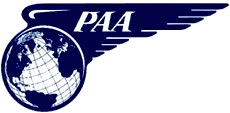 15 October 1957: A Pan American World Airways Boeing Model 377 Stratocruiser, Clipper America, flies from Christchurch, New Zealand, to the United States Navy's Antarctic research station on Ross Island in McMurdo Sound.
The flight was to test the feasibility of conducting commercial flights to support the U.S. Navy's operations in the Antarctic. It origintated with a load of passengers from NAS Quonset Point, Rhode Island, and flew to San Francisco, California, then on to Honolulu in the Hawaiian Islands. There, command of the aircraft was assumed by Pan Am's Seattle Sector Chief Pilot, Captain Ralph Walter Savory, who was considered an expert in Arctic flying.
The Boeing Stratocruiser departed Honolulu and flew to Canton Island (named for a whaling ship that went aground there in 1854). Canton was a frequent waypoint for Pan Am's transpacific flights. Clipper America remained there overnight, and continued to Fiji the next day. After another overnight stay, the airliner headed to Christchurch on the south island of New Zealand.
Airliner Lands in Antarctica
     MCMURDO SOUND, Antarctica, Oct. 15 (UP) — The Pan American Clipper America landed today at McMurdo Sound, completing the first commercial aircraft flight to Antarctica
     Capt. Ralph Savory, veteran of 23 years of arctic flying, lifted the 73-ton Pan American stratoclipper from the Christchurch runway at 10:25 a.m. and set course for McMurdo Sound.
     PASSENGERS on the 2,400-mile history-making flight included U.S. Ambassador to New Zealand Francis H. Russell; New Zealand Labor Minister J. K. McAlpine, and 36 U.S. Navy officers and men assigned to Geophysical Year scientific stations.
     The crew had two pretty stewardesses, reputedly the first women ever to reach such a southernly point on the "white continent" as the Ross Island Navy Station on McMurdo Sound.
     They were dark-haired Patricia Hepinstall, 25, former model for I. Magnin, San Francisco, and a native of 3752 Garnet St., Houston, Tex., and blonde Ruth Kelly, 28, former school teacher from Holyoke, Colo., who resembles Princess Grace.
     BOTH ARE BASED in San Francisco and are probably the most thrilled members of the plane's complement. They were to ride in an American versus New Zealand dog sled race and judge a beard-growing contest among the men at McMurdo.
     Seabees and other Navy specialists had a last fling with card games and steaks 21,000 feet in the sky. In a few more hours they would spread to seven scientific stations for 18-month tours of duty on the blizzard-beaten continent.
     TRAVELING as a passenger was Navy Capt. William F. (Trigger) Hawkes, air officer for Rear Adm. George Dufek, commander of "Operation Deepfreeze." Hawkes is considered to have more Antarctic flying experience than any other pilot.
—The Honolulu Advertiser, 101st year, No. 34,083, Tuesday, 15 October 1957, Page 2, Columns 3–5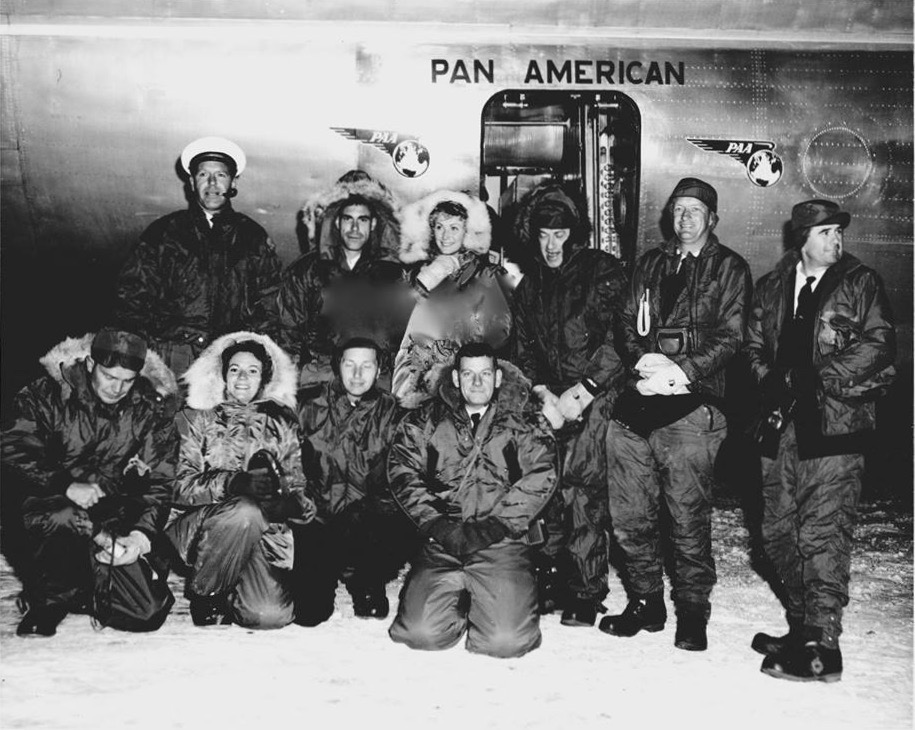 Following this flight to the Antarctic, Captain Savory was asked for his opinion as to the route's viability. Because there was no alternate airport should landing at McMurdo not be possible (because of weather, or some other factor), Savory said that it was too dangerous for commercial operations. No further flights were made.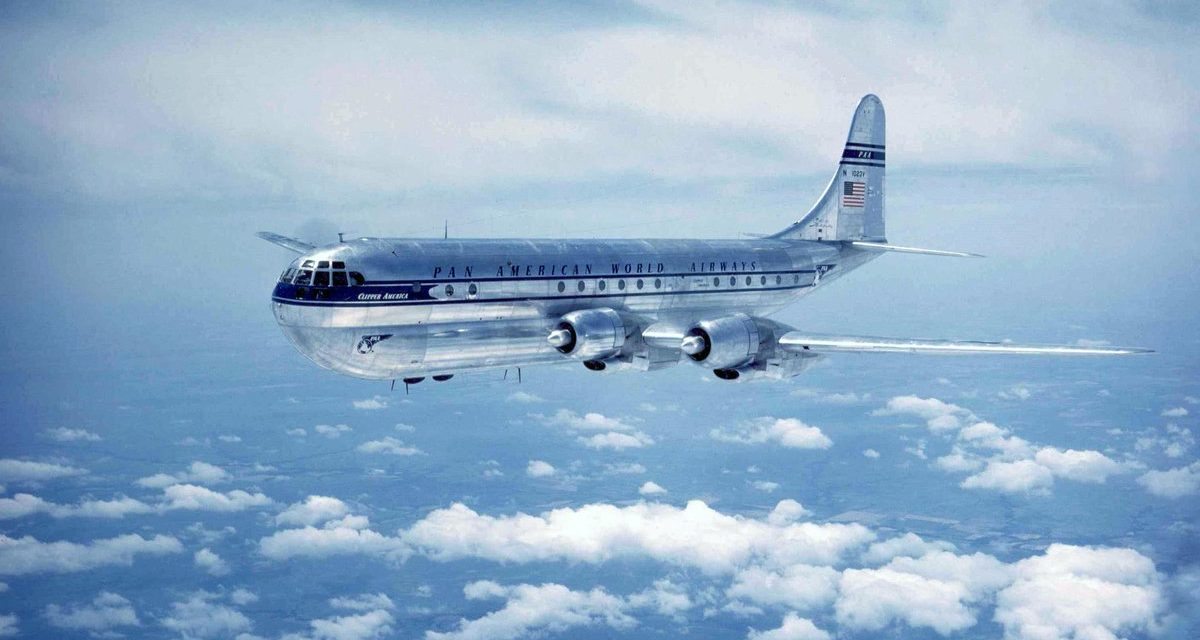 Pan American's Clipper America was a Boeing Model 377-10-26 Stratocruiser, N1030V, serial number 15930. The airliner was delivered to Pan American on 30 March 1949 and named Clipper Southern Cross. Later the name was changed to Clipper Reindeer, and finally, Clipper America. (Nearly all of Pan Am's Stratocruisers were named Clipper America at some time during their service with the airline.)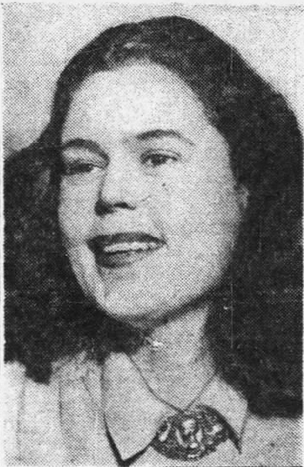 On 27 July 1952, N1030V was operating as Flight 201 from Rio de Janeiro when a passenger cabin door opened at 12,000 feet (3,658 meters). A passenger, Mrs. Marie Elizabeth Machris Westbrook, was sucked out of her seat and fell to the Atlantic, below. The airliner safely returned to Rio. "Pan American officials were unable to explain how the door could have opened accidentally." ¹ ²
N1030V was removed from service with Pan Am in 1961, and on 2 February 1962, delivered to Israeli Aircraft Industries, registered 4X-AOH. The airliner was converted to a military transport. In November 1962, it was placed in service with the Israeli Air Force, re-registered 4X-FOH, and finally, 4X-FPV.
The Boeing 377 was a large, four-engine civil transport which had been developed, along with the military C-97 Stratofreighter, from the World War II B-29 Superfortress long-range heavy bomber. It utilized the wings and engines of the improved B-50 Superfortress. The airplane was operated by a flight crew of four. It was a double-deck aircraft, with the flight deck, passenger cabin and galley on the upper deck, and a lounge and cargo compartments on the lower. The airliner was pressurized, and could maintain Sea Level atmospheric pressure while flying at 15,500 feet (4,724 meters). The Model 377 could be configured to carry up to 100 passengers, or 28 in sleeping births.
The Stratocruiser was 110 feet, 4 inches (33.630 meters) long with a wingspan of 141 feet, 3 inches (43.053 meters) and overall height of 38 feet, 3 inches (11.659 meters). Empty weight was 83,500 pounds (37,875 kilograms) and the maximum takeoff weight was 148,000 pounds (67,132 kilograms).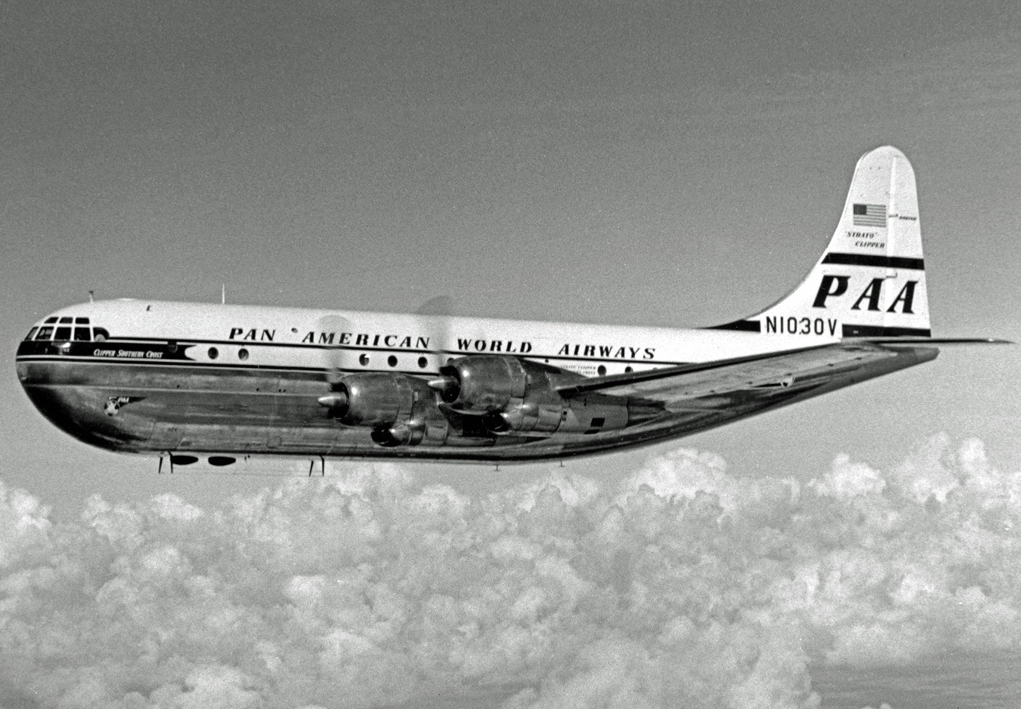 The airliner was powered by four air-cooled, supercharged 4,362.49-cubic-inch-displacement (71.489 liter) Pratt & Whitney Wasp Major B6 four-row, 28-cylinder radial engines which had a Normal Power rating of 2,650 horsepower at 2,550 r.p.m., and 2,800 horsepower at 2,550 r.p.m. Maximum Continuous. It produced 3,250 horsepower at 2,700 r.p.m. for takeoff (3,500 horsepower with water injection). The engines drove four-bladed Hamilton-Standard Hydromatic 24260 constant-speed propellers with a diameter of 17 feet, 0 inches (5.182 meters) through a 0.375:1 gear reduction. The Wasp Major B6 was 8 feet, 0.50 inches (2.451 meters) long, 4 feet, 7.00 inches (1.397 meters) in diameter, and weighed 3,584 pounds (1,626 kilograms).
The 377 had a cruise speed of 301 miles per hour (484 kilometers per hour) and a maximum speed of 375 miles per hour (604 kilometers per hour). During testing by Boeing, a 377 reached 409 miles per hour (658 kilometers per hour). Its service ceiling was 32,000 feet (9,754 meters) and the range was 4,200 miles (6,759 kilometers).
Boeing built 56 Model 377 Stratocruisers, with Pan American as the primary user, and another 888 military C-97 Stratofreighter and KC-97 Stratotankers.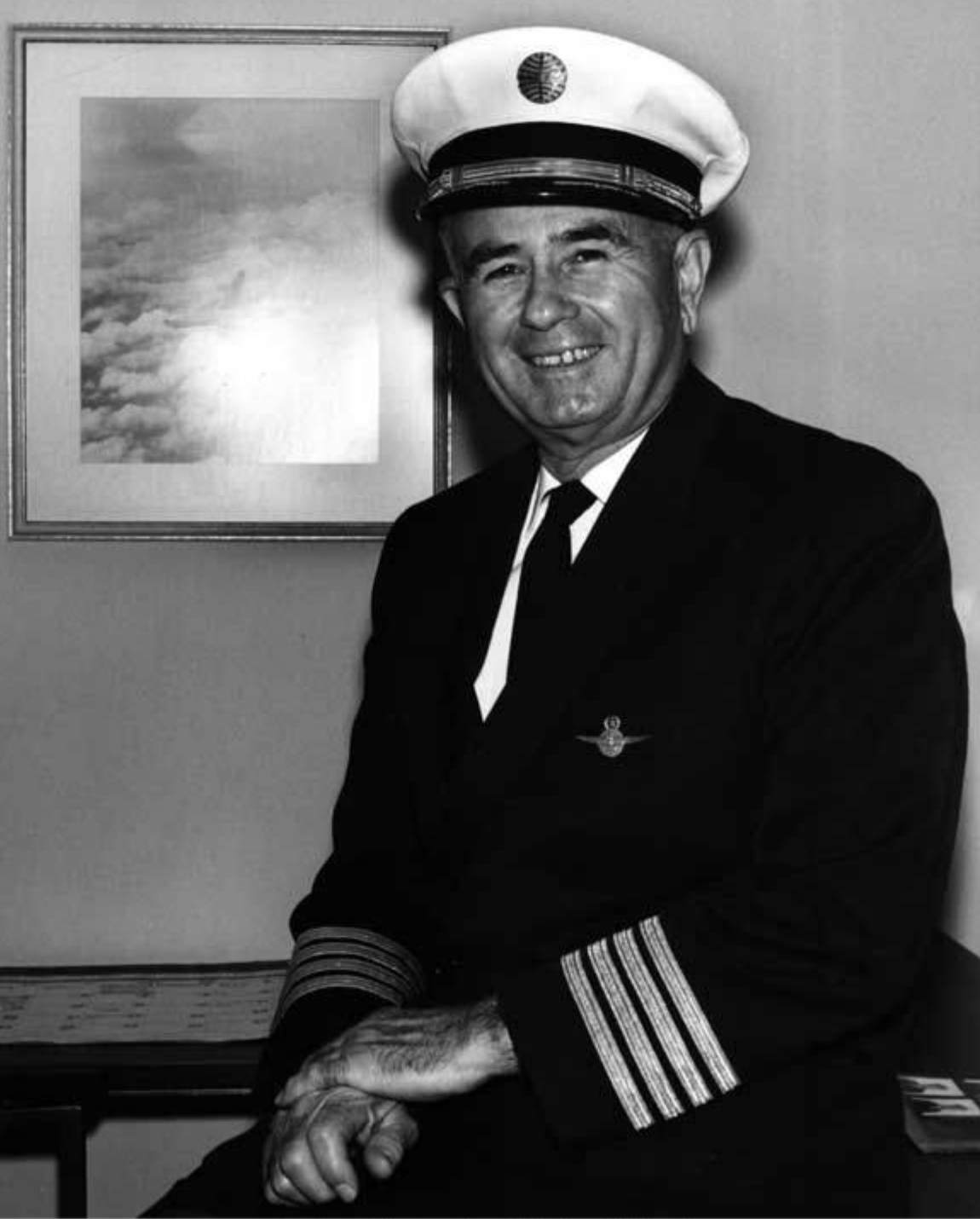 Captain Ralph Walter Savory, Pan American World Airways Master Pilot, was born 14 October 1909, in Bennett Valley, Sonoma County, California. He was the second child of Walter Adrian Savory, a farmer, and Lillian Frances Philips Savory.
Ralph Savory attended Santa Rosa High School, where he was president of the aeronautics club. He graduated in 1928, then studied at Santa Rosa Junior College. He moved to San Francisco and worked as a mechanic to pay for flight lessons at "Speed" Johnson's Flying School at San Mateo. He earned his private pilot certificate, No. 8105, in August 1929.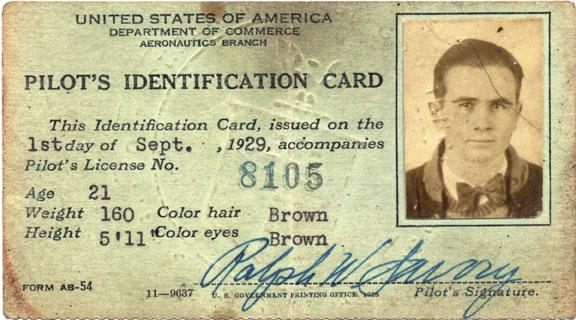 Ralph W. Savory married Ms. Ida Scott (née Ida Elfreda Koffer) at Berkeley, California, 31 March 1934. The marriage was officiated by L.L. Cross Miu. They would have one child, Diane.
Savory and a friend bought a Curtiss Thrush. In 1933, Savory was issued a commercial pilot certificate. In 1935, he had the Thrush shipped to Alaska where he began flying in the remote parts of the territory ("bush flying").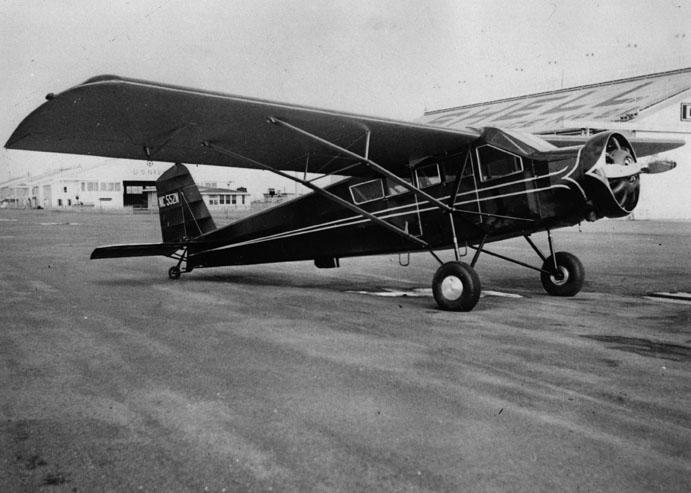 After a year gaining experience, Savory was hired as a pilot for Star Air Service (a predecessor of Alaska Airlines). He flew for Star for just under two years and then went to work for Pacific Alaska Airways in late 1938. This company was taken over by Pan American Airways.
During World War II, Pan American operated transport flights for the U.S. military. Flight crews were commissioned as reserve officers. Ralph Savory was commissioned a lieutenant, United States Naval Reserve, 22 July 1943, with date of precedence retroactive to 26 April 1943.
Following the war, Savory helped expand Pan Am's operations in the Pacific Northwest and Alaska. He was designated as a Master Pilot and made sector chief pilot at Seattle.
In 1958 Captain Savory was one of the first of Pan Am's pilots to be trained in the new turbojet-powered Boeing 707 airliner. As one of the world's most experienced commercial pilots, Captain Savory retired in 1969.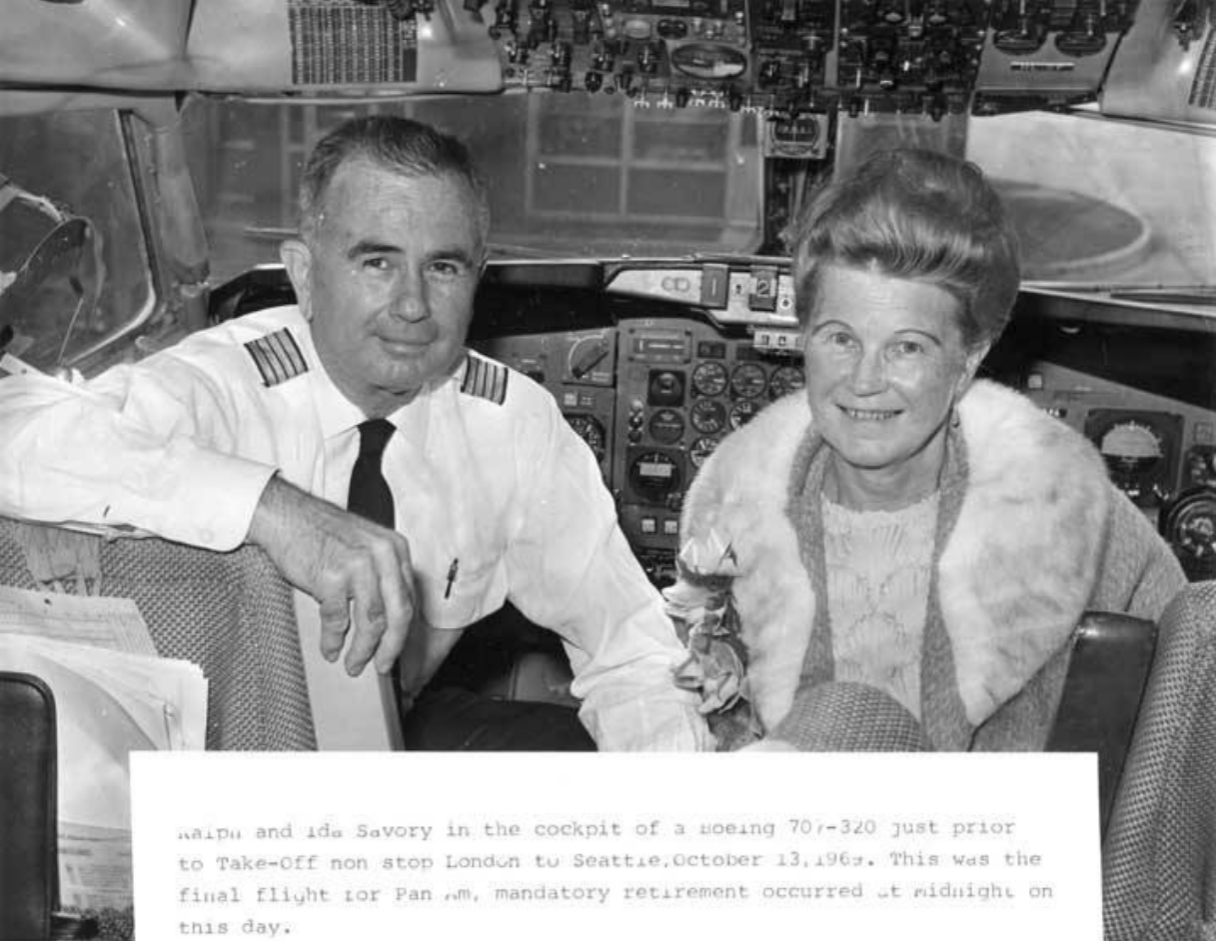 Mrs. Savory died in 1992. Two years later, Savory married Ms. Gladys T. Crum (née Gladys Theawilla Worden). She also died, in 2000.
Captain Ralph Walter Savory died at Spring Lake Village, Santa Rosa, California, 18 January 2010, at the age of 99 years.
¹ The Pittsburgh Press, Vol. 69, No. 35, Monday, 28 July 1952, Page 2, Columns 2 and 3
² For additional information about this incident, see Aviation Safety Network at  https://aviation-safety.net/database/record.php?id=19520727-1
© 2020, Bryan R. Swopes