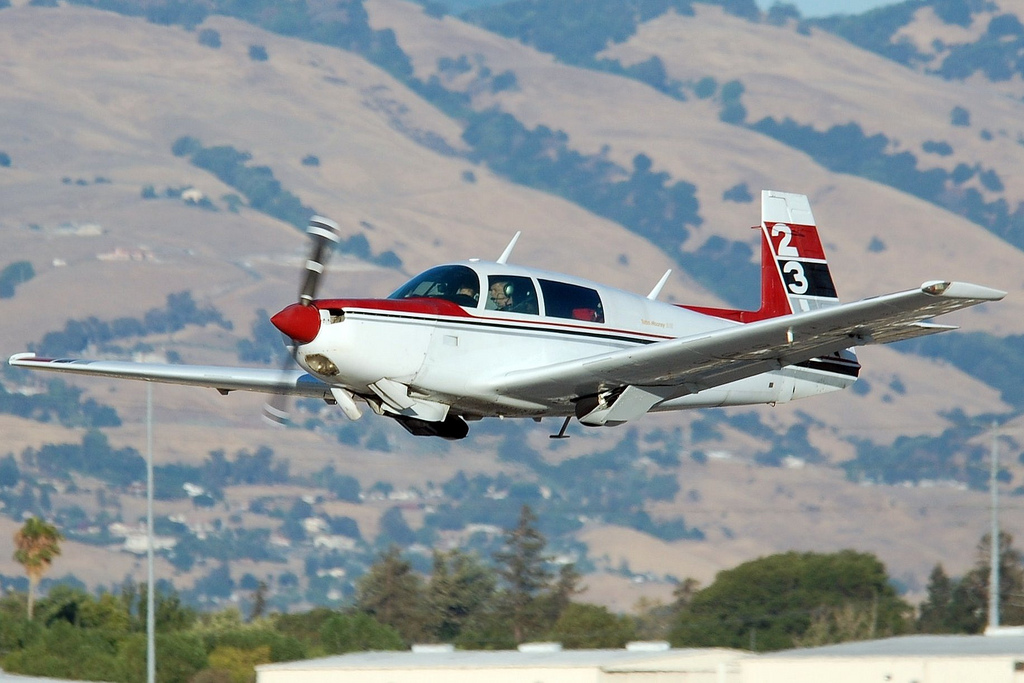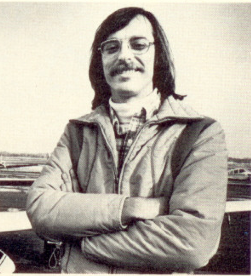 7 January 1980: In response to a challenge, Alan W. Gerharter, Chief Flight Instructor of Logan and Reavis Air, Inc., Medford, Oregon, flew a four-place, single-engine Mooney M20K, N231LR, serial number 25-0025, from San Francisco International Airport (SFO) to Washington National Airport (DCA) in 8 hours, 4 minutes, 25 seconds.
This qualified as a new Fédération Aéronautique Internationale (FAI) and U.S. National Speed Record of 486.20 kilometers per hour (302.11 miles per hour).¹
Gerharter had beaten the previous record held by a Malvern Gross, Jr., ² flying a Cessna T210, N5119V, by 3 hours, 3 minutes, 23 seconds. When Gerharter arrived at DCA, Gross was there to meet him.
Gerharter had made temporary modifications to the Mooney for this flight. He had two 25 gallon (94.6 liter) fuel tanks mounted in place of the rear seats, bringing the airplane's total fuel capacity to 122 gallons (462 liters). The right front seat was removed and two oxygen tanks installed. In an effort to reduce aerodynamic drag, he removed the boarding step at the trailing edge of the right wing.
Waiting for advantageous weather, Alan Gerharter took off from SFO at 6:49 a.m., Pacific Standard Time, 7 January 1980. He climbed to 25,000 feet (7,620 meters) and adjusted his power settings to 75%. Though he had meticulously planned a Great Circle Route, electrical problems caused his primary navigation system and autopilot to fail, so he had to navigate by magnetic compass and clock as he made his way across the country. The airplane used 103 gallons (390 liters) of fuel during the flight.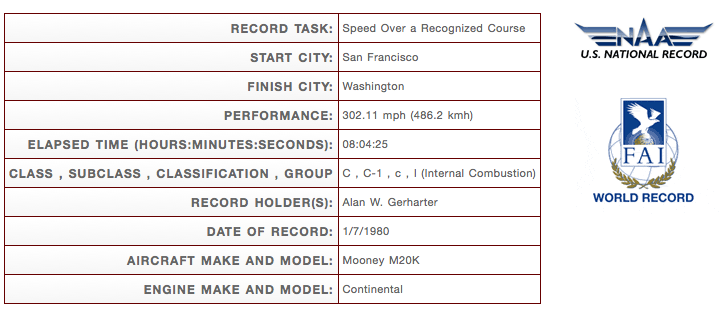 Alan Gerharter's World and National Records still stand.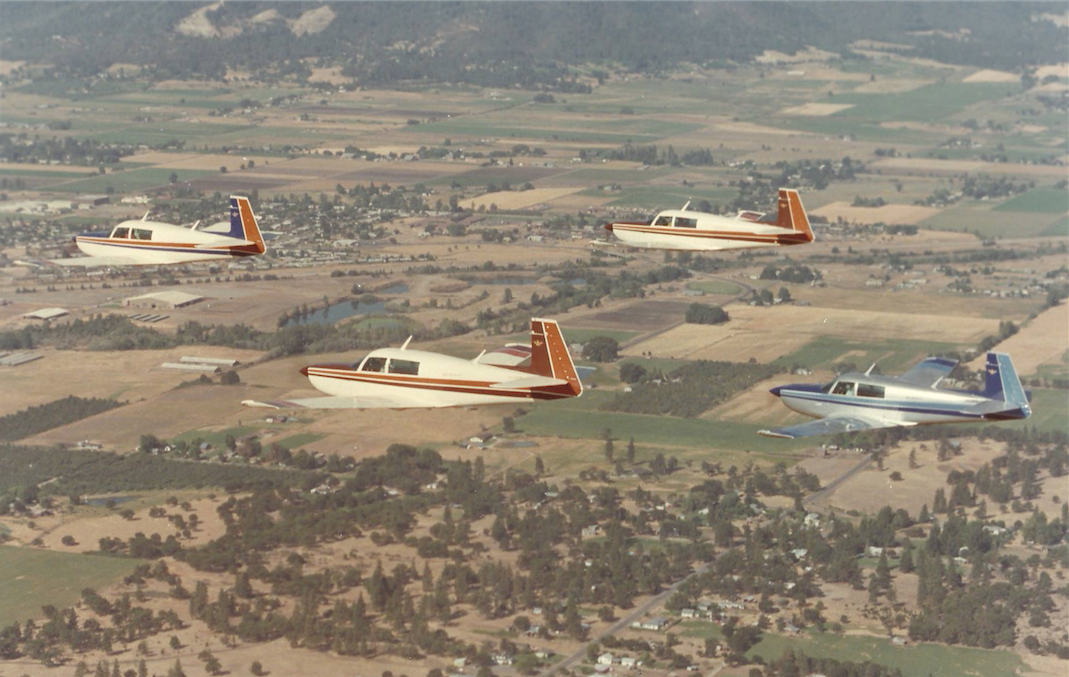 The Mooney M20K is an all-metal, low-wing monoplane with retractable tricycle landing gear. The airplane is 25 feet, 5 inches (7.747 meters) long with a wingspan of 36 feet, 1 inch (10.998 meters) and overall height of 8 feet, 3 inches (2.516 meters). Its empty weight is 1,800 pounds (816.5 kilograms) and gross weight is 2,900 pounds (1,315 kilograms).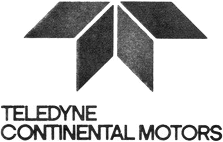 The M20K is powered by an air-cooled, fuel-injected and turbocharged, 359.656-cubic-inch-displacement (5.894 liter) Teledyne Continental TSIO-360-GB-1 horizontally-opposed six-cylinder direct-drive engine. It has a compression ration of 7.5:1 and is rated at 210 horsepower at 2,700 r.p.m. with 40.0 inches manifold pressure (1.365 Bar). The engine turns a two-bladed McCauley constant-speed propeller with a diameter of 6 feet, 2 inches (1.879 meters). Most TSIO-360-GB engines still in service have been converted to the TSIO-360-LB configuration. The -LB is 2 feet, 3.53 inches (0.699 meters) high, 2 feet, 7.38 inches (0.797 meters) wide and 4 feet, 8.97 inches (1.447 meters) long. It has a dry weight of 343.35 pounds (155.74 kilograms).
The Mooney M20K was marketed as the Mooney 231, a reference to its top speed of 201 knots at 16,000 feet (4,877 meters), or 231.3 miles per hour (372.25 kilometers per hour). The M20K has a Maximum Structural Cruising Speed (VNO) of 200 miles per hour (321.9 kilometers per hour), and a Never Exceed Speed (VNE) of 225 miles per hour (362.1 kilometers per hour). The airplane has a maximum operating altitude of 24,000 feet (7,315 meters).
The M20K was certified in 1979, 24 years after the original M20 entered production, and it was produced until 1998. The M20 series continued in production with follow-on models until 2008.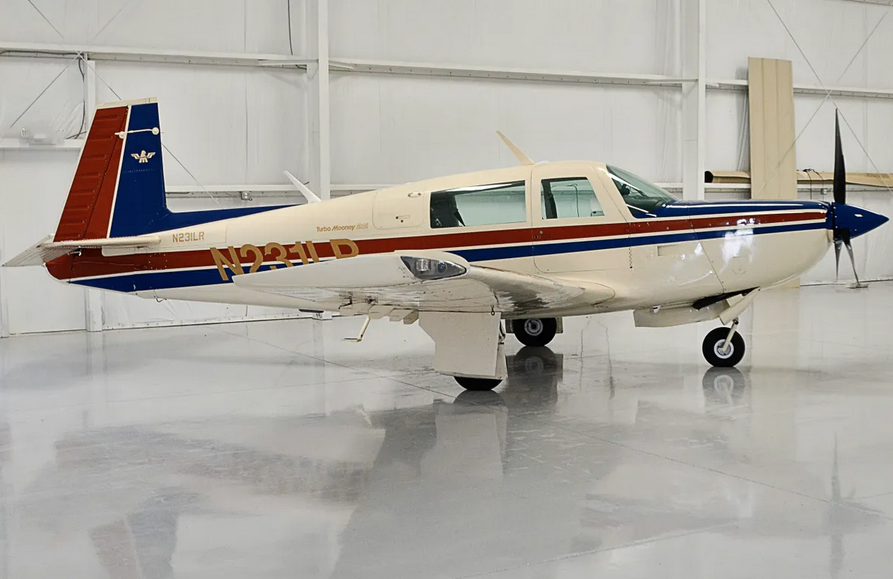 Mooney M20K N231LR was issued an Airworthiness Certificate on 27 December 1978. It is currently registered to a private party in West Sacramento, California.
¹ FAI Record File Number 13854: Speed Over a Recognised Course, 486.20 kilometers per hour (302.11 miles per hour), 7 January 1980. Current Record.
² FAI Record File Number 965: Speed Over a Recognised Course, 352.36 kilometers per hour (218.95 miles per hour). FAI Record File Number 966: Speed Over a Recognised Course, 384.03 kilometers per hour (238.63 miles per hour). Both records were set 1 January 1977.
© 2023, Bryan R. Swopes