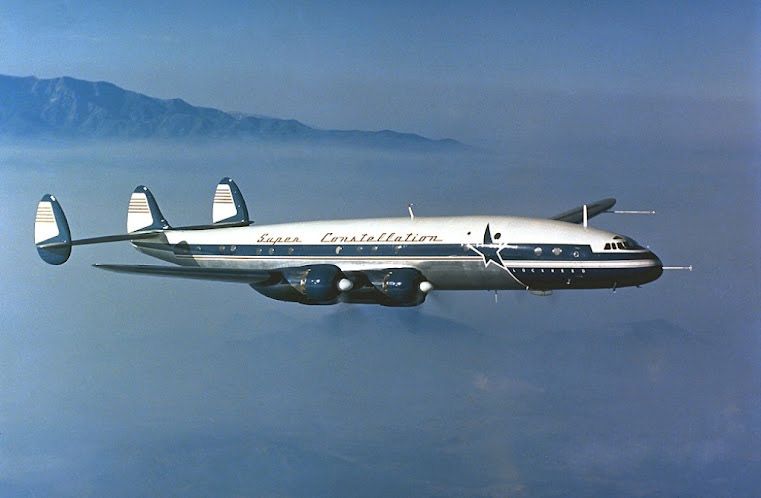 13 October 1950: The prototype Lockheed L-1049 Super Constellation made its first flight at the Lockheed Air Terminal in Burbank, California.
With the expansion in commercial air travel immediately following World War II, airlines required transports with longer range and greater passenger and cargo capacity. They needed airplanes that could provide lower seat-per-mile operating costs than existing types.
To meet these needs, Lockheed considered discontinuing production of the the current L-749 Constellation in favor of developing a completely new turbojet-powered transport. But due to the the time required to design and produce such a completely new design, and the much greater fuel consumption of jet engines, Lockheed determined that the most efficient course would be to improve the existing L-749 Constellation's design to increase its load carrying capability.
Design of the L-1049 Super Constellation started February 1950, with the design team led by Kelly Johnson.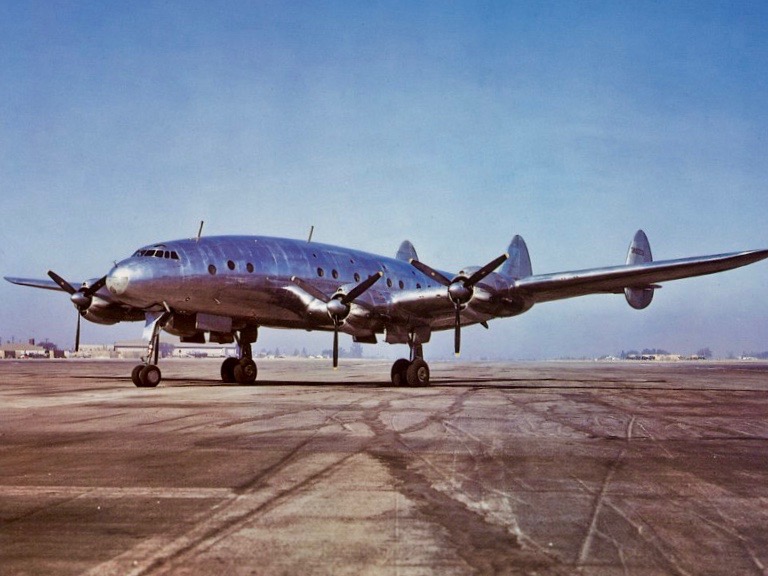 Instead of building a complete new airplane, the original XC-69 prototype, which had been parked at Howard Hughes' private airport near Culver City, was purchased by Lockheed and flown back to the Lockheed Air Terminal in Burbank. After the war, the Constellation prototype was sold to Howard Hughes' Hughes Aircraft Company for $20,000 and registered as NX67900. In May 1950, Lockheed bought the prototype back from Hughes for $100,000 and it was again registered as NC25600. It had accumulated just 404 flight hours up to this time.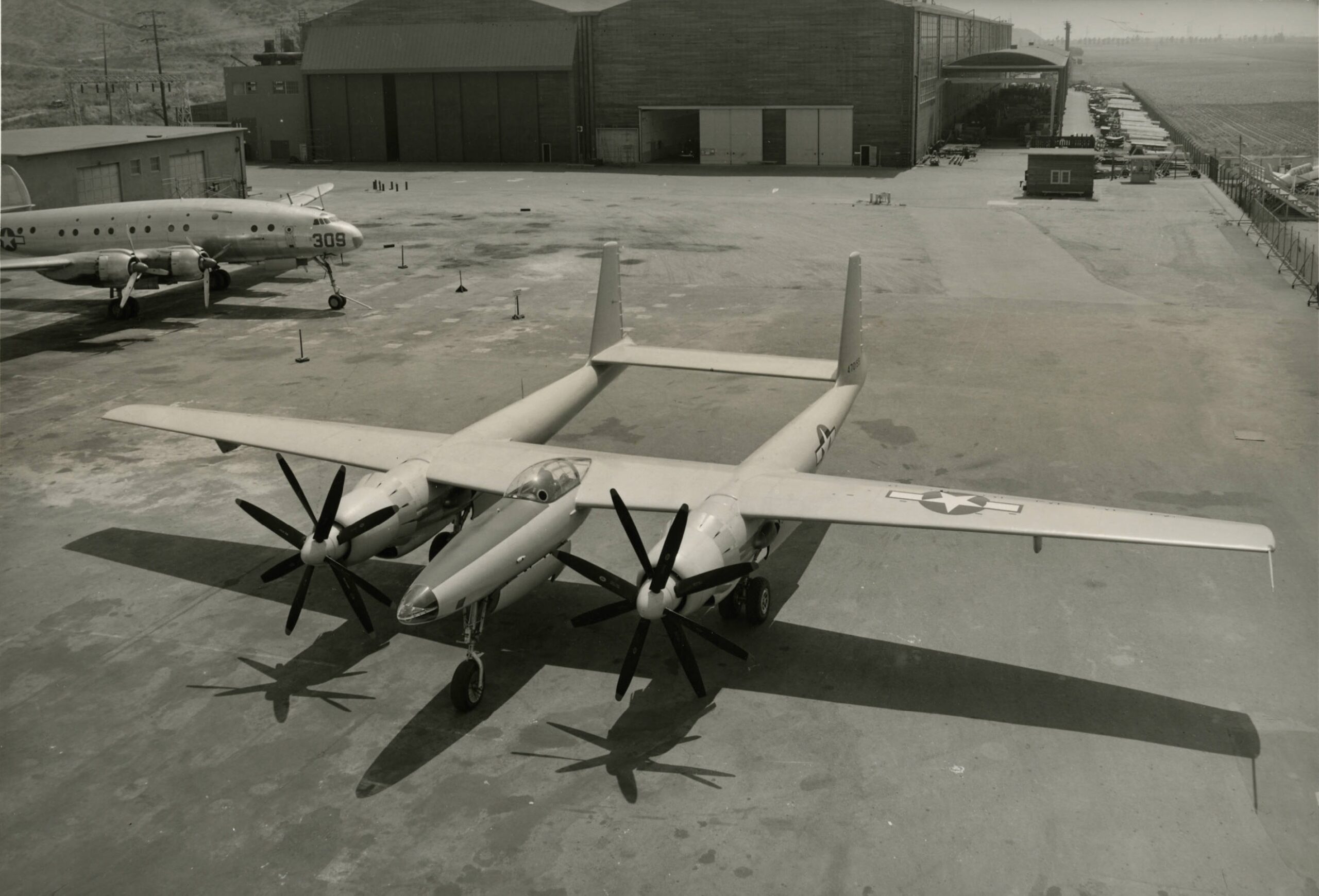 The XC-69 was cut into three sections. A 10 foot, 8.8 inch (3.272 meters) long, 11 foot, 7.3 inch (3.538 meter) diameter, cylindrical section was added forward of the front wing spar, and a 7 foot, 8 inch (2.337 meters) cylindrical section with the same diameter, aft of the rear spar.
The wings, fuselage and landing gear of the L-1049 were strengthened for increased gross weight. The height of the vertical fins was increased 2.5 inches (6.35 centimeters) for improved longitudinal stability. The cabin floor area was increased by 33% to 744 square feet, and cargo volume, 51% to 656 cubic feet.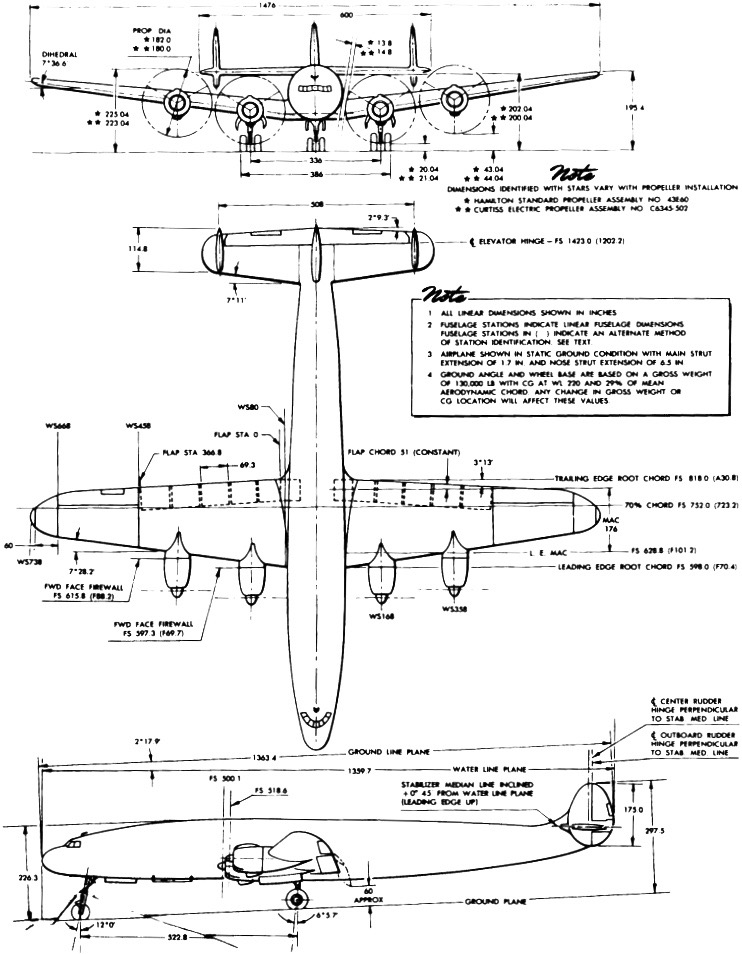 The L-1049 had accommodations for 76–94 passengers and crew. (The L-749A Constellation carried 47–63). Other changes included a 25% increase in cockpit window height, and square passenger windows (a requirement of Northwest Airlines). The fuel load was increased by 5,000 pounds, and the range by 300 miles. The Super Constellation's cruise speed was cruise speed 25–40 m.p.h. slower due to the increased weight.
L-1049 serial numbers 4001–4014 had cockpit stations for a pilot, copilot, flight engineer and an observer. Beginning with 4015, a radio operator's station as added.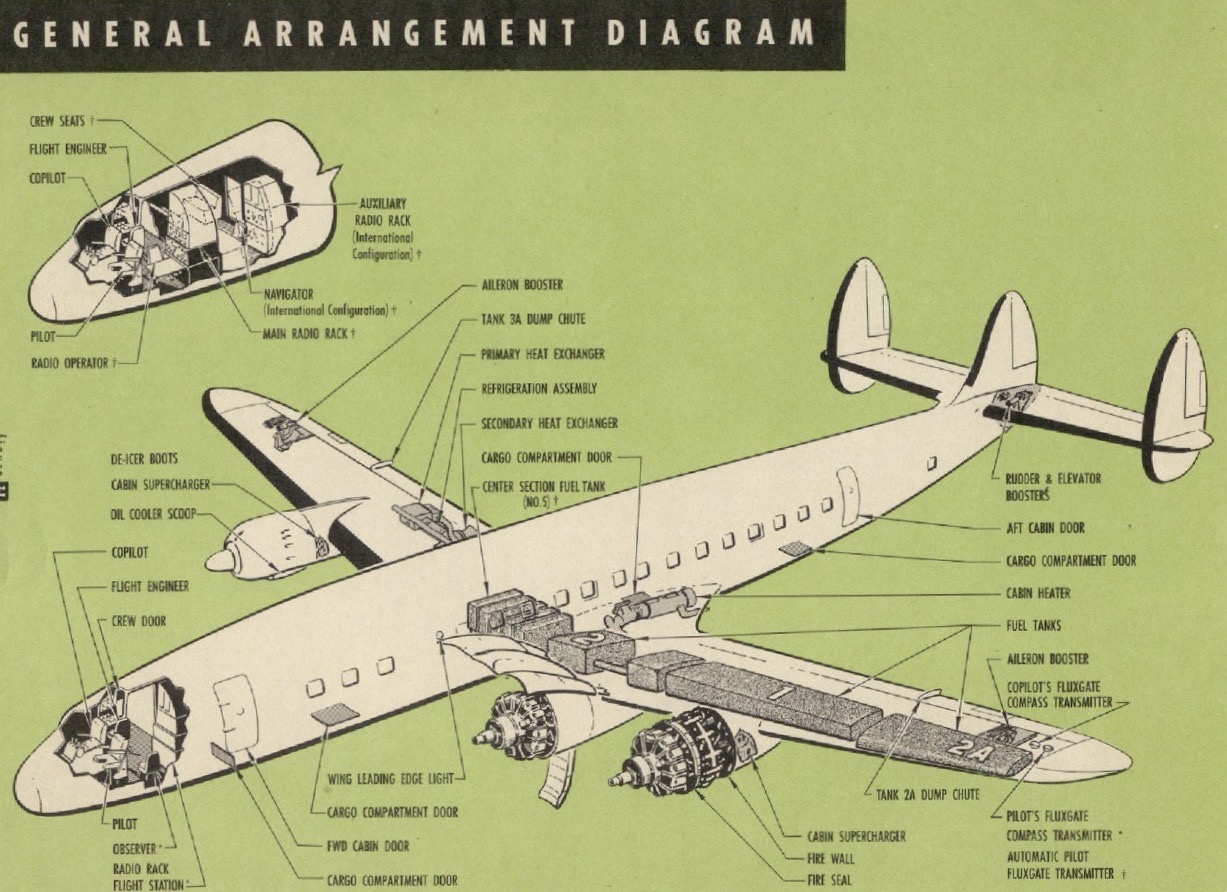 Total fuel capacity was 3,660 U.S. gallons (13,855 liters). Each engine was supplied by engine oil tank with a capacity of 49 gallons (185.5 liters).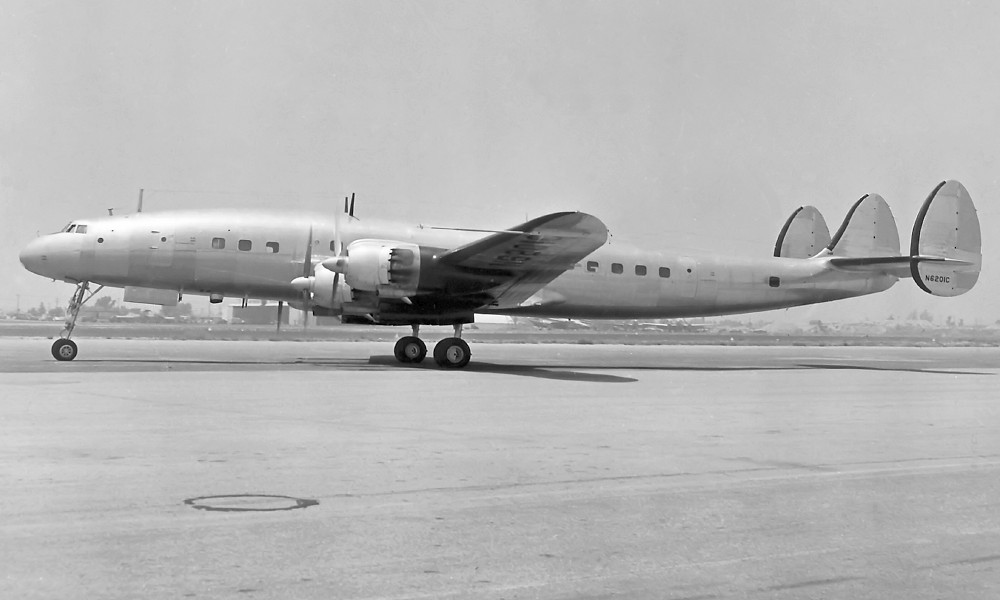 The L-1049 was powered by four air-cooled, direct-fuel-injected, 3,347.662 cubic-inch-displacement (54.858 liters) Wright Aeronautical Division 956C18CA1 eighteen-cylinder turbocompound radial engines with a compression ratio of 6.70:1. The turbocompound engine used captured exhaust gases to drive three Power Recovery Turbines. These PRTs were coupled to the engine's crankshaft. This system added approximately 450 horsepower to the engine's total power output.
The 956C18CA1 had a continuous power rating of 2,300 horsepower at 2,600 r.p.m., and 2,700 horsepower at 2,900 r.p.m. for takeoff. The engines turned three-bladed Hamilton Standard propellers through a 0.4375:1 propeller gear reduction. The engine was 6 feet, 6.47 inches (1.993 meters) long, 4 feet, 7.62 inches (1.413 meters) in diameter, and weighed 2,962 pounds (1,343.5 kilograms).
The L-1049 had a maximum speed (VNO) of 260 knots (299 miles per hour/482 kilometers per hour) from Sea Level to 11,000 feet (3,353 meters). Above that altitude, speed was reduced by 9 knots (10 miles per hour/17 kilometers per hour) for each 2,000 foot (610 meters) increase. Maneuvering speed (VA) was 180 knots (207 miles per hour/333 kilometers per hour). The maximum operating altitude was 25,000 feet (7,620 meters). The cabin was pressurized to 5.5 p.s.i. (0.379 Bar).
The Los Angeles Times reported: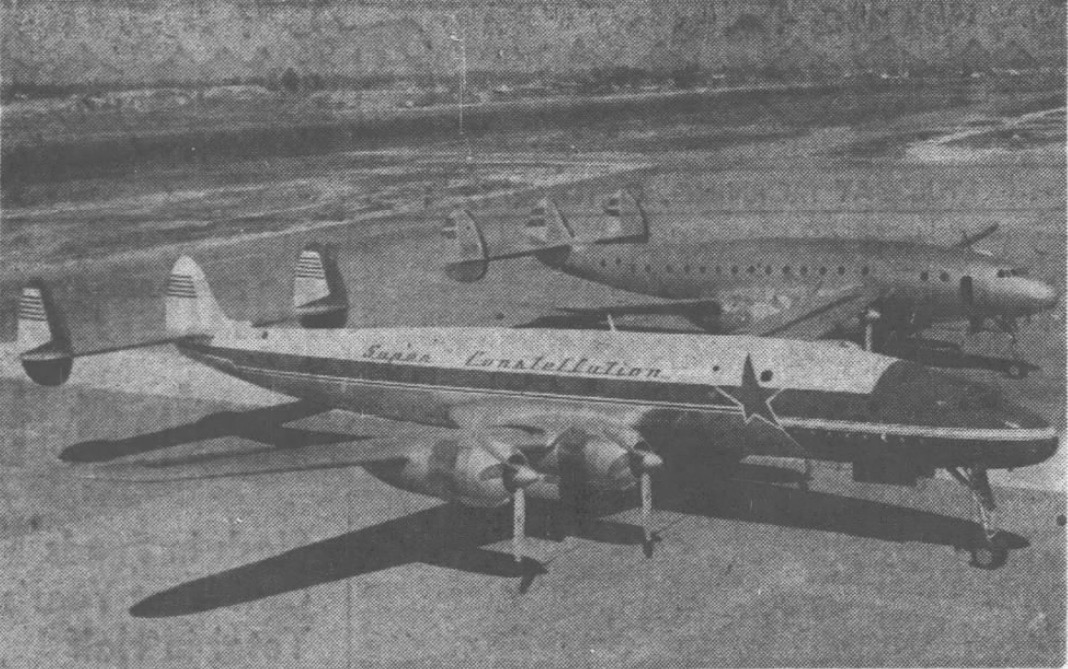 LOCKHEED UNVEILS SUPERTRANSPORT
Giant Constellation Carries 110 Passengers
Is Forerunner of Transocean Jet Aircraft
     Lockheed's new Super Constellation—18.4 feet longer than the standard Connie—was announced yesterday as "designed to bridge the gap between modern planes and the first Americanjet transport."
     Similar in appearance to its famous predecessor, the prototype of the new ship was flown for the first time last Friday, out of Lockheed Air terminal, Burbank, officials said.
     It will be introduced into service with the latest type reciprocating engines, subsequently will be powered with new compound engine and finally will utilize turbo-prop engines as the final link with pure jet transports of the future.
     "The new transport will incorporate much of the proven design and equipment of the current Constellation," Lockheed spokesmen said, "and at the same time will carry all available modern features that testing has proved worthwhile."
     Among teh latter will be electro-pneumatic de-icing such as is used on Lockheed's high-speed jet aircraft. Old-type rubber boot and hot air de-icing has been found inadequate for higher speeds and altitudes, it was explained.
     The Super Connie is described as "the first truly nonstop trans-Atalantic transport ever built, 50 m.p.h. faster on over-ocean runs than competitive airplanes."
     Measuring 113 feet 7 inches from nose to tail, its cabin will carry 76 standard-fare passengers or up to 110 coach fare, 35% more than present Constellations, with 72% more space for baggage and cargo.
Big Navy Engines
     The Super Connie is said to be the only transport in the world that will accommodate the powerful new compound Wright engines now developing 3500 h.p. each on long-range P2V patrol bombers built for the Navy by Lockheed.
     Its structural strength is such  that it can carry wing-tip fuel tanks, as do military jets on long-range flights, should such a feature become desirable to operators.
     Fifty million dollars in orders already have been received for the new transport from two airline operators and the military services
—Los Angeles Times, Tuesday, 17 October 1950, Part II, Page 2, Columns 1–3
The first production Lockheed L-1049 Super Constellation, serial number 4001, registered N6201C, was delivered to Eastern Airlines in March 1952.
Produced from 1951 through 1958, Lockheed built 259 commercial Super Constellations and 320 C-121 military versions.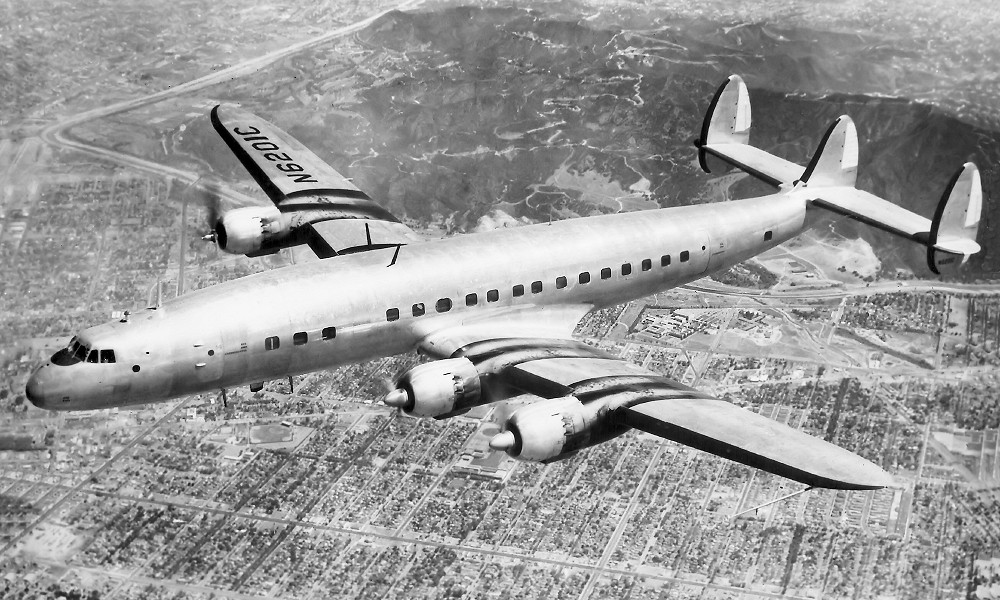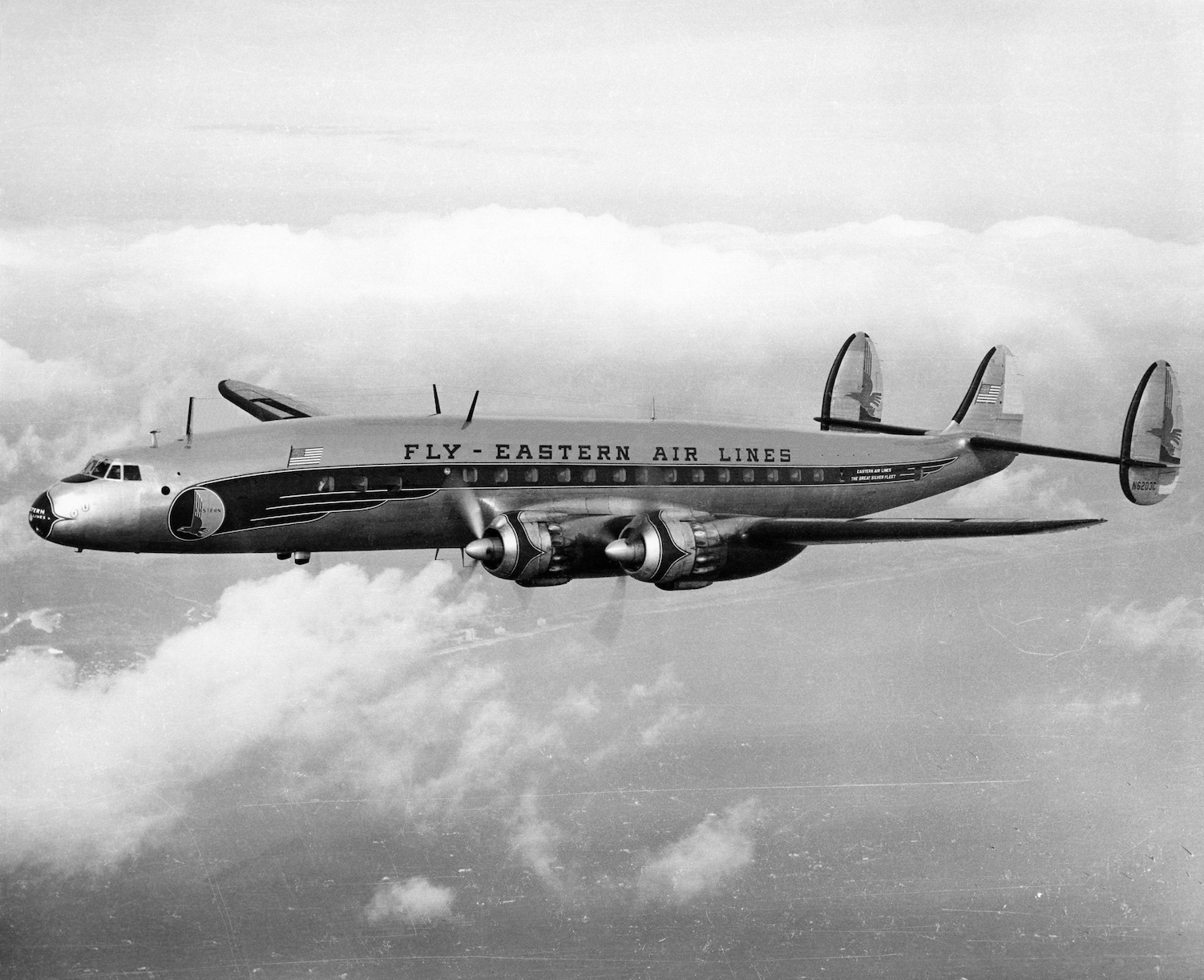 © 2023, Bryan R. Swopes