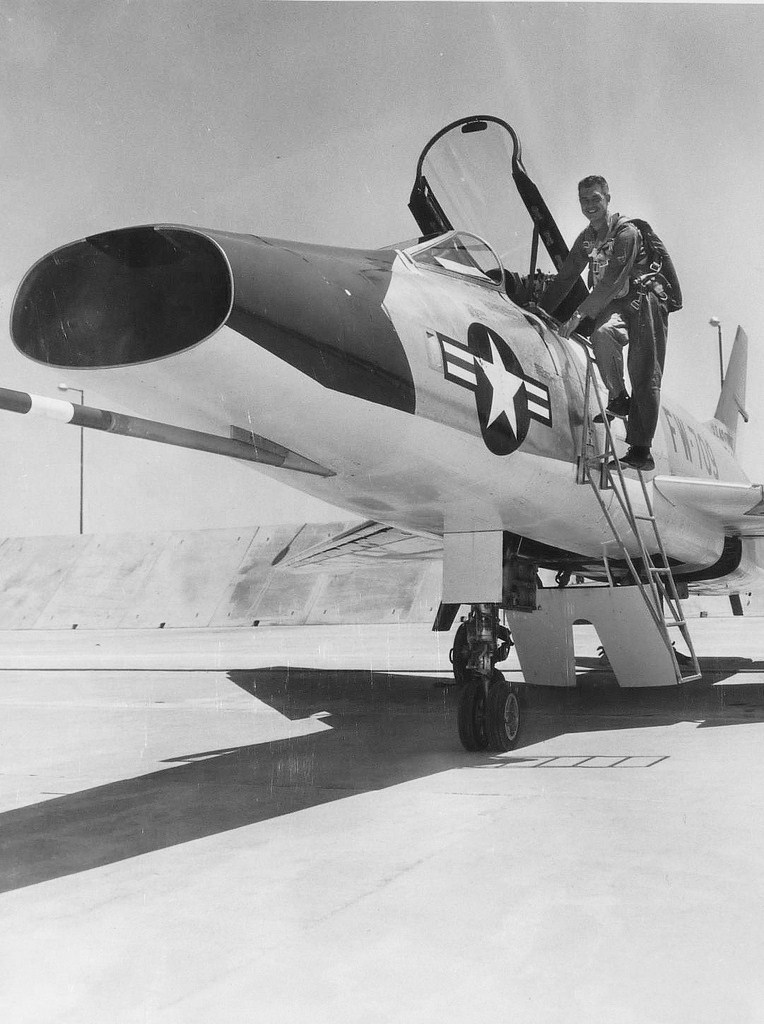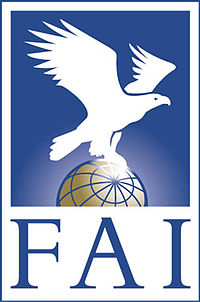 20 August 1955: Colonel Horace A. Hanes, United States Air Force, flew the first North American Aviation F-100C-1-NA Super Sabre, 53-1709, to Mach 1.246 at 40,000 feet (12,192 meters), setting a new Fédération Aéronautique Internationale (FAI) speed record of 1,323.312 kilometers per hour (822.268 miles per hour) over a measured 15/25-kilometer course at Edwards Air Force Base, California.¹
This was the first supersonic world speed record. It was also the first speed record set at high altitude. Previously, all speed records were set very close to the ground for measurement purposes, but with ever increasing speeds this practice was becoming too dangerous.
For his accomplishment, Colonel Hanes was awarded the Mackay Trophy.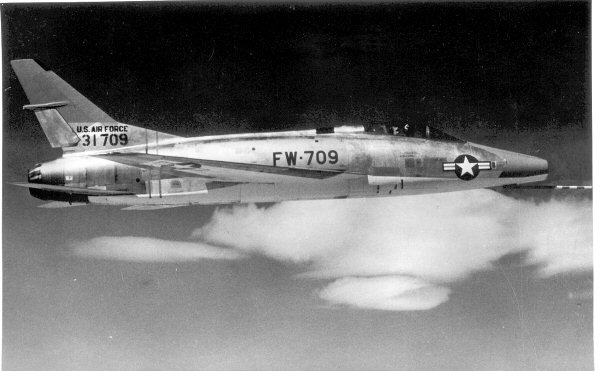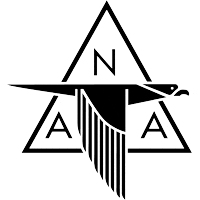 The North American Aviation F-100C Super Sabre was a single-seat, single-engine swept wing fighter. In addition to its air superiority role, the F-100C was also capable of ground attack.
The F-100C was 47.8 feet (14.57 meters) long (excluding pitot boom) with a wingspan of 38.8 feet (11.83 meters) and overall height of 15.5 feet (4.72 meters). The wings were swept aft 45° at 25% chord. The wings' angle of incidence was 0° and there was no dihedral or twist. The total wing area was 385 square feet (35.8 square meters). The fighter had an empty weight of 19,197 pounds (8,708 kilograms), and maximum gross weight of 35,618 pounds (16,156 kilograms).
The F-100C was powered by a Pratt & Whitney J57-P-7 engine. The J57 was a two-spool axial-flow turbojet which had a 16-stage compressor section (9 low- and 7 high-pressure stages) and a 3-stage turbine (2 high- and 1 low-pressure stages). Its continuous power rating was 8,000 pounds of thrust (35.586 kilonewtons). The Military Power rating was 9,700 pounds (43.148 kilonewtons) (30-minute limit). Maximum power was 14,800 pounds (43.148 kilonewtons) with afterburner (5-minute limit). The engine was 20 feet, 9.7 inches (6.342 meters) long, 3 feet, 3.9 inches (1.014 meters) in diameter, and weighed 5,075 pounds (2,303 kilograms).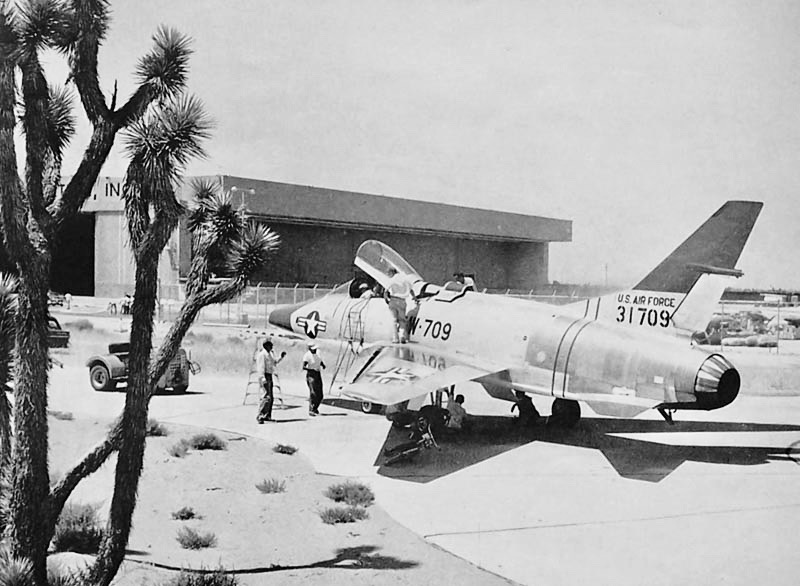 The F-100C had a maximum speed of 756 knots (870 miles per hour/1,400 kilometers per hour) at 35,000 feet (10.668 meters). The service ceiling was 46,900 feet (14,295 meters). The maximum ferry range was 1,630 nautical miles (1,876 statute miles/3,019 kilometers).
The F-100C Super Sabre was armed with four 20 mm M-39 revolver cannon with 200 rounds of ammunition per gun. It could carry 14 unguided 2.75 inch (70 mm) Folding Fin Aerial Rockets in two 7-round pods. It could be loaded with four 1,000-pound, or six 750-pound bombs on underwing hard points. For tactical nuclear strike, the Super Sabre could be armed with a single MK-7 "Special Store."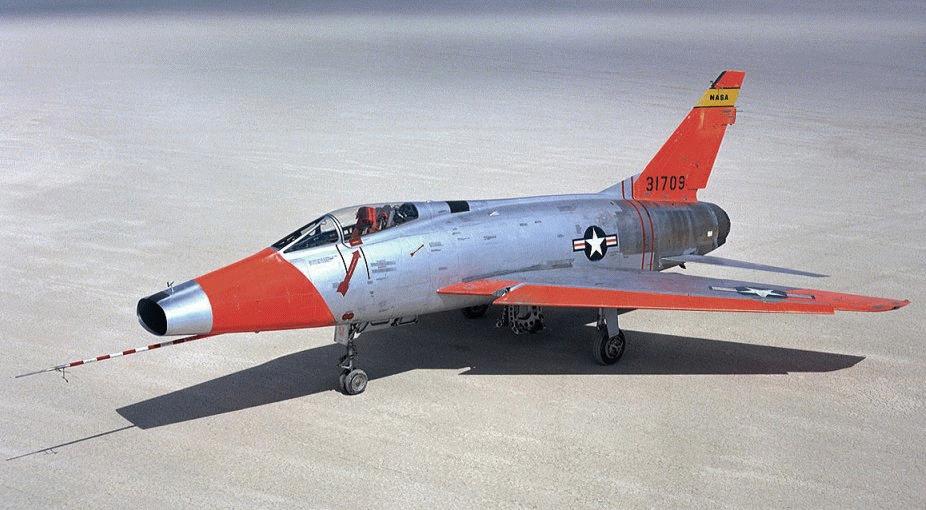 After being used in Air Force testing at Edwards Air Force Base, 53-1709 was transferred to the National Advisory Committee for Aeronautics (NACA) High-Speed Flight Station, also located at Edwards AFB. The F-100 was identified as NACA 703 and assigned civil registration N703NA. It was used for variable stability testing at the Ames Flight Research Center, Moffett Field, California, from 4 September 1956 to 2 November 1960, and 11 March 1964 until 21 March 1972. At some point its tail surfaces were upgraded to those of the F-100D series.
Today, the FAI world-record setting F-100C is displayed at the Castle Air Museum, marked as F-100D 55-2879.

Horace Albert Hanes was born at Fayette, Illinois, 1 March 1916, the first of two children of Albert Lee Hanes, a farmer, and Martha Elizabeth Jones Hanes. Hanes grew up in Bellflower, Illinois. He attended Normal Community High School at Normal, Illinois, graduating in 1933, and then Illinois State Normal University, also located in Normal. He participated in basketball and track and field. He graduated in 1938 with a bachelor of arts degree in education. He worked as a teacher and athletic coach.
Hanes married Miss Virginia Kumber, a school teacher, in Covington, Indiana, 9 October 1937. The ceremony was officiated by Rev. Lawrence P. Green.
Horace Hanes entered the U.S. Army Air Corps as an aviation cadet, 8 October 1938. He graduated from flight training 25 August 1939 and was commissioned as a second lieutenant, Air Reserve. Lieutenant Hanes was assigned to the 18th Pursuit Group at Wheeler Field, Oahu, Territory of Hawaii, which was equipped with Curtiss-Wright P-36 Hawk and P-40 Warhawk "pursuits."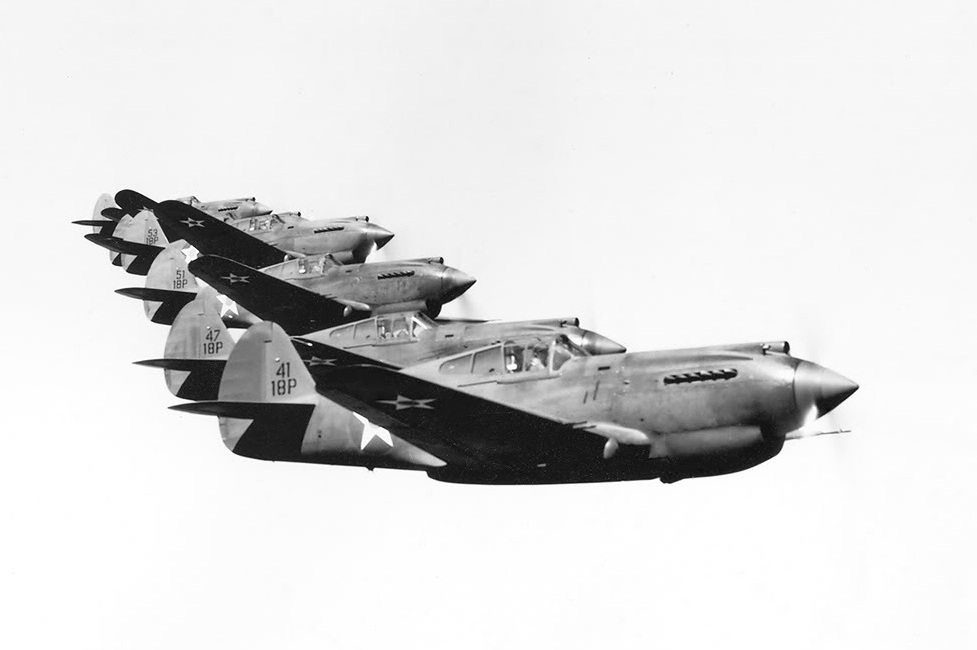 Hanes was commissioned as a second lieutenant, Air Corps, United States Army, 1 July 1940. While retaining his permanent rank of second lieutenant, Hanes advanced to the rank of first lieutenant, Army of the United States (A.U.S.), 10 October 1941. He returned to the United States and served with the Air Training Command.
Lieutenant Hanes was promoted to captain, A.U.S. (A.C.), 1 March 1942, and placed in command of a P-47 Thunderbolt squadron based in Florida, the 312th Fighter Squadron, 338 Fighter Group. On 26 November 1942, Hanes was promoted to the rank of major, A.U.S. On 1 July 1943, Hanes was promoted to the permanent rank of first lieutenant, Air Corps, United States Army. He retained this permanent rank until after the war.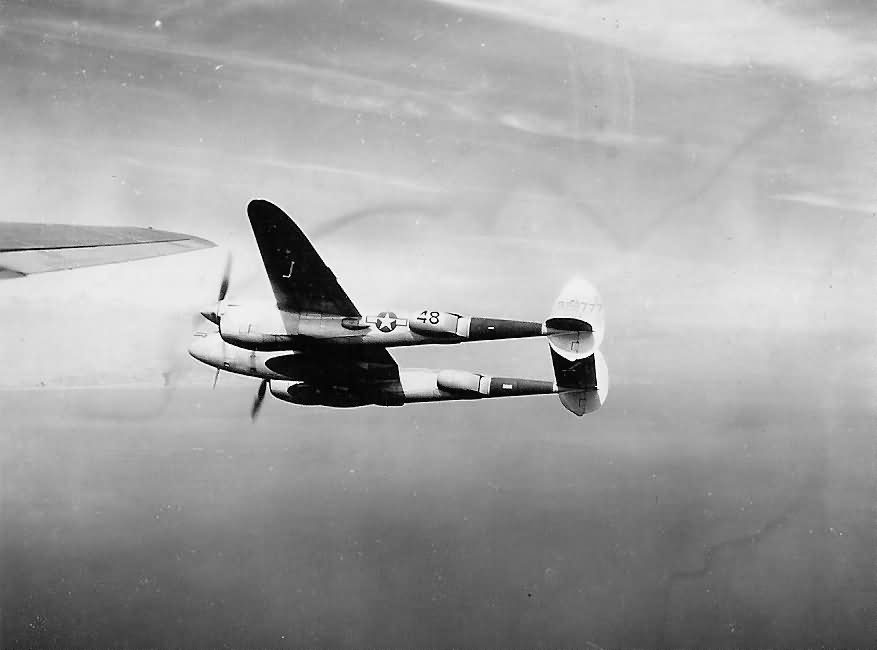 Major Hanes was deployed to Europe in August 1943, commanding the 71st Fighter Squadron (Twin Engine), 1st Fighter Group, at Mateur Airfield, Tunisia. The 71st had been the first operational P-38 squadron. After flying 30 combat missions, Major Hanes' P-38 went down over Yugoslavia in January 1944. For the next three months he evaded capture. Hanes returned to the United States in April 1944 and was assigned to command Punta Gorda Army Airfield, a fighter training base on the western coast of Florida.
Hanes was promoted to lieutenant colonel, A.U.S., 1 August 1944, and to colonel, A.U.S., 23 October 1945. In January 1946, Colonel Hanes assumed command of the 31st Fighter Group, which deployed to Giebelstadt Army Airfield in southwest Germany. The group operated P-51D Mustangs and the new Lockheed P-80B Shooting Star jet fighter. In 1947, Colonel Hanes took command of the 67th Tactical Reconnaissance Group at March Air Force Base, Riverside, California. The 67th was equipped with the Douglas RB-26 Invader and the Lockheed RF-80 Shooting Star.
From January to July 1949, Colonel Hanes attended the Armed Forces Staff College, and then was assigned as Chief of the Air Defense Division within the Directorate of Research and Development, Headquarters, U.S. Air Force. From July 1952 to June 1953, he attended the Air War College, Maxwell Air Force Base, Montgomery, Alabama, and then became Director of Flight Test at the Air Force Flight Test Center, Edwards Air Force Base. It was while at Edwards that Colonel Hanes set the world speed record. He remained at the AFFTC for four years.
Hanes took command of the 58th Fighter-Bomber Wing at Osan Air Base, Republic of South Korea, July 1957. The 58th flew the North American Aviation F-86F Sabre. He then spent three years in Japan as Deputy Chief of Staff, Operations, Fifth Air Force.
In July 1964, Brigadier General Hanes took command of the 9th Aerospace Defense Division at Ent Air Force Base, Colorado Springs, Colorado. On 24 September 1964, Hanes was promoted to the rank of major general, with his date of rank retroactive to 1 April 1960. After two years, Hanes returned to Europe as Assistant Chief of Staff, Operations, Supreme Headquarters, Allied Powers Europe.
Major General Hanes' final assignment was as Vice Commander, Aerospace Defense Command. He  retired from the United States Air Force in 1973.
During his military Career, Major General Horace Albert Hanes, United States Air Force, was awarded the Distinguished Service medal, the Silver Star, Legion of Merit with oak leaf cluster (two awards), the Air Medal with five oak leaf clusters (six awards), the Air Force Commendation medal and the Air Force Outstanding Unit Award ribbon.
Major General Hanes died at his home in Bloomington, Indiana, 3 December 2002. He was buried alongside his wife, Virginia (who died in 1996) at the United States Air Force Academy Cemetery, Colorado Springs, Colorado.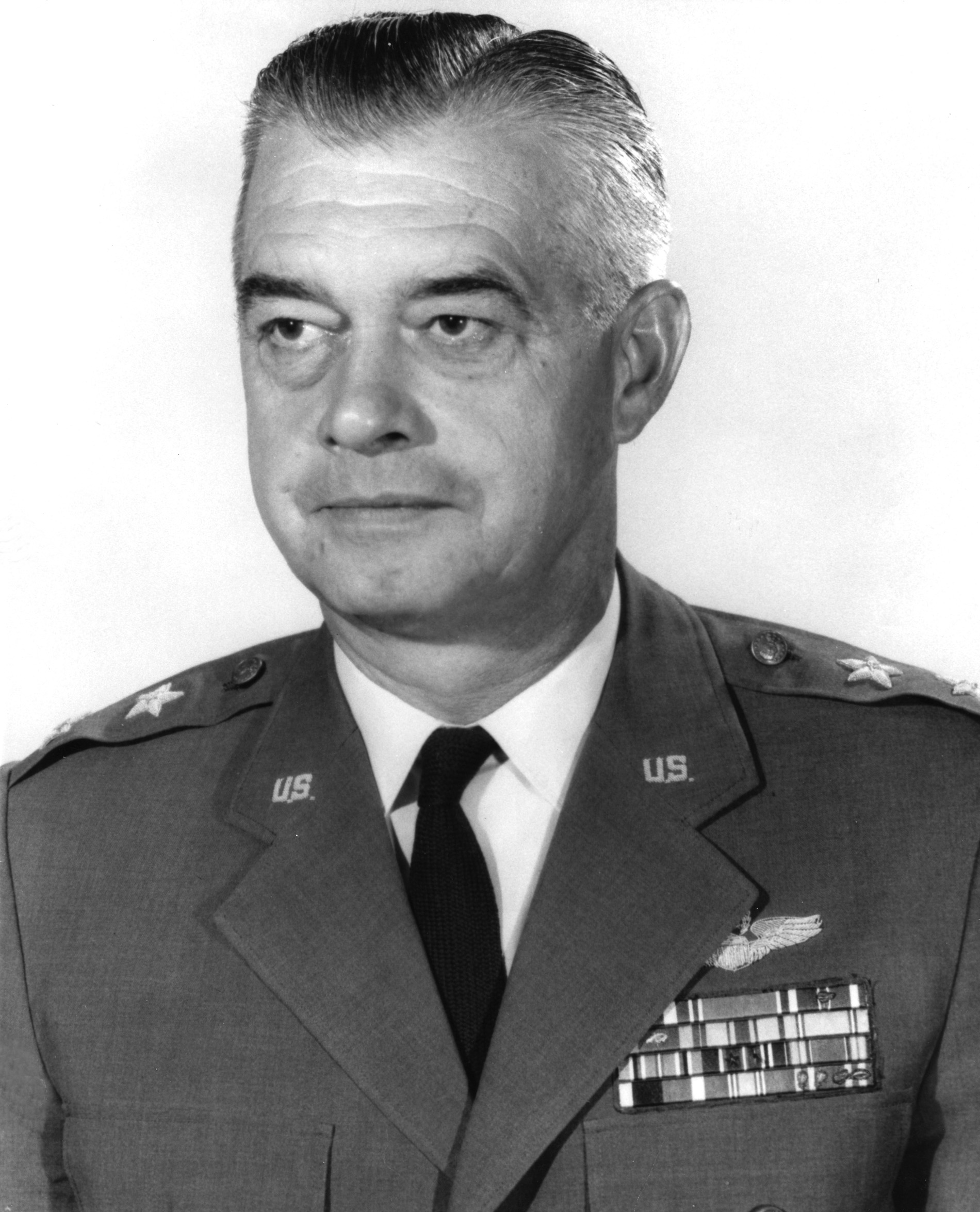 ¹ FAI Record File Number 8867
© 2018, Bryan R. Swopes