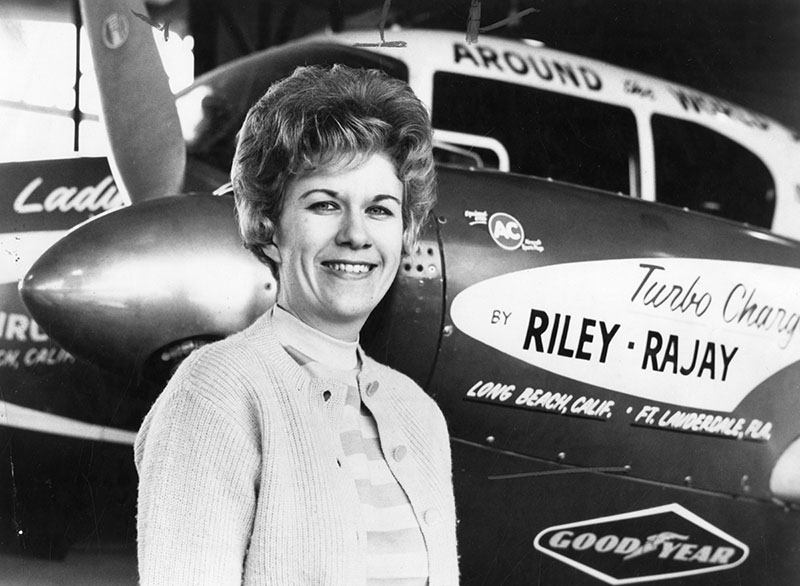 At 1:00 p.m., 17 March 1964, Joan Merriam Smith departed Oakland International Airport, on California's San Francisco Bay, on what would be the first leg of an around-the world flight. Her first stop would be Tucson, Arizona, approximately 650 nautical miles (1,200 kilometers) to the east-southeast.
Mrs. Smith intended to follow the easterly route of Amelia Earhart, who had departed from Oakland on both of her attempts at the around-the-world flight. The first try, 17 March 1937, was a westerly route, with a first stop at Hawaii. The second try, 2 June 1937, was an eastbound route.
The two routes were planned to take advantage of seasonal weather patterns.
Mrs. Smith wanted to follow Earhart's eastbound route, but by leaving in mid-March, she put herself at a disadvantage with respect to the weather she would encounter as she traveled around the Earth.
Unlike Earhart, who had two of the world's foremost navigators in her flight crew, Mrs. Smith would fly alone, her only companion a small teddy bear. She would navigate by pilotage and ded reckoning, and by using radio aids such as non-directional beacons (NDBs) and VHF omnidirectional ranges (VORs).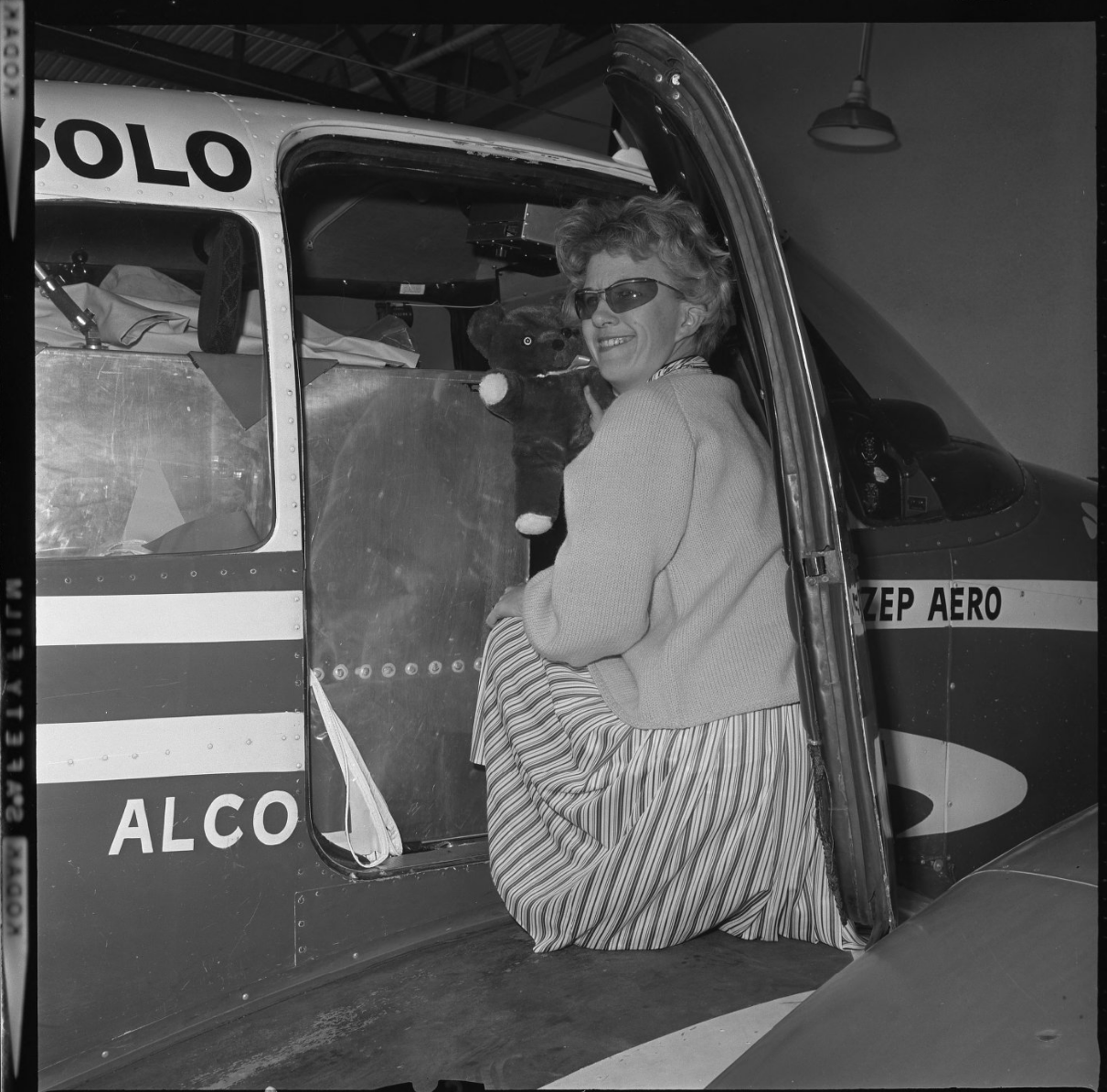 Forecast adverse weather caused her to leave Tucson for her next stop, New Orleans, Louisiana, at 2:00 a.m., 18 March. Dodging the weather, she was forced to make an intermediate fuel stop at Lubbock, Texas. She finally arrived in New Orleans at 4:00 p.m. that afternoon. After another early morning start, she flew on to Miami, Florida, on 19 March.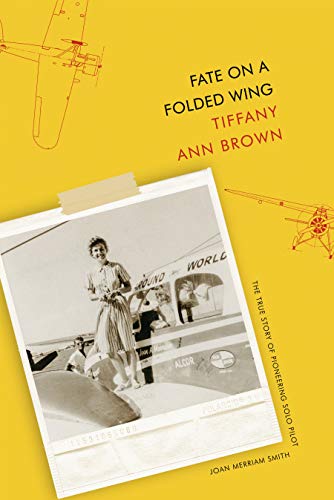 A detailed story of Joan Merriam Smith's flight is told in Fate on a Folded Wing, written by Tiffany Ann Brown.¹ Her route followed Earhart's eastward across the United States; south over the Caribbean Sea to South America; then across the South Atlantic Ocean; Africa, Asia, and finally, to the Pacific Ocean, where Mrs. Smith's route diverged from Earhart's.
Smith's itinerary:  Across the United States from Oakland, California, to Tucson, Arizona; Lubbock, Texas; New Orleans, Louisiana; Miami, Florida. Then over the Caribbean Sea to San Juan, Paramaribo, Natal; east across the South Atlantic to Dakar, Gao, Fort-Lamy, Al-Fashir, Khartoum, Aden. From Africa, Smith headed into South Asia: Karachi, Calcutta, Akyab, Rangoon; and then Southeast Asia: Bangkok, Singapore, Jakarta, Surabaya, Kupang; Darwin, Northern Territory, Australia; and Lae, New Guinea. From here, Smith deviated from Earhart's route across the Pacific Ocean by flying to Guam instead of Howland Island; then Wake Island; Midway Island; Honolulu, Hawaii; and, finally Oakland.
Mrs. Smith's flight was troubled by adverse weather, leaking fuel tanks, out-of-calibration radio equipment, a recalcitrant autopilot, problems with the hydraulic and electrical systems, and a heater that would not work. And weather. . .
She arrived back at Oakland International at 9:12 a.m., on 12 May 1964, having flown approximately 27,750 miles (44,659 kilometers). The total duration of her journey was 55 days, 20 hours, 12 minutes. She had flown 35 legs on 23 days. Mrs. Smith wrote that the circumnavigation had taken a total of 170 flight hours, with 47 hours on instruments and 26 hours of night time.
Joan Merriam Smith is credited with having made the first solo circumnavigation of the Earth by the Equatorial route, and the longest solo flight.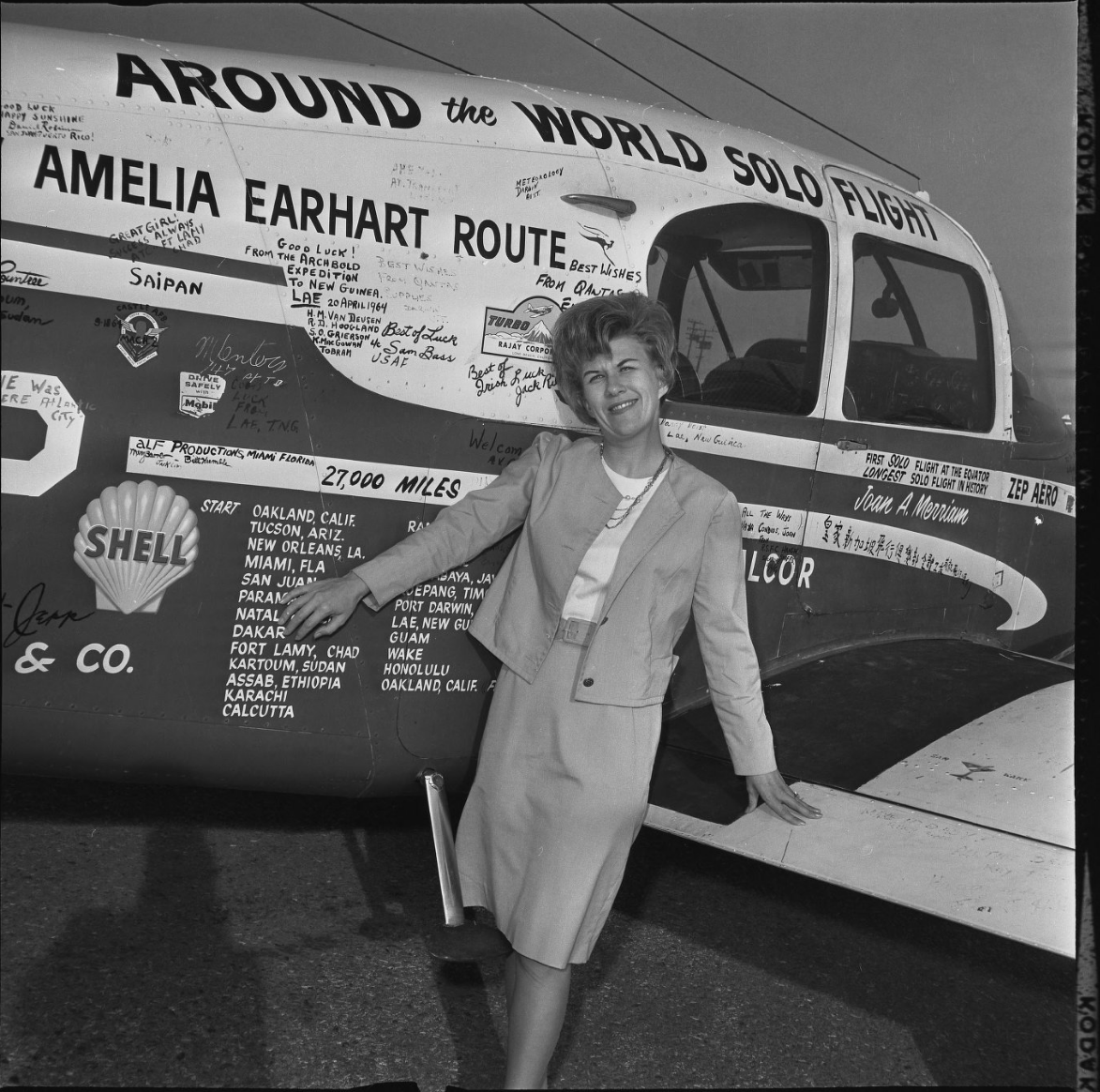 The airplane flown by Joan Merriam Smith was a Piper PA-23-160 Apache E, serial number 23-1196, U.S. registration N3251P, which she had named City of Long Beach. The red and white airplane was manufactured by the Piper Aircraft Corporation at Lock Haven, Pennsylvania, in 1958. It had been purchased by the State of Illinois Department of Aeronautics to use checking state-owned aeronautical facilities. When the the state acquired a faster aircraft, the Apache was sold in November 1963. The Federal Aviation Administration issued a registration certificate to Mrs. Smith on 30 December 1963.
The Piper PA-23-160 Apache E was a 4-place, twin-engine, light airplane with retractable tricycle landing gear. It was 27 feet, 2 inches (8.280 meters) long with a wingspan of 37 feet, 0 inches (11.278 meters) and overall height of 10 feet, 1 inch (3.073 meters). The airplane had an empty weight of 2,230 pounds (1,011.5 kilograms) and maximum gross weight of 3,800 pounds (1,723.7 kilograms).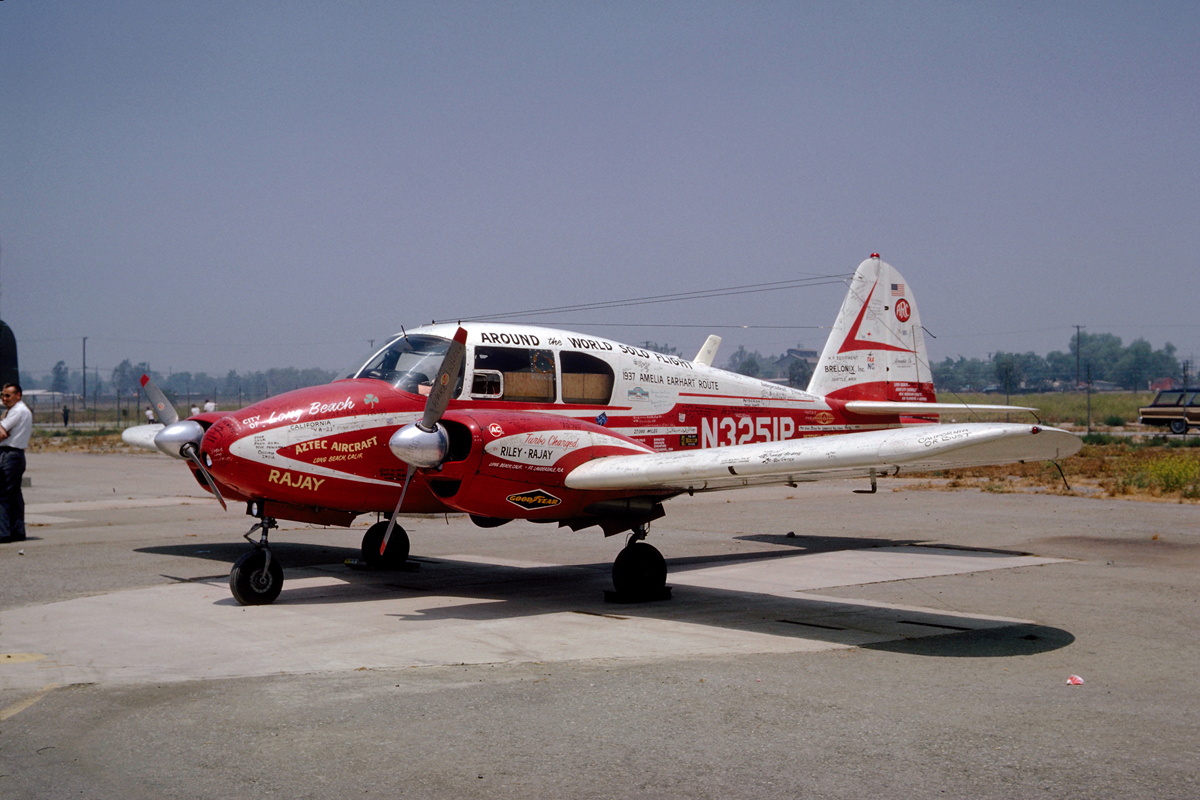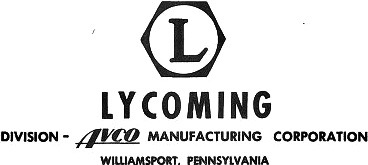 The Apache E was powered by two air-cooled, normally-aspirated, 319.749-cubic-inch-displacement (5.240 liter) Lycoming O-320-B horizontally-opposed 4-cylinder overhead valve (OHV) engines with a compression ratio of 8.5:1. The O-320-B is a direct-drive, right-hand tractor engine, rated at 160 horsepower at 2,700 r.p.m. The O-320-B is 2 feet, 5.56 inches (0.751 meters) long, 2 feet, 8.24 inches (0.819 meters) wide and 1 foot, 10.99 inches (0.584 meters) high. It weighs 278 pounds (126.1 kilograms). The engines turned two-bladed Hartzell constant-speed propellers.
N3251P's engines were modified with Rajay Co., Inc., Turbo 200 turbochargers.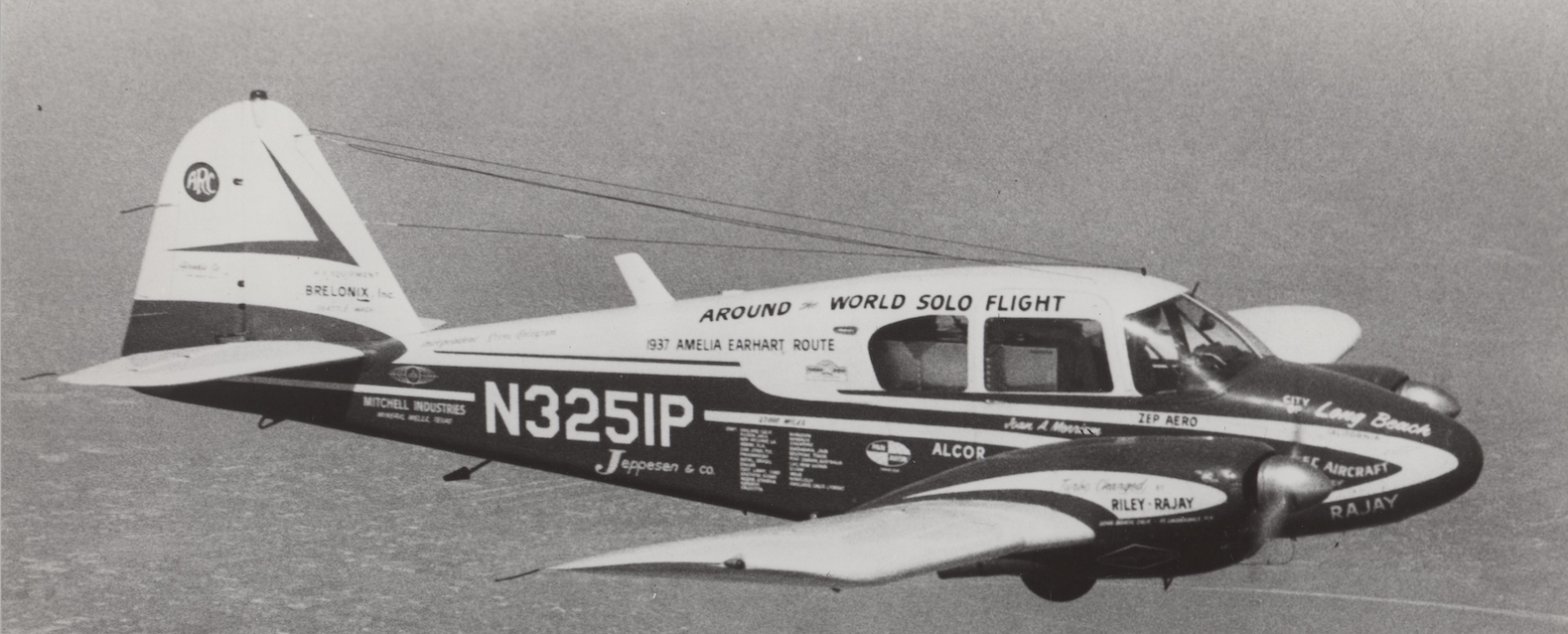 The PA-23-160 had a cruise speed of 150 knots (173 miles per hour/278 kilometers per hour) and maximum speed was 159 knots (183 miles per hour/295 kilometers per hour). The service ceiling was 17,000 feet (5,182 meters).
During a flight from Las Vegas, Nevada, to Long Beach, 9 January 1965, the cabin heater in the nose of the Apache caught fire. With the cabin filled with smoke and gasoline fumes, and unable to reach any airport, Mrs. Smith crash-landed the airplane in rocky terrain in the Ord Mountains, southeast of Barstow in the high desert of southern California. After it has slid to a stop, N3251P continued to burn and was largely destroyed. Mrs. Smith and her passenger, Willam Harry Eytchison, were slightly injured.
At the time of the accident, N3251P had just under 3,000 hours total time on the airframe (TTAF), and less than 400 hours on new engines (TSN).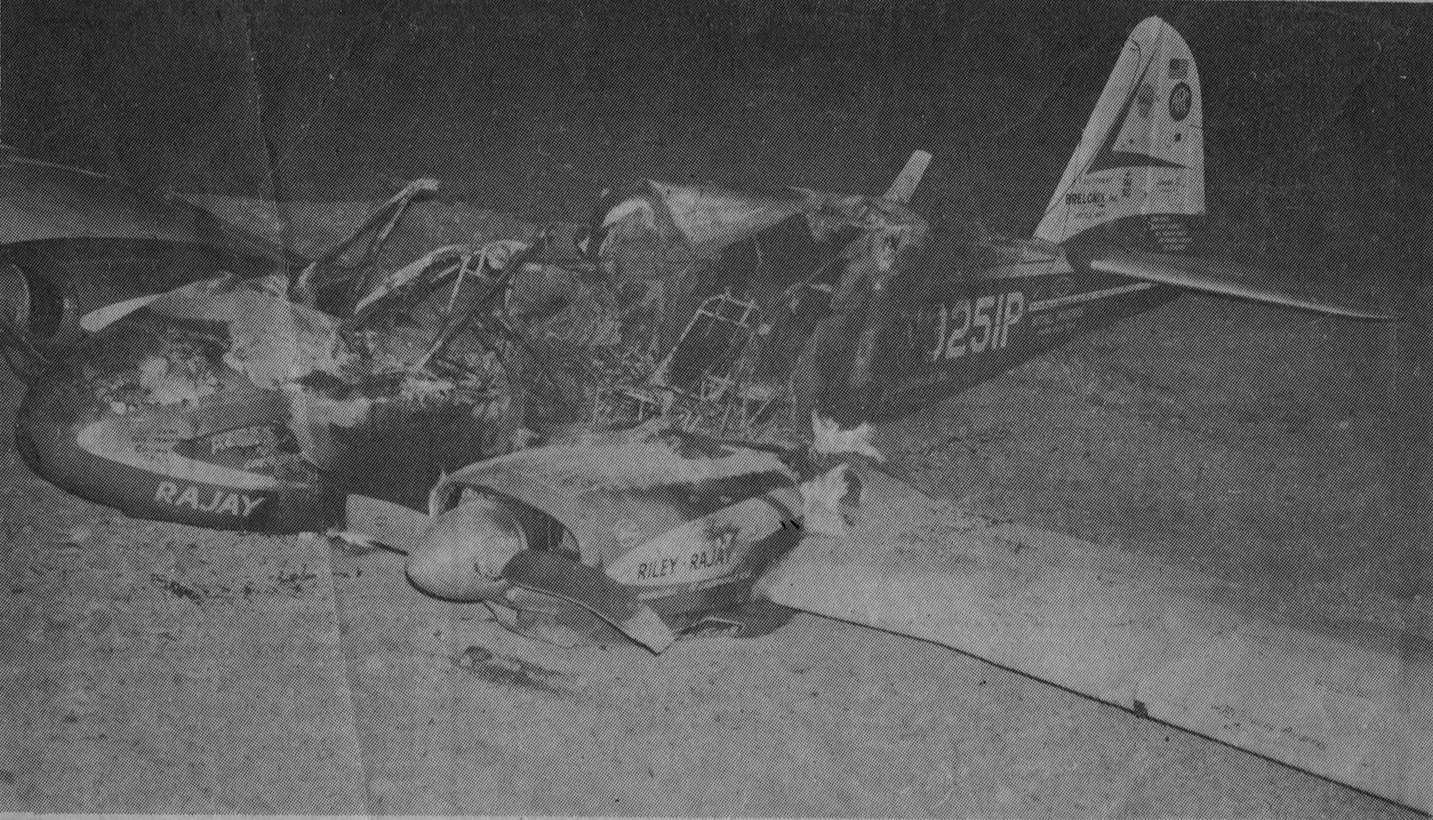 Joan Ann Merriam was born 3 August 1936 at Oceanside, Long Island, New York, U.S.A. She was the daughter of Arthur Ray Merriam, Jr., a railroad office stenographer, and Ann Marie Lofgren Merriam. The family relocated to Wayne, Michigan, where Joan attended Jefferson Junior High School and Wayne High School.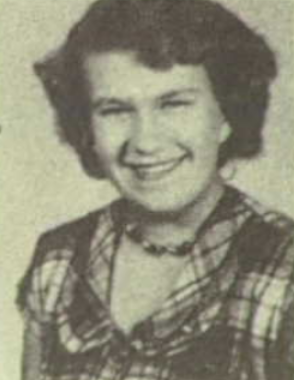 Joan's father died at the age of 43, New Year's Day, 1952. She and her mother then moved to Miami, Florida. Flying from Detroit to Miami aboard a Lockheed Constellation, Joan was allowed to visit the flight deck and speak to the crew.
The airline flight sparked an interest in aviation. She began taking lessons at the age of 15. Joan learned to fly at the Embry-Riddle Aeronautical Institute, then located at at Tamiami Airport. She first soloed an airplane at the age of 16 years. On 7 November 1953, shortly after her 17th birthday, she was issued private pilot certificate. Special permission was obtained from the FAA for her to take the written exams for commercial pilot before she turned 18.
Joan graduated from Miami Senior High School in 1954.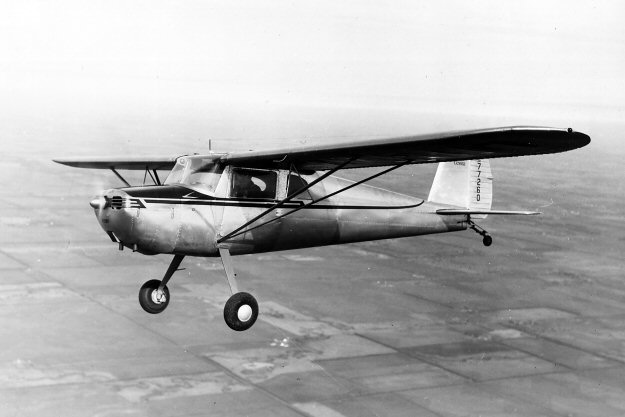 Mrs. Merriam gave Joan a Cessna 140, a single-engine light airplane, making her one of the youngest people in the United States to own an airplane. Joan said that her mother was "the bravest passenger," as she practiced all of the maneuvers required for a commercial pilot's license. By the time she was 18, she earned a commercial pilot certificate with an instrument rating, and a flight instructor certificate. She began instructing at Tamiami. She flew charters from Florida to Texas, living in that state before moving to Panama City, Florida. On her twenty-third birthday, the earliest that she was eligible, Miss Merriam was issued an airline transport pilot certificate (ATP) by the FAA. She had flown nearly 5,000 hours.
Miss Merriam would later own a Piper Cub modified for aerobatics, a second Cessna 140, and a Cessna 172.
In the fall of 1955, Miss Merriam married Harold MacDonald, a student in aeronautical engineering. She worked as a flight instructor for Avex, Inc., at Tamiami Airport. Mr. and Mrs. MacDonald soon divorced.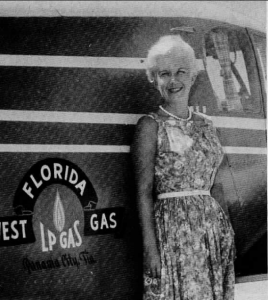 In 1960, Miss Merriam was living in Panama City, Florida, where she was employed as a pilot for West Florida Natural Gas Company, one of very few women who flew as corporate pilots at the time. (Contemporary newspapers reported that she was "one of three women corporation pilots in the country.") Reflecting the sexist attitudes of the time, news features often described her as a "blue-eyed platinum blonde," and made mention of "her personal aerodynamic attributes." In an interview, Miss Merriam said that a major reason preventing more women from executive flying were, "executive's wives, and executive's secretaries."
She had met Lieutenant (j.g.) Marvin G. ("Jack") Smith, Jr., U.S. Navy, in 1958. Lieutenant Smith was executive officer of USS Vital (MSO-474), an Agile-class minesweeper homeported at Panama City. She moved to San Leandro, California, and worked as a contract instrument flight instructor at Oakland International Airport for the Sixth United States Army, which was then based at the Presidio of San Francisco.
Miss Merriam and Lieutenant Smith were married at Monterey, California, 23 September 1960. The couple later moved to Long Beach, where Lieutenant Commander Smith's next ship, USS Endurance (AM-435), was homeported.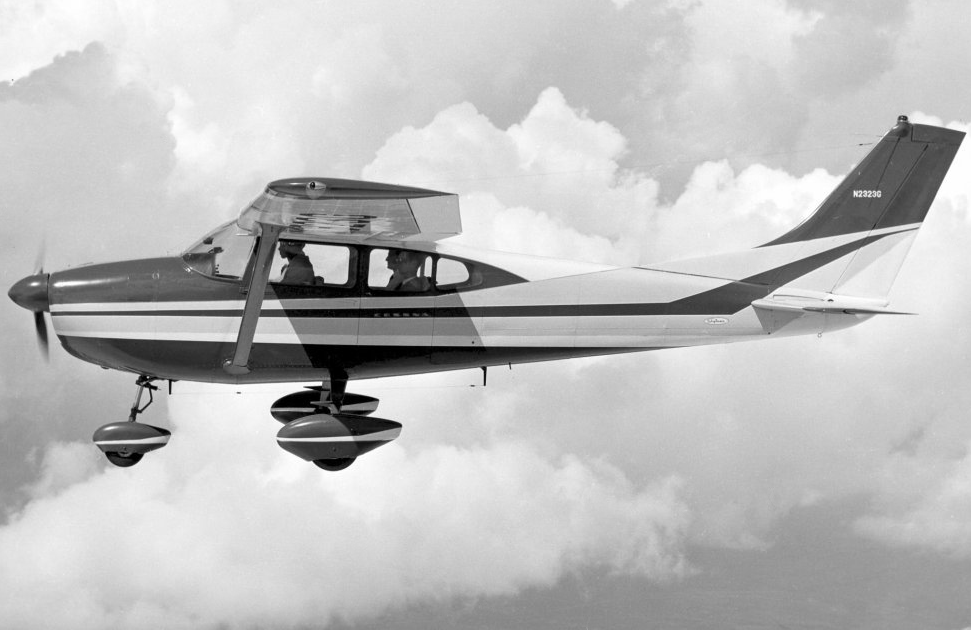 In February 1965, Joan Merriam Smith was flying for Rajay Industries out of Long Beach, California. (Rajay was a turbocharger manufacturer which had supplied the turbos for Mrs. Smith's Apache.) She had been conducting functional and reliability tests on a modified Cessna 182C Skylane, N8784T. The airplane was owned by the V. E. Kuster Co., of Long Beach, a supplier of oil field equipment.
The flight test plan for 17 February 1965 called for the Cessna to be flown at altitudes between 5,000 and 23,000 feet (1,524–7,010 meters). Mrs. Smith was flying. Also on board was her biographer, Beatrice Ann ("Trixie") Schubert.
Smith was flying across the San Gabriel Mountains, which divide southern California's coastal plain from the high desert. The highest peak in the range, Mount San Antonio, which was not far east of her course, rises to 10,046 feet (3,062 meters).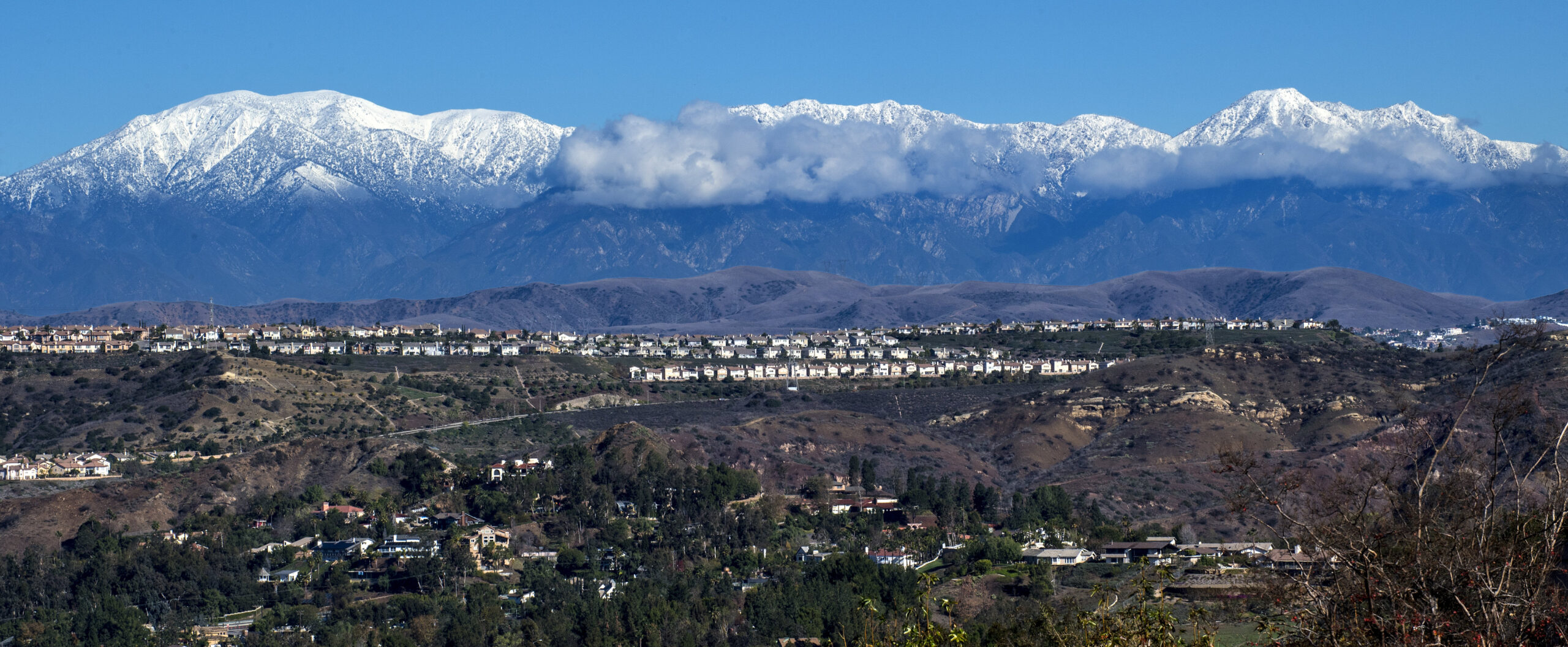 Witnesses said that the airplane had been flying normally, estimated at between 1,000 and 2,000 feet (305–610 meters) above the mountainous terrain, when the right wing folded back along the fuselage. The airplane, with the engine revving, went into a dive and crashed into the north slope of Blue Ridge, a few miles west of Wrightwood, California, 10–12 seconds later. There was an explosion and fire.
Joan Merriam Smith and Trixie Ann Schubert were killed.
Investigators found that both wings had failed outboard of the struts. The outer wing panels, both ailerons and the left elevator were located approximately 1½ miles (2½ kilometers) from the point of impact. Examination showed that the aircraft had suffered severe loads. "There was no evidence of fatigue or failure of the aircraft before the inflight structural failure."
The Civil Aeronautics Board reported the Probable Cause: "The pilot entered an area of light to moderate turbulence at high speed, during which aerodynamic forces exceeding the structural strength of the aircraft caused in-flight structural failure." According to the CAB, the Cessna 182 had an airspeed in excess of 190 miles per hour (306 kilometers per hour) when it entered the area of turbulence.
Her remains were interred at Forest Lawn Memorial Park, Cypress, California.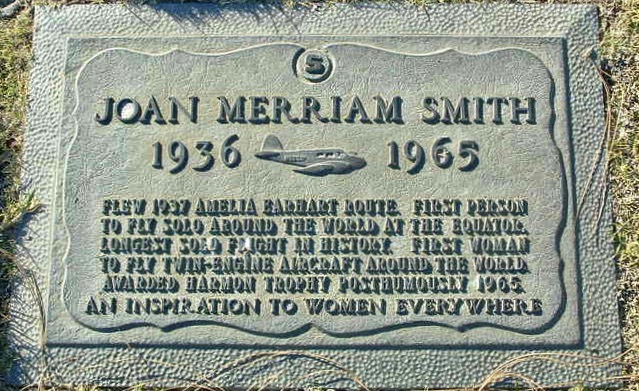 For her accomplishment, Joan Merriam Smith was posthumously awarded the Harmon Aviatrix Trophy for 1965. At a ceremony held in the Indian Treaty Room of the Executive Office Building, 15 December 1965, the trophy was presented to her husband, Lieutenant Commander Marvin G. Smith, Jr., by Vice President Hubert Humphrey.
Mrs. Smith had intended to attempt an altitude record with the turbocharged Skylane. On 20 July 1965, her husband, Marvin G. Smith, set the record at 10,689.6 meters (35,070.9 feet), flying a Cessna 210A Centurion with an IO-470 engine.²
TDiA would like to thank Ms. Tiffany Ann Brown for suggesting this subject, and for her invaluable contribution.
¹ Fate on a Folded Wing: The True Story of Pioneering Solo Pilot Joan Merriam Smith, by Tiffany Ann Brown. Lucky Bat Books, 2019.
² FAI Record File Number 9977 (Class C, Sub-Class C1c: powered airplanes, takeoff weight 1000 to 1750 kg).
© 2020, Bryan R. Swopes