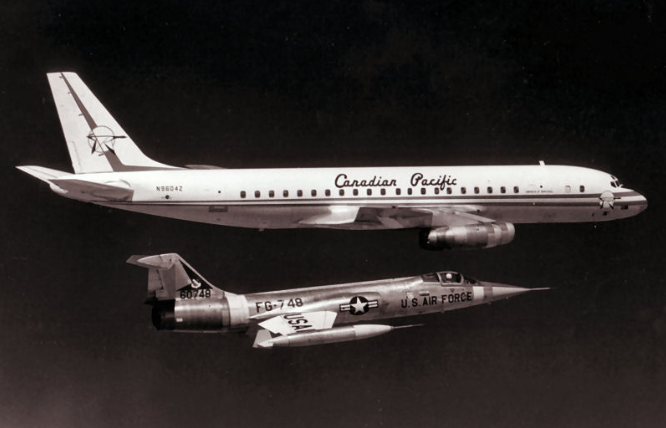 On 21 August 1961, a Douglas DC-8-43, N9604Z, c/n 45623, Line Number 130, flown by Chief Test Pilot William Marshall Magruder, Paul Patten, Joseph Tomich and Richard H. Edwards climbed to 50,090 feet (15,267 meters) near Edwards Air Force Base. Placing the DC-8 into a dive, it reached Mach 1.012 (668 miles per hour/1,075 kilometers per hour) while descending through 41,088 feet (12,524 meters). The airliner maintained this supersonic speed for 16 seconds. This was the first time that a civil airliner had "broken the Sound Barrier."
An Air Force F-100 Super Sabre and F-104 Starfighter were chase planes for this flight. Reportedly, the F-104 was flown by the legendary test pilot, Colonel Chuck Yeager.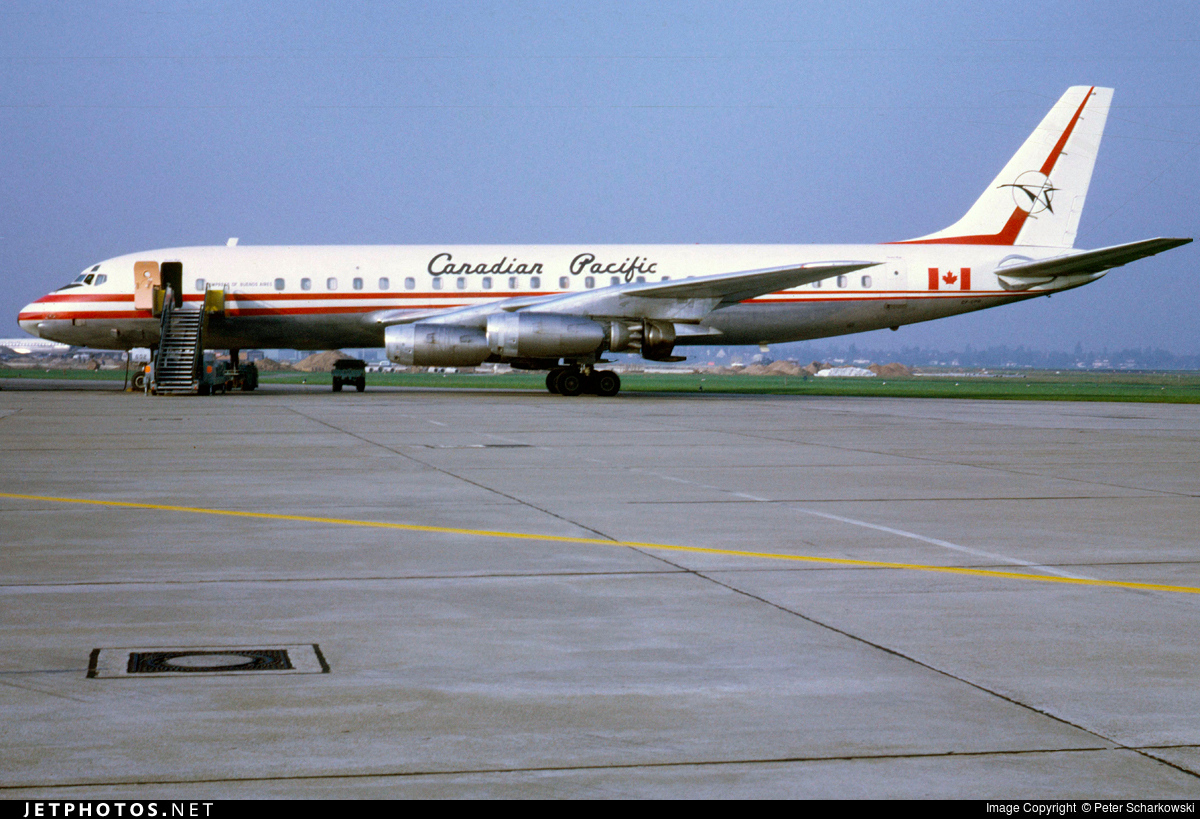 The Douglas DC-8 is a commercial jet airliner, a contemporary of the Boeing 707 and Convair 880. It was operated by a flight crew of three and could carry up to 177 passengers. The DC-8 was powered by four turbojet or turbofan engines mounted on pylons suspended below the wings. The wings' leading edges were swept to 30°, as was the vertical fin and horizontal tailplane.
The DC-8-40 series is 150 feet, 6 inches (45.872 meters) long with a wingspan of 142 feet, 5 inches (43.409 meters) and overall height of 42 feet, 4 inches (12.903 meters). It had an empty weight of 124,790 pounds (56,604 kilograms) and maximum takeoff weight of 315,000 pounds (142,882 kilograms).
The DC-8-40 series had a cruising speed of 0.82 Mach (542 miles per hour/872 kilometers per hour) at 35,000 feet (10,668 meters). Its maximum range was 5,905 nautical miles (6,795 statute miles, 10,936 kilometers).
N9604Z was powered by four Rolls-Royce Conway RCo.12 Mk 509 two-shaft axial-flow turbofan engines, rated at 17,500 pounds of thrust (77.844 kilonewtons) at 9,990 r.p.m. The 509 is 11 feet, 3.9 inches (3.452 meters) long, 3 feet, 6.2 inches (1.072 meters) in diameter, and weighs 4,542 pounds (2,060 kilograms).
N9604Z was delivered to Canadian Pacific Airlines 15 November 1961, re-registered CF-CPG, and named Empress of Montreal. It later flew under CP Air as Empress of Buenos Aires. The DC-8 was scrapped at Opa Locka Municipal Airport, north of Miami, Florida, in May 1981.
© 2016, Bryan R. Swopes