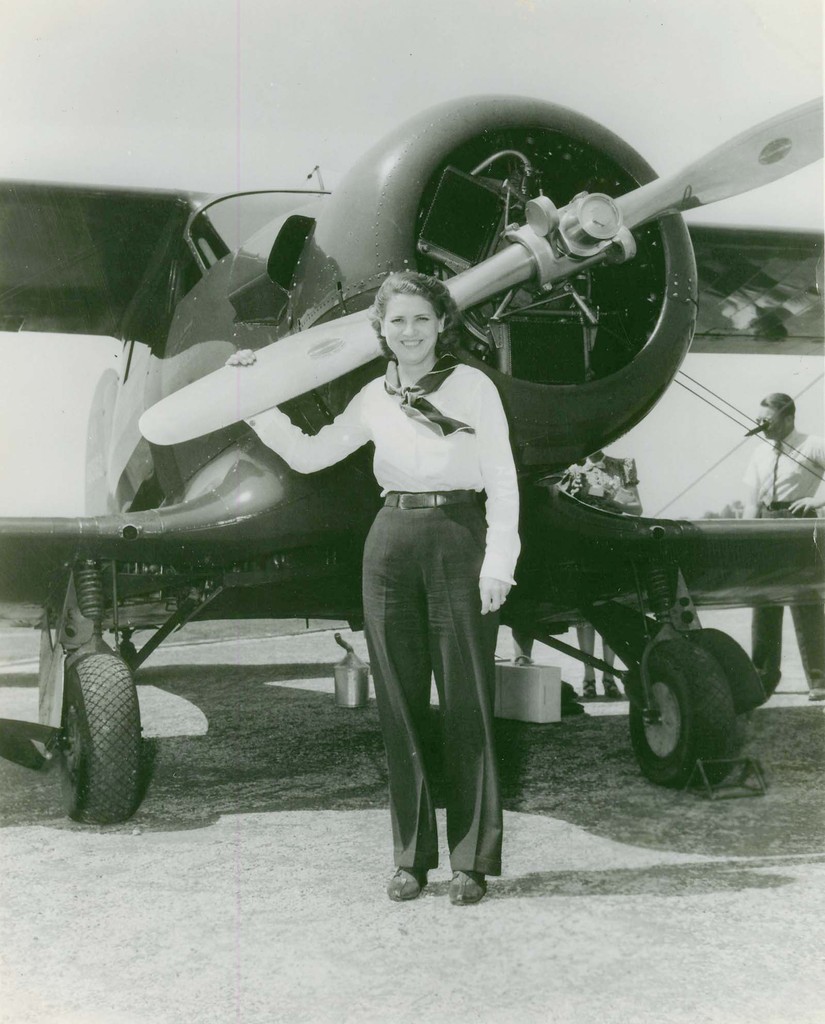 24 March 1939: During a 2 hour, 26 minute flight over southern California, Jacqueline Cochran established a U.S. National Altitude Record for Women of 9,160 meters (30,052 feet). She flew a Beechcraft D17W "Staggerwing," serial number 164, registered NR18562.
A National Aeronautic Association official, Larry Therkelson, took the recording barograph from the airplane and sent it to the N.A.A. headquarters in Washington, D.C., for certification. The record had previously been held by Ruth Rowland Nichols.¹
"Were I to make the simple statement that I climbed to an altitude of thirty-three thousand feet, that statement in and of itself would mean nothing because I have often gone higher than that. But when I add that I did this in 1937 in a fabric-covered biplane without heating, without pressurization and without an oxygen mask, the elements of an accomplishment are added. I nearly froze; the pipestem between my teeth through which I tried to get an oxygen supply from a tank and connecting tube was inadequate for the purpose, and I became so disoriented through lack of oxygen that it took over an hour to get my bearings and make a landing. The difference between the pressure my body was accustomed to on the ground and the atmospheric pressure at 33,000 feet was such that a blood vessel in my sinus ruptured. All this was a part of the cumulative evidence that led up to cabin pressurization and and mandatory use of the oxygen mask above certain altitudes."
— The Stars at Noon, by Jacqueline Cochran, Little, Brown and Company, Boston, 1954, Chapter IV at Pages 61–62.
According to the U.S. Centennial of Flight Commission, Jackie Cochran ". . . set more speed and altitude records than any other pilot."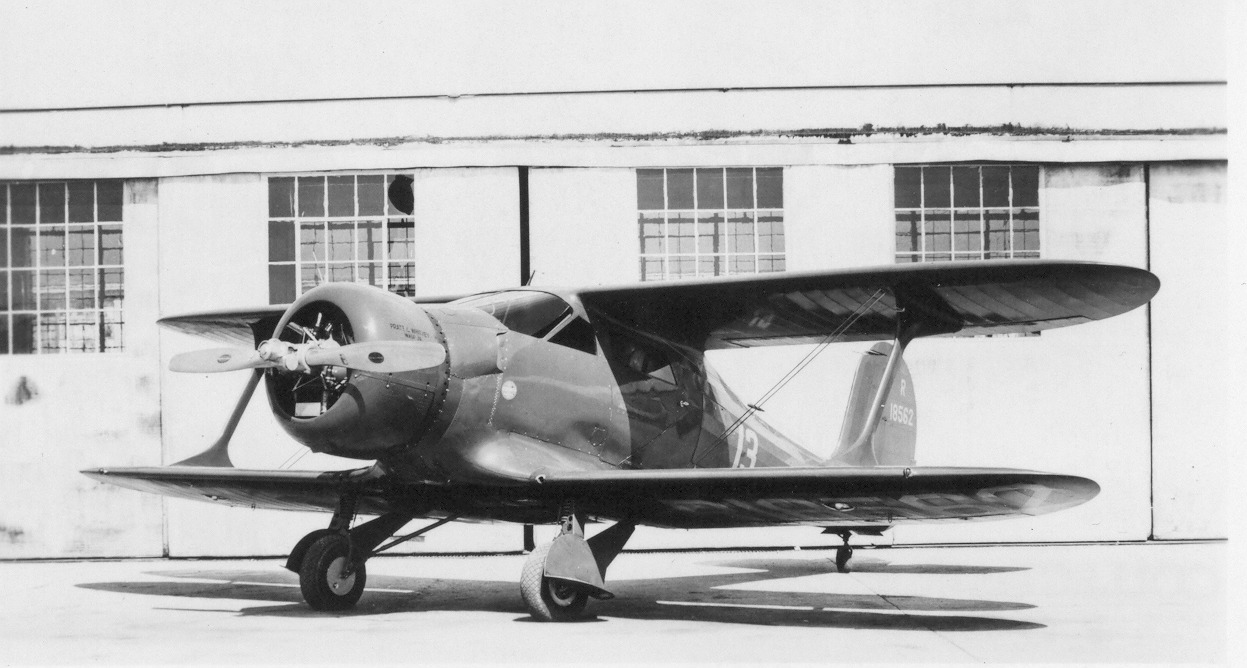 The Beechcraft Staggerwing got its name because its lower wing was placed ahead of the upper wing (negative stagger). It was a fast airplane for its time and set several speed and altitude records. The Beechcraft D17W was a special version of the D17 production model. Only two were built. Jackie Cochran purchased it from Beech for $20,145, and it had been delivered to her by famed aviator Frank Hawks.
The "Staggerwing" was a single-engine, four-place biplane with an enclosed cabin and retractable landing gear, flown by a single pilot. The basic structure was a welded tubular steel framework, with wood formers and stringers. The wings and tail surfaces were built of wood spars and ribs. The airplane was covered with doped fabric, except the cabin and engine, which were covered in sheet metal.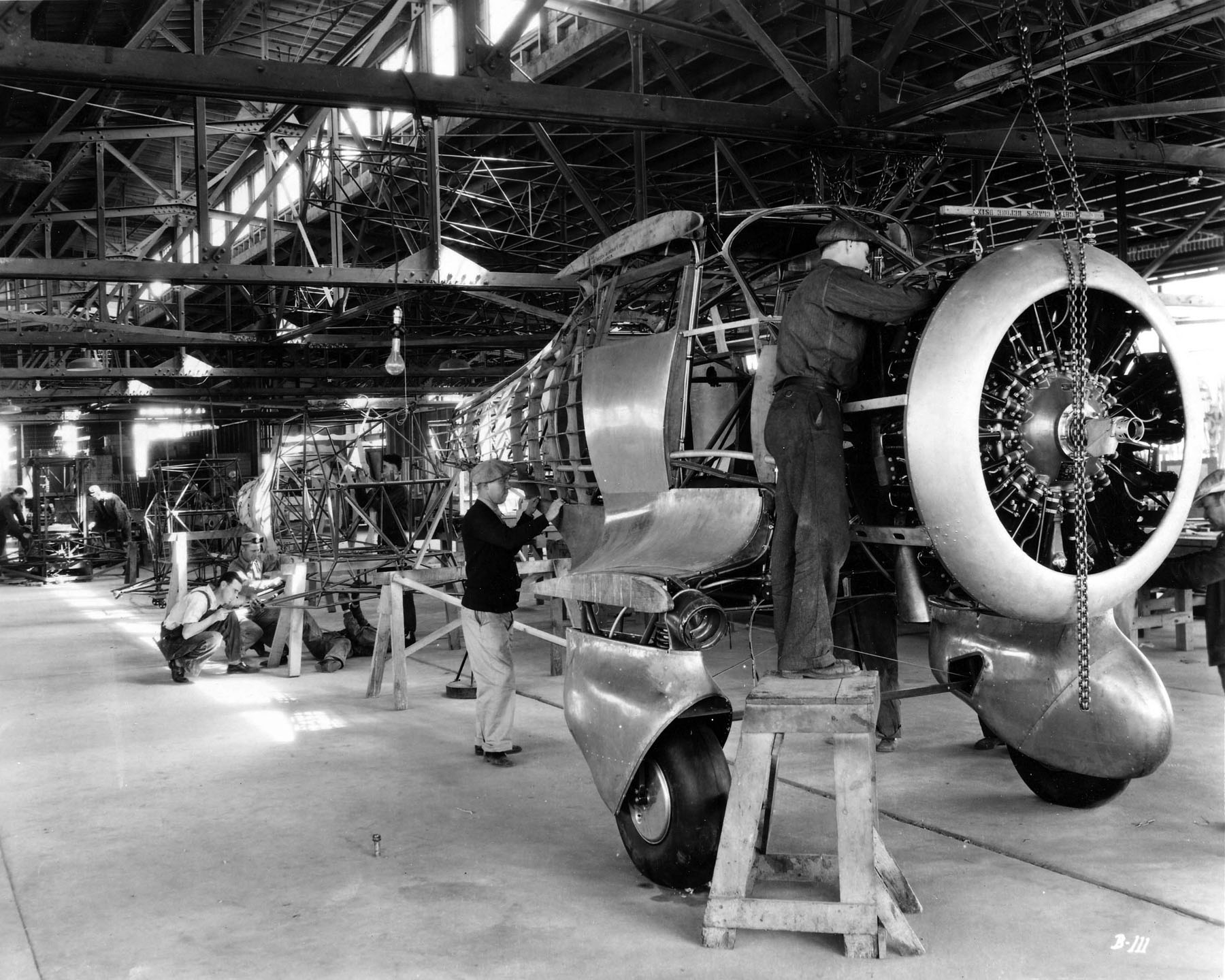 The airplane was 26 feet, 10 inches (8.179 meters) long with a wingspan of 32 feet, 0 inches (9.754 meters) and overall height of 8 feet, 0 inches (2.438 meters). It had an empty weight of 2,540 pounds (1,152.1 kilograms) and loaded weight of 4,250 pounds (1,927.8 kilograms).
While most biplanes had staggered wings, the Staggerwing was unusual in having negative stagger. This not only increased the pilot's field of vision, but improved the airplane's stability in a stall. The leading edge of the Model 17 upper wing was 2 feet, 1–19/32 inches (0.65008 meters) aft of the lower wing. The leading edges had 0° 0′ sweep. Both wings had an angle of incidence of 5° 5′. The upper wing had no dihedral, but the lower wing had +1°. The mean vertical gap between the wings was 5 feet (1.52 meters), and the chord of both wings was 5 feet, 0 inches (1.524 meters). The total wing area was 269.5 square feet (25.04 square meters). The horizontal stabilizer had 0° incidence, while the vertical fin was offset 0° 43′ to the left of the airplane's centerline.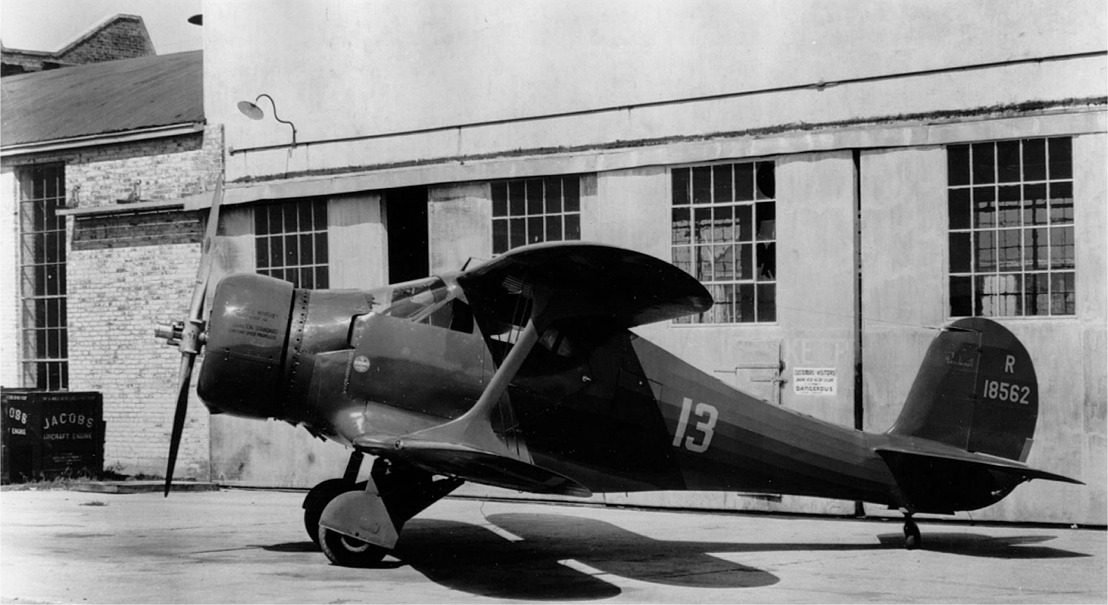 The Staggerwing was offered with a selection of engines of different displacements and horsepower ratings. The standard Beechcraft D17S was equipped with an air-cooled, supercharged, 986.749-cubic-inch-displacement (16.170 liters) Pratt & Whitney Wasp Jr. A, a nine-cylinder radial engine producing 300 horsepower at 2,000 r.p.m at Sea Level. It had a maximum speed of 212 miles per hour (341 kilometers per hour), 670 mile (1,078 kilometer) range and service ceiling of 25,000 feet (7,620 meters).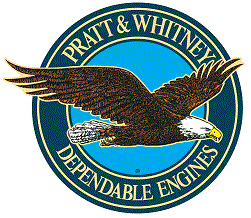 The 1,343.804-cubic-inch-displacement (22.021 liter) Pratt & Whitney Wasp SC-G engine installed in Jackie Cochran's D17W was an experimental version of the Wasp C with 5:4 propeller reduction gearing. It produced 600 horsepower at 2,850 r.p.m. for takeoff, and 525 horsepower at 2,700 r.p.m., up to 9,500 feet (2,896 meters). The SC-G never entered production.
Beechcraft D17W c/n 164, was impressed into military service at Tarrant Field, Texas, 12 March 1943. Assigned to the United States Army Air Corps, it was given the designation UC-43K Traveler and Air Corps serial number 42-107277. It was turned over to the Reconstruction Finance Corporation, 22 November 1944, for sale to the civil market. The airplane was now powered by a 971.930-cubic-inch displacement (15.927 liter) Wright R-975-5 Whirlwind nine-cylinder radial and was redesignated Beechcraft D17R. The Staggerwing was sold to the Carver Pump Company, Muscatine, Iowa, and registered NC50958.
The record-setting Beechcraft Staggerwing crashed at Avenger Field, Sweetwater, Texas, 15 December 1945.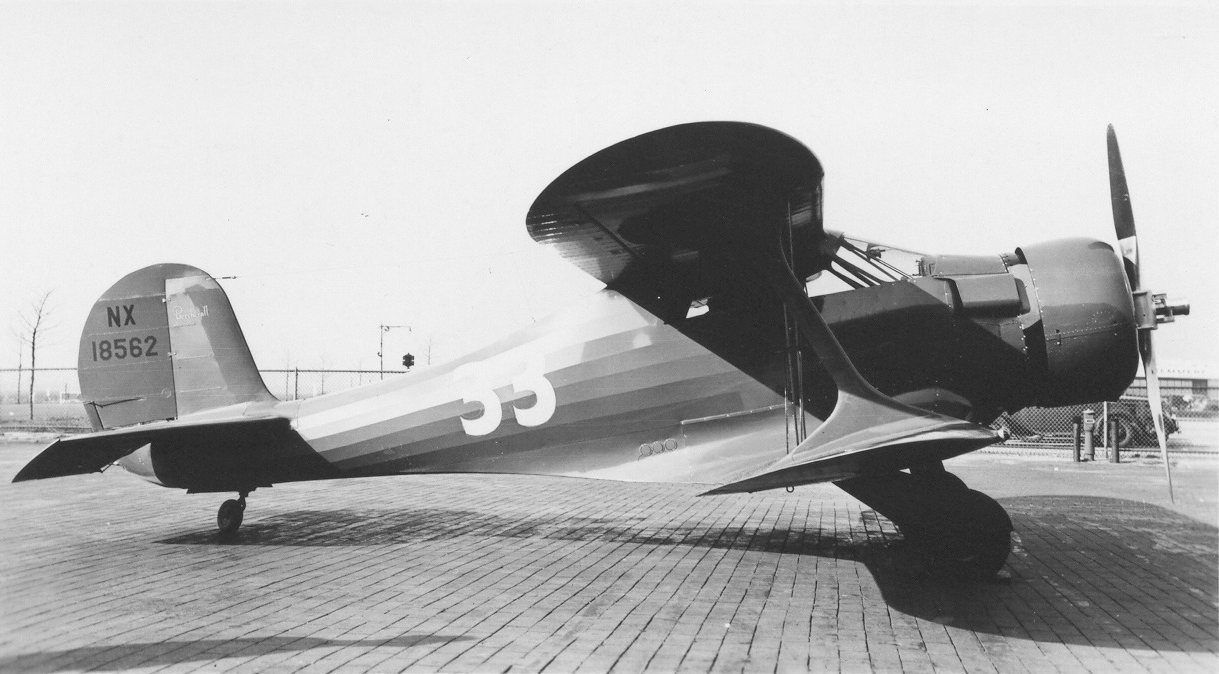 ¹ FAI Record File Number 12228: 8,761 meters (28,743 feet), 6 March 1931.
© 2019, Bryan R. Swopes