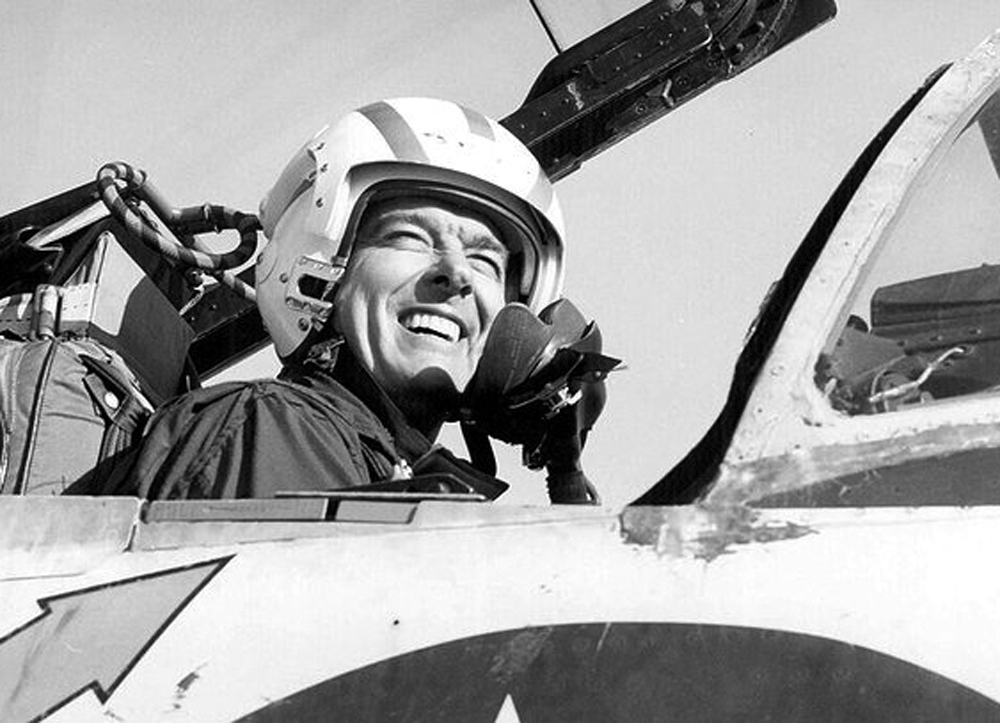 18 April 1958: At Edwards Air Force Base, California, test pilot Lieutenant Commander George Clinton Watkins, United States Navy, set a Fédération Aéronautique Internationale (FAI) World Altitude Record of 23,449 meters (76,932 feet)¹ with a Grumman F11F-1F Tiger, Bureau of Aeronautics serial number (Bu. No.) 138647.
Lieutenant Commander Watkins wore a David Clark Co. C-1 capstan-type partial-pressure suit with an International Latex Corporation (ILC Dover) K-1 helmet and face plate for protection at high altitudes.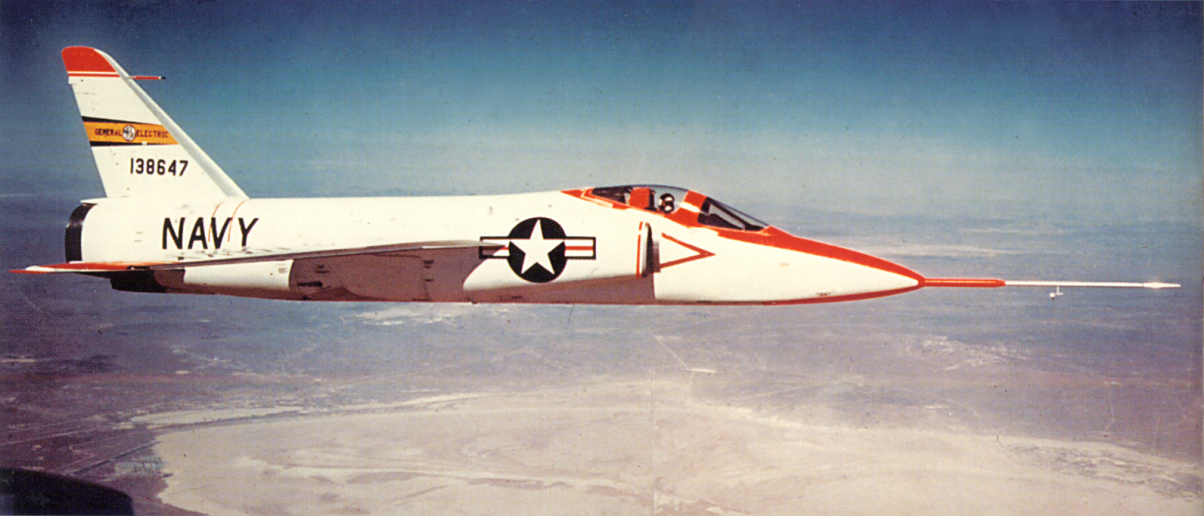 The F11F-1F Tiger was a higher performance variant of the U.S. Navy F11F single-seat, single-engine swept wing aircraft carrier-based supersonic fighter. The last two regular production F11F-1 Tigers, Bu. Nos. 138646 and 138647 were completed as F11F-2s, with the standard Westinghouse J65-WE-18 turbojet engine replaced by a more powerful General Electric YJ79-GE-3, which produced 9,800 pounds of thrust (43.59 kilonewtons), or 15,000 pounds (66.72 kilonewtons) with afterburner. The air intakes on each side of the fuselage were longer and had a larger area to provide greater airflow for the new engine. After testing, the fuselage was lengthened 1 foot, 1½ inches (0.343 meters) and an upgraded J79 engine installed. The first "Super Tiger" was damaged beyond repair in a takeoff accident and was "expended" as a training aid for fire fighters.
The U.S. Navy determined that the F11F-2 was too heavy for operation aboard carriers and did not place any orders. The designation was changed from F11F-2 to F11F-1F, and later, to F-11B, although the remaining aircraft was no longer flying by that time.
The F11F-1F Tiger is 48 feet, 9 inches (14.859 meters) long with a wingspan of 31 feet, 7½ inches (9.639 meters) and overall height of 14 feet, 4¾ inches (4.388 meters). The Super Tiger has an empty weight of 16,457 pounds (7,465 kilograms) and maximum takeoff weight of 26,086 pounds (11,832 kilograms).
With the YJ79 engine, the F11F-1F has a maximum speed of 836 miles per hour (1,345 kilometers per hour) at Sea Level, 1,325 miles per hour (2,132 kilometers per hour) at 35,000 feet (10,668 meters) and 1,400 miles per hour (2,253 kilometers per hour) at 40,000 feet (12,192 meters). Cruise speed is 580 miles per hour (933 kilometers per hour). It had an initial rate of climb of 8,950 feet per minute (45.5 meters per second) and service ceiling of 50,300 feet (15,331 meters). Range with internal fuel was 1,136 miles (1,828 kilometers).
The Tiger's armament consisted of four 20 mm Colt Mk 12 autocannon with 125 rounds of ammunition per gun, and four AIM-9 Sidewinder heat-seeking missiles.
The single remaining F11F-1F, Bu. No. 138647, is on static display at the Naval Air Weapons center, China Lake, California.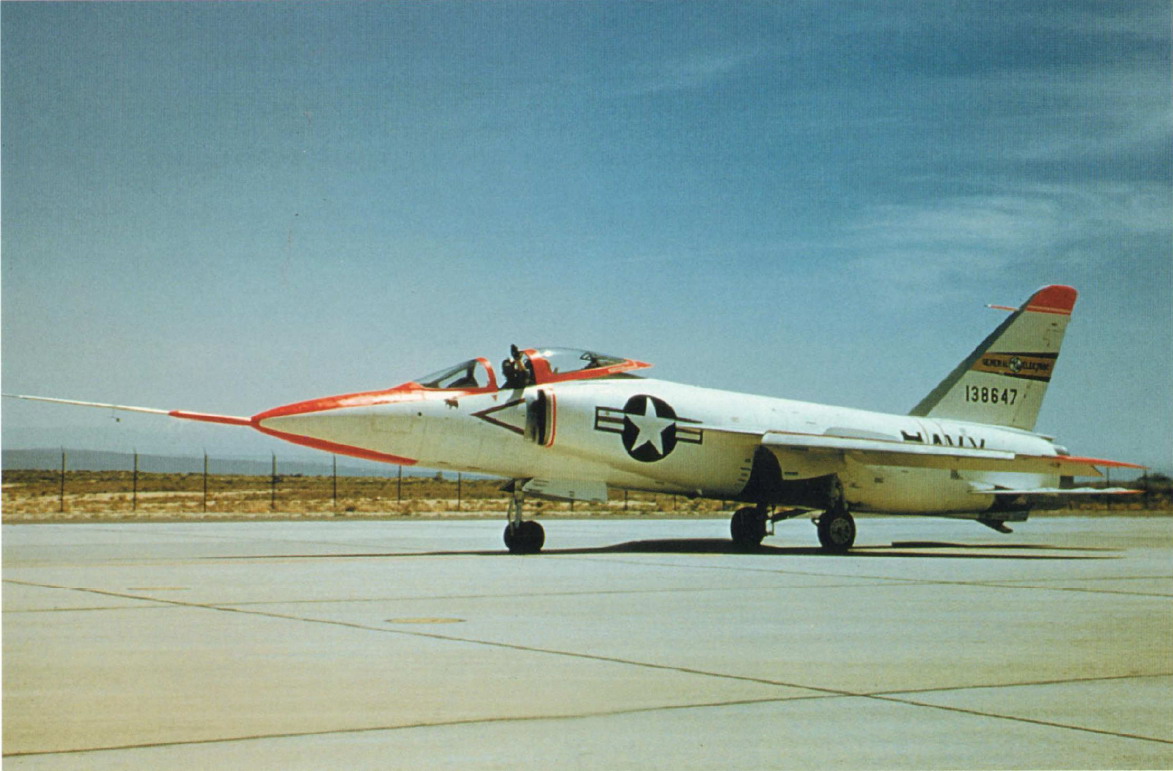 George Clinton Watkins was born at Alhambra, California, 10 March 1921, the third of seven children of Edward Francis Watkins, a purchasing agent for the Edison Company, and Louise Whipple Ward Watkins.
Watkins graduated from the United States Naval Academy, Annapolis, Maryland in 1943, was commissioned an ensign and assigned as a gunnery officer aboard the battleship, USS Pennsylvania (BB-38). Near the end of the war, he entered pilot training and won his naval aviator's wings in 1945. In 1950 he attended the Navy's test pilot school at NAS Patuxent River, along with classmates John H. Glenn and Alan B. Shepard. He served as a fighter pilot during the Korean War, then returned to duty as a test pilot.
George Watkins was the first U.S. Navy pilot to fly higher than 60,000 feet (18,288 meters) and 70,000 feet (21,336 meters). In 1956, he set a speed record of 1,210 miles per hour (1,947.3 kilometers per hour). In 1962, Commander Watkins was the first U.S. Navy pilot to have made 1,000 aircraft carrier landings.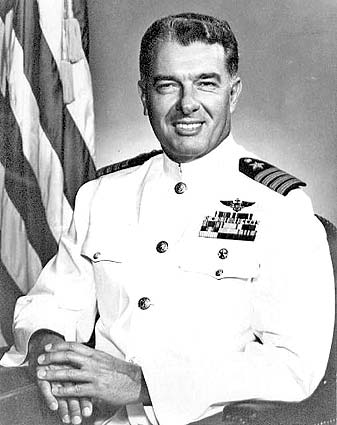 Captain Watkins served in planning assignments at the Pentagon, and was an aide to Presidents Kennedy, Johnson and Nixon. He commanded a supply ship [experience commanding a deep draft ship was a requirement before serving as captain of an aircraft carrier] during the Vietnam War, and served as a technical adviser for the 1970 20th Century Fox/Toei Company movie, "Tora! Tora! Tora!," about the Japanese attack against Pearl Harbor which brought the United States of America into World War II.
By the time Captain Watkins retired from the Navy in 1973, he had flown more than 200 aircraft types, made 1,418 landings on 37 aircraft carriers, and logged more than 16,000 flight hours. He continued flying after he retired, operating sailplane schools at Santa Monica and Lompoc, California. By the time he passed away, 18 September 2005, he had flown more than 21,000 hours during 26,000 flights.
¹ FAI Record File Number 8596
© 2017, Bryan R. Swopes
by