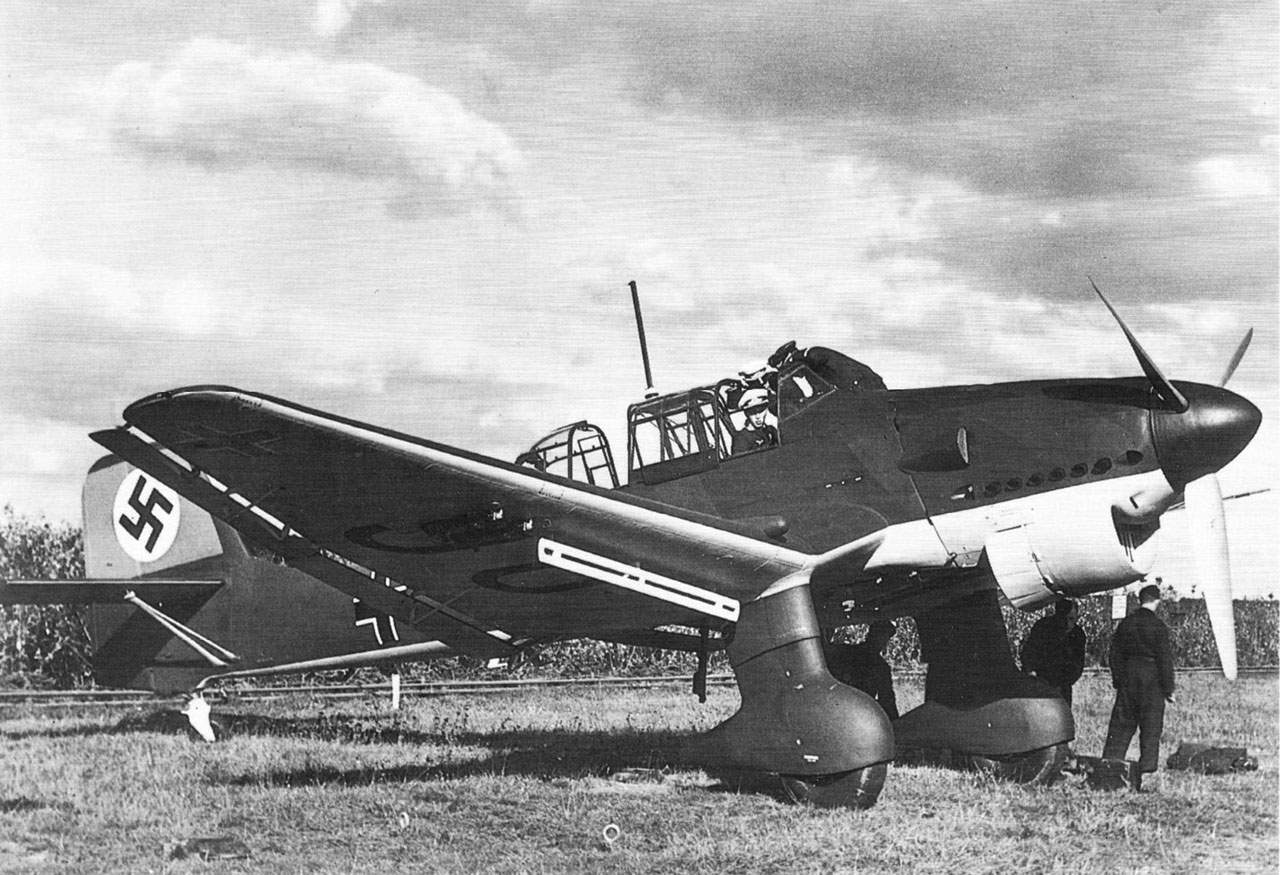 15 August 1939: As Nazi Germany prepared for a war now just weeks away, the Luftwaffe gave a demonstration of its Junkers Ju 87 B-1 Stuka dive bombers for a group of generals at a test range near Neuhammer-am-Queis, Silesia:
. . . scores of generals were assembled at the training area at Neuhammer to watch a dive-bombing demonstration. Already, said Rudolf Braun, who took part with his unit (I St. G 3) there was a feeling of war in the air.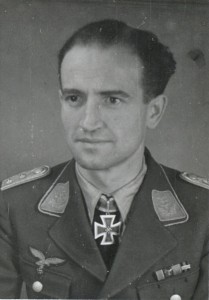 Normally the order of attack was the Kommandeur's Stab Kette (Staff Flight) first, followed by Staffels 1, 2, and 3. For some unknown reason Staffel I, led by Oberleutnant Peltz, was this time ordered to attack last. It would save Rudolf Braun's life.
The Met. reported cloud from 6,000 feet down to 2,500 with clear visibility below. At 6.00 a.m. Hauptmann Sigel led his Gruppe into attack at 12,000 feet. Half-rolling his Ju. 87 he plunged nearly vertically earthwards, with Oberleutnants Eppen and Mueller on each side.
On the ground below, the generals (including Wolfram von Richthofen, the Stuka's chief) listened to the whining crescendo of the dive-bombers as they plummeted towards the ground. Horrified, they knew that nothing could avert disaster. The Met. report was wrong. Cloud base was at three hundred feet.
Hauptmann Sigel, yelling into his microphone, "Pull out!" managed to do so himself a few feet above the trees. But Eppen went in, Mueller went in, and both burst into flames. The nine Ju. 87s of Staffel 2 and two of Staffel 3 all went in.
Rudolf Braun and his comrades of Staffel I had heard Sigel's warning and remained circling above the cloud layer through which columns of black smoke were now rising from the wreckage of thirteen dive bombers. I St. G 3 lost twenty-six young aircrew that day.
— Duel of Eagles, Group Captain Peter Wooldridge Townsend, C.V.O., D.S.O., D.F.C. and Bar, Royal Air Force. Castle Books, Edison, New Jersey, 2003, Chapter 14 at Pages 171–172.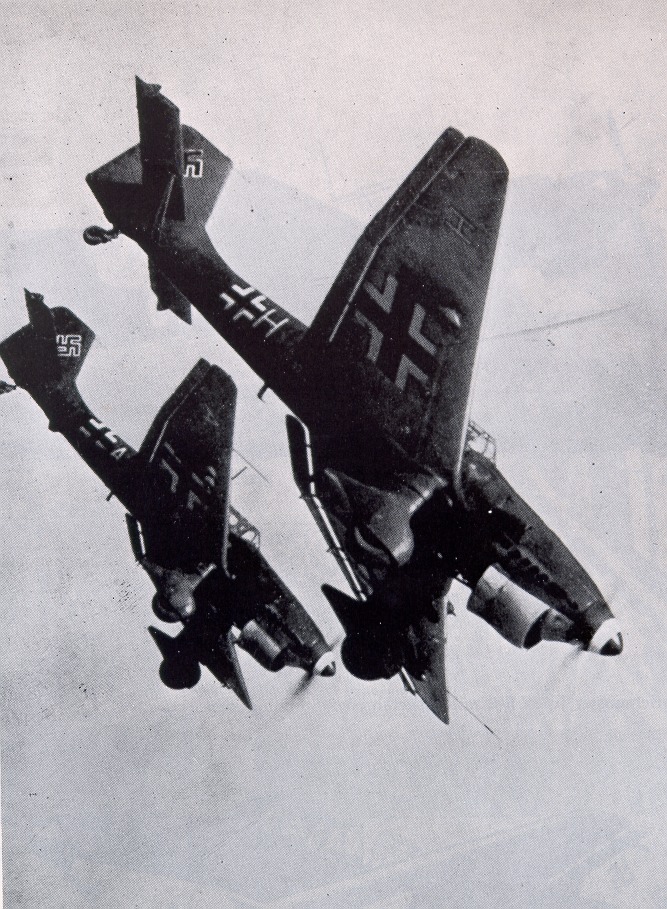 The Junkers Flugzeug-und-Motorenwerke AG Ju 87 B-1 Sturzkampfflugzeug ("diving combat aircraft") was a two-place, single-engine, low-wing monoplane with fixed landing gear, designed as a dive bomber. The airplane, commonly known as the "Stuka," has a blocky, unstreamlined appearance. Its most identifiable feature is its sharply-tapered, inverted "gull wing." ¹
The Ju 87 made its first flight 17 September 1935. Among the tests pilots who flew it during pre-production testing were Hanna Reitsch and aeronautical engineer Gräfin Melitta Schenk von Stauffenberg.
The Stuka was used in the murderous attacks on the Spanish market town of Guernica, 26 April 1937, and Wieluń, Poland, 1 September 1939.
The Ju 87 B-1 was the first variant to be produced in large numbers and was in service at the beginning of World War II. The airplane is 11.000 meters (36.089 feet) long with a wingspan of 13.800 meters (45.276 feet) and height of 3.770 meters (12.369 feet). The total wing area is 31.9 square meters (343.4 square feet). The B-1 variant had an empty weight of 2,745 kilograms (6,052 pounds), and gross weight of 4,235 kilograms (9,337 pounds).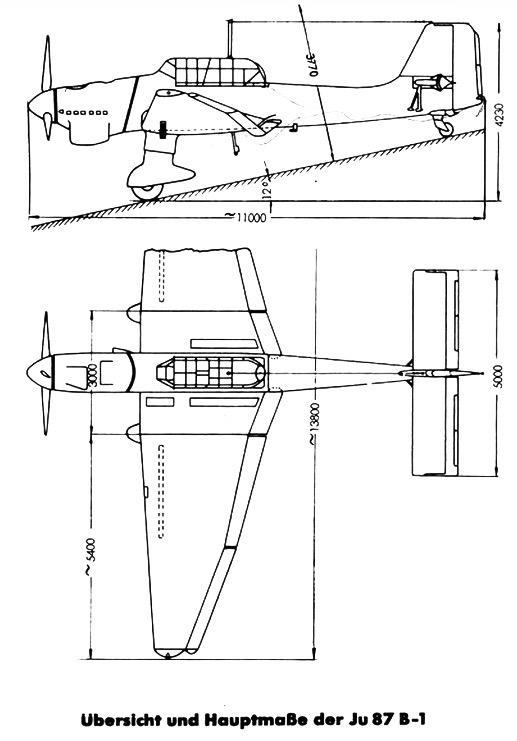 The Ju 87 B-1 was powered by a liquid-cooled, supercharged 34.989 liter (2,135.190 cubic-inch-displacement) Junkers Jumo 211 A inverted 60° V-12 engine. The 211 A had direct fuel-injected and the cylinder heads were machined for four spark plugs per cylinder. The compression ratio was 6.57:1, requiring 88-octane gasoline. It was rated at a maximum 900 Pferdestärke at 2,200 r.p.m. at 5,500 meters (18,045 feet). The engine turned a three-blade Junkers-Verstelluftschraube propeller with a diameter of 3.4 meters (11.2 feet) through a 1.55:1 gear reduction. The Jumo 211 A weighed 660 kilograms (1,455 pounds).
The Stuka B-1 had a maximum dive speed of 600 kilometers per hour (373 miles per hour). The Ju 87 B-1 had a service ceiling of 8,000 meters (26,247 feet), and range of 550 kilometers (342 miles).
The B-1 was armed with two fixed 7.92 mm Rheinmetall-Borsig MG17 machine guns with 1,000 rounds of ammunition per gun, and one MG 15 machine gun on a flexible mount with 900 rounds of ammunition. It could carry a single 500 kilogram (1,102 pound) bomb under the fuselage.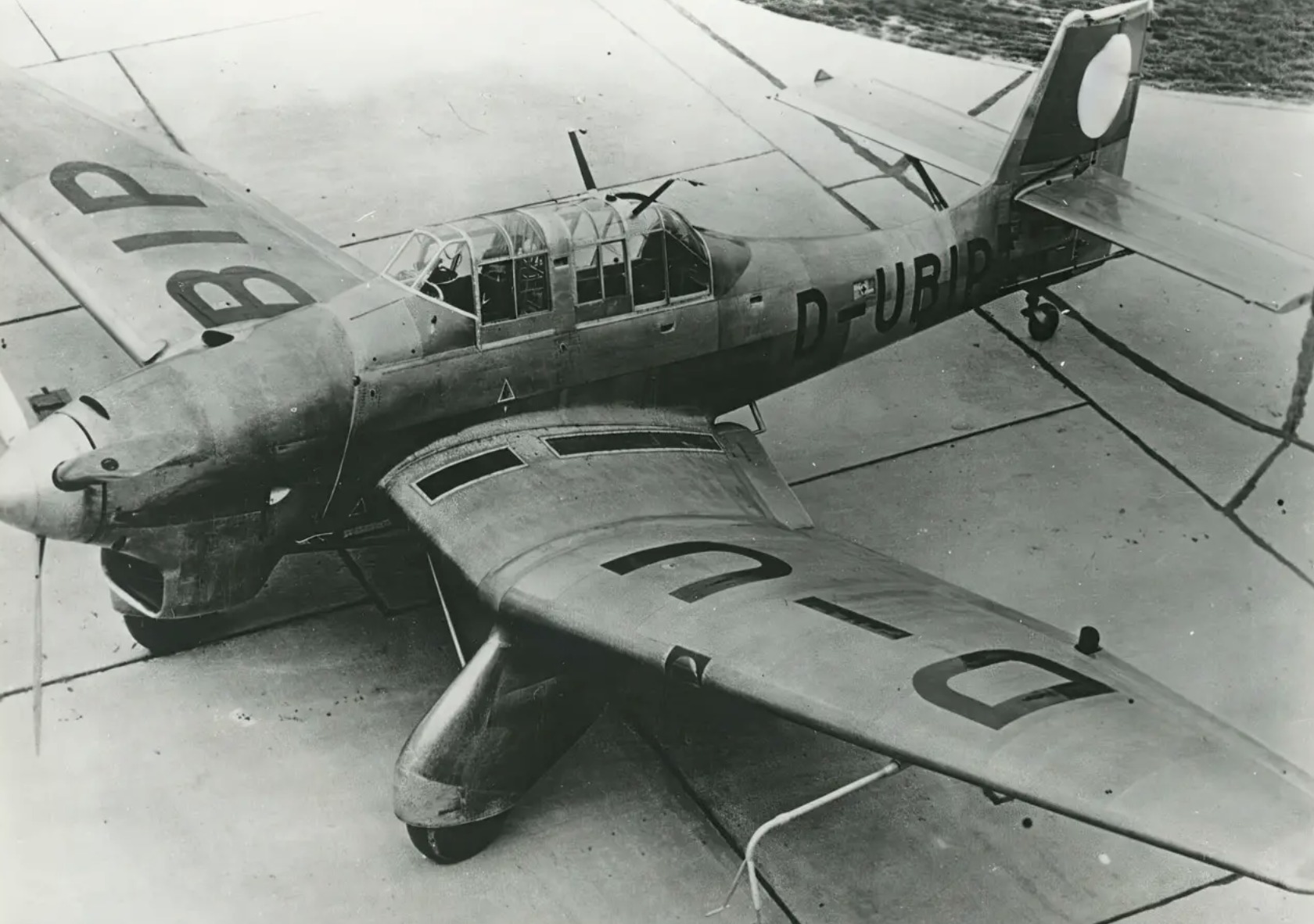 An interesting feature the the Stuka was its automatic pull-out system. Once the bomb had been dropped, the airplane automatically began a 5–6 g recovery. This could save the airplane if the pilot became target-fixated, or blacked out.
The Ju 87 was equipped with a Zeiss gyro-stabilized bomb sight. According to an article in Air Force Times, the Stuka was a very accurate dive bomber. ". . . even the worst drops typically landed within 100 feet [30.5 meters] of the target. Good hits were either on target or no more than 15 feet [4.6 meters]off-center."
In the same article, the legendary Royal Navy test pilot, Captain Eric Melrose Brown, C.B.E., D.S.C., A.F.C., K.C.V.S.A., Ph.D., Hon. F.R.Ae.S., R.N., is quoted:
"A dive angle of 90 degrees is a pretty palpitating experience, for it always feels as if the aircraft is over the vertical and is bunting, and all this while terra firma is rushing closer with apparent suicidal rapidity. In fact I have rarely seen a specialist dive bomber put over 70 degrees in a dive, but the Ju 87 was a genuine 90-degree screamer. . . the Ju 87 felt right standing on its nose, and the acceleration to 335 mph [539 km/h] was reached in about 4,500 feet [1,372 meters], speed thereafter creeping up to the absolute permitted limit of 375 mph [604 km/h], so that the feeling of being on a runaway roller coaster experienced with most dive bombers was missing. I must confess that I had a more enjoyable hour's dive-bombing practice than I had ever experienced with any other aircraft of this specialist type. Somehow the Ju 87D did not appear to find its natural element until it was diving steeply. Obviously the fixed undercarriage and large-span dive brakes of the Junkers were a highly effective drag combination."
Only two Stukas still exist, one, a Ju 87 G-2, at the RAF Museum at Hendon, and the other, a Ju 87 R-2, is at the Museum of Science and Industry, Chicago, Illinois.
¹ TDiA has not found any source that provides the details of the Ju 87's most characteristic feature: the angles of anhedral and dihedral of its wings. TDiA estimates that the wings' inner section has -12° anhedral, while the outer wing panels have approximately 8° dihedral.
© 2018, Bryan R. Swopes