22 May 1937: Earhart's Lockheed Electra 10E Special, NR16020 was repaired at Tucson, Arizona after its left engine, a Pratt & Whitney Wasp S3H1 nine-cylinder radial, caught fire while restarting after a fuel stop the previous day. Amelia Earhart and her Navigator, Fred Noonan, and two passengers, flew to New Orleans, Louisiana, on the 22nd.
Although she was actually on the third leg of her second around-the-world-flight attempt, no public announcement had yet been made. She—well, prevaricated—when speaking to local newspaper reporters.
The Arizona Daily Star reported:
Fire Delays Amelia Earhart Here While She Plans Flight
Will Start on World Trip Near the End of This Month She Says While Searching for Fire Extinguisher After Dousing Small Blaze In Plane
     Temporarily grounded in Tucson due to a minor fire which did little damage to the motor of her $90,000 Flying Laboratory, Amelia Earhart announced here last night that with good weather, her second globe girdling trip would start sometime near the end of this month. The route will be the same except for minor changes called for by shifting weather conditions.
     The The Blaze Miss Earhart said was just minor and was caused when an overheated motor "backfired." It was quickly smothered by a mechanical chemical extinguisher which Miss Earhart released. She said this shot the chemical into all parts of the engine and put the fire out. The damage was negligible she said and she expects to take off today for some eastern city, probably El Paso.
With Husband
     Miss Earhart, with her husband, George Palmer Putnam, New York publisher, Captain Fred Noonan, and her mechanic, Bo McKneely, had just landed at the municipal airport after a flight from Burbank, California, when flames shot from the engine. The aviatrix, who had left the plane, saw the fire break out in the left motor as the plane was being taxied to the hangar. The plane was stopped and she extinguished the blaze with the automatic extinguisher connected with the motor.
     The huge craft, twin-motored Lockhead [sic] Electra, was taken to the hangar, where attendants cleaned the soot and chemical from the engine.
Just Out of Shop
     Miss Earhart and her party came to the Pioneer hotel last night after the plane was taken care of in the municipal hangar. She said the plane had just been out of the factory at Burbank for two days after having been completely overhauled following the crack-up in Honolulu. "It's just like new now," and has to be taken on a shake-down flight. I'd like to put 50 hours on it before the big flight."
     Thursday they flew from Burbank to Oakland and return and yesterday they came here. Putnam is returning to New York and Miss Earhart will fly him part way. "I'm just flying anywhere," she said, "merely to check the plane and see that everything is working properly. We made all of our fuel tests before and of course don't have to do that again. Our course this time will be much the same as the last one with the exception of a few changes due to shifting weather. That course was made for conditions as they were in March and now, 60 days later, the weather has altered in some places. The route will be primarily around the world following the equator."
Something to Do
     Miss Earhart said she would like very much to make this first around the world flight. "If I don't some one else will," she added. She said lone flyers have pioneered all the present commercial and it's up to lone flyers to continue making new courses. "And besides this flight gives me something to do," she concluded.
     In the meantime Miss Earhart was without a serviceable fire extinguisher. Her trick mechanical one that so neatly put out the fire last night was exhausted and as it must be filled with a special "under pressure" system which the local airport did not possess, she could not have it recharged until she returns to Burbank. She also carries in her plane several of the small quart size hand operated extinguishers. These were also played on yesterday's blaze by mechanics and were empty.
Extinguishers Needed
     Putnam and Miss Earhart decided that they would have to have some serviceable fire fighting equipment before they left in the morning, just as a precautionary measure. They decided, at least, to get their small hand operated extinguishers recharged. Surely, they thought, they could get them filled in Tucson.
     A half hour on the telephone calling everyone possible from he fire department to the airport revealed no recharge chemical for the extinguishers. They decided to abandon that idea and get an extinguisher, but the little ones they had cost $14. Now $14 is a good bit to pay for additional extinguishers even for a $90,000 plane, when you already have some and all you need is the chemical.
Filler Provided
     Finally the night man at the Motor Service company said he had one dandy big extinguisher of the "turn upside down and let 'er go" variety which he thought would be just swell for Miss Earhart's Plane. The phones buzzed again and Putnam said, "Buy it, then we'll have something." But this extinguisher, bright and shiny with a pretty red handle, was not filled. That was an easy problem and was soon solved by Chief Joe Robert's men. He carefully measured each chemical and filled it properly. The copper extinguisher was promptly delivered to Miss Earhart. She started to write out a check to pay for teh apparatus and said, "What date is today?"
     She was told "May 21."
     "Why that's right," she said, "five years ago today I landed in Ireland."
Made History

     Miss Earhart went on talking about her propsed trip. She might also have mentioned that on that trip five years ago she made world history, being the first woman pilot to fly solo across the Atlantic ocean, her flight was from Newfoundland to Ireland. In January 1935, she flew from Hawaii to California and in May of the same year she flew from Mexico City to New York in a non-stop jump. This past March she set a new record in her flight from California to Honolulu.
     The fire extinguisher man pocketed the check and left. Then half of Tucson called up with extinguishers of all descriptions. Her mechanic secured recharges for the hand extinguishers and all was well. She was told to be sure and keep this newly purchased extinguisher in an upright position. Not expecting to do any loops, she said she would.
—The Arizona Daily Star, Tucson, Arizona, Vol. 96, No. 142, Saturday Morning, 22 May 1937, at  Page 1, Columns 6 and 7, and Page 5, Columns 2 and 3
"The next morning at Tucson a dense sandstorm blocked our way, but despite it we took off, leap-frogging at 8,000 feet over El Paso with a seemingly solid mass of sand billowing below us like a turbulent yellow sea. That night we reached New Orleans. . . ."
— Amelia Earhart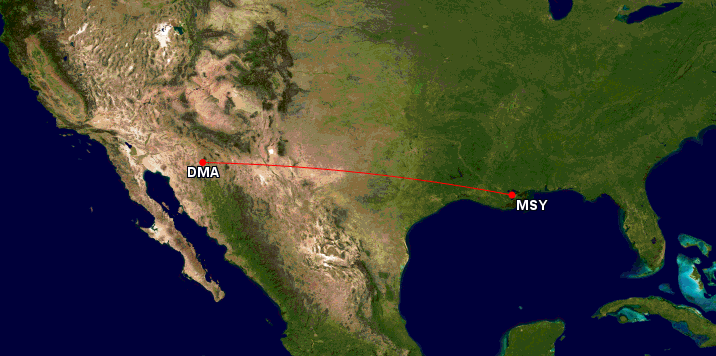 © 2022, Bryan R. Swopes