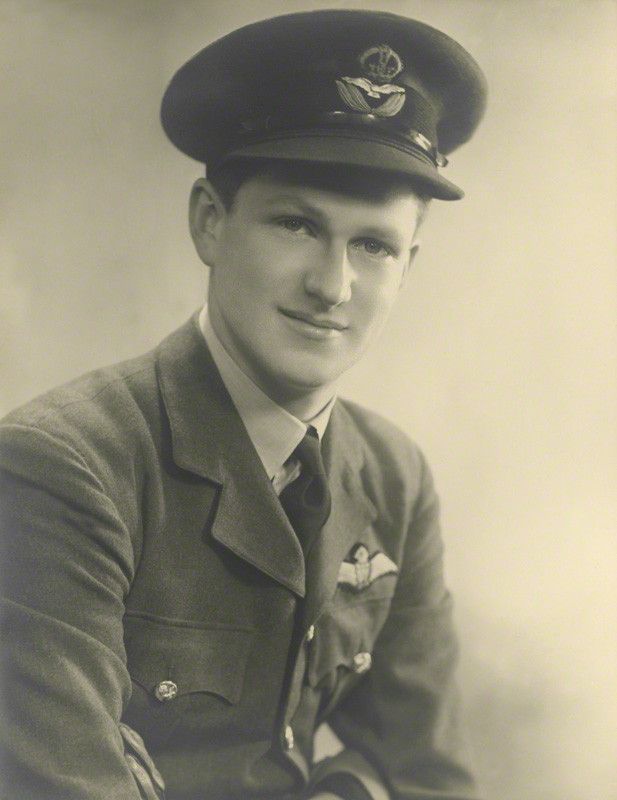 15th November, 1940.
ROYAL AIR FORCE.
The KING has been graciously pleased to confer the Victoria Cross on the undermentioned officer in recognition of most conspicuous bravery : —
Flight Lieutenant James Brindley NICOLSON (39329) — No. 249 Squadron.
During an engagement with the enemy near Southampton on 16th August, 1940, Flight Lieutenant Nicolson's aircraft was hit by four cannon shells, two of which wounded him whilst another set fire to the gravity tank. When about to abandon his aircraft owing to flames in the cockpit he sighted an enemy fighter. This he attacked and shot down, although as a result of staying in his burning aircraft he sustained serious burns to his hands, face, neck and legs.
Flight Lieutenant Nicolson has always displayed great enthusiasm for air fighting and this incident shows that he possesses courage and determination of a high order. By continuing to engage the enemy after he had been wounded and his aircraft set on fire, he displayed exceptional gallantry and disregard for the safety of his own life.
—The London Gazette, Number 34993, Friday, 15 November 1940, at Page 6569, Column 1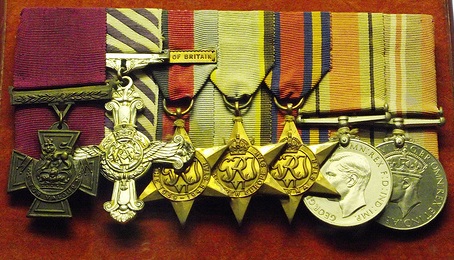 Peter Townsend wrote about Nick Nicolson's battle in his history of the Battle of Britain, Duel of Eagles: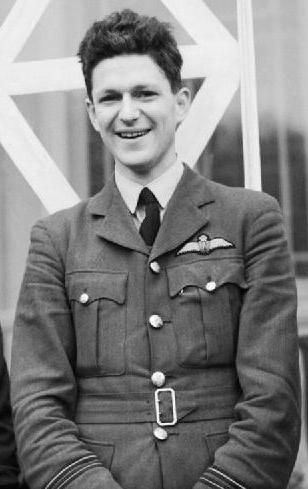 "Flight Lieutenant J.B. Nicolson of 249 Squadron was patrolling in his Hurricane west of Tangmere at seventeen thousand feet. He dived on some Ju. 88s when suddenly his Hurricane staggered. From somewhere behind bullets and cannon shells ripped through the hood, hit him in the foot and pierced his centre-tank. A searing mass of flame filled the cockpit. As he whipped into a steep turn he saw the offender, a Me. 110, slide below, diving hard. A wild resolve, stronger than reason, seized Nicolson. The cockpit a furnace, his dashboard 'dripping like treacle' and his hands fused by heat onto throttle and stick, he yelled, 'I'll get you, you Hun.' And he went firing until the Me. 110 fell, until the frightful agony of his burns had passed the threshold of feeling. Then he struggled out of the cockpit and still wreathed in flames fell until the rush of cold air extinguished them. Only then did his mutilated hand fumble for the ripcord and somehow find strength to pull it. As if his sufferings were not already enough, some imbecile of a Home Guard fired at Nicolson and hit him fifty feet above the village of Millbrook in Hampshire.
"The gallant Nicolson was awarded the Victoria Cross. Of three thousand fighter pilots who fought in the battle 'to defend the cause of civilization' Nicolson alone among the defenders received the supreme award for valour. It was enough. The twenty-three-year-old pilot was typical of his young comrades. Alone in their tiny cockpits miles above the earth, there courage was of a peculiar kind which no medal, no material standard, could ever properly measure."
— Duel of Eagles, Group Captain Peter Wooldridge Townsend, CVO, DSO, DFC and Bar, RAF. Cassell Publishers Limited, London, Chapter 23 at Pages 328–329.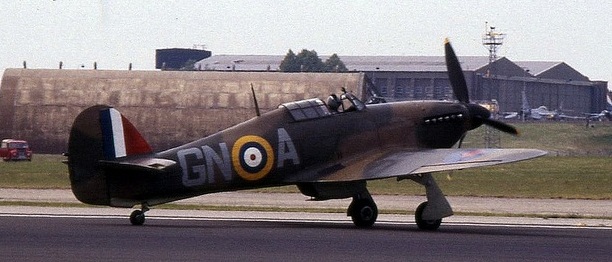 Nick Nicolson's fighter was a Hawker Hurricane Mk.I, P3576, with squadron markings GN A. It was in the third production block of 544 Hurricanes built by Hawker Aircraft Limited,  Brooklands, between February and July 1940.
The Hurricane Mk.I was ordered into production in the summer of 1936. The first production airplane flew on 12 October 1937. The early production Hurricane Mk. I retained the wooden fixed-pitch propeller and fabric-covered wings of the prototype, though this would change with subsequent models. It was 31 feet, 4 inches (9.550 meters) long with a wingspan of 40 feet (12.192 meters) and overall height of 13 feet, 3 inches (4.039 meters). Its empty weight was 4,982 pounds (2,260 kilograms) and gross weight was 6,750 pounds (3,062 kilograms).
The Mk.I's engine was a liquid-cooled, supercharged, 27.01 liter (1,648.96 cubic inches) Rolls-Royce R.M.1.S. Merlin Mk.III single-overhead-cam 60° V-12, rated at 990 horsepower at 2,600 r.p.m. at 12,250 feet (3,734 meters), and 1,030 horsepower at 3,000 r.p.m., at 10,250 feet (3,124 meters), using 87 octane aviation gasoline. The Merlin III drove the propeller through a 0.477:1 gear reduction ratio. It weighed 1,375 pounds (624 kilograms).
The fixed-pitch propeller was soon replaced with a three-bladed, two-pitch propeller, and then a three-bladed constant-speed propeller. Speed trials of a Mk.I equipped with a 10 foot, 9 inch (3.277 meters) diameter Rotol constant-speed propeller achieved a maximum True Air Speed in level flight of 316 miles per hour (509 kilometers per hour) at 17,750 feet (5,410 meters) at 3,000 r.p.m. The service ceiling was 33,750 feet (10,287 meters). The Mk.I's range was 600 miles (966 kilometers) at 175 miles per hour (282 kilometers per hour).
The fighter was armed with eight Browning .303-caliber Mark II machine guns mounted in the wings.
At the beginning of World War II, 497 Hurricanes had been delivered to the Royal Air Force, enough to equip 18 squadrons. During the Battle of Britain, the Hurricane accounted for 55% of the enemy aircraft destroyed. Continuously upgraded throughout the war, it remained in production until 1944. A total of 14,503 were built by Hawker, Gloster and the Canadian Car and Foundry Company.
Eric James Brindley Nicolson was born 29 April 1917 at Hampstead, London, England. His parents were Leslie Gibson Nicolson and Dorothea Hilda Ellen Brindley. He was educated at the Tonbridge School in Kent, a private school which was founded in 1553. Nicolson was employed as an experimental engineer at Sir Henry Ricardo's Engine Patents, Ltd.,  Shoreham, West Sussex, until joining the Royal Air Force in October 1936. On 21 December 1936, he was commissioned as a Pilot Officer. After flight training, P/O Nicolson served with No. 72 Squadron at RAF Church Fenton, North Yorkshire, August 1937–May 1940. He was promoted to Flying Officer, 12 May 1939.
On 29 July 1939, Eric Nicolson was married to Miss Muriel Caroline Kendall of Kirby Wharfe, Yorkshire.
Flying Officer Nicolson was assigned to No. 249 Squadron at RAF Leconfield, East Riding of Yorkshire, 15 May 1940, as an acting flight commander, and then promoted to Flight Lieutenant, 3 September 1940.
Following the action of 16 August, Flight Lieutenant Nicolson was hospitalized at the burn unit of Princess Mary's Hospital, RAF Halton, Buckinghamshire, and then sent to a convalescent facility at Torquay, Devon. On 12 January 1941, he was promoted to Squadron Leader.
Nicolson returned to duty 24 February 1941, with 54 Operational Training Unit. From 21 September 1941 to 16 March 1942, he commanded No. 1459 Flight at RAF Hibaldstow, Lincolnshire. This was a night fighter unit, flying the Douglas Boston (P-70 Havoc). He was next assigned as a staff officer at Headquarters, 293 Wing, Royal Air Force, Alipore, West Bengal, India. After another staff assignment, Squadron Leader Nicolson was given command of 27 Squadron, a de Havilland Mosquito squadron at Agartala, in northeast India.
Nick Nicolson was promoted to Wing Commander 11 August 1944 and assigned to 3rd Tactical Air Force Headquarters in the Comilla Cantonment, East Bengal.
Wing Commander Eric James Brindley Nicolson, V.C., D.F.C., died 2 May 1945, while flying as an observer aboard a No. 355 Squadron Consolidated Liberator B Mk.VI, KH210, "R" (B-24J-85-CF 44-44071). At approximately 0250 hours, two engines caught fire. The bomber, piloted by Squadron Leader G.A. De Souza, RAF, and Flight Sergeant Michael Henry Pullen, Royal Australian Air Force, ditched in the Bay of Bengal, approximately 130 miles (209 kilometers) south of Calcutta. Of the eleven on board, only Pullen and one of the gunners survived.
Nicolson was the only RAF Fighter Command pilot awarded the Victoria Cross during World War II.
© 2016, Bryan R. Swopes