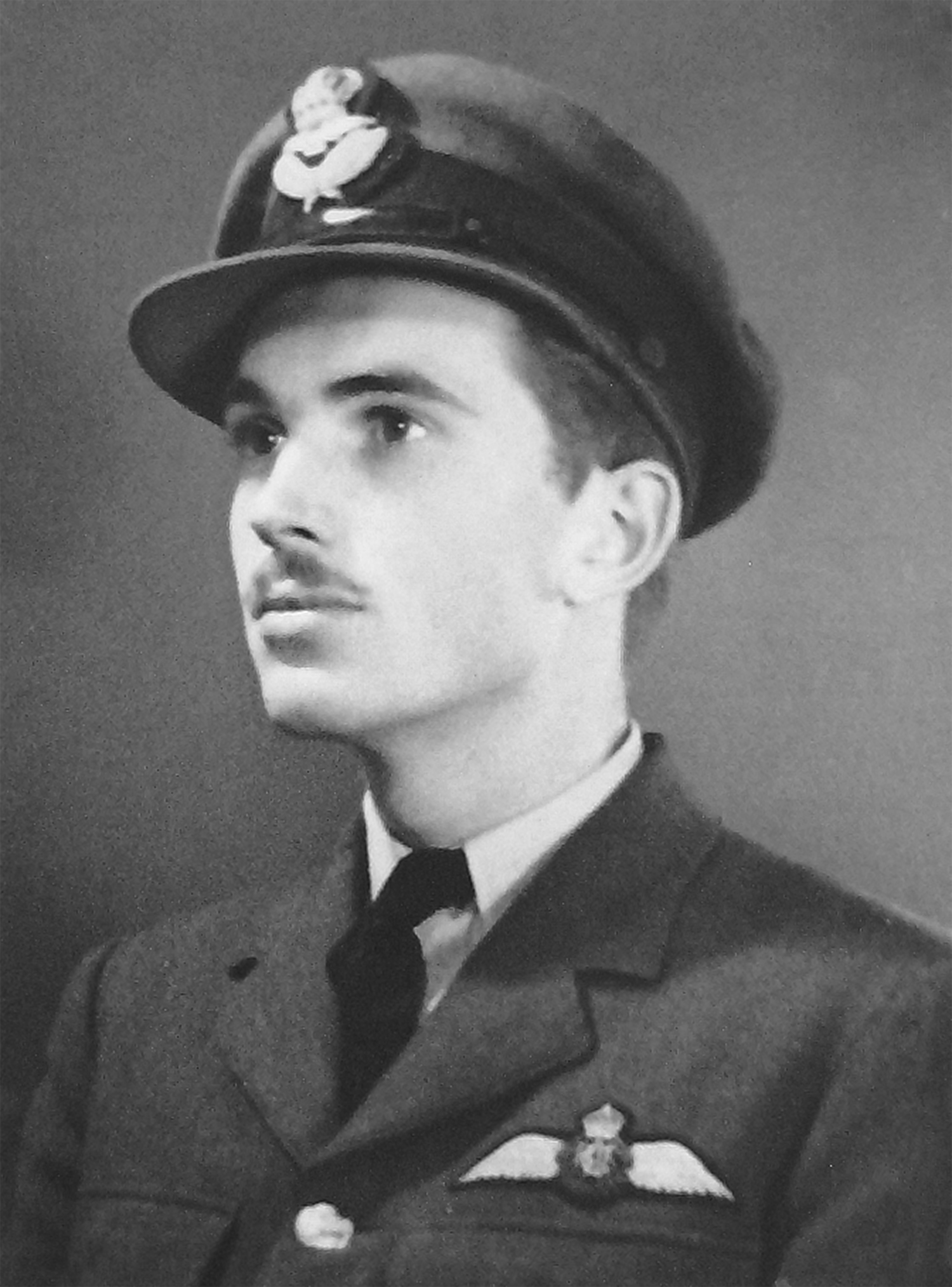 11 December 1941: Pilot Officer John Gillespie Magee, Jr., Royal Canadian Air Force, an American serving in England before the United States entered World War II, was killed when his Supermarine Spitfire collided with another airplane in clouds over the village of Roxholm, Lincolnshire, England. He was only 19 years old.
Magee was born in China, the son of Anglican missionaries. His father was an American, giving him American citizenship, and his mother was from England. He was educated in the missionary schools until 1931 when his mother took him to England to continue his education at the Rugby School in Wawickshire.
In 1939, Magee traveled to the United States to visit his father's family in Pittsburgh, but because of the outbreak of World War II, he was unable to return to England. While in America, he continued his schooling at the Old Avon Farms School in Connecticut and won a scholarship to Yale University.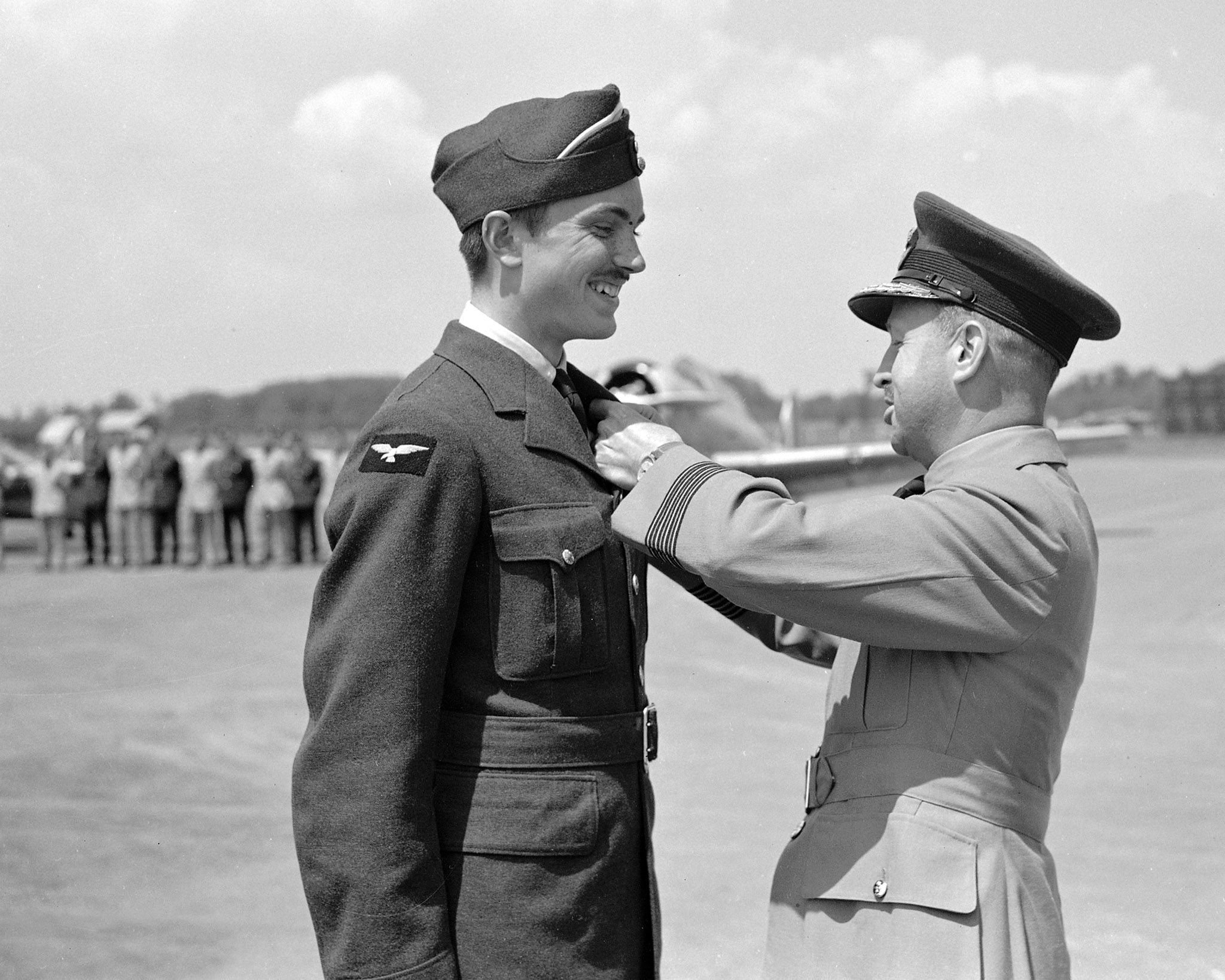 Instead of studying at Yale, in 1941, John Magee enlisted in the Royal Canadian Air Force. After completing flight training, he was sent to England. Once there he went through operational training in the Supermarine Spitfire and was assigned to No. 412 (Fighter) Squadron at RAF Digby, Scopwick Heath, and then at RAF Wellingore, Navenby, both in Lincolnshire.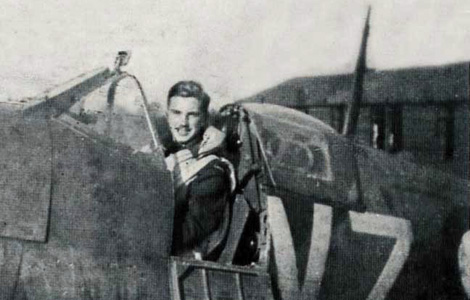 At approximately 11:30 a.m., 11 December 1941, Pilot Officer Magee was flying his Supermarine Spitfire Mk.Vb, AD291, squadron markings VZ-H. He and three other pilots from No. 412 Squadron descended through a hole in the clouds. At 1,400 feet (427 meters), Magee's Spitfire collided with an Airspeed A.S. 10 Oxford twin-engine trainer, T1052.
A witness said that he saw the Spitfire pilot struggle to open the airplane's canopy, then stand up in the cockpit and jump from the doomed fighter. The pilot was too close to the ground for his parachute to open.
Both airplanes crashed. Pilot Officer John Gillespie Magee, Jr. was killed, as was the pilot of the other airplane, Leading Aircraftman Ernest Aubrey Griffin.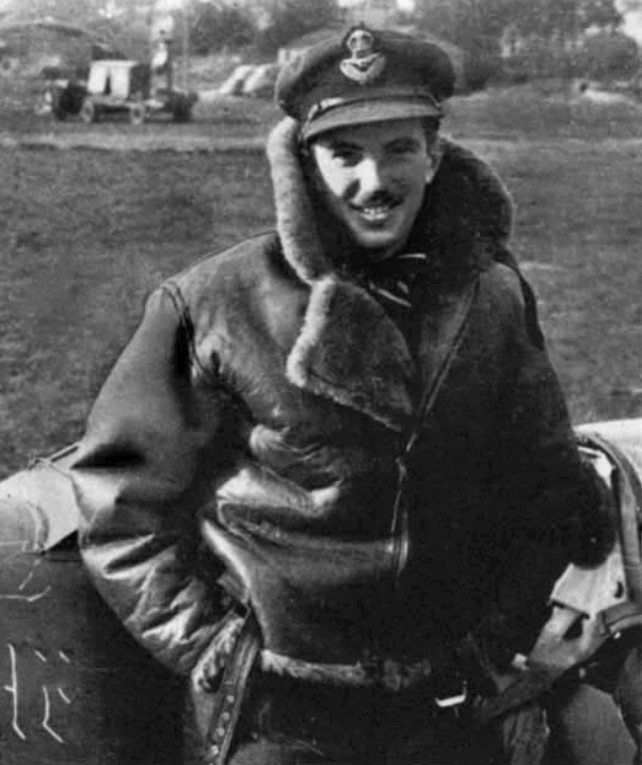 Pilot Officer Magee is best known for his poem, High Flight:
Oh! I have slipped the surly bonds of Earth 
And danced the skies on laughter-silvered wings; 
Sunward I've climbed, and joined the tumbling mirth 
of sun-split clouds,—and done a hundred things 
You have not dreamed of—wheeled and soared and swung 
High in the sunlit silence. Hov'ring there, 
I've chased the shouting wind along, and flung 
My eager craft through footless halls of air. . . . 
Up, up the long, delirious, burning blue 
I've topped the wind-swept heights with easy grace 
Where never lark nor ever eagle flew— 
And, while with silent lifting mind I've trod 
The high untrespassed sanctity of space, 
Put out my hand, and touched the face of God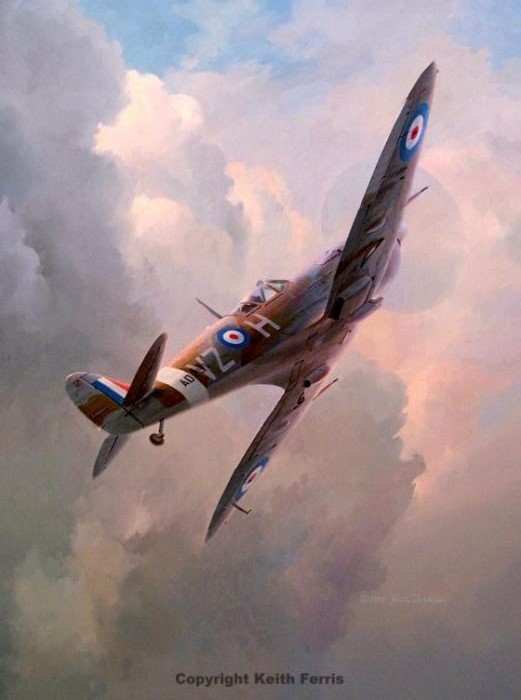 A less well-know poem by Magee is Per Ardua, written after his first combat mission, 8 November 1941.
(To those who gave their lives to England during the Battle of Britain and
left such a shining example for us to follow, these lines are dedicated.)
They must have climbed the white mists of the morning;
They that have soared, before the world's awake,
To herald up their foemen to them, scorning
The thin dawn's rest their weary folk might take;
Some that left other mouths to tell the story
Of high blue battle,—quite young limbs that bled;
How they had thundered up the clouds to glory
Or fallen to an English field stained red;
Because my faltering feet would fail I find them
Laughing beside me, steadying the hand
That seeks their deadly courage—yet behind them
The cold light dies in that once brilliant land …
Do these, who help the quickened pulse run slowly,
Whose stern remembered image cools the brow—
To the far dawn of Victory know only
Night's darkness, and Valhalla's silence now?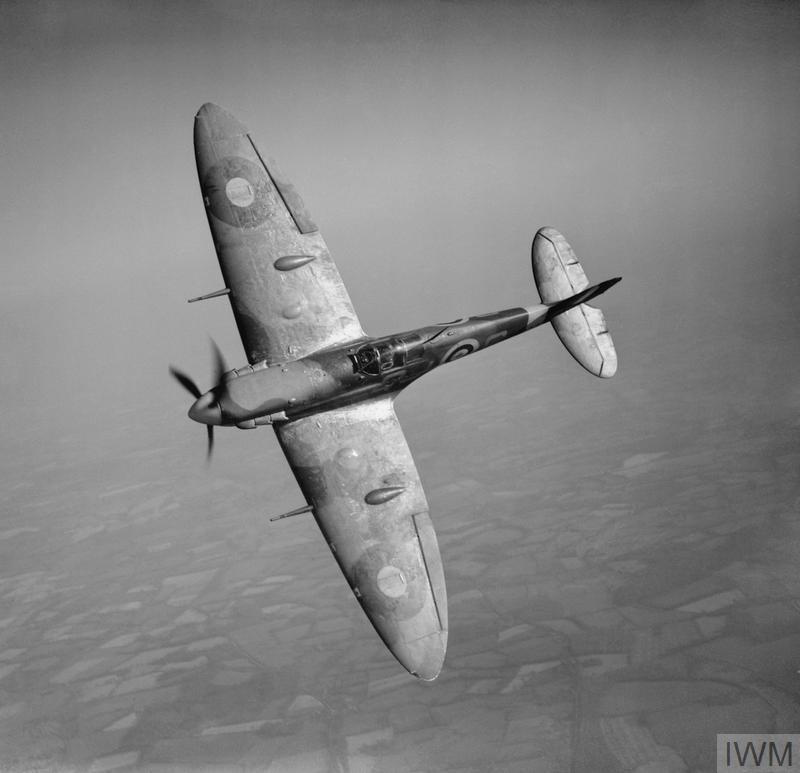 John Magee's fighter was a Supermarine Spitfire F. Mk Vb, built at the Castle Bromwich Aircraft Factory, at Warwickshire, West Midlands, and delivered to the 45th Maintenance Unit at RAF Kinloss, Scotland, on 27 September 1941. The new airplane was assigned to No. 412 Squadron on 14 October.
The Supermarine Spitfire was a single-place, single-engine low-wing monoplane of all-metal construction with retractable landing gear. The fighter had been designed by Reginald Joseph Mitchell CBE. The prototype first flew 5 March 1936.
The Spitfire F. Mk Vb was 29 feet, 11 inches (9.119 meters) long with a wingspan of 36 feet, 10 inches (11.227 meters) and overall height of 11 feet, 5 inches (3.480 meters). It had an empty weight of 4,963 pounds (2,129 kilograms) and gross weight of 6,525 pounds (2,960 kilograms).
The Spitfire Vb was powered a liquid-cooled, supercharged, 1,648.959-cubic-inch-displacement (27.022 liters) Rolls-Royce Merlin 45 single overhead camshaft (SOHC) 60° V-12 engine with a single-speed, single-stage supercharger. It was rated at 1,185 horsepower at 3,000 r.p.m., at 11,500 feet (3,505 meters). The Merlin 45 drove a three-bladed Rotol constant-speed propeller with a diameter of 10 feet, 9 inches (3.277 meters).
The Spitfire Vb had a maximum speed of 371 miles per hour (597 kilometers per hour) at  20,100 feet (6,126 meters). It could reach 20,000 feet (6,096 meters) in 6 minutes, 24 seconds, and 30,000 feet (9,144 meters) in 12 minutes, 12 seconds. The Vb's service ceiling 37,500 feet (11,430 meters), and its range was 470 miles (756 kilometers).
The Spitfire F. Mk Vb was armed with two 20-milimeter Hispano Mk.II autocannon, with 60 rounds of ammunition per gun, and four Browning .303-caliber Mark II machine guns, with 350 rounds per gun.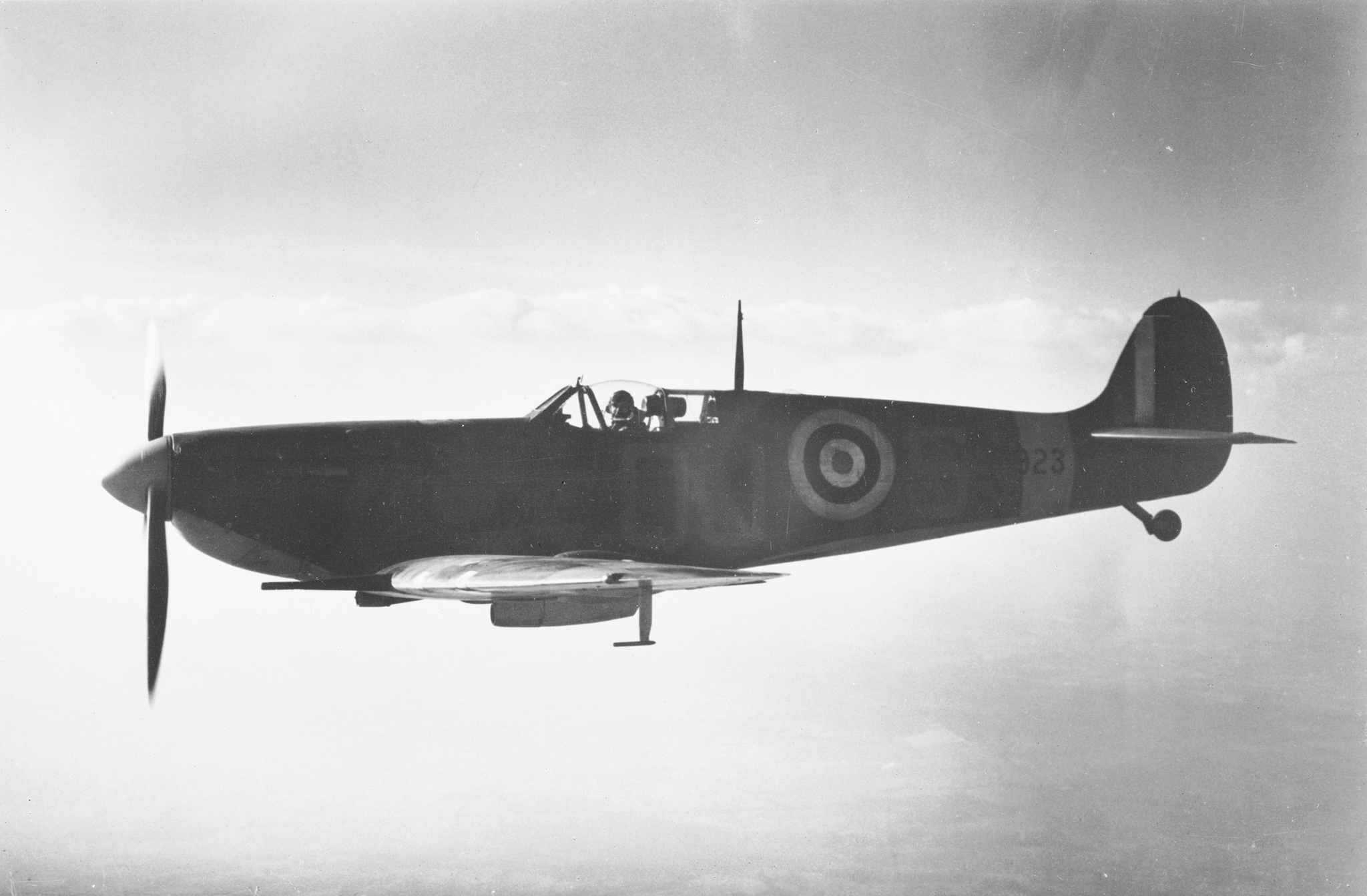 © 2016, Bryan R. Swopes