11 July 1935: At 5:31 a.m., Eastern Daylight Time, (01:31 UTC) Laura Houghtaling Ingalls took off from Floyd Bennett Field, Brooklyn, New York, and flew non-stop across the North American continent to the Union Air Terminal, Burbank, California. She landed there at 8:51 p.m., Pacific Daylight Time (19:31 UTC). Her airplane was a single-engine Lockheed Model 9D Orion, registration NR14222, which she had named Auto da Fé ("act of faith" or "act of penance").
Ingalls was the first woman to fly across the country from East to West. In 5 October 1930, she flew a de Havilland DH.60 Gipsy Moth from Roosevelt Field to Grand central Air Terminal at Glendale Calif, arriving 9 October. The flight required nine fuel stops, and took 30 hours and 27 minutes over four days.
The elapsed time of her non-stop 1935 transcontinental flight was 18 hours, 20 minutes, 30 seconds.
Laura Ingalls had taken delivery of the Orion 9D Special at Lockheed, Burbank, California, five months earlier. Contemporary newspaper reports said that the "Black Mystery Ship" cost $45,000.
The Lockheed Model 9 Orion was a single-engine, low-wing monoplane, designed in 1931 by Gerard Vultee for airline use and was capable of carrying six passengers in an enclosed cabin. The Orion was the first commercial airliner with retractable landing gear and was faster than any military airplane in service at the beginning of the decade. Like other Lockheed aircraft of the time, it was constructed of strong, light-weight, molded plywood, but the Orion was Lockheed's last wooden airplane.
The Lockheed Orion 9D was 28 feet, 4 inches (8.64 meters) long with a wingspan of 42 feet, 9¼ inches (13.04 meters) and height of 9 feet, 8 inches (2.95 meters). It had an empty weight of 3,640 pounds (1,651 kilograms) and maximum takeoff weight of 5,200 pounds (2,359 kilograms).
Auto da Fé was powered by an air-cooled, supercharged, 1,343.804-cubic-inch-displacement (22.021 liter) Pratt & Whitney Wasp S1D1 nine-cylinder radial engine, rated 525 horsepower at 2,200 r.p.m. (takeoff and normal power rating). The engine had a compression ratio of 6:1. The S1D1 was a direct-drive engine, which turned a two-bladed Hamilton Standard variable-pitch, constant-speed propeller. The Wasp S1D1 was 4 feet, 3.438 inches (1.307 meters) in diameter, 3 feet, 6.625 inches (1.083 meters) long and weighed 763 pounds (346 kilograms).
The cruise speed of the Orion was 205 miles per hour (330 kilometers per hour) and the maximum speed was 220 miles per hour (354 kilometers per hour) at Sea Level. It had a range of 750 miles (1,159 kilometers) in standard configuration. The service ceiling was 22,000 feet (6,705 meters).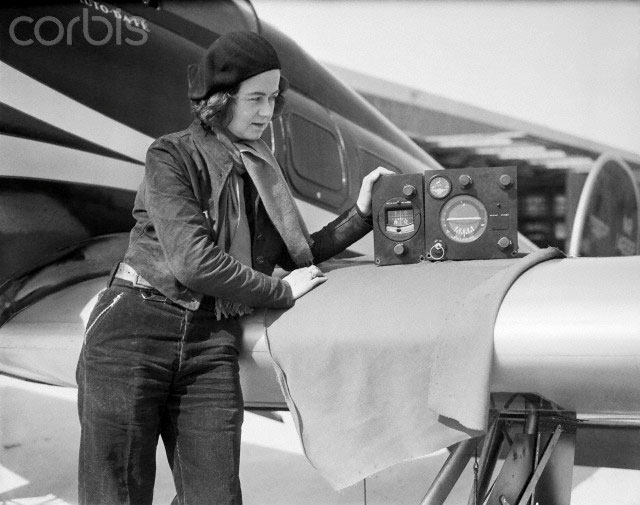 Ingall's airplane carried 630 gallons (2,384.8 liters) of gasoline and 40 gallons (151.4 liters) of engine oil. NR14222 was equipped with a Sperry Gyro Pilot and a Westport radio compass and receiver for navigation.
After departing Floyd Bennett Field, Ingalls flew along a commercial airway marked with radio beacons. Her route of flight was from Brooklyn, New York to Pittsburgh, Pennsylvania—Columbus, Ohio—Indianapolis, Indiana—Kansas City, Missouri—Albuquerque, New Mexico—Burbank, California. This was only the third time that a non-stop transcontinental flight had been accomplished.
© 2017, Bryan R. Swopes
by