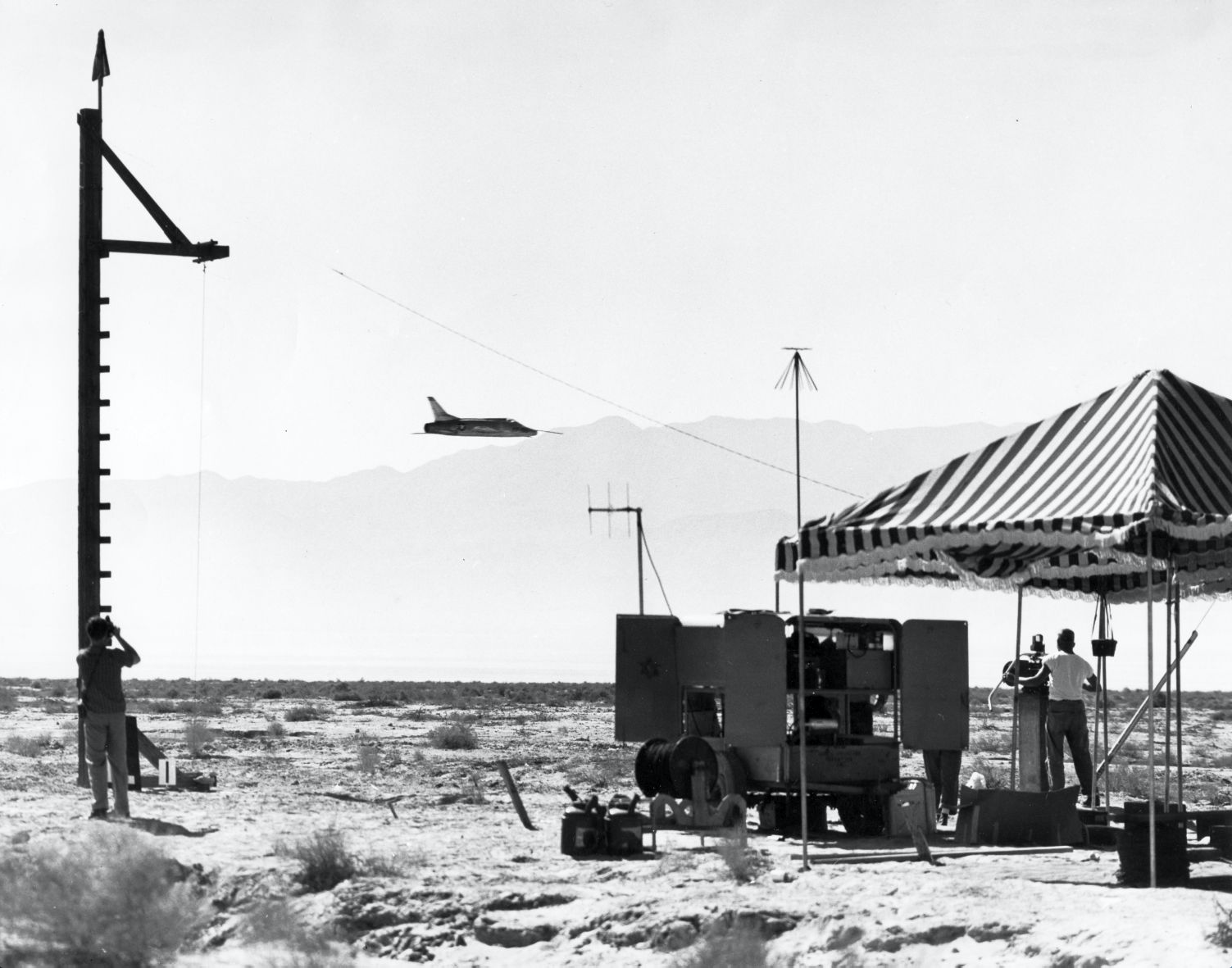 29 October 1953: Lieutenant Colonel Frank Kendall ("Pete") Everest, United States Air Force, flew a new prototype air superiority fighter, North American Aviation's YF-100A Super Sabre, serial number 52-5754, over the 3 kilometer and 15 kilometer courses at the Salton Sea, in the Colorado Desert of southeastern California.
Flying four runs over the short course, Everest averaged 757.75 miles per hour (1,219.48 kilometers per hour). Although this was 4.80 miles per hour (7.725 kilometers per hour) faster than the FAI record set three weeks earlier by Lieutenant Commander James B. Verdin, U.S. Navy, with a Douglas XA4D-1 Skyray,¹ it was not fast enough to establish a new world record under FAI rules, which required that a new record exceed the previous record by 1%.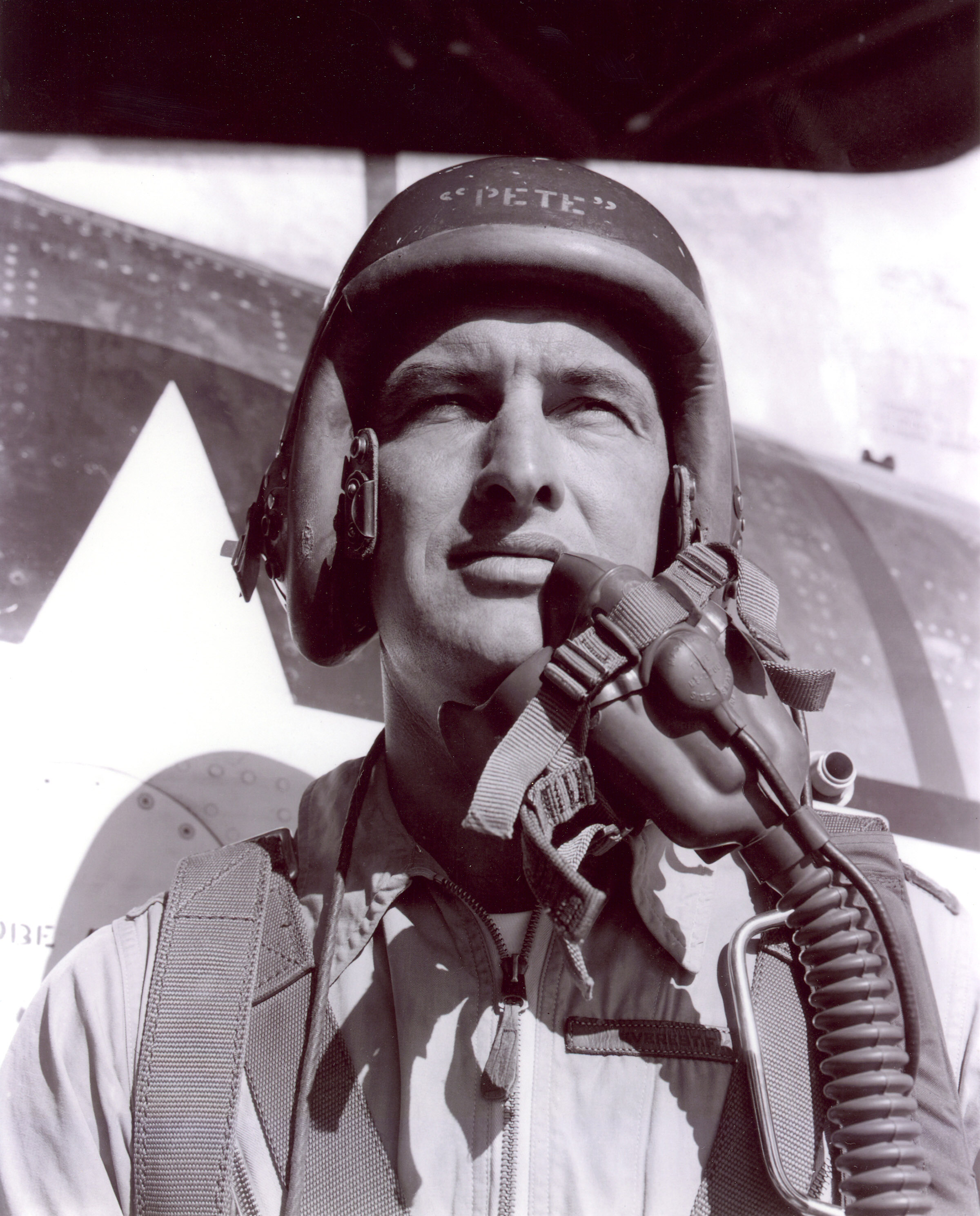 Next came four speed runs over the 15/25 kilometer course. All runs were made with the Super Sabre flying within 100 feet (30 meters) of the ground. The official Fédération Aéronautique Internationale (FAI) average speed was 1,215.298 kilometers per hour (755.151 miles per hour)—0.99 Mach. ²
The course at the Salton Sea was used because its surface lies 235 feet (72 meters) below Sea Level. The denser air causes undesired transonic effects to occur at lower speeds, but the higher air temperatures help to delay them, allowing the pilot a greater margin of control during the speed record runs.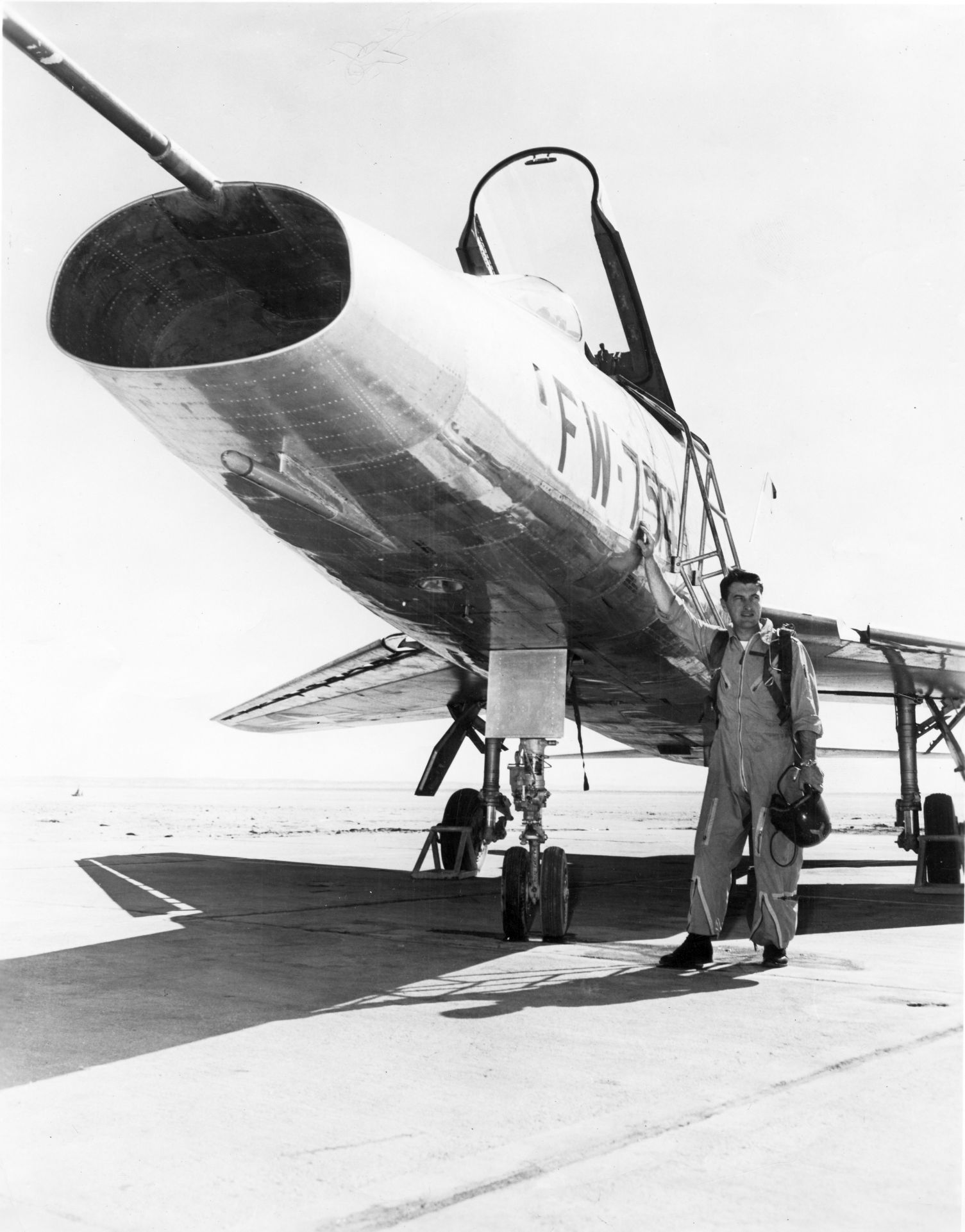 Frank Kendall ("Pete") Everest, Jr., was born 10 Aug 1920, at Fairmont, Marion County, West Virginia. He was the first of two children of Frank Kendall Everest, an electrical contractor, and Phyllis Gail Walker Everest. Attended Fairmont Senior High School, Fairmont, West Virginia, graduating in 1939. He studied at Fairmont State Teachers College, also in Fairmont, West Virginia, and then studied engineering at the University of West Virginia in Morgantown.
Pete Everest enlisted as an aviation cadet in the United States Army Air Corps at Fort Hayes, Columbus, Ohio, 7 November 1941, shortly before the United States entered World War II. His enlistment records indicate that he was 5 feet, 7 inches (1.703 meters) tall and weighed 132 pounds (59.9 kilograms). He graduated from pilot training and was commissioned as a second lieutenant, Air Reserve, 3 July 1942.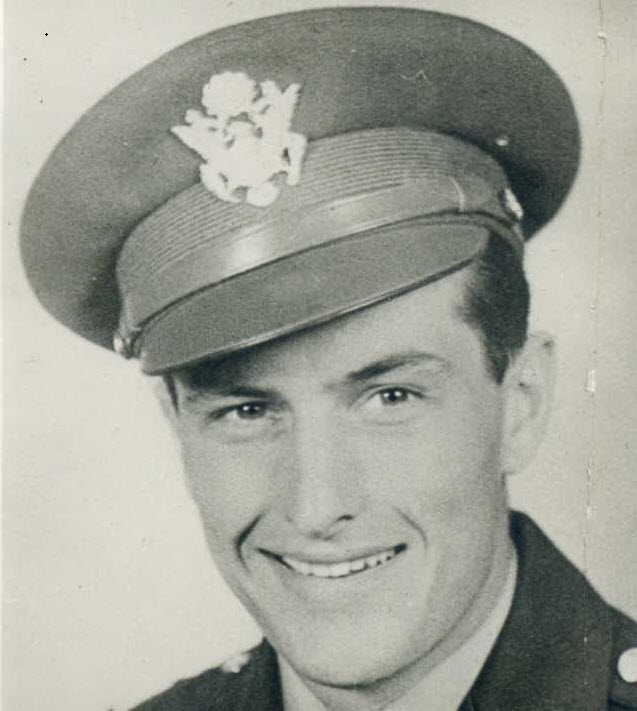 2nd Lieutenant Everest married Miss Avis June Mason in Marion, West Virginia, 8 July 1942. they would have three children.
He was promoted to 1st Lieutenant, Army of the United States, 11 November 1942. He was assigned as a Curtiss-Wright P-40 Warhawk pilot, flying 94 combat missions in North Africa, Sicily and Italy. He was credited with shooting down two German airplanes and damaging a third. Everest was promoted to the rank of Captain, 17 August 1943.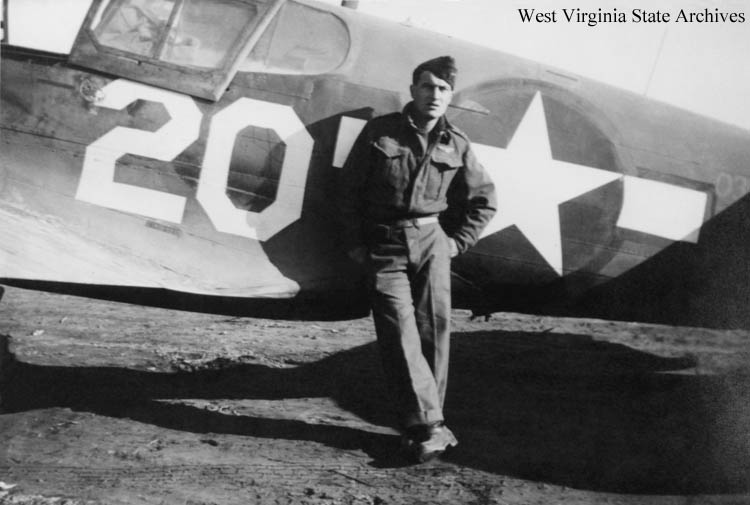 In 1944, Everest was returned to the United States to serve as a flight instructor. He requested a return to combat and was then sent to the China-Burma-India theater of operations where he flew 67 missions and shot down four Japanese airplanes. Everest was appointed commanding officer of the 29th Fighter Squadron (Provisional), 5th Fighter Group (Provisional) at Chihkiang, China, in April 1945. He was himself shot down by ground fire in May 1945. Everest was captured by the Japanese and suffered torture and inhumane conditions before being freed at the end of the war. He was promoted to the rank of major, 1 July 1945. He was returned to the United States military 3 October 1945.
Following World War II, Major Everest was assigned as a test pilot at Wright-Patterson Air Force Base, Ohio, before going west to the Air Force Flight Test Center at Edwards Air Force Base, California.
Major Everest was returned to the permanent rank of first lieutenant, Air Corps, 19 June 1947, with date of rank retroactive to 3 July 1945.
At Edwards, Pete Everest was involved in nearly every flight test program, flying the F-88, F-92, F-100, F-101, F-102, F-104 and F-105 fighters, the XB-51, YB-52, B-57 and B-66 bombers. He also flew the pure research aircraft, the "X planes:" the X-1, X-1B, X-2, X-3, X-4 and X-5. Pete Everest flew the X-1B to Mach 2.3, and he set a world speed record with the X-2 at Mach 2.9 (1,957 miles per hour, 3,149.5 kilometers per hour) which earned him the title, "The Fastest Man Alive." He was the test pilot on thirteen of the twenty X-2 flights.
In 1957, Lieutenant Colonel Everest was awarded the Harmon Trophy "for the most outstanding international achievements in the arts and/or science of aeronautics for the preceding year," and also received the Octave Chanute Award "for an outstanding contribution made by a pilot to the art, science and technology of aeronautics."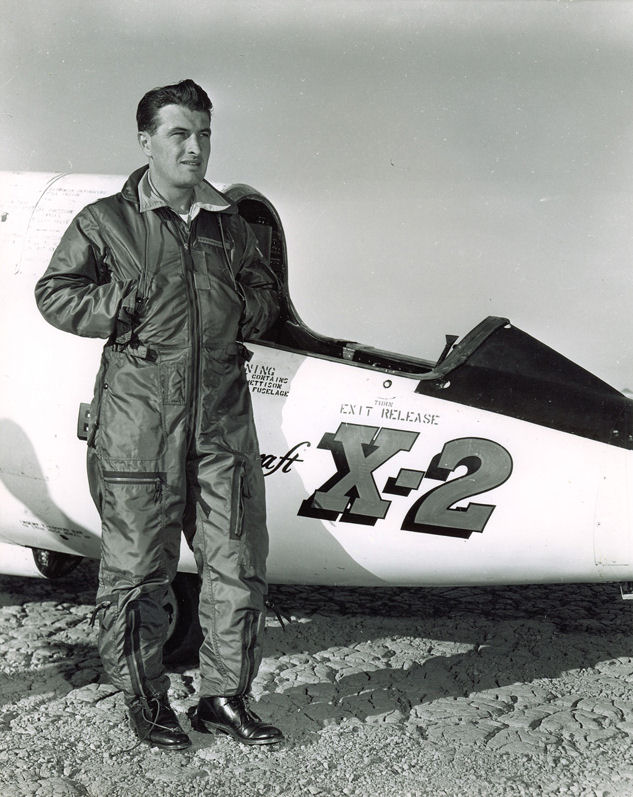 Frank Everest returned to operational assignments and commanded a fighter squadron, two combat crew training wings, and was assigned staff positions at the Pentagon. On 20 November 1963, Colonel Everest, commanding the 4453rd Combat Crew Training Squadron, flew one of the first two operational McDonnell F-4C Phantom II fighters from the factory in St. Louis, Missouri, to MacDill Air Force Base, Tampa, Florida.
In 1965, Pete Everest was promoted to the rank of brigadier general. He was assigned as commander of the Aerospace Rescue and Recovery Service. General Everest retired from the Air Force in 1973 after 33 years of service.
Shortly after he retired from the Air Force, on 5 April 1973, Sikorsky Aircraft appointed General Everest its Chief Test Pilot. The manufacturer was developing the S-70 Black Hawk and S-76 commercial helicopters at the time.
During his military career General Everest was awarded the Air Force Distinguished Service Medal; Legion of Merit with two oak leaf clusters (three awards); Distinguished Flying Cross with two oak leaf clusters (three awards); Purple Heart; Air Medal with one silver and two bronze oak leaf clusters (seven awards); Air Force Commendation Medal with one oak leaf cluster (two awards); Presidential Unit Citation with two bronze oak leaf clusters (three awards); Air Force Gallant Unit Citation; Prisoner of War Medal; American Campaign Medal; European-African-Middle Eastern Campaign medal with four bronze stars; Asiatic-Pacific Campaign Medal with two bronze stars; World War II Victory Medal; National Defense Service Medal; Armed Forces Expeditionary Medal; Vietnam Service Medal; Air Force Longevity Service Award with one silver and two bronze oak leaf clusters (seven awards); Air Force Small Arms Expert Marksmanship Ribbon; and the Republic of Vietnam Campaign Medal with 1960– device. General Everest was rated as a Command Pilot, and a Basic Parachutist.
Brigadier General Frank Kendall Everest, Jr. United States Air Force (Retired), died at Tucson, Arizona, 1 October 2004 at the age of 84 years.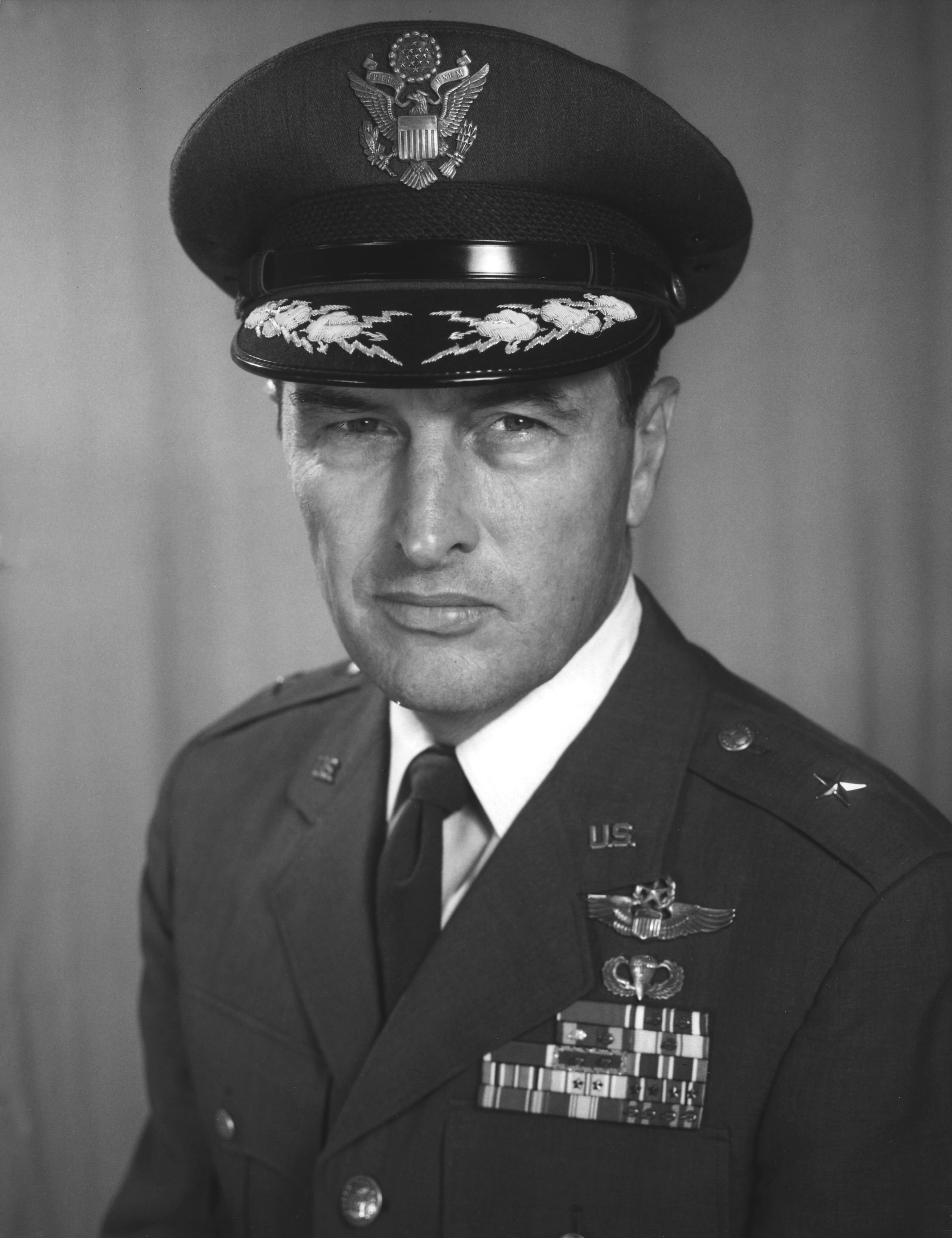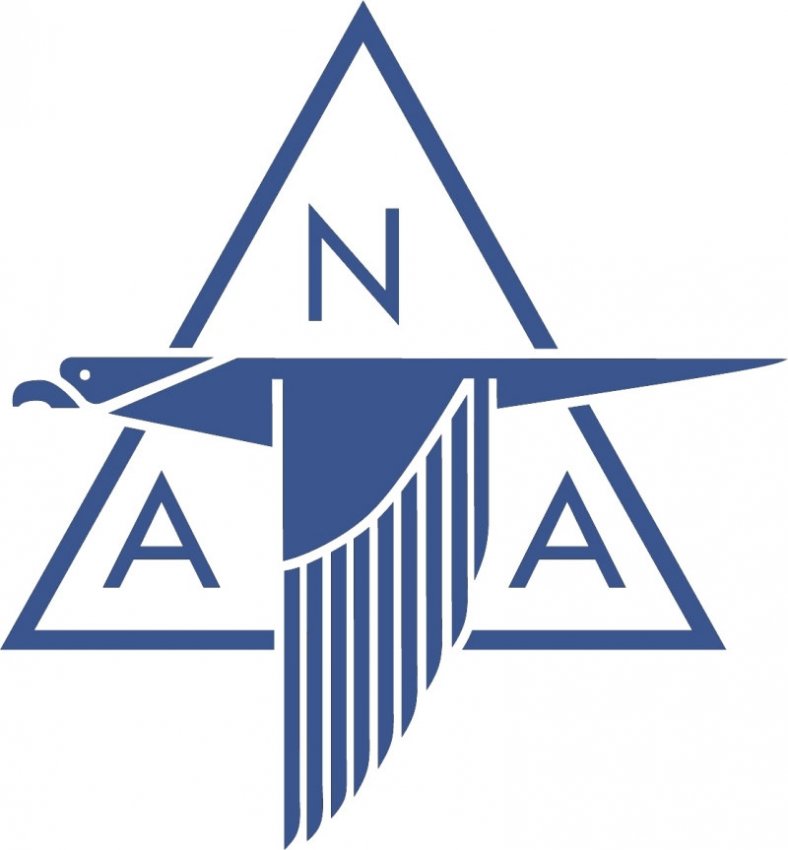 The North American Aviation F-100 Super Sabre was designed as a supersonic day fighter. Initially intended as an improved F-86D and F-86E, the "Sabre 45" soon developed into an almost completely new airplane.
The Super Sabre had a 49° 2′ sweep to the leading edges of the wings and horizontal stabilizer. The total wing area was 385.2 square feet (35.79 square meters). The wings had an angle of incidence of 0°, with no twist or dihedral. The ailerons were placed inboard on the wings and there were no flaps, resulting in a high stall speed in landing configuration. The horizontal stabilizer was moved to the bottom of the fuselage to keep it out of the turbulence created by the wings at high angles of attack. The F-100A had a distinctively shorter vertical fin than the YF-100A. The upper segment of the vertical fin was swept 49° 43′.
There were two service test prototypes, designated YF-100A, followed by the production F-100A series. The first ten production aircraft (all of the Block 1 variants) were used in the flight testing program.
The F-100A Super Sabre was 47 feet, 1¼ inches (14.357 meters) long with a wingspan of 36 feet, 6 inches (11.125 meters). With the shorter vertical fin, the initial F-100As had an overall height of 13 feet, 4 inches (4.064 meters), 11 inches (27.9 centimeters) less than the YF-100A.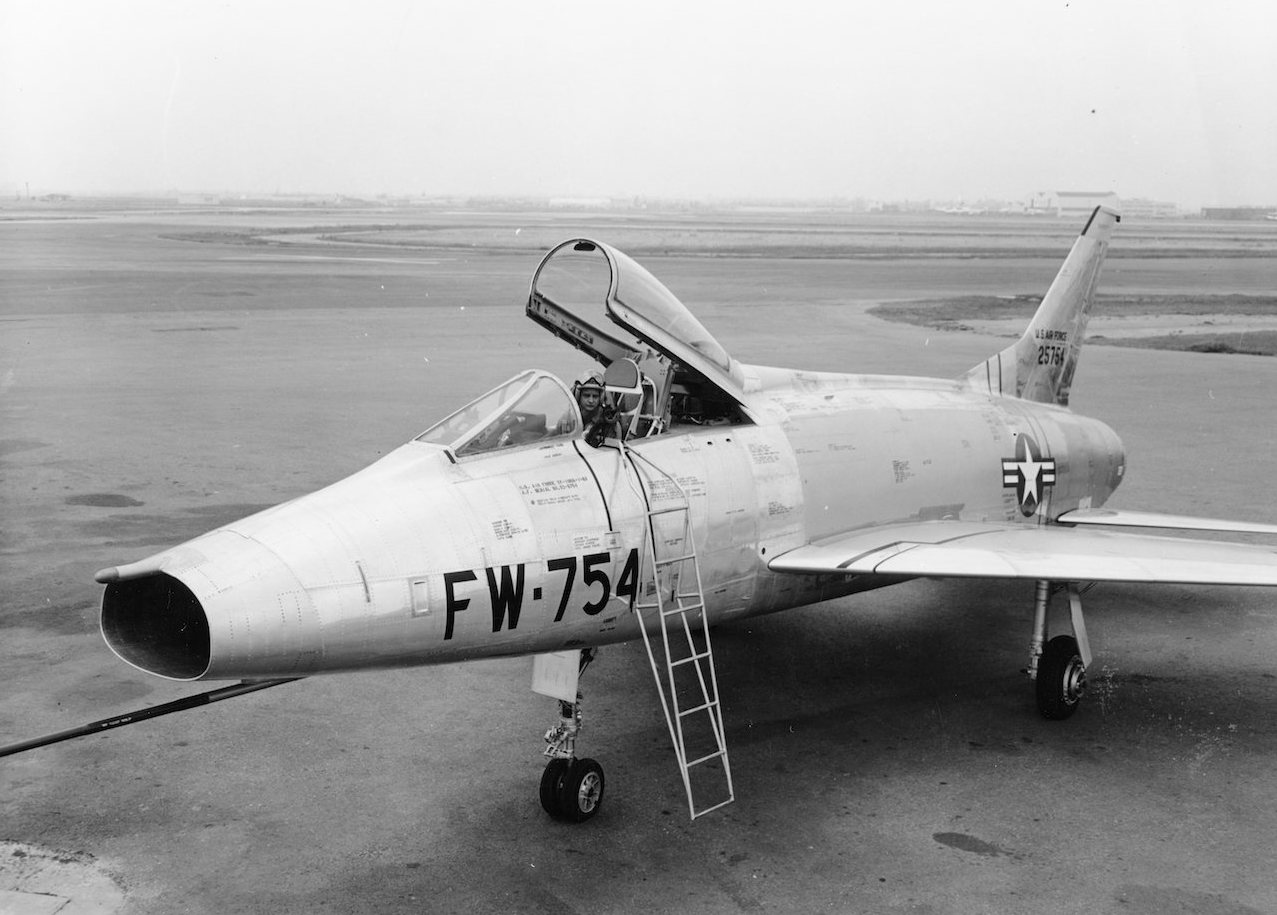 The F-100A had an empty weight of 18,135 pounds (8,226 kilograms), and its maximum takeoff weight was 28,971 pounds (13,141 kilograms). It had an internal fuel capacity of 744 gallons (2,816 liters) and could carry two 275 gallon (1,041 liter) external fuel tanks.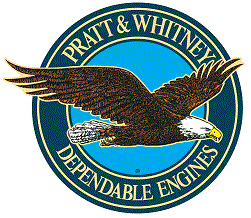 The new air superiority fighter was powered by a Pratt & Whitney Turbo Wasp J57-P-7 engine. The J57 was a two-spool axial-flow turbojet which had a 16-stage compressor section (9 low- and 7 high-pressure stages) and a 3-stage turbine (2 high- and 1 low-pressure stages). Its continuous power rating was 8,000 pounds of thrust (35.586 kilonewtons). The Military Power rating was 9,700 pounds (43.148 kilonewtons) (30-minute limit). Maximum power was 14,800 pounds (43.148 kilonewtons) with afterburner (5-minute limit). The engine was 20 feet, 9.7 inches (6.342 meters) long, 3 feet, 3.9 inches (1.014 meters) in diameter, and weighed 5,075 pounds (2,303 kilograms). Later production aircraft used a J57-P-39 engine, which had the same ratings.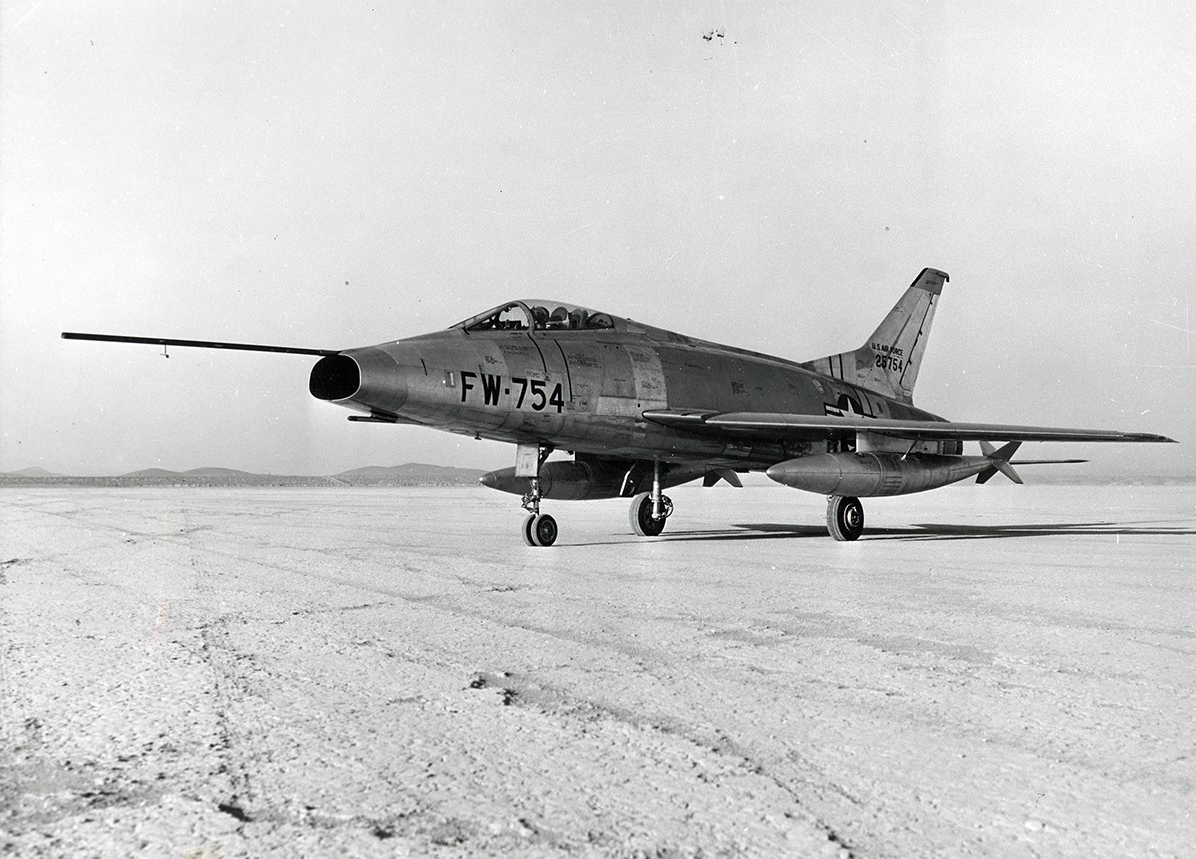 The Super Sabre was the first U.S. Air Force fighter capable of supersonic speed in level flight.
The YF-100A had a maximum speed of 660 miles per hour (1,062 kilometers per hour) at 43,350 feet (13,213 meters). During testing, 52-5754 reached Mach 1.44 in a dive. The service ceiling was 52,600 feet (16,033 meters). Range with internal fuel was 422 miles (679 kilometers).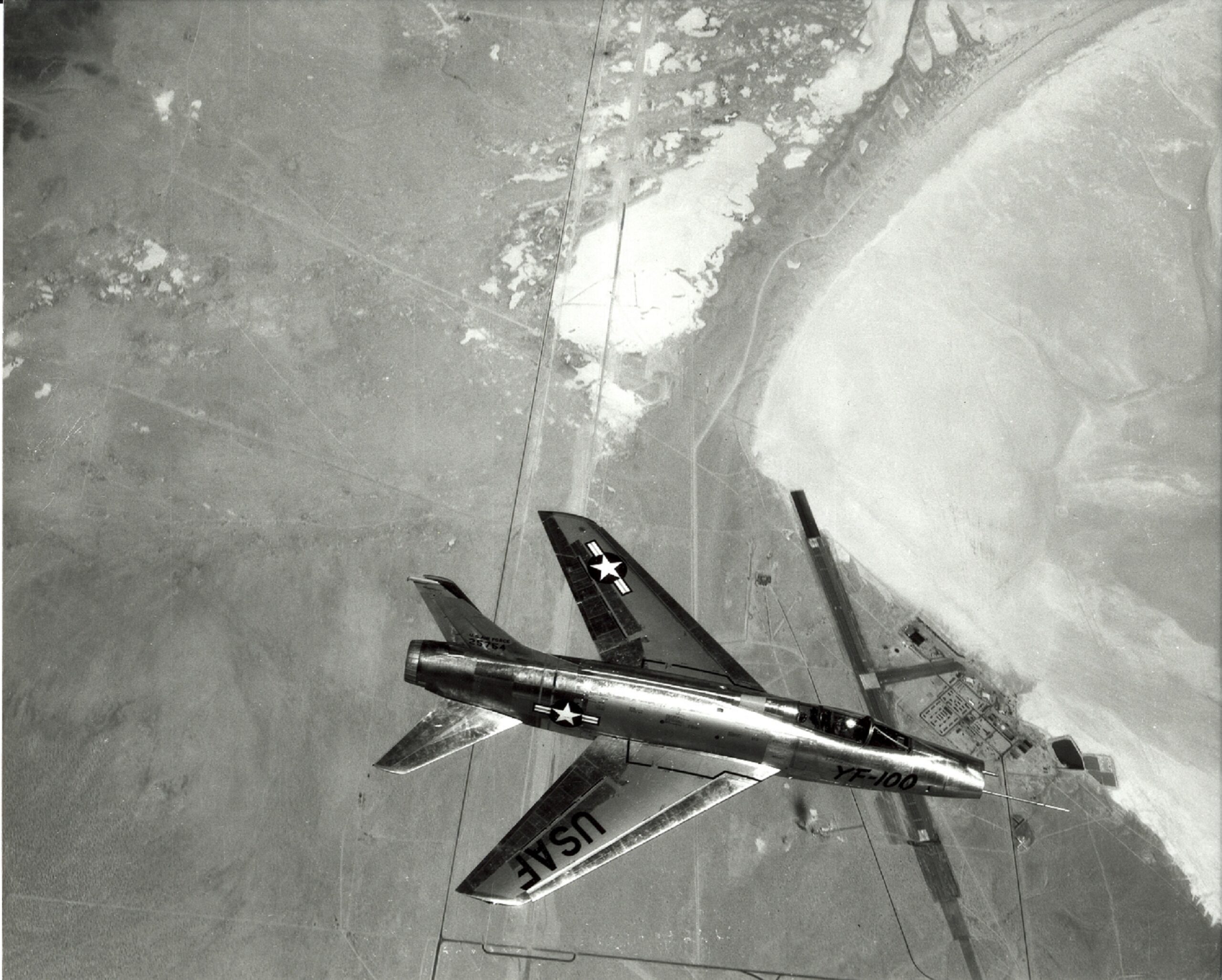 The production F-100 was armed with four M39 20 mm autocannons, capable of firing at a rate of 1,500 rounds per minute. The ammunition capacity of the F-100 was 200 rounds per gun.
North American Aviation built 199 F-100A Super Sabres at its Inglewood, California, plant before production shifted to the F-100C fighter bomber variant. Approximately 25% of all F-100As were lost in accidents.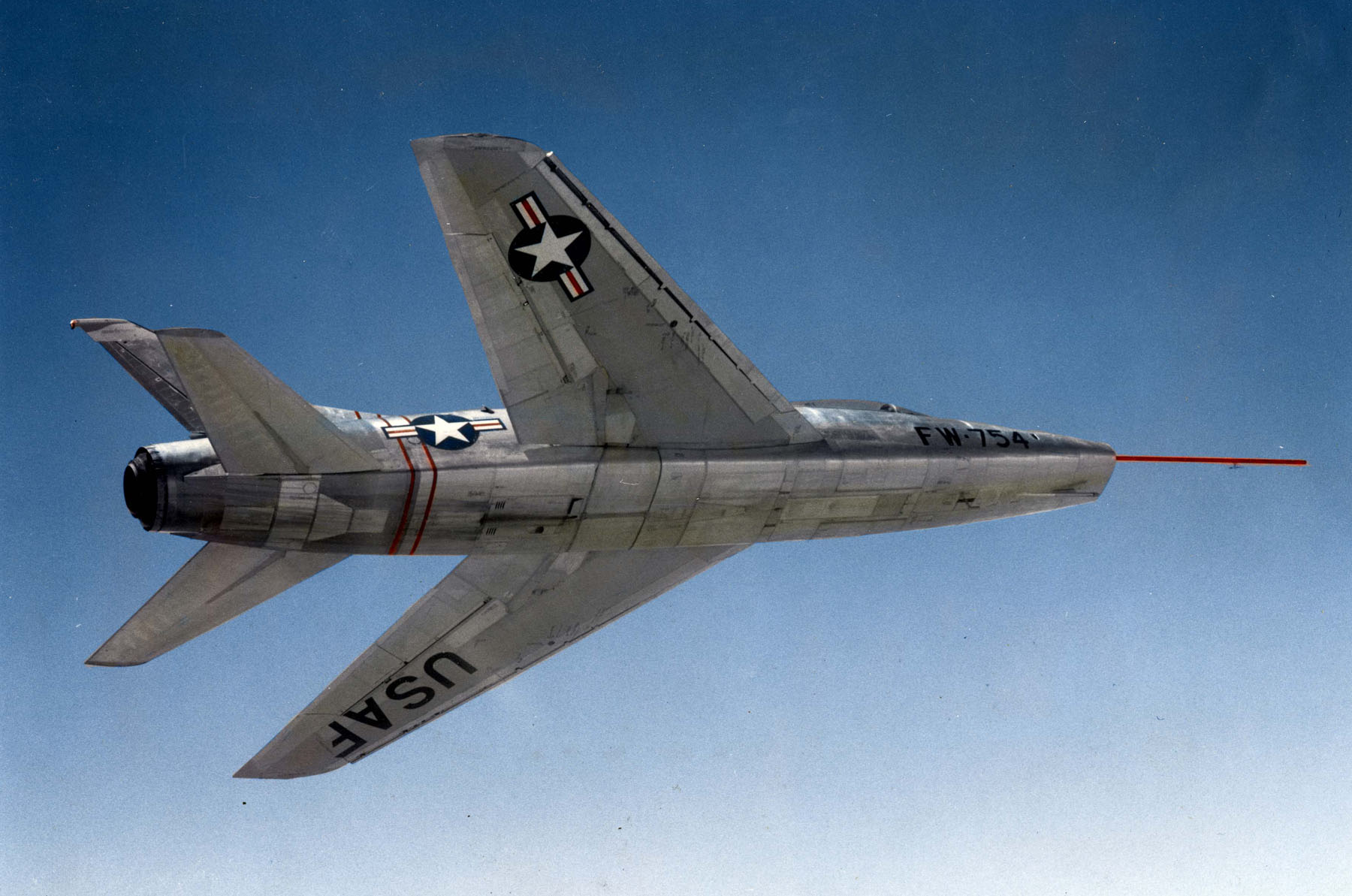 ¹ FAI Record File Number 9871
² FAI Record File Number 8868
© 2019, Bryan R. Swopes