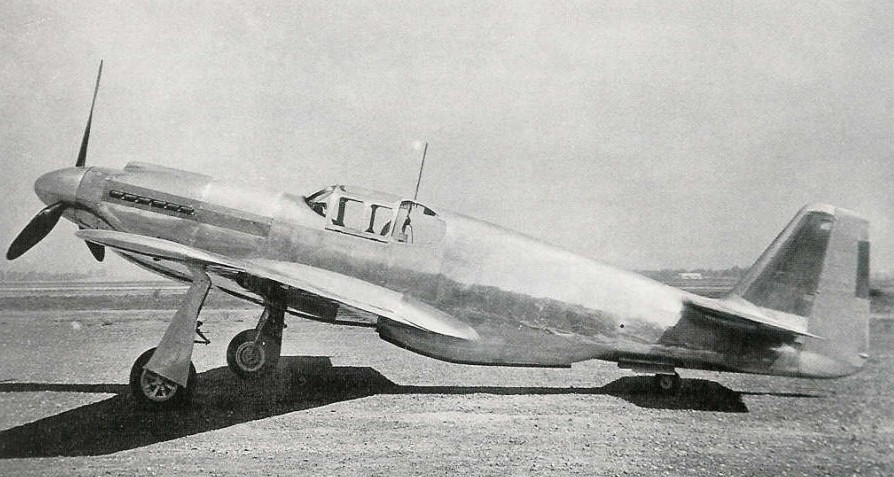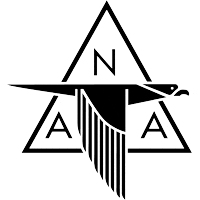 9 September 1940: North American Aviation completed assembly of the NA-73X, the first prototype of the new Mustang Mk.I fighter for the Royal Air Force. This was just 117 days after the British Purchasing Commission had authorized the construction of the prototype. The airplane was designed by a team led by Edgar Schmued. The 1,150-horsepower Allison V-12 engine had not yet arrived, so the NA-73X was photographed with dummy exhaust stacks. The prototype's company serial number was 73-3097. It had been assigned a civil experimental registration number, NX19998.
The NA-73X was a single-seat, single-engine, low wing monoplane with retractable landing gear. It was primarily of metal construction, though the flight control surfaces were fabric covered. The airplane was designed for the maximum reduction in aerodynamic drag.  The Mustang was the first airplane to use a laminar-flow wing. The fuselage panels were precisely designed and very smooth. Flush riveting was used. The coolant radiator with its intake and exhaust ducts was located behind and below the cockpit. As cooling air passed through the radiator it was heated and expanded, so that as it exited, it actually produced some thrust.
The prototype was 32 feet, 2⅝ inches (9.820 meters) long, with a wing span of 37 feet, 5/16 inch (11.286 meters). Empty weight of the NA-73X was 6,278 pounds (2,848 kilograms) and normal takeoff weight was 7,965 pounds (3,613 kilograms).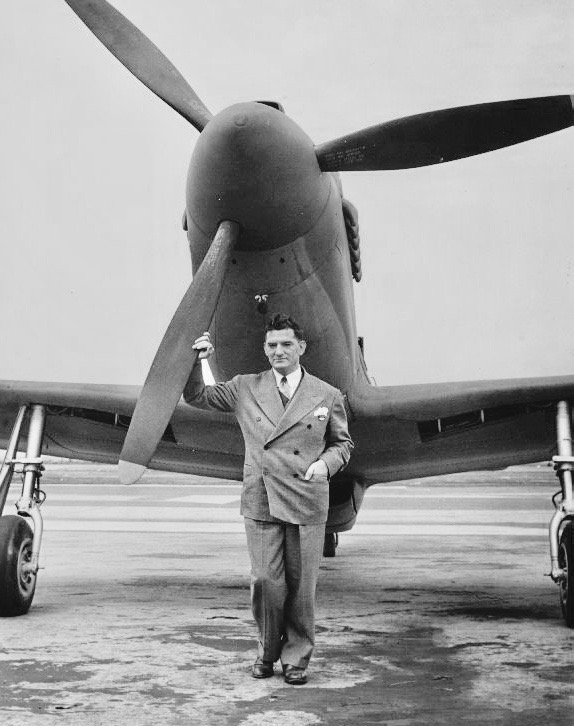 The NA-73X was powered by a liquid-cooled, supercharged, 1,710.60-cubic-inch-displacement (28.032 liter) Allison Engineering Company V-1710-F3R (V-1710-39) single overhead cam 60° V-12 engine, with four valves per cylinder and a compression ratio of 6.65:1. It used a single-stage, single-speed supercharger. This was a right-hand tractor engine (the V-1710 was built in both right-hand and left-hand configurations) which drove a 10 foot, 6 inch (3.200 meter) diameter, three-bladed, Curtiss Electric constant-speed propeller through a 2.00:1 gear reduction.
The V-1710-39 had a Normal Power rating of 880 horsepower at 2,600 r.p.m. at Sea Level; Take Off Power rating of 1,150 horsepower at 3,000 r.p.m. at Sea Level, with 44.5 inches of manifold pressure (1.51 Bar), 5 minute limit; and a War Emergency Power rating of 1,490 horsepower at 3,000 r.p.m., with 56 inches of manifold pressure (1.90 Bar). The V-1710-F3R was 7 feet, 4.38 inches (2.245 meters) long, 3 feet, 0.64 inches (0.931 meters) high, and 2 feet, 5.29 inches (0.744 meters) wide. It had a dry weight of 1,310 pounds (594 kilograms).
U.S. Army Air Corps flight tests of the fully-armed production Mustang Mk.I (XP-51 41-038), equipped with the V-1710-39 and a 10 foot, 9-inch (3.277 meters) diameter Curtiss Electric propeller, resulted in a maximum speed of 382.0 miles per hour (614.8 kilometers per hour) at 13,000 feet (3,962 meters). The service ceiling was 30,800 feet (9,388 meters) and the absolute ceiling was 31,900 feet (9,723 meters).
The Curtiss P-40D Warhawk used the same Allison V-1710-39 engine as the XP-51, as well as a three-bladed Curtiss Electric propeller. During performance testing at Wright Field, a P-40D, Air Corps serial number 40-362, weighing 7,740 pounds (3,511 kilograms), reached a maximum speed of 354 miles per hour (570 kilometers per hour) at 15,175 feet (4,625 meters). Although the Mustang's test weight was 194 pounds (88 kilograms) heavier, at 7,934 pounds (3,599 kilograms), the Mustang was 28 miles per hour (45 kilometers per hour) faster than the Warhawk. This demonstrates the effectiveness of the Mustang's exceptionally clean design.
Only one NA-73X was built. It made its first flight 26 October 1940 with test pilot Vance Breese. The prototype suffered significant damage when it overturned during a forced landing, 20 November 1941. NX19998 was repaired and flight testing resumed. The prototype's final disposition is not known.
Originally ordered by Great Britain, the Mustang became the legendary U.S. Army Air Corps P-51 Mustang. A total of 15,486 Mustangs were built by North American Aviation at Inglewood, California and Dallas, Texas. Another 200 were built in Australia by the Commonwealth Aircraft Corporation.
The P-51 remained in service with the U.S. Air Force until 27 January 1957 when the last one, F-51D-30-NA 44-74936, was retired from the 167th Fighter Squadron, West Virginia Air National Guard. It was then transferred to the National Museum of the United States Air Force at Wright-Patterson Air Force Base, where it is on display.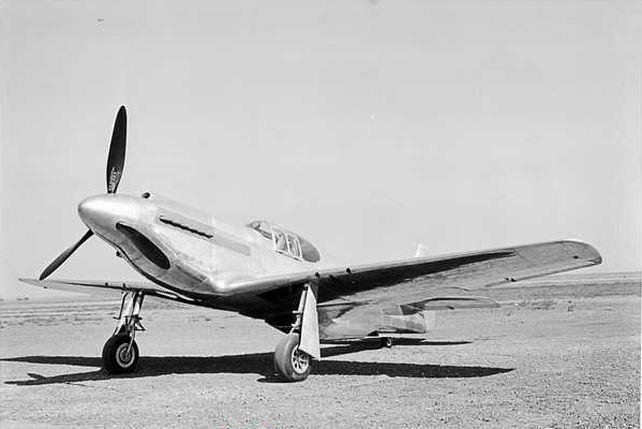 © 2017, Bryan R. Swopes