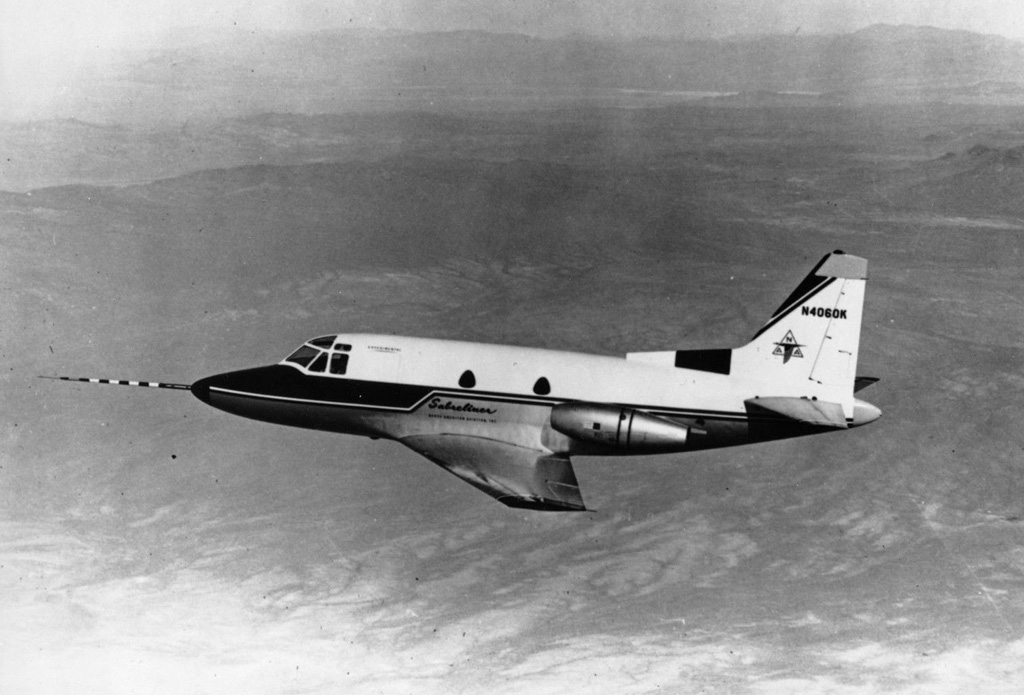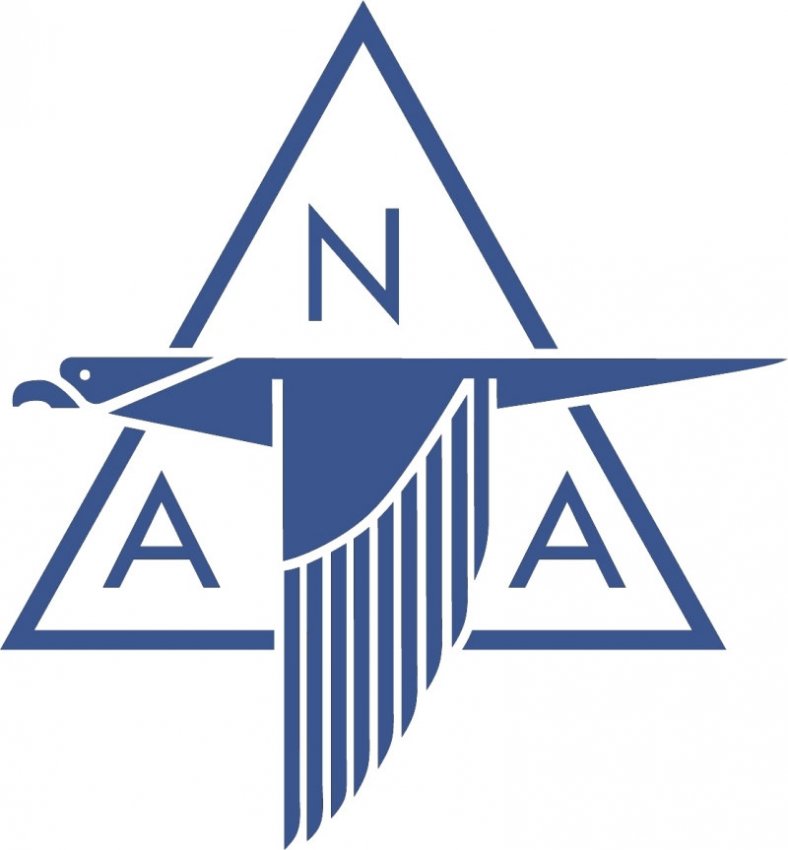 16 September 1958: At Palmdale, in the high desert of southern California, the prototype North American Aviation, Inc., Model NA-246 Sabreliner, N4060K, took off on its first flight.
The Sabreliner had been designed and built at North American's expense to meet the U.S. Air Force specification for the UTX, a twin-engine jet that would be primarily used as a trainer for Air Force pilots in non-flying assignments but who needed to remain proficient. It could also be used as a passenger and cargo transport.
The NA-246 was flown by two pilots and could carry up to four passengers in "club seating."
In October 1958, the Air Force ordered the Model 265 Sabreliner into production, designated T-39A-1-NA (Serial numbers 59-2868 to -2871). This aircraft could carry up to 7 passengers. In 1962, a commercial variant of the T-39A, the Model 265 Sabreliner, was certified by the Federal Aviation Administration.
The T-39A was 44 feet (13.411 meters) long, with a wingspan of 44 feet, 6 inches (13.564 meters) and overall height of 16 feet (14.874 meters). The wings were swept at 28°. It had an empty weight of approximately 9,250 pounds (4,196 kilograms) and maximum takeoff weight of 17,760 pounds (8,056 kilograms).
The Model 246 prototype was powered by General Electric J85 turbojet engines which produced about 2,000 pounds of thrust (8.90 kilonewtons). The the production T-39A used Pratt & Whitney J60-P-3 engines, rated at 3,000 pounds (13.34 kilonewtons) for takeoff.
The T-39A had a maximum allowable airspeed (VMO) of 350 knots, indicated (KIAS) (403 miles per hour/648 kilometers per hour) from Sea Level to 21,100 feet (6,431 meters). Above that altitude, speed was restricted to 0.77 Mach.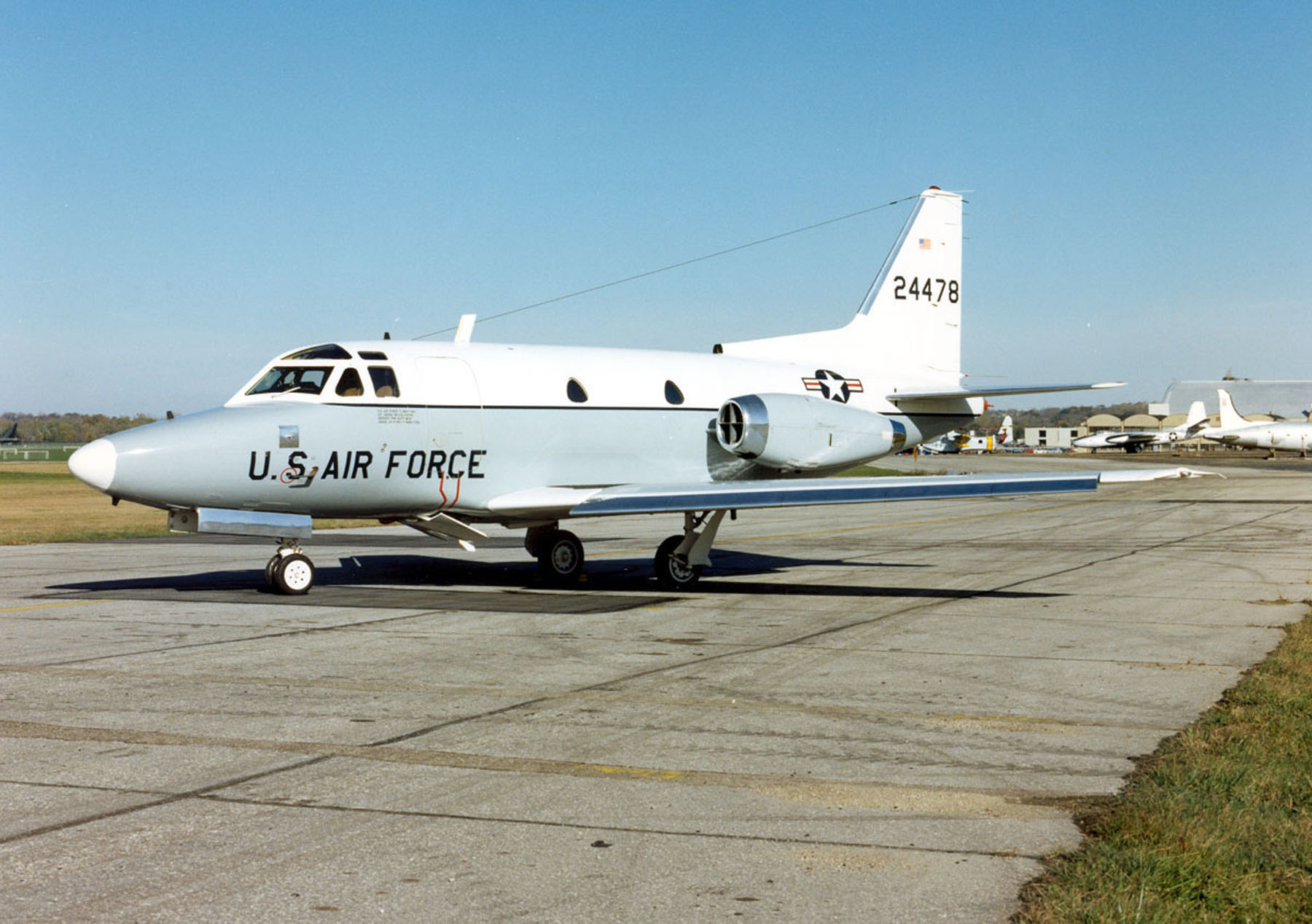 The prototype was issued an Airworthiness Certificate by the Federal Aviation Administration 25 April 1958. The registration was cancelled 30 June 1970.
© 2019, Bryan R. Swopes