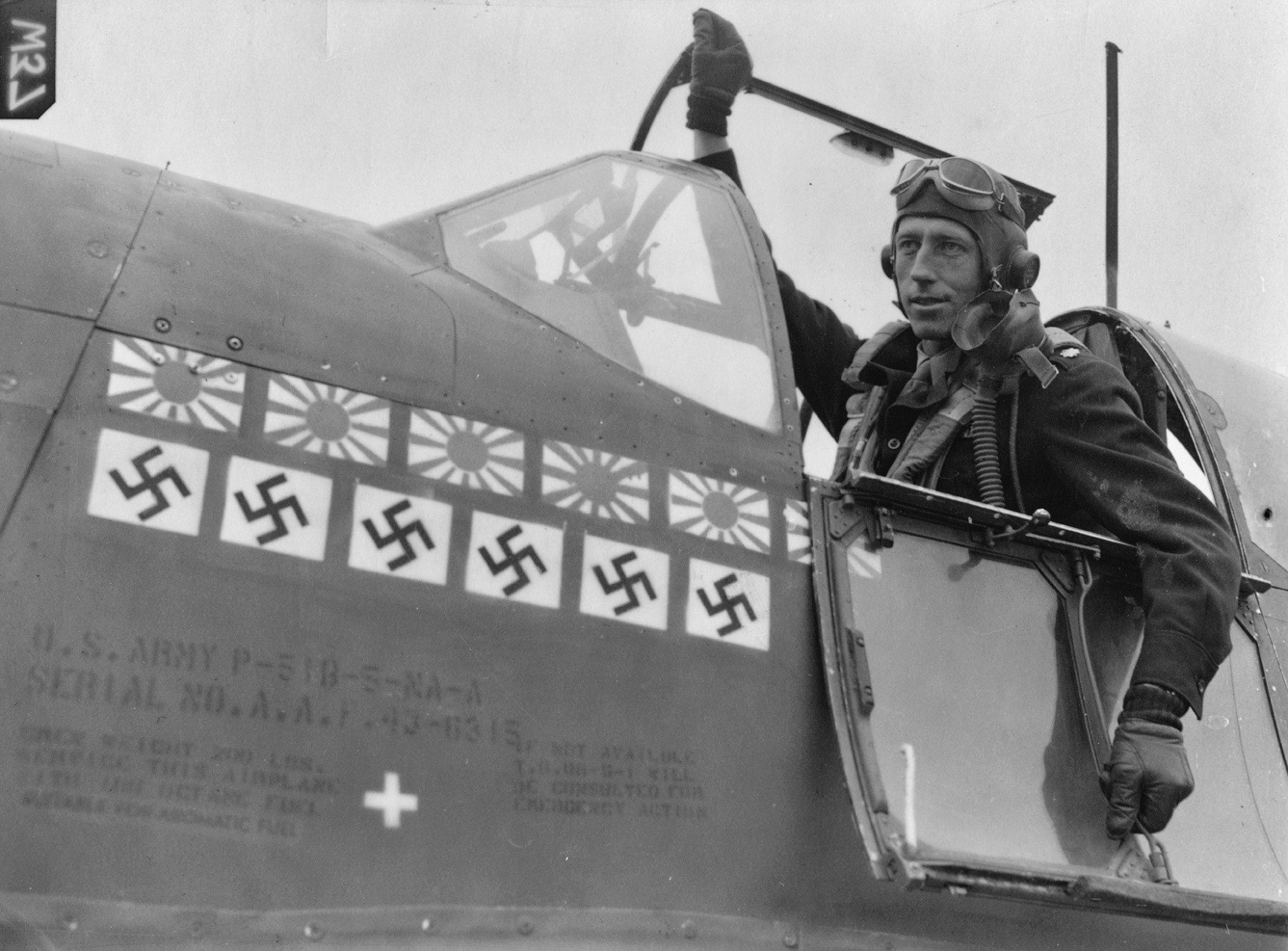 11 January 1944: Major James Howell Howard, Air Corps, United States Army, commander of the 356th Fighter Squadron, 354th Fighter Group, Ninth Air Force, led fifty P-51 Mustangs escorting three divisions of B-17 Flying Fortresses on a raid against Oschersleben, near Berlin, Germany.
As defending Luftwaffe fighters attacked the bomber formation, Major Howard immediately went on the offensive and shot down a twin engine Messerschmitt Bf 110 Zerstörer long range fighter. During this engagement, Howard became separated from his group, but climbed back to rejoin the bombers.
More than thirty German fighters were attacking the bomber formation and Major Howard single-handedly went after them. He shot down two, probably shot down two more and damaged at least another two. He continued to attack even after he had run out of ammunition and was low on fuel. When he returned to his base at RAF Boxted, his Mustang had just a single bullet hole.
For this action, James H. Howard was awarded the Medal of Honor, presented by Lieutenant General Carl Spaatz 11 January 1945. He is the only fighter pilot in the European Theater to have received this Medal. Howard was promoted to the rank of colonel.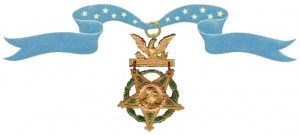 The President of the United States in the name of The Congress takes pleasure in presenting the Medal of Honor to
HOWARD, JAMES H. (Air Mission)
Rank and organization: Lieutenant Colonel, U.S. Army Air Corps. Place and date: Over Oschersleben, Germany, 11 January 1944. Entered service at: St. Louis, Missouri. Birth: Canton, China. G.O. No.: 45, 5 June 1944.
Citation: For conspicuous gallantry and intrepidity above and beyond the call of duty in action with the enemy near Oschersleben, Germany, on 11 January 1944. On that day Col. Howard was the leader of a group of P-51 aircraft providing support for a heavy bomber formation on a long-range mission deep in enemy territory. As Col. Howard's group met the bombers in the target area the bomber force was attacked by numerous enemy fighters. Col. Howard, with his group, and at once engaged the enemy and himself destroyed a German ME. 110. As a result of this attack Col. Howard lost contact with his group, and at once returned to the level of the bomber formation. He then saw that the bombers were being heavily attacked by enemy planes and that no other friendly fighters were at hand. While Col. Howard could have waited to attempt to assemble his group before engaging the enemy, he chose instead to attack singlehanded a formation of more than 30 German airplanes. With utter disregard for his own safety he immediately pressed home determined attacks for some thirty minutes, during which time he destroyed 3 enemy airplanes and probably destroyed and damaged others. Toward the end of this engagement 3 of his guns went out of action and his fuel supply was becoming dangerously low. Despite these handicaps and the almost insuperable odds against him, Col. Howard continued his aggressive action in an attempt to protect the bombers from the numerous fighters. His skill, courage, and intrepidity on this occasion set an example of heroism which will be an inspiration to the U.S. Armed Forces.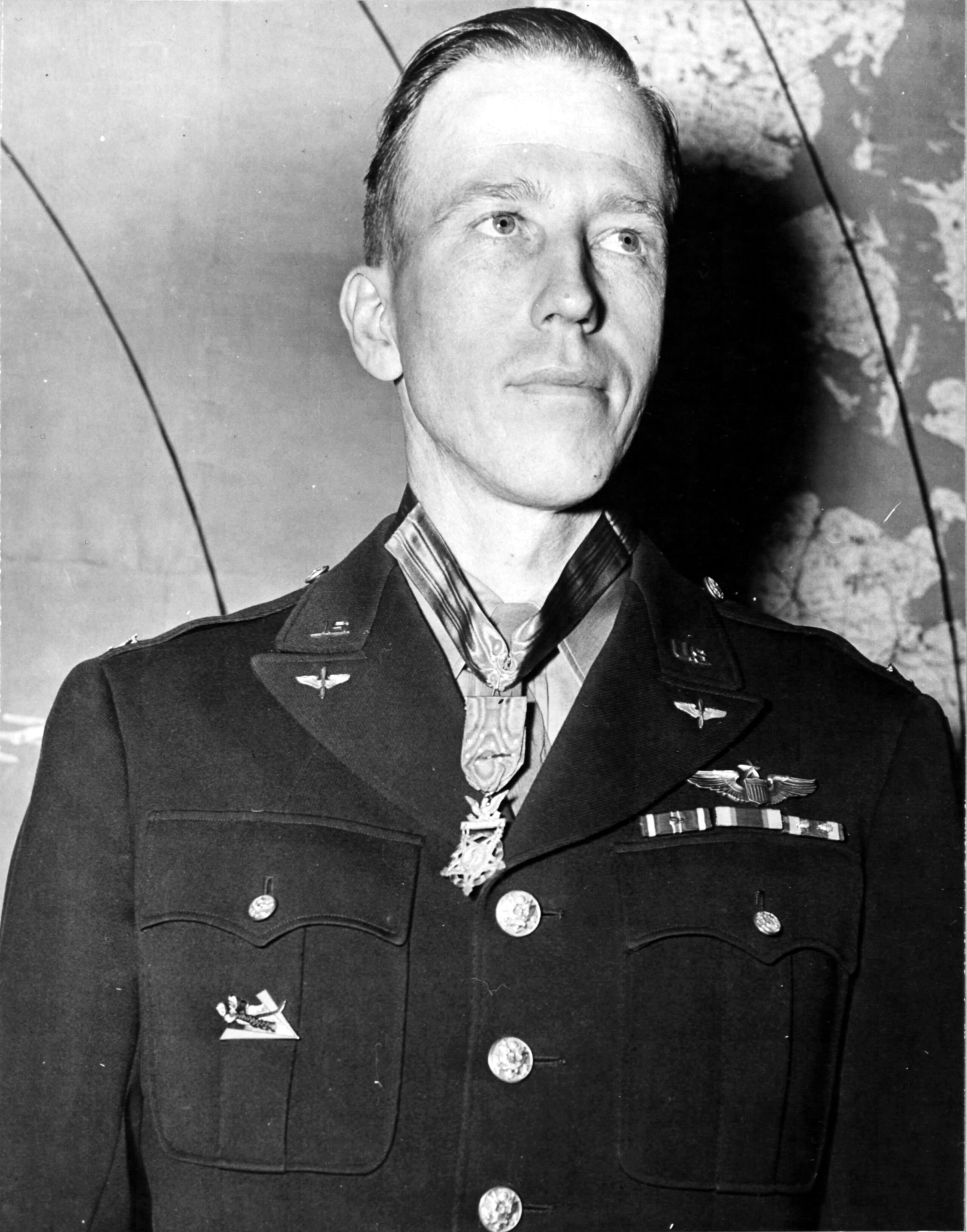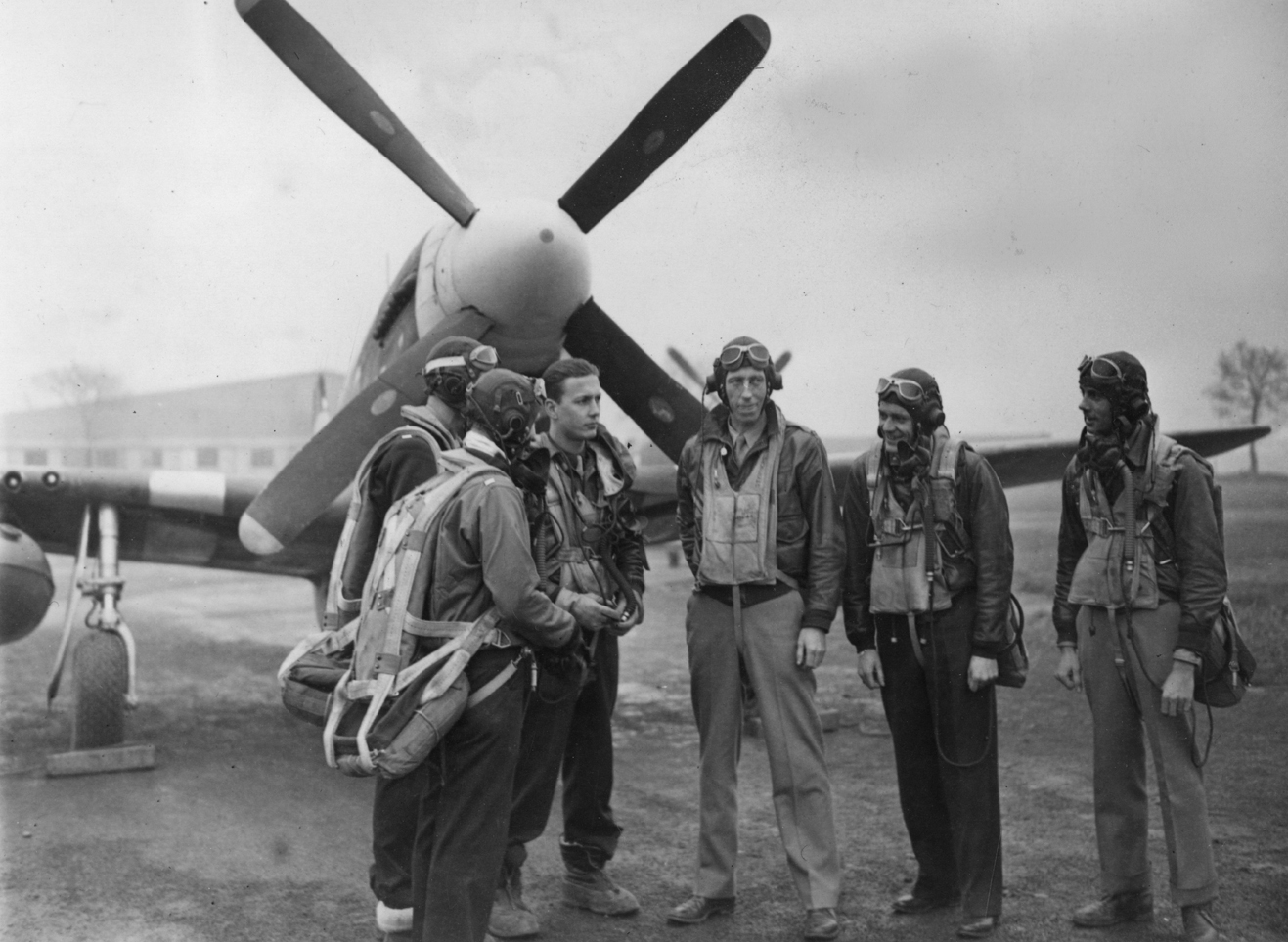 James Howell Howard was born 8 April 1913 at Canton (Guangzhou), China. He was the second of three children of Dr. Harvey James Howard, an ophthalmologist at the University Medical School in Canton China (formerly, the Canton Christian College), and later, chief of the Department of Ophthalmology at the Peking Union Medical College Hospital in Beijing. His mother was the former Maude Irene Strobel.
When James was 11 years old, he and his father were kidnapped by Manchurian bandits and held for ten weeks before they were able to escape. The family left Shaghai aboard the 535-foot Pacific Mail cargo liner S.S. President Lincoln on 21 July 1923 and sailed for San Francisco, California, arriving there on 8 August 1923.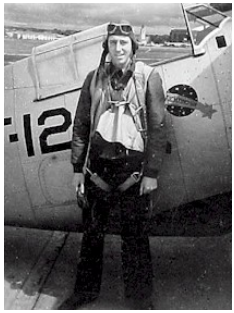 Howard attended The Haverford School, Montgomery, Pennsylvania, and later, John Burroughs School, St. Louis, Missouri. He graduated from Pomona College in southern California in 1937 with a Bachelor of Arts degree.
He had blond hair and blue eyes, was 6 feet, 2 inches (1.88 meters) tall and weighed 160 pounds (72.6 kilograms). He enlisted as an aviation cadet in the United States Naval Reserve, and began flight training at NAS Pensacola, Florida, 29 December 1937. He graduated as a Naval Aviator, 1 February 1939, and was commissioned an ensign, USNR.
In 1939, Ensign Howard served with Fighting Squadron SIX (VF-6) aboard USS Enterprise (CV-6) In 1940, he was assigned to the Naval Air Station San Diego San Diego on the southern coast of California.
On 21 June 1941, Ensign Howard resigned from the Navy and went to Burma as an employee of the Central Aircraft Manufacturing Company, which was a cover operation for the 1st American Volunteer Group, better known as the "Flying Tigers." He commanded the AVG 2nd Pursuit Squadron. Flying the Curtiss-Wright Hawk 81-A3, Howard was credited with six Imperial Japanese Army Nakajima Ki-27 Army Type 97 fighters destroyed.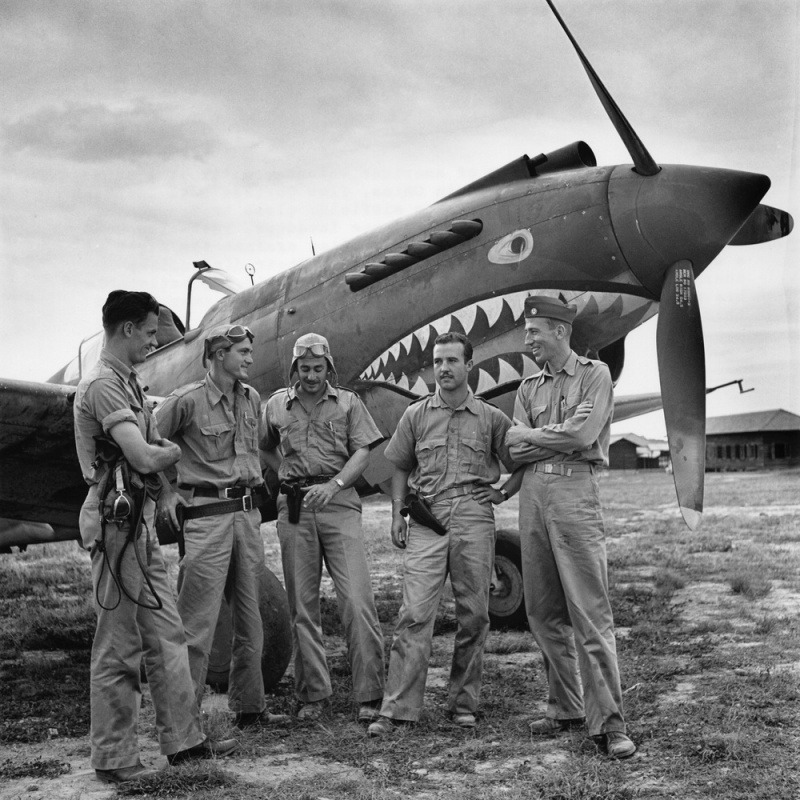 Howard was commissioned as a captain, United States Army Air Corps, 31 January 1943, and assigned to the 354th Fighter Group. The group deployed overseas. Then Major Howard commanded the 356th Fighter Squadron at RAF Boxted. Major Howard was promoted to lieutenant colonel, February 1944, and to Colonel, 25 November 1945. As World War II came to an end, he was released from active duty, 30 November 1945.
Following the war, Colonel Howard remained active in the Army Air Forces reserve. In 1947, he was transferred to the newly established United States Air Force Reserve. He was promoted to the rank of brigadier general, 22 March 1948. He commanded thhe 96th Bomb Wing.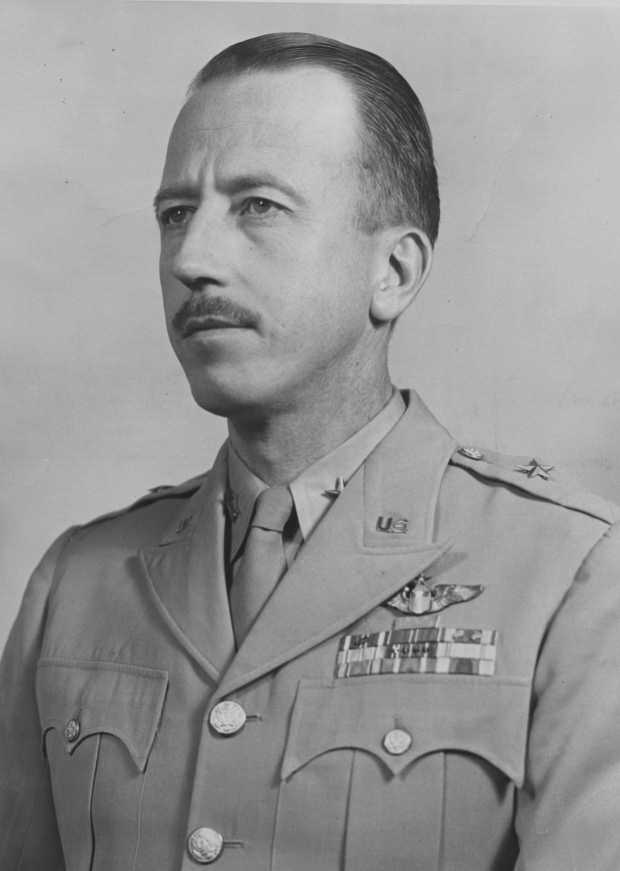 On 18 July 1948, General Howard married Lieutenant Mary G. Balles, Women's Army Corps, at Smoky Hill Air Force Base, Salina, Kansas. Lieutenant Balles was a personnel officer with the 52nd Fighter Wing at Mitchel Field, New York. They divorced six months later.
Howard later married the former Mrs. Florence Ochs Buteau, 31 December 1953 at Brooksville, Maryland..
In addition to the medal of Honor, General Howard was also awarded the Distinguished Flying Cross, the Bronze Star Medal with oak leaf cluster (two awards), and ten Air Medals.
Brigadier General Howard retired from the U.S. Air Force 1 June 1965.
He was the author of Roar of the Tiger (Orion Books, New York, 1991).
Brigadier General James Howell Howard, United States Air Force (Retired), died at the Veterans Affairs Medical Center, Bay Pines, Florida, 18 March 1995. He was buried at the Arlington National Cemetery, Arlington, Virginia.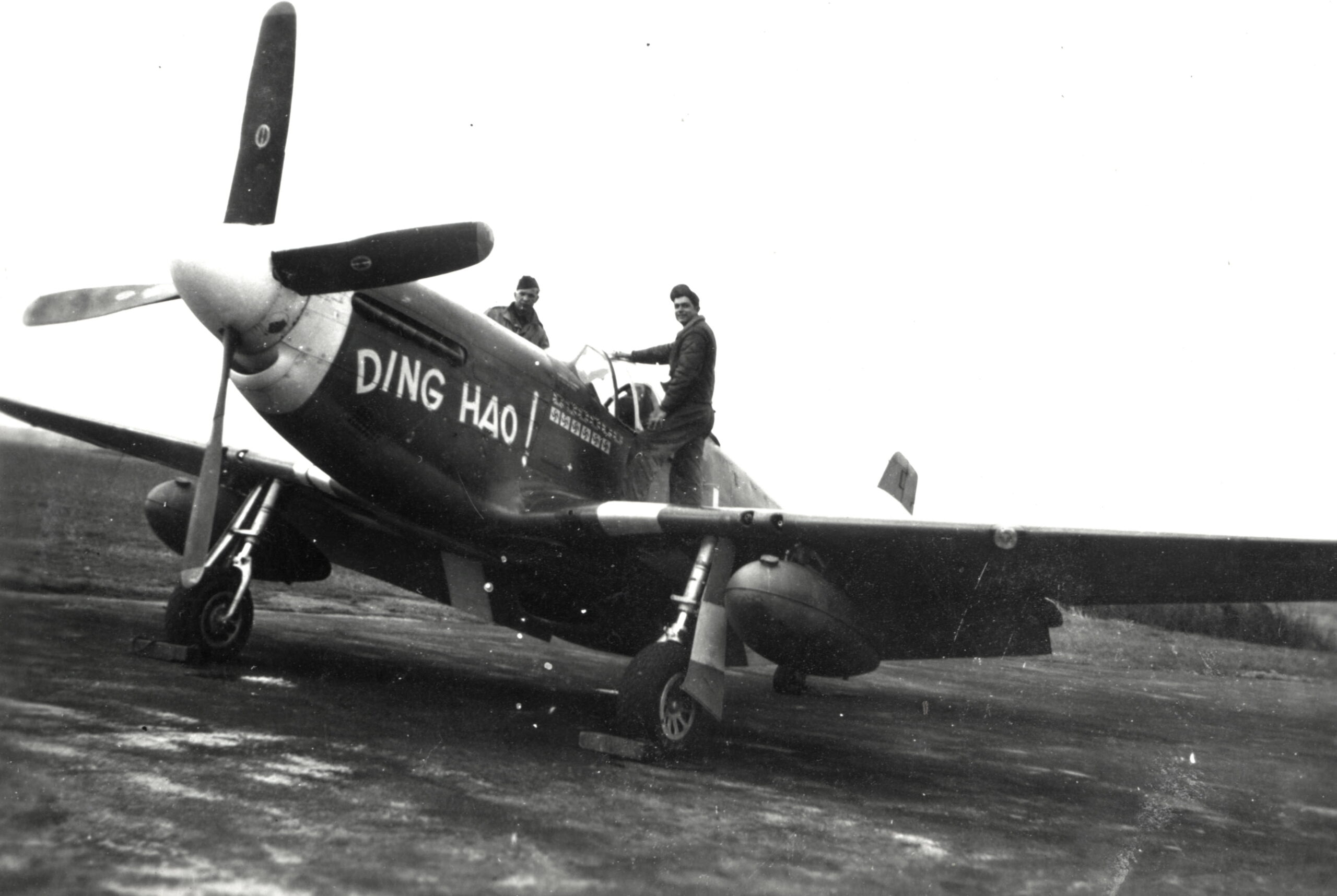 James Howard's P-51 Mustang was named DING HAO! and carried the victory marks from his AVG combat missions.¹ ["Ding Hao" was an American World War II slang term based on the Chinese phrase, 挺好的 ("ting hao de") meaning "very good" or "number one".]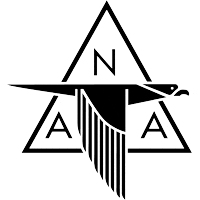 The North American Aviation P-51 Mustang is a single-place, single-engine long range fighter. It is a low-wing monoplane with retractable landing gear and is of all-metal construction. The fighter is powered by a liquid-cooled V-12 engine. It was originally produced for the United Kingdom's Royal Air Force as the Mustang Mk.I. Two examples were provided to the U.S. Army Air Corps, designated XP-51. This resulted in orders for the P-51A and A-36 Apache dive bomber variant. These early Mustangs were powered by the Allison V-1750 engine driving a three-bladed propeller, which also powered the Lockheed P-38 Lightning and Curtiss P-40 Warhawk.
In 1942, soon after the first  production Mustang Mk.I arrived in England, Rolls-Royce began experimenting with a borrowed airplane, AM121, in which they installed the Supermarine Spitfire's Merlin 61 engine. This resulted in an airplane of superior performance.
In the United States, the Packard Motor Car Company of Detroit, Michigan, had begun building Merlin engines under license from Rolls-Royce. These American engines were designated V-1650. North American modified two P-51s from the production line to install the Packard V-1650-3. These were designated XP-51B. Testing revealed that the new variant was so good that the Army Air Corps limited its order for P-51As to 310 airplanes and production was changed to the P-51B.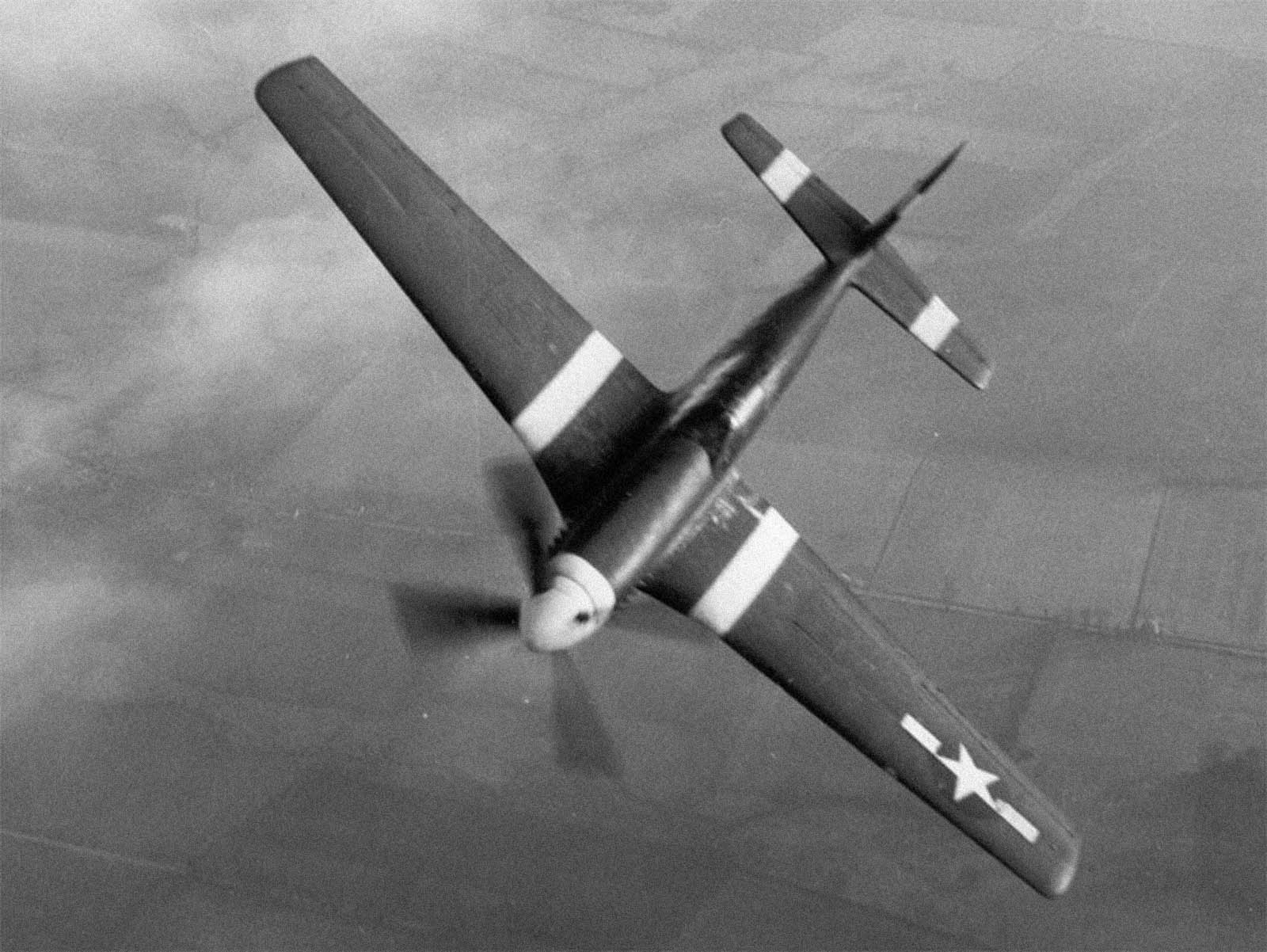 The P-51B and P-51C are virtually Identical. The P-51Bs were built by North American Aviation, Inc., at Inglewood, California. P-51Cs were built at North American's Dallas, Texas. plant. They were 32 feet, 2.97 inches (9.829 meters) long, with a wingspan of 37 feet, 0.31-inch (11.282 meters) and overall height of 13 feet, 8 inches (4.167 meters) high. The fighter had an empty weight of 6,985 pounds (3,168 kilograms) and a maximum gross weight of 11,800 pounds (5,352 kilograms).

P-51Bs and Cs were powered by a right-hand tractor, liquid-cooled, supercharged, 1,649-cubic-inch-displacement (27.04-liter) Packard V-1650-3 or -7 Merlin single overhead cam (SOHC) 60° V-12 engine which produced 1,380 horsepower at Sea Level, turning 3,000 r.p.m at 60 inches of manifold pressure (V-1650-3) or 1,490 horsepower at Sea Level, turning 3,000 r.p.m. at 61 inches of manifold pressure (V-1650-7). (Military Power rating, 15 minute limit.) These were license-built versions of the Rolls-Royce Merlin 63 and 66. The engine drove a four-bladed Hamilton Standard Hydromatic constant-speed propeller with a diameter of 11 feet, 2 inches (3.404 meters) through a 0.479:1 gear reduction.
The P-51B/C had a cruise speed of 362 miles per hour (583 kilometers per hour) and the maximum speed was 439 miles per hour (707 kilometers per hour) at 25,000 feet (7,620 meters). The service ceiling was 41,900 feet (12,771 meters). With internal fuel, the combat range was 755 miles (1,215 kilometers).
In military service, armament consisted of four air-cooled Browning AN-M2 .50-caliber machine guns, mounted two in each wing, with 350 rounds per gun for the inboard guns and 280 rounds per gun for the outboard.
1,988 P-51B Mustangs were built at North American's Inglewood, California plant and another 1,750 P-51Cs were produced at Dallas, Texas. This was nearly 23% of the total P-51 production.
DING HAO!, James H. Howard's P-51B Mustang, was lost in combat 23 July 1944.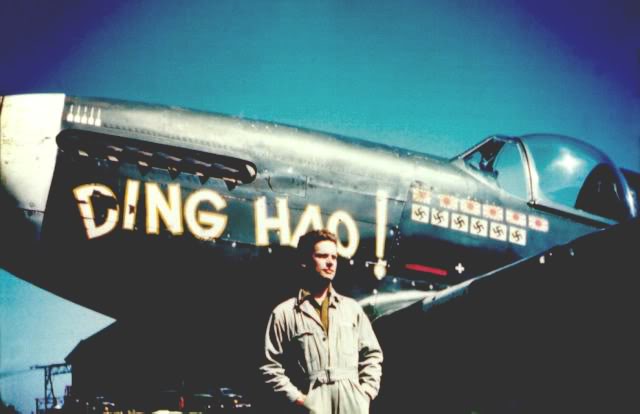 ¹ Major Howard may have flown a different airplane on 11 January 1944. A handwritten caption of the reverse of the top photograph reads, "Howard in own P-51B at Boxted, 25/4/44 not AC in which he won MOH, lt Col James Howard was awarded only Medal of Honour (highest US Award) to go to a fighter pilot flying in the ETO. Action on 11/1/44."
© 2019, Bryan R. Swopes