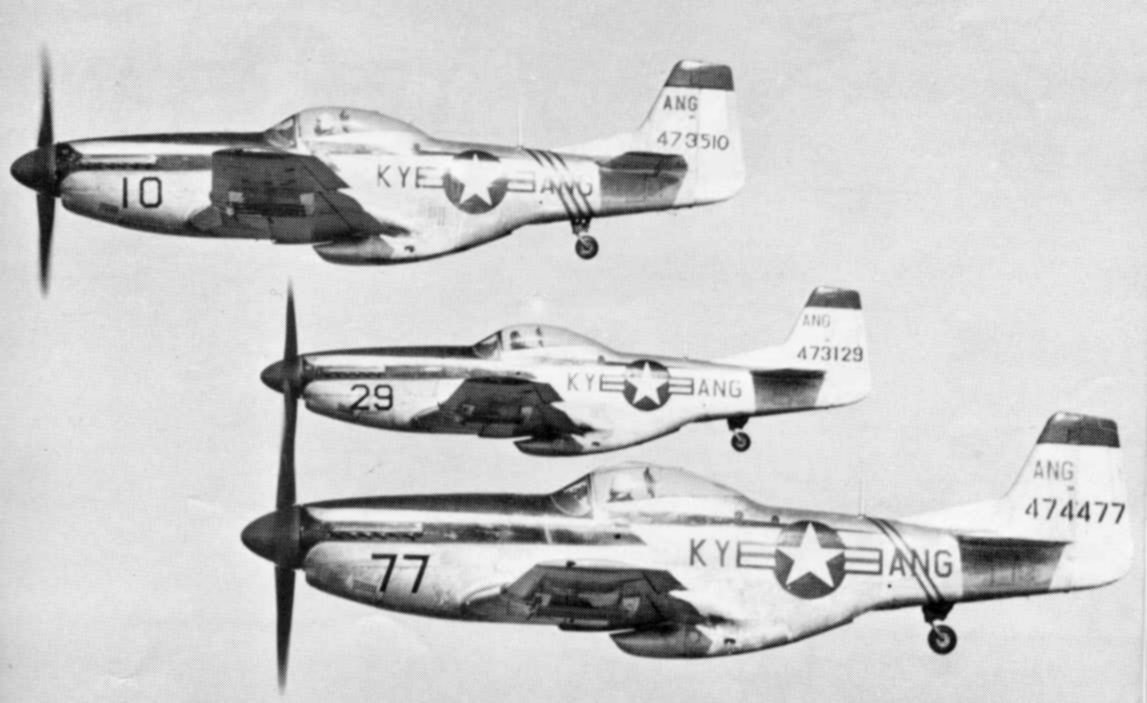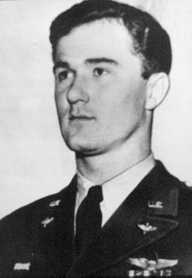 7 January 1948: Captain Thomas Francis Mantell, Jr., 165th Fighter Squadron, Kentucky Air National Guard, received a request from the control tower at Godman Army Air Field, Fort Knox, Kentucky, to investigate an Unidentified Object visible to the southwest.
The object was observed by four members of the control tower staff for approximately 35 minutes, from 2:20–2:55 p.m., Central Standard Time.¹
Prior to the sighting by Godman Tower personnel, there had been several telephone calls to the tower from the Kentucky Highway Patrol, reporting numerous sightings by people in two towns which were 147 miles (237 kilometers) apart. The reported sightings were of a large, circular craft, moving at high speed.
Captain Mantell led C Flight, four North American Aviation F-51D ² Mustang fighters, in pursuit. Two pilots broke off because of low fuel, and Mantell became separated from his wingman. He reported that he was climbing through 15,000 feet (4,572 meters) with a large metallic object in sight. He then disappeared. . . .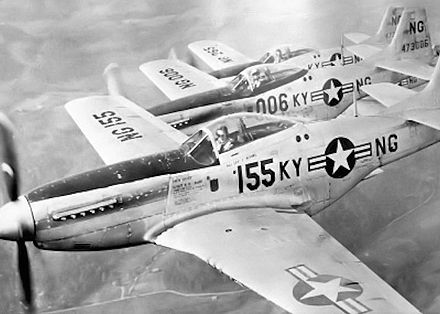 It is probable that Captain Mantell lost consciousness due to lack of oxygen. The wreckage of his fighter, F-51D-25-NA serial number 44-63869, was found 5 miles (8 kilometers) southwest of Franklin, Kentucky (Mantell's birthplace), which is about 90 miles (145 kilometers) south southwest of Godman Field. Captain Mantell was dead. His wrist watch was stopped at 3:18.
Occurring exactly 6 months after "The Roswell Incident" in New Mexico, "The Mantell Incident" was one of the most publicized "UFO" reports of the 1950s.
The Air Force determined that Mantell was either chasing Venus or a top secret Project Skyhook balloon, and that he had lost consciousness due to hypoxia. The fighter broke up in flight. Looking back with the advantage of 70 years hindsight, the most likely explanation for the Mantell UFO is the balloon.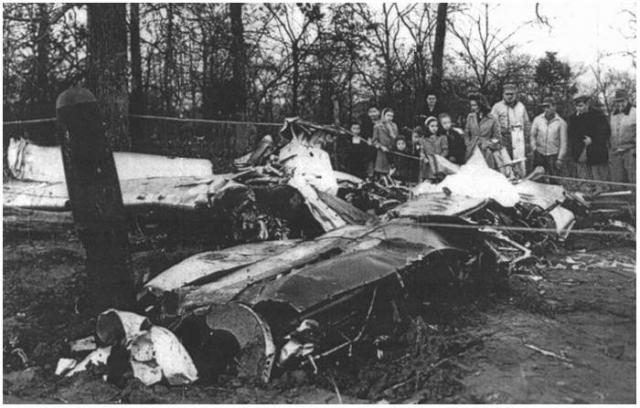 Thomas Francis Mantell, Jr., was born at Franklin, Kentucky, 30 June 1922. He was the first of three children of Thomas Francis Mantell, a traveling salesman, and Claire Morrison Mantell.³ He graduated from Louisville Male High School in 1942.
Mantell married Miss Margarete ("Peggy") Moseley. They would have two children, Thomas F. Mantell III, and Terry Lee Mantell.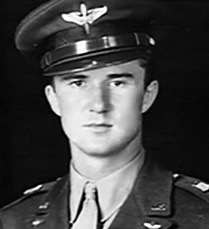 Mantell enlisted in the Air Corps, United States Army, as an aviation cadet, 16 June 1942. He graduated from flight school and was commissioned a second lieutenant, Army of the United States, 30 June 1943.
Lieutenant Mantell was assigned as a Douglas C-47 Skytrain pilot with the 96th Troop Carrier Squadron, 440th Troop Carrier Group, Ninth Air Force, at RAF Bottesford. He flew in combat operations during the Normandy Campaign, and is credited with 107:00 flight hours of actual combat time.
On D-Day, Mantell's Douglas C-47 Skytrain, Vulture's Delight, was assigned to tow a  Waco CG-4A glider into the invasion zone. The Skytrain was heavily damaged by anti-aircraft fire. He successfully completed his mission and flew the incredibly damaged airplane back to England. He was awarded the Distinguished Flying Cross for this mission, and the Air Medal with three oak leaf clusters (four awards) by the end of the war.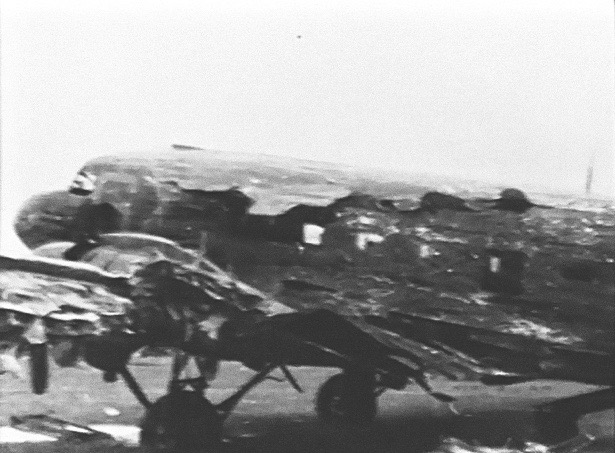 Following World War II, Captain Mantell joined the new 165th Fighter Squadron, 123 Fighter Group, Kentucky Air National Guard, which had been established 16 February 1947. The group was based at Standiford Field, Louisville (now, Louisville International Airport, SDF). Mantell transitioned from transport pilot to fighter pilot. In his civilian life, Mantell owned and operated a flight school in Louisville.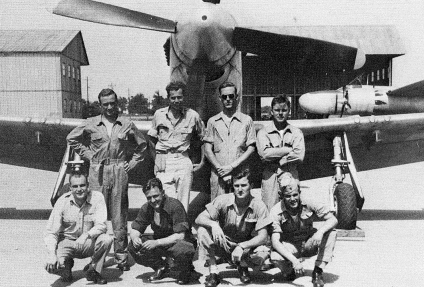 Captain Mantell had flown a total of 2,167:00 hours, with 1,608:00 as first pilot. The majority of his flight experience was in the twin-engine Douglas C-47 Skytrain transport. He had only 67:00 hours in the F-51 Mustang. Studies have shown that pilots—regardless of their total flight experience—who have less than 100 hours in type have the same accident rate as a student pilot.
There were unsubstantiated rumors that Mantell's body had been burned or had been riddled with bullets. The actual cause of his death was described by the medical examiner as "dislocation of the brain."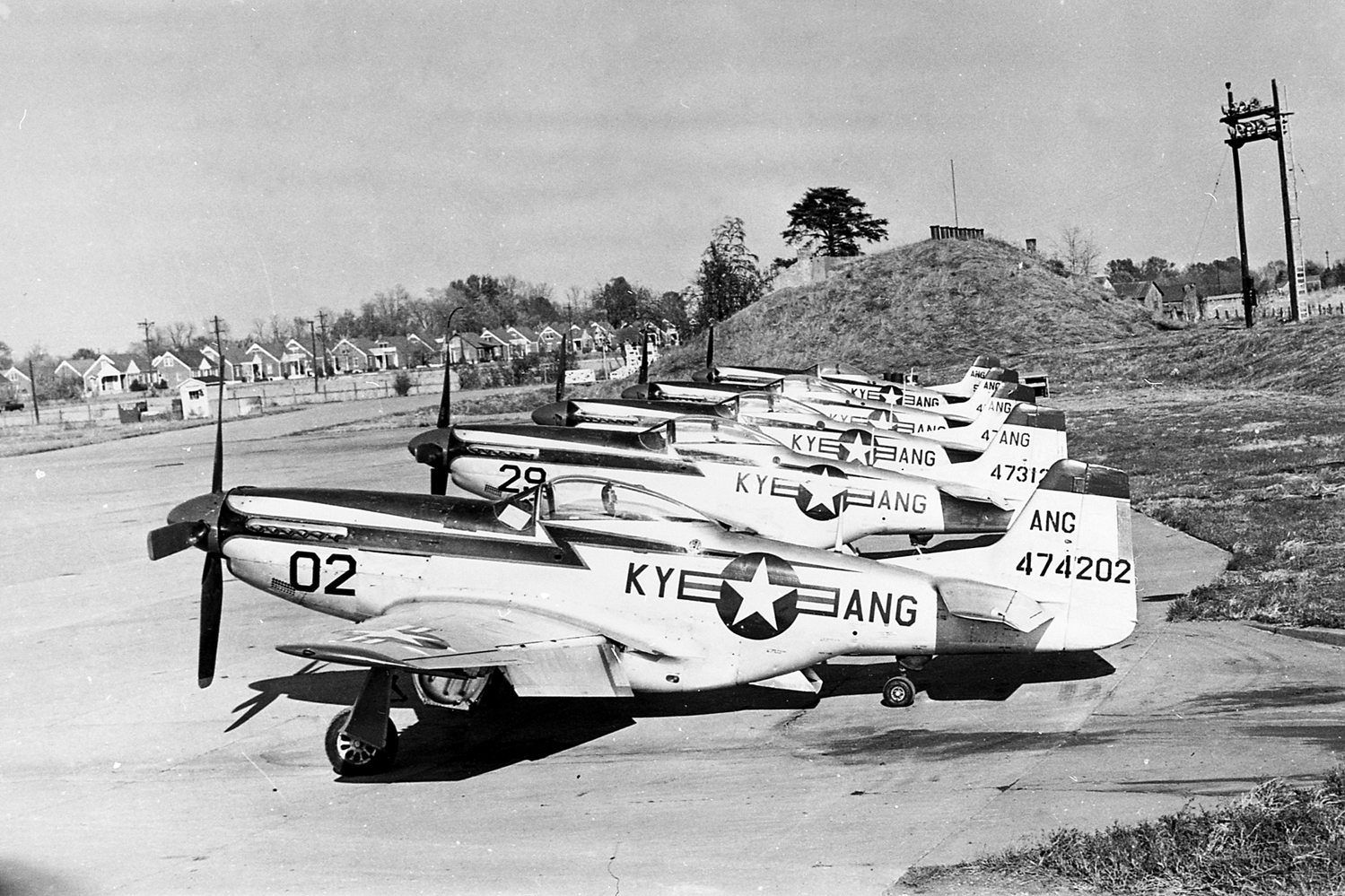 Captain Thomas Francis Mantell, Jr., was the first flight casualty of the Kentucky Air National Guard. He was buried at the Zachary Taylor National Cemetery in Louisville.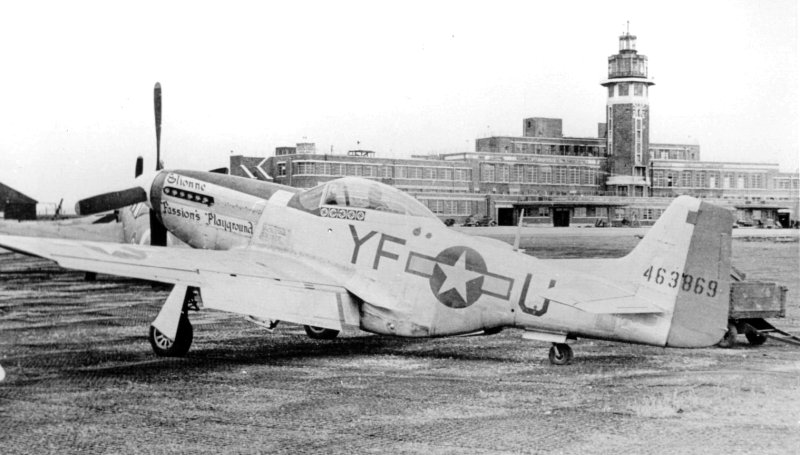 Captain Mantell's fighter, North American Aviation F-51D-25-NA Mustang 44-63869, was a very low-time airplane, having flown just 174 hours, 25 minutes, since it came off the assembly line at Inglewood, California, 15 December 1944. Its Packard V-1650-7 Merlin engine, serial number V-328830, had the same 174:25 TTSN.
¹ Sources vary as to the time of the incident, with some citing Central Standard Time, others Eastern Standard Time. The EST and CST boundary divides the state of Kentucky, which probably explains the discrepancies.
² The North American Aviation P-51 Mustang was redesignated F-51 by the U.S. Air Force in 1948.
³ Some sources identify Mantell's mother as Elsie Mary Morrison Mantell.
© 2019, Bryan R. Swopes