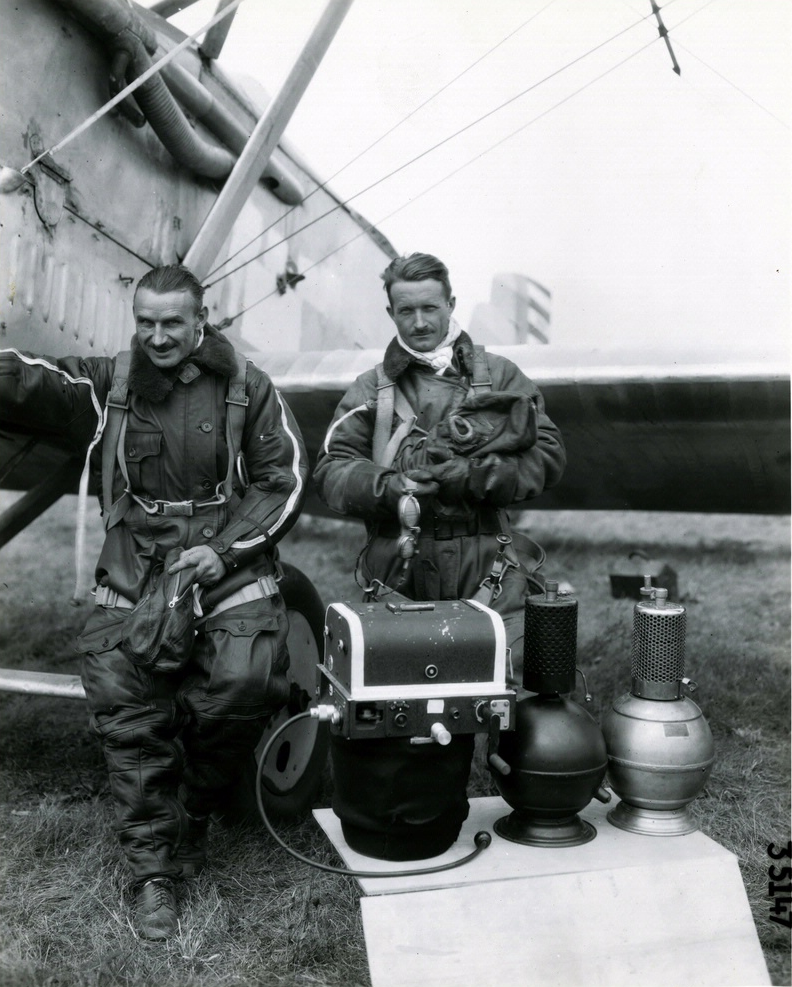 10 October 1928: Flying the Engineering Division-built XCO-5, serial number A.S. 23-1204, Captain St. Clair Streett and Captain Albert William Stevens, Air Service, United States Army, climbed toward the stratosphere.
Captain Stevens was experimenting with the use of photographs of the ground to determine the exact altitude of a high-flying aircraft. He asked Captain Streett to take him as high as possible. "Billy" Streett was Chief of the Flight Branch at Wright Field.
Dressed for the very cold temperatures, Streett and Stevens carried 6 quarts of liquid oxygen in two pressure flasks to breath as it "boiled off." They started breathing oxygen as they passed 15,000 feet (4,572 meters). Steven's Fairchild camera was electrically heated. Streett had taken the precaution of drilling two holes in the lenses of his goggles, should they frost over in the extreme cold they would encounter.
It took 1 hour, 40 minutes for the XCO-5 to reach its maximum altitude, which was indicated by the airplane's altimeter as 40,200 feet (12,253 meters).  The air temperature was -76 °F. (-60 °C.).
After Stevens finished his photography, the pair started their descent. Streett later said,
"Then a strange thing happened. As we coasted down on an easy glide, I started to slow down the motor so that we could keep on descending—and the motor wouldn't slow! My controls seemed to be stuck, By diving I managed to get down a few thousand feet, but the plane, with its propeller whirring away full tilt, wanted to climb right back up again.
"I didn't do any more diving. In a frail ship of this special type, the uprush of air in a forced dive would tear off the wings—and I didn't want to lose them up there! There I was, trying to shut the motor off, and I couldn't do it!"
—Popular Science Monthly, May 1929, Vol. 114, No. 5, Page 23 at Columns 2 and 3
After about twenty minutes, the airplane's fuel ran low and the engine lost power. It didn't stop completely, but unable to deliver sufficient power for the XCO-5 to maintain altitude, Streett and Stevens were no longer trapped in the stratosphere.
During the descent, frost formed on Streett's goggles and he was almost completely blinded, but he was able to something of the ground through the holes in his goggles.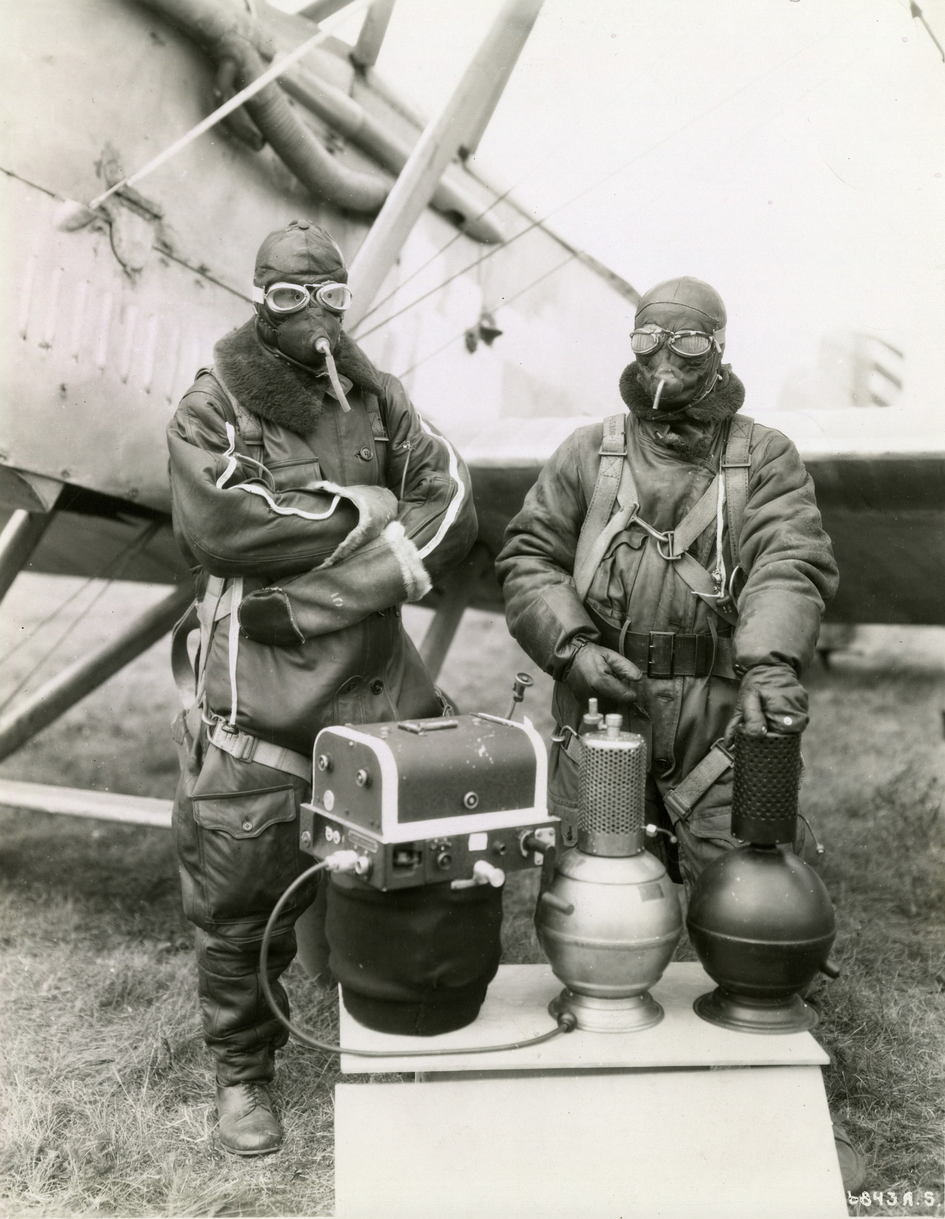 Streett landed in an open field near Rushville, Indiana. They borrowed some gasoline and flew back to Wright Field.
When flight data was analyzed using the Fédération Aéronautique Internationale's Standard Atmosphere Method, Streett and Stevens' maximum altitude was calculated at 37,854 feet (11,538 meters). Steven's photographic method gave a value of 39,250 feet (11,963 meters). The United States' National Bureau of Standards used a National Advisory Committee for Aeronautics (NACA) formula to analyze data from two barographs which were on board the XCO-5. This method included temperature and pressure of the atmosphere throughout the climb. The altitude was calculated at 39,606 feet (12,072 meters). This is probably the most accurate determination.
This flight did not set an FAI record. It was approximately 1,000 feet (305 meters) lower than the existing record, and the airplane did not return to the point of departure, a record requirement.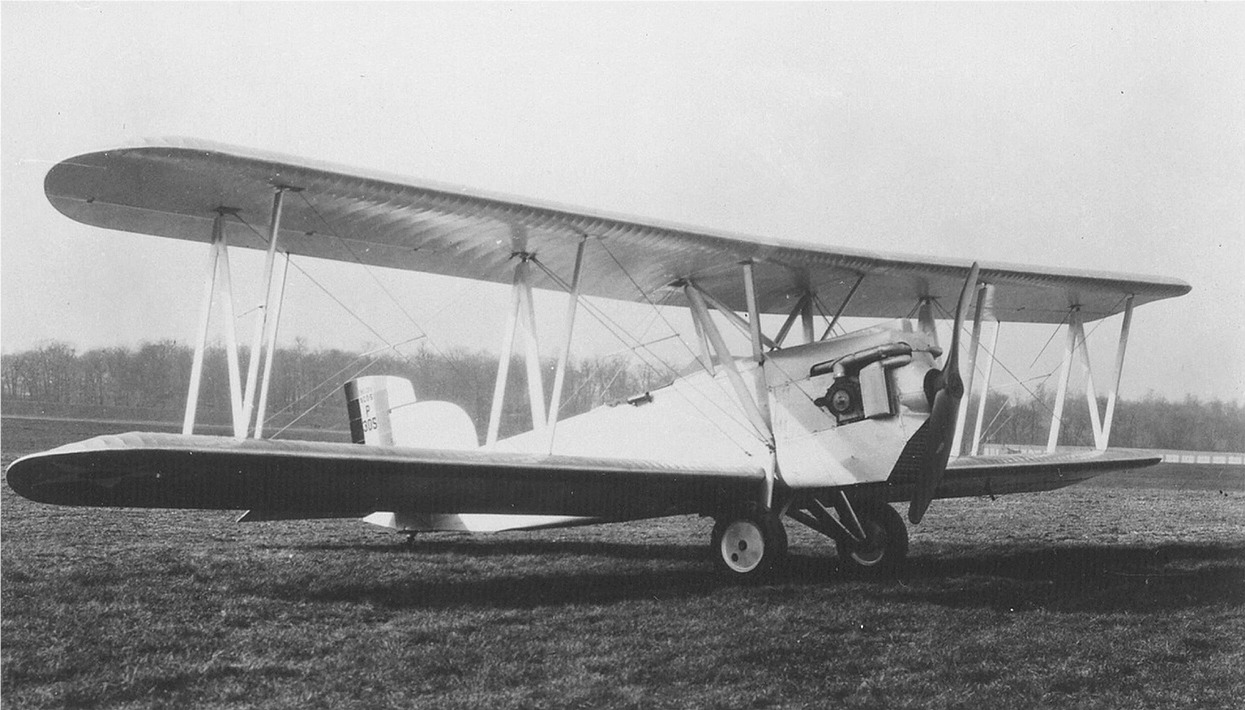 The XCO-5 was a prototype two-place, single-engine, two-bay biplane, a reconnaissance and observation variant of the prototype TP-1 fighter. It was built by the Engineering Division at McCook Field. The airplane carried project number P305 painted on its rudder.
The XCO-5's wings were built specifically for flight at very high altitude, using an airfoil (Joukowsky StAe-27A) designed by Professor Nikolay Yegorovich Zhukovsky (Николай Егорович Жуковский), head of the Central AeroHydroDynamics Institute (TsAGI) at Kachino, Russia. The two-bay biplane wings had a significant vertical gap and longitudinal stagger. The lifting surface was 600 square feet (55.742 square meters). The upper wing had dihedral while the lower wing did not.
The XCO-5 was 25 feet, 1 inch long (7.645 meters) with a wingspan of 36 feet (10.973 meters) and height of 10 feet (3.048 meters). The empty weight was 2,748 pounds (1,246 kilograms) and the gross weight was 4,363 pounds (1,979 kilograms).
The XCO-5 was powered by a water-cooled, 1,649.34-cubic-inch-displacement (27.028 liter) Liberty 12 single overhead cam (SOHC) 45° V-12 engine. It produced 408 horsepower at 1,800 r.p.m. The L-12 is a right-hand tractor, direct-drive engine. As installed on A.S. 23-1204, the engine turned a specially-designed, two-bladed, ground-adjustable, forged aluminum propeller with a diameter of 10 feet, 6 inches (3.200 meters). The Liberty 12 was 67.375 inches (1.711 meters) long, 27.0 inches (0.686 meters) wide, and 41.5 inches (1.054 meters) high. It weighed 844 pounds (383 kilograms). Also installed on A.S. 23-1204 was an experimental supercharger.
The XCO-5 has a maximum of 129 miles per hour (208 kilometers per hour) at Sea Level, and a cruise speed of 117 miles per hour (188 kilometers per hour).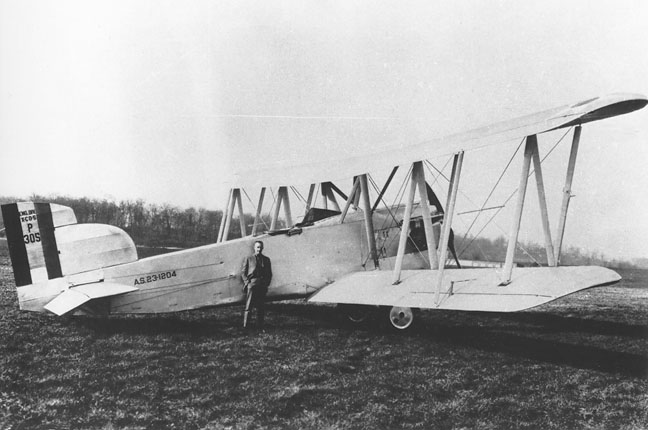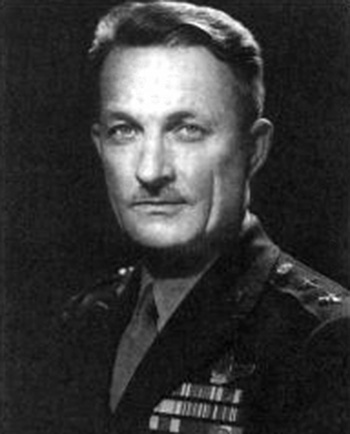 St. Clair Streett was born at Washington, District of Columbia, United States of America, 6 October 1893. He was one of two children of Shadrach Watkins Streett, an owner of race horses, and Lydia Ann Coggins Streett.
Bill Streett enlisted as a sergeant, Signal Enlisted Reserve Corps, 8 December 1916. On completion of flight training, Sergeant Streett was commissioned as a first lieutenant, Aviation Section, Signal Officers Reserve Corps, 27 September 1917
Lieutenant Streett was assigned to active duty and sent to Issoudun, France, where he took charge of flight training, before joining the Fifth Pursuit Group at St. Remy, France. He was awarded the the Army Wound Ribbon and the Purple Heart. Following occupation duty in Germany, Lieutenant Streett returned to the United States in August 1919.
Streett was promoted to captain, Air Service, United States Army, 6 November 1918. He commanded the Alaskan Flying Expedition, 15 July to 20 October 1920. He flew one of four DH-4 biplanes from New York to Nome, Alaska, and return, covering a distance of 9,000 miles (14,484 kilometers). Streett and the other officers and enlisted men were awarded the Distinguished Flying Cross and the Mackay Trophy.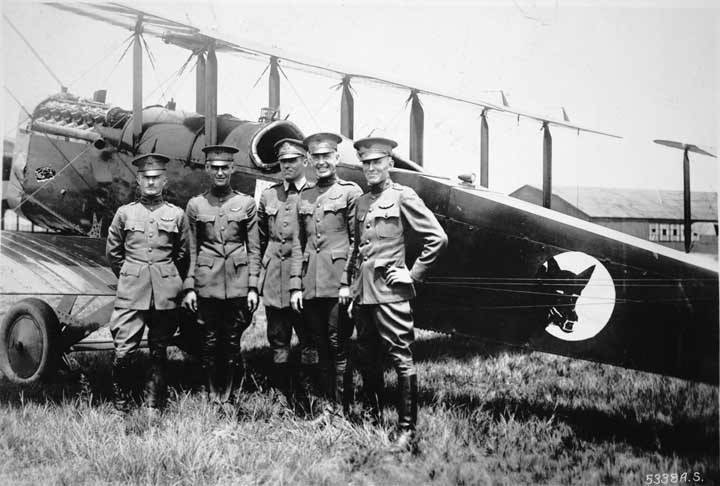 Captain Streett's commission was vacated 28 October 1920, and he received a commission as a first lieutenant, Air Service, retroactive to 1 July 1920.
First Lieutenant St. Clair Streett married Miss Mary Lois Williams at Washington, D.C., 17 January 1922. They would have a son, St. Clair Streett, Jr. (United States Military Academy, Class of 1949).
He was again promoted to captain, 28 January 1921. Captain Streett was then discharged and appointed first lieutenant, 18 November 1922. Lieutenant Streett attended the Air Service Tactical School, Langley, Virginia, in 1926. On 31 August 1927, Streett was promoted to captain, Air Corps, United States Army.
Captain Streett was appointed chief of the Flying Branch, Wright Field, Ohio, in March 1928.
Captain Streett attended the Chemical Warfare School Field Officers' Course and the Command and General Staff School, Fort Leavenworth, Kansas, from August 1932 to June 1934, and then went to the two-month Chemical Warfare School Field Officers' Course, completed in August 1934. Captain Streett next was assigned to the Army War College, graduating in June 1935.
Streett was assigned to the War Plans Division of the General Staff, War Department, from 20 August 1935 to 26 June 1939. On 16 June 1936 Streett was promoted to (temporary) major. This rank was made permanent 1 December 1936.
Major Streett was promoted to (temporary) lieutenant colonel 1 March 1940. This rank became permanent 9 October 1940. He attended the Naval War College Senior Course at Newport, Rhode Island, in 1940.
Lieutenant Colonel Streett took command of the 11th Bombardment Group, Hickham Field, Hawaii in July 1940.
He was promoted to colonel 15 July 1941. He served in the War Plans Division of the War Department under Major General Dwight D. Eisenhower.
Brigadier General Streett was assistant to Lieutenant General Henry H. Arnold, Commanding General, U.S. Army Air Corps.
Major General Streett commanded Third Air Force at Tampa, Florida, 12 December 1942  to 11 September 1943, then assumed command of the Second Air Force at Colorado Springs, Colorado.
Major General Streett commanded Thirteenth Air Force in the Solomon Islands, New Guinea, Indonesia, and the Philippine Islands, from 15 June 1944 to 19 February 1945.
In 1946, Major General Streett became deputy commander, Continental Air Forces, Bolling Field. This soon became the Strategic Air Command.
Streett served in several staff positions before being assigned as deputy commander, Air Materiel Command, Wright-Patterson Air Force Base, in October 1949. He retired from the United States Air Force in February 1952.
During his military career, Major General St. Clair Streett had been awarded the Distinguished Service Medal with two bronze oak leaf clusters (three awards); Legion of Merit; Distinguished Flying Cross; Purple Heart; Air Medal (one of the first to be awarded); World War I Victory Medal with three campaign stars; Army of Occupation of Germany Medal; American Defense Service Medal with one service star; American Campaign Medal with one service star; Asiatic-Pacific Campaign Medal with three campaign stars; World War II Victory Medal; National Defense Service Medal; Air Force Longevity Service Award with one silver and two bronze oak leaf clusters (seven awards); and the Army Wound Ribbon.
Major General Streett died at Andrews Air Force Base, Maryland, 28 September 1970, at the age of 76 years. He was buried at the Arlington National Cemetery.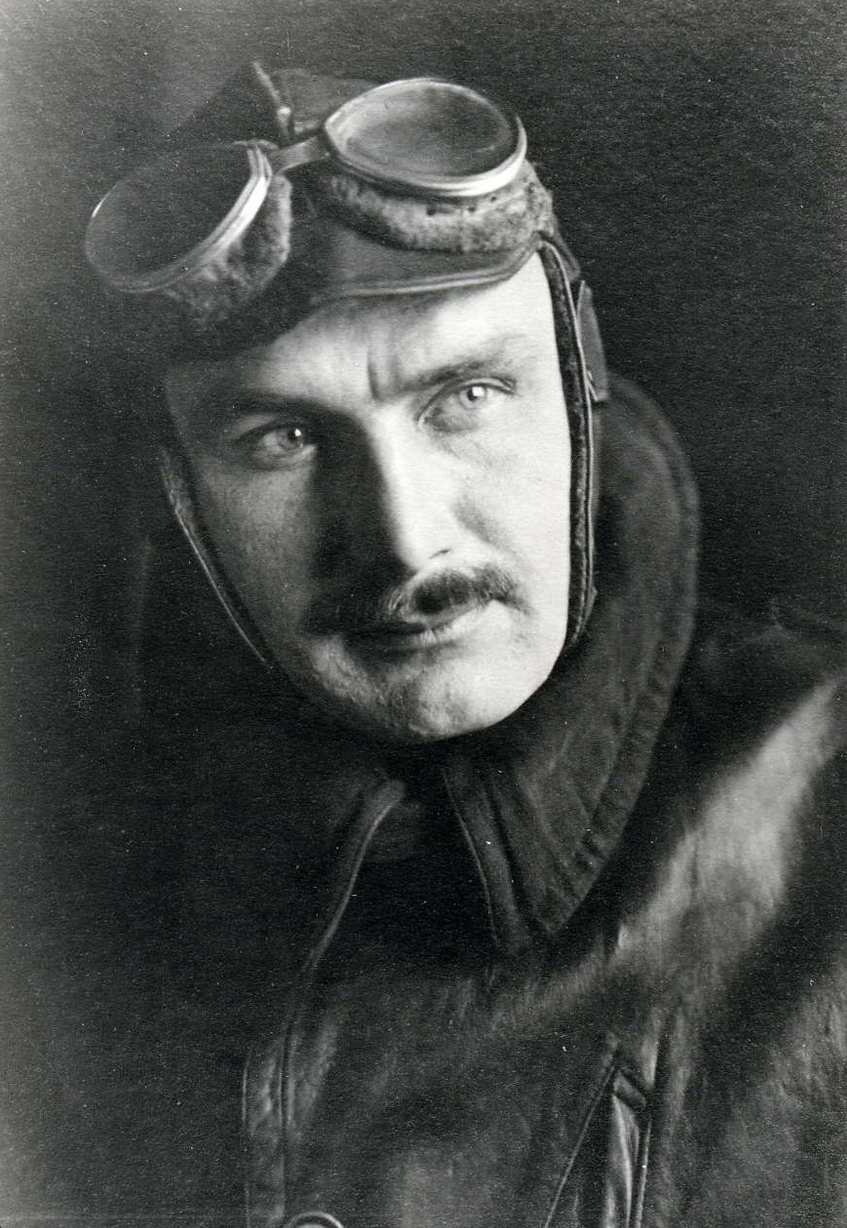 Albert William Stevens (née Whitten) was born at Belfast, Maine, 13 March 1886, the third child of Nathan Whitten, a blacksmith and wagon builder, and Alice C. Anderson Whitten. His mother died of "consumption" (tuberculosis) when Albert was five months old. He was adopted by Albert J. Stevens and Nancy M. Trimble Stevens, and his name became Albert William Stevens.
Stevens attended the University of Maine at Orono, Maine. He graduated in 1907 with a Bachelor of Science (B.S.) degree. He earned a Masters degree in electrical engineering  from the university in 1909. He then worked as a mining engineer in Alaska, California, Idaho and Montana.
Stevens enlisted in the U.S. Air Service in Idaho, January 1918. Because of his experience in photography, which began while he was in college, Stevens was assigned to the Aerial Photography School at Cornell University, Ithaca, New York. He was commissioned as a First Lieutenant, Aviation Section, Signal Officers Reserve Corps, 18 February 1918. Sent to Europe as part of the American Expeditionary Forces, Stevens commanded the 6th Photo Section, 88th Aero Squadron. He flew in the major campaigns of the final months of the War.
He was an acknowledged expert in the field of aerial photography. Lieutenant Stevens was wounded and awarded the Purple Heart. Following the War, he was promoted to Captain, Air Service, 21 February 1919. His commission was vacated 18 September 1920, and he was appointed a Captain, Air Service, United States Army, effective 1 July 1920. On 18 November 1922, Stevens was discharged as a Captain, then re-appointed a First Lieutenant.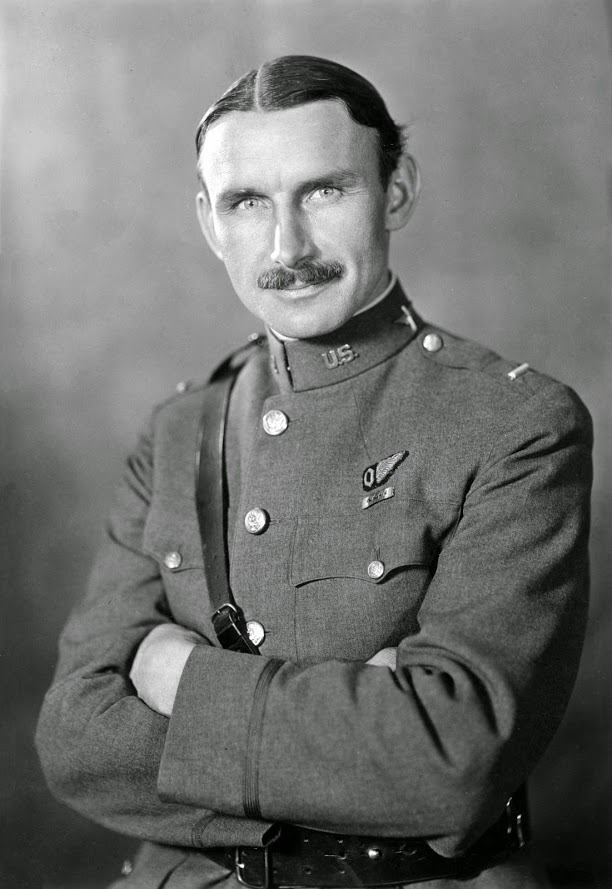 He returned to the rank of Captain, Air Service, 10 February 1925. On 16 June 1936, he was promoted to the temporary rank of Major, Air Corps, United States Army. This rank became permanent 12 June 1939. In 1940, Major Stevens took command of the Photographer's School, Air Corps Technical School, Lowry Field, Denver, Colorado. He advanced to the temporary rank of Lieutenant Colonel, 30 December 1940. This rank became permanent 15 October 1941. He was retired from the Air Corps for medical reasons, 30 April 1942.
Stevens married Ruth E. Fischer at Rockville, Maryland, 8 August 1938.
Captain Stevens was a pioneering aviator, balloonist and aerial photographer. Using infrared film, he made the first photograph that showed the curvature of the Earth. He also took the first photograph of the Moon's shadow on the surface of the Earth during an eclipse.
Stevens made a series of high-altitude balloon flights, and on 11 November 1935 he and Captain Orvil A. Anderson ascended to 22,066 meters (72,395 feet) aboard Explorer II, establishing a Fédération Aéronautique Internationale (FAI) world record.¹
Lieutenant Colonel Andrew William Stevens, United States Army Air Forces (Retired), died at Redwood City, California, 26 March 1949, at the age of 63 years. He is buried at the Golden Gate National Cemetery, San Bruno, California.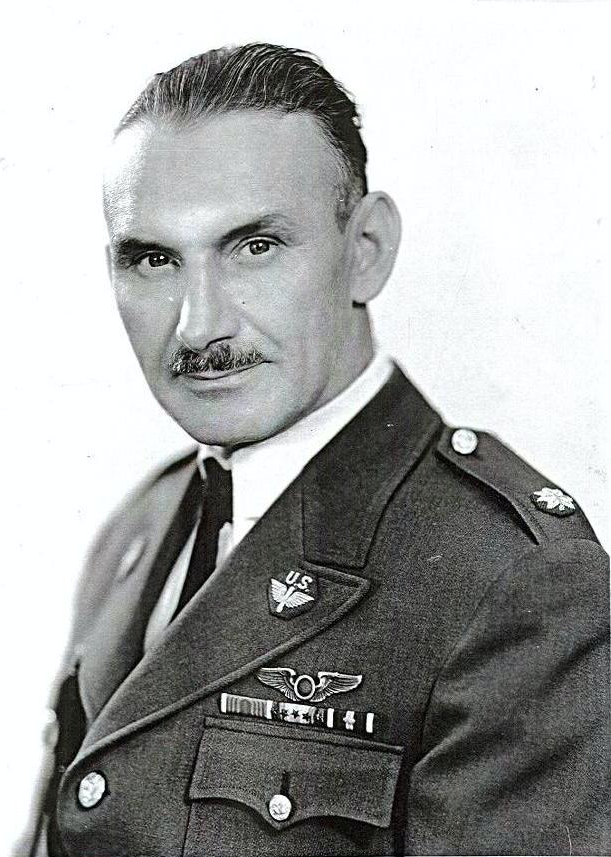 ¹ FAI Record File Number 10654
© 2017, Bryan R. Swopes