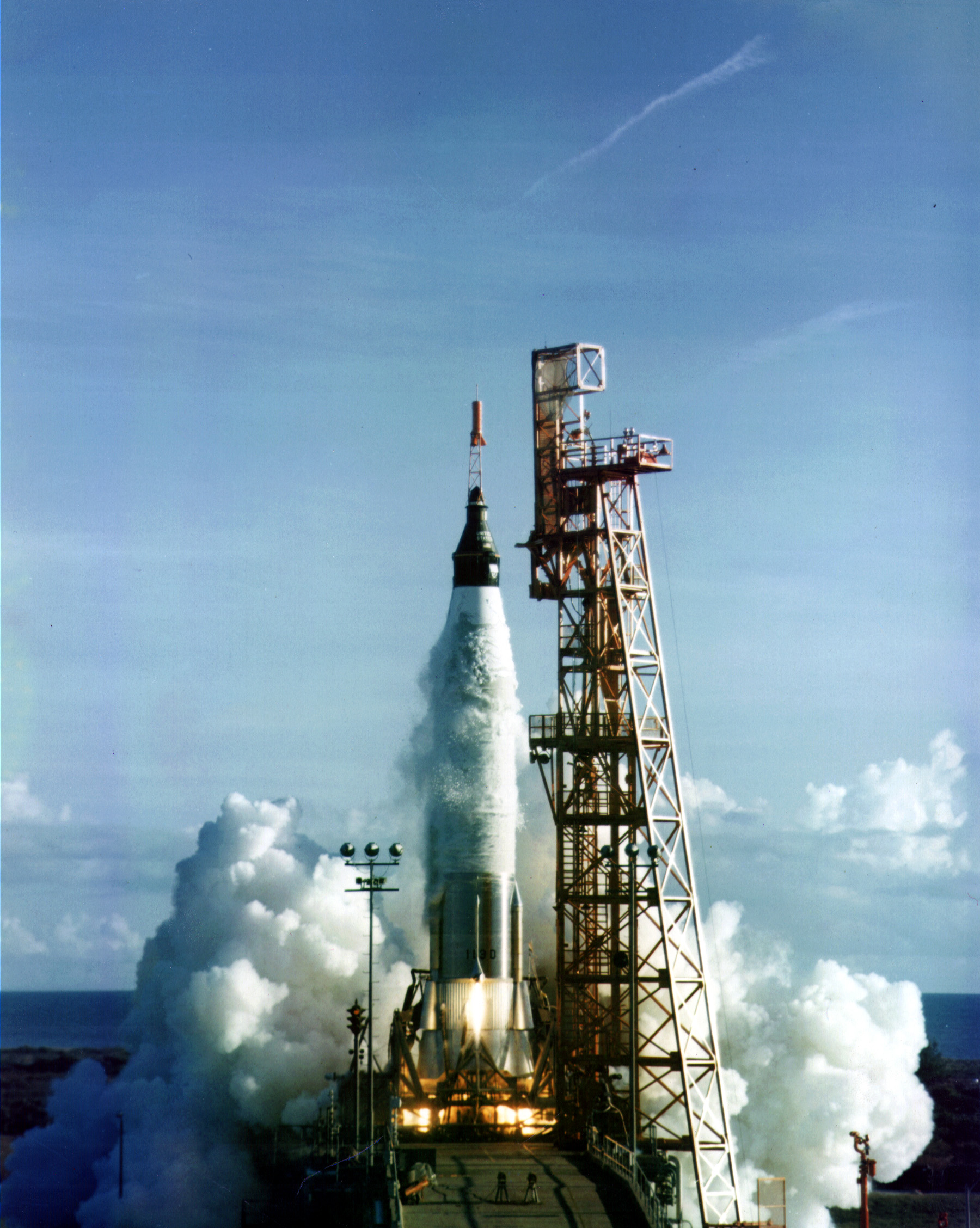 3 October 1962: At 08:15:12 a.m., Eastern Daylight Time, Commander Walter M. Schirra, Jr., United States Navy, lifted off from Cape Canaveral, Florida, aboard Mercury-Atlas 8 (MA-8). This was the fifth U.S. manned space flight and the third orbital flight.
The spacecraft, which Wally Schirra had named Sigma 7, entered a low earth orbit with the altitude varying from 84 nautical miles (156 kilometers) to 154 nautical miles (285 kilometers). Each orbit took 88 minutes, 54.6 seconds.
Schirra experimented with the manual flight control systems, took photographs and performed spatial-orientation exercises. There were some difficulties with the cooling of his pressure suit.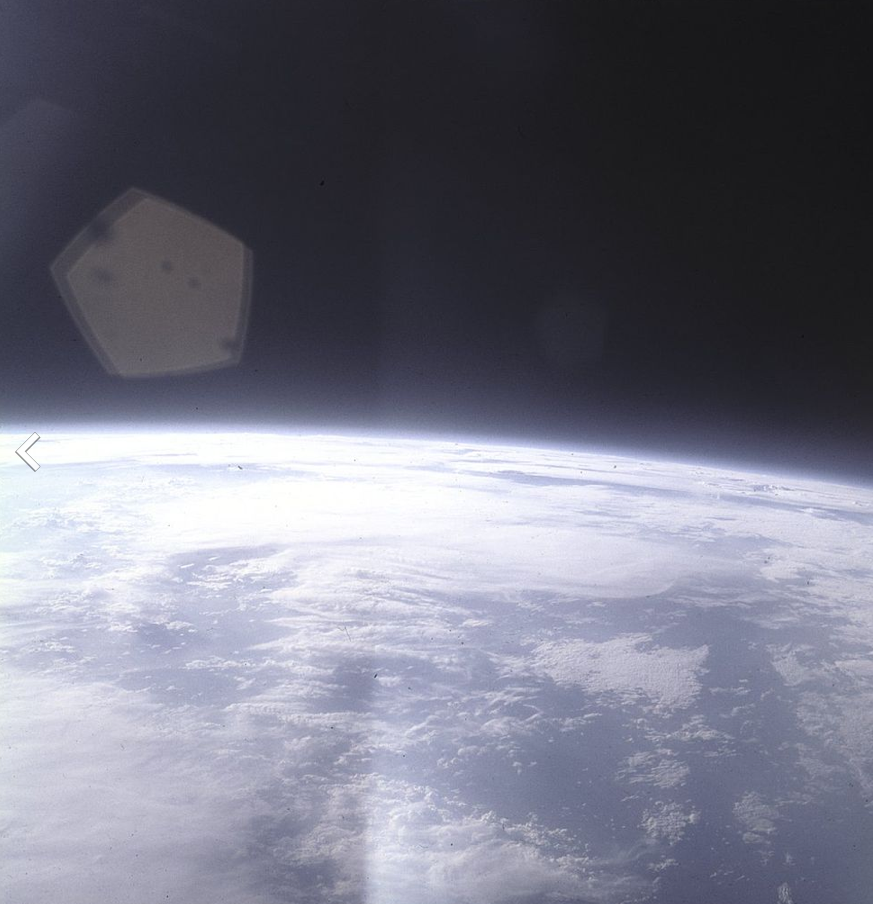 Sigma 7 completed 6 orbits and at T+8:52, fired the retro rockets to de-orbit. Reentry was successful and Sigma 7 landed within 0.5 miles (0.8 kilometers) of the primary recovery ship, the aircraft carrier USS Kearsarge (CVS-33).
The Mercury spacecraft, named Sigma 7, was built by McDonnell Aircraft Corporation, St. Louis, Missouri. It was the 16th Mercury capsule built. Designed to carry one pilot, it could be controlled in pitch, roll and yaw by thrusters. It was 9 feet, 7.72 inches (2.939 meters) long, and, bell-shaped, had a maximum diameter of 6 feet, 2.5 inches (1.885 meters). The spacecraft weighed 2,700 pounds (1,224.7 kilograms) at launch.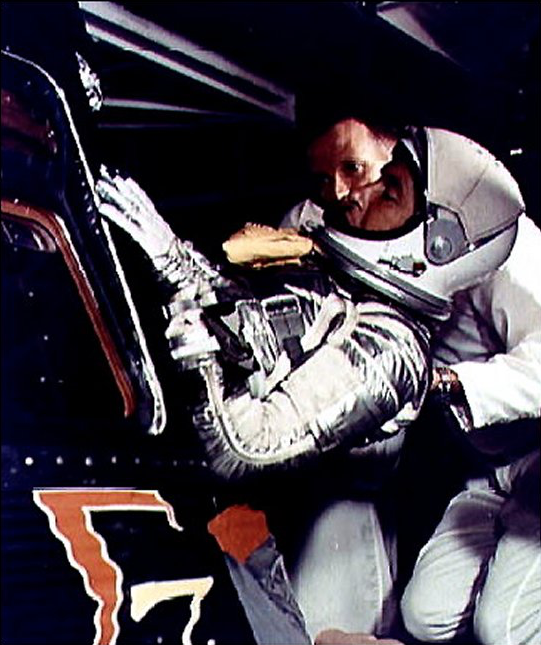 The rocket, a "1-½ stage", liquid-fueled Atlas LV-3B, number 113-D, was built by Convair at San Diego, California. It was developed from a U.S. Air Force Atlas D intercontinental ballistic missile, modified for use as a "man-rated" orbital launch vehicle. The LV-3B was 94.3 feet (28.7 meters) tall with a maximum diameter of 10.0 feet (3.05 meters). When ready for launch it weighed 260,000 pounds (120,000 kilograms) and could place a 1,360 kilogram payload into Low Earth orbit. The Atlas' three engines were built by the Rocketdyne Division of North American Aviation, Canoga Park, California. The XLR89 booster had two 150,000 pound thrust chambers, and the LR105 sustainer engine produced 57,000 pounds of thrust. The rocket was fueled by a highly-refined kerosene, RP-1, with liquid oxygen as the oxidizer.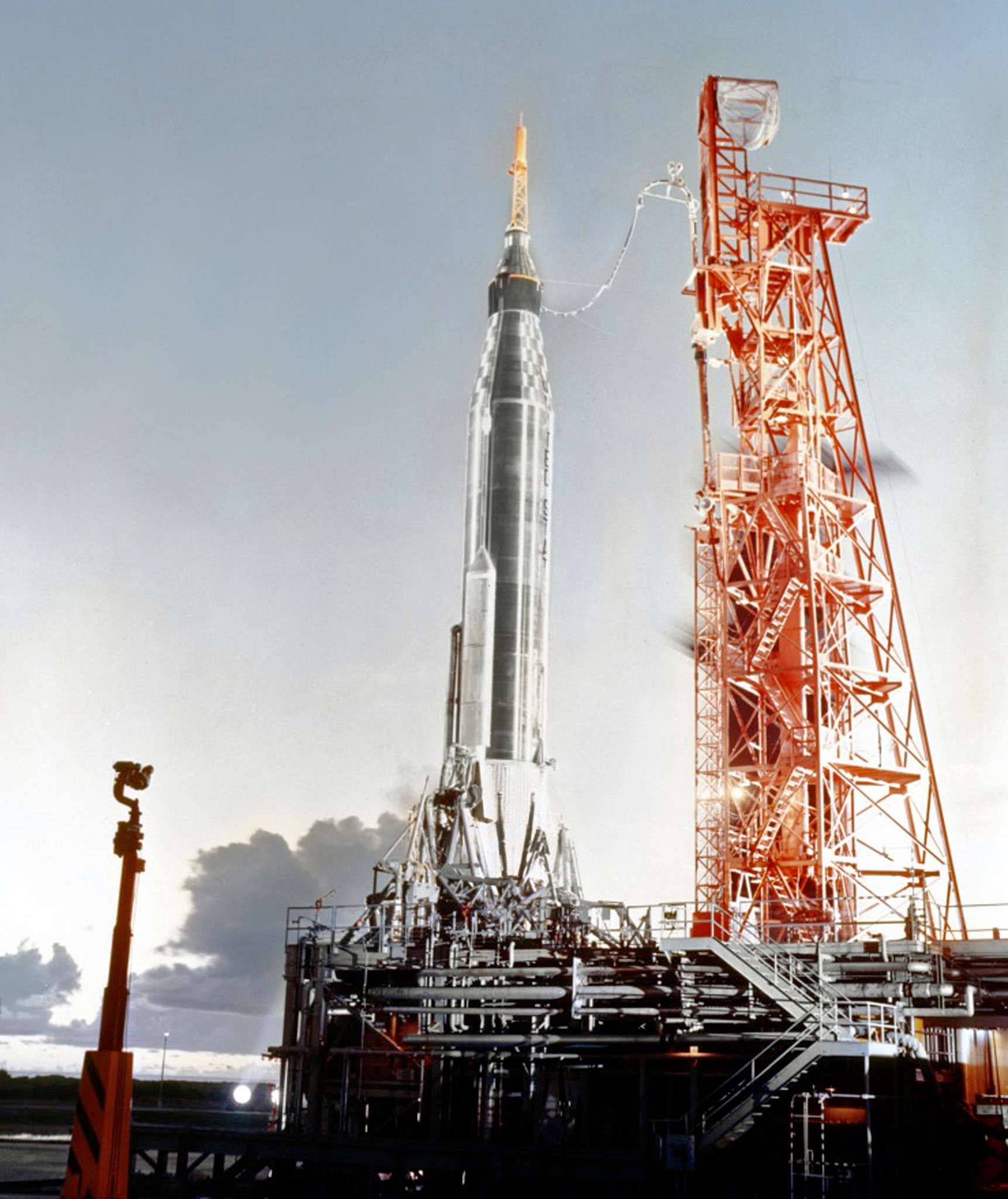 Schirra was the first astronaut to wear an Omega Speedmaster chronograph during spaceflight. (Omega Reference No. CK2998). The Speedmaster would become flight-qualified by NASA, and the Speedmaster Professional is known as the "moon watch."
Sigma 7 is on display at the U.S. Astronaut Hall of Fame, Titusville, Florida, near the Kennedy Space Center.
Wally Schirra commanded Gemini 6A during the orbital rendezvous mission with Gemini 7. Later, he commanded Apollo 7, an 11-day orbital mission.
Captain Walter M. Schirra, Jr., USN, died 3 May 2007 at the age of 84 years.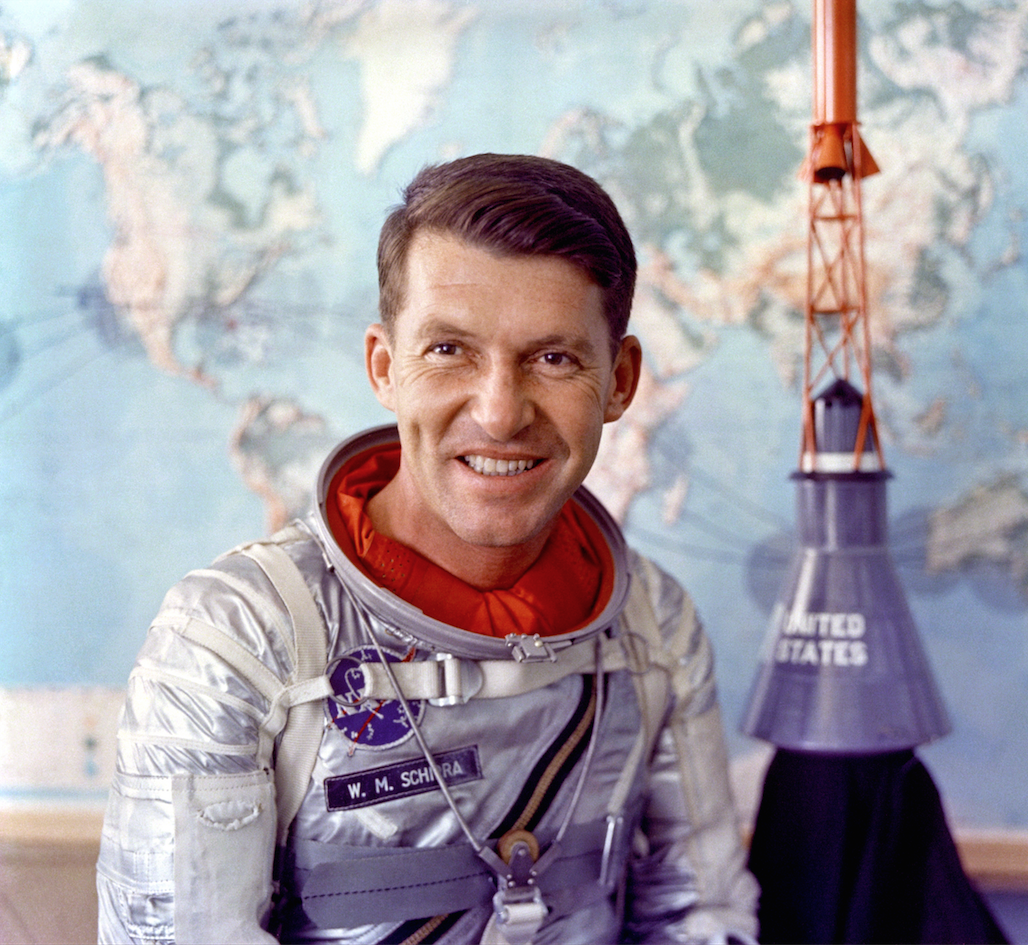 © 2015, Bryan R. Swopes