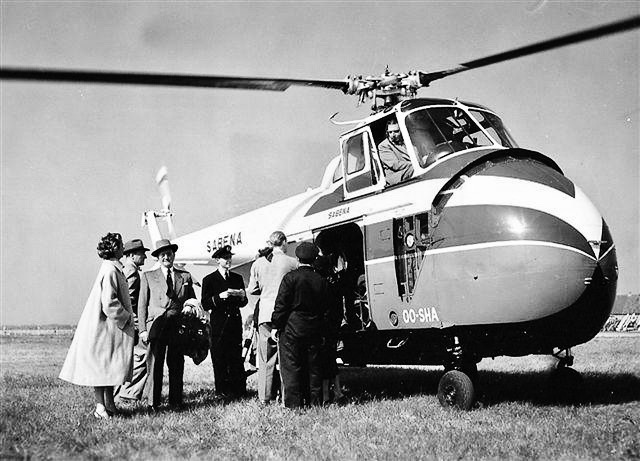 1 September 1953: The Societé Anonyme Belge d'Exploitation de la Navigation Aérienne (SABENA) began scheduled international passenger service flying the Sikorsky S-55, a commercial variant of the military H-19 Chickasaw. It carried 8 passengers.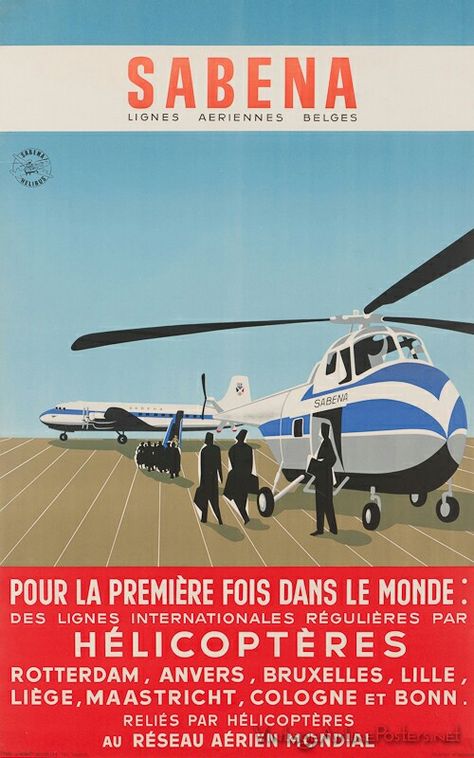 For just over three years, since 21 August 1950, SABENA flew mail from Brussels to Antwerp, Liege, and Turnhout using the Bell Model 47D-1.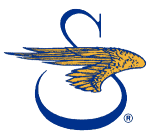 The Sikorsky Aircraft Corporation S-55 was flown by two pilots in a cockpit placed above the passenger/cargo compartment. The most significant design feature was moving the engine from directly under the main rotor mast to a position at the front of the helicopter. Installed at an angle, the engine turned a drive shaft to the main transmission. The engine placement provided space for a large passenger/cargo compartment. The aircraft was constructed primarily of aluminum and magnesium, with all-metal main and tail rotor blades.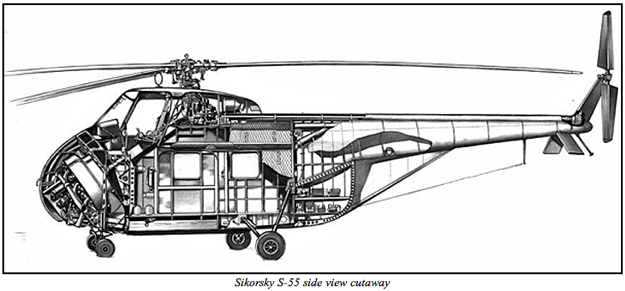 The main rotor consisted of three fully-articulated blades built of hollow aluminum spars, with aluminum ribs. Spaces within the blade were filled with an aluminum honeycomb. The blades were covered with aluminum sheet. The hollow spars were filled with nitrogen pressurized to 10 p.s.i. An indicator at the blade root would change color if nitrogen was released, giving pilots and mechanics an indication that the spar had developed a crack or was otherwise compromised. The main rotor turned counter-clockwise as seen from above. (The advancing blade is on the helicopter's right.) Flapping hinges were offset from the main rotor axis, giving greater control response and effectiveness. The tail rotor was mounted on the helicopter's left side in a pusher configuration. It turned clockwise as seen from the helicopter's left.
The helicopter's fuselage was 42 feet, 2 inches (12.852 meters). The main rotor had a diameter of 53 feet (16.154 meters) and tail rotor diameter was 8 feet, 8 inches (2.642 meters), giving the helicopter an overall length with all blades turning of 62 feet, 2 inches (18.948 meters). It was 13 feet, 4 inches (4.064 meters) high. The landing gear tread was 11 feet (3.353 meters). The S-55 had an empty weight of 4,785 pounds (2,173 kilograms) and maximum takeoff weight of 7,200 pounds (3,271 kilograms). Fuel capacity was 185 gallons (698 liters).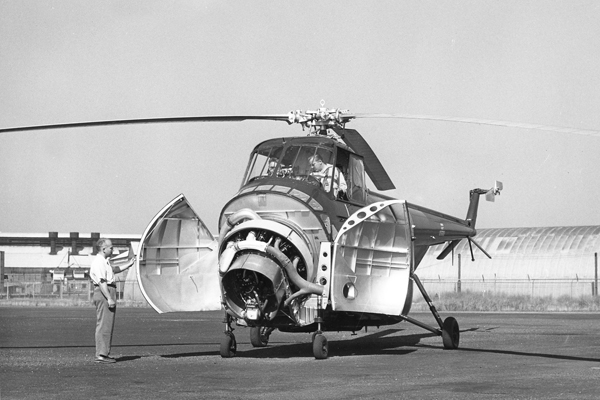 The S-55 commercial helicopter and H-19/HO4S and HRS military variants used an air-cooled, supercharged 1,301.868-cubic-inch (21.334 liter) Wright Aeronautical Division 871C7BA1 Cyclone 7 (R-1300-3) 7-cylinder radial engine with a compression ratio of 6.2:1. The R-1300-3 was also a direct-drive engine, but was rated at 700 horsepower at 2,400 r.p.m., Normal Power, and 800 horsepower at 2,600 r.p.m. for Take-Off. The engine incorporated a large cooling fan to circulate air around the cylinders. The R-1300-3 was 49.68 inches (1.261 meters) long, 50.45 inches (1.281 meters) in diameter, and weighed 1,080 pounds (490 kilograms).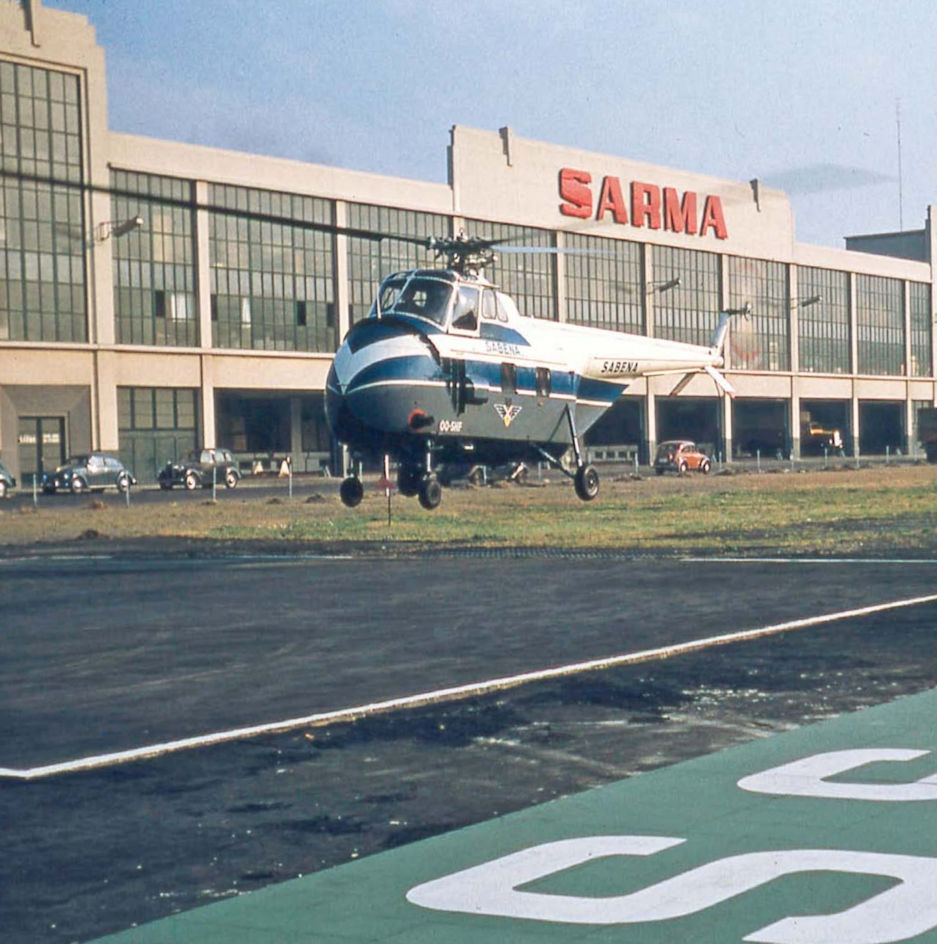 © 2018, Bryan R. Swopes