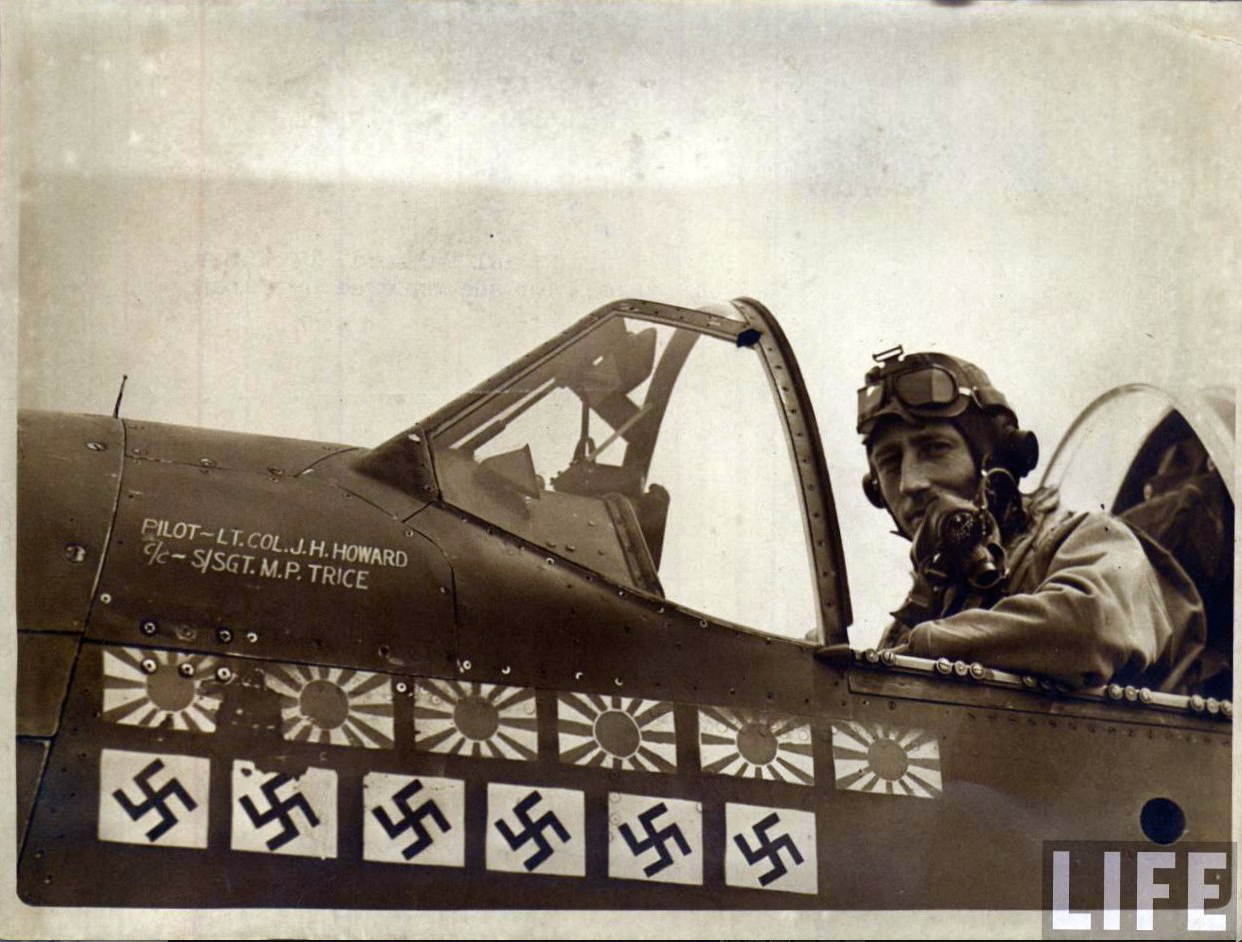 11 January 1944: Major James Howell Howard, United States Army Air Corps, commander of the 356th Fighter Squadron, 354th Fighter Group, Eighth Air Force, led fifty P-51 Mustangs escorting three divisions of B-17 Flying Fortresses on a raid against Oschersleben, near Berlin, Germany.
As defending Luftwaffe fighters attacked the bomber formation, Major Howard immediately went on the offensive and shot down a twin engine Messerschmitt Bf 110 Zerstörer long range fighter. During this engagement, Howard became separated from his group, but climbed back to rejoin the bombers.
More that thirty German fighters were attacking the bomber formation and Major Howard single-handedly went after them. He shot down two, probably shot down two more and damaged at least another two. He continued to attack even after he had run out of ammunition and was low on fuel. When he returned to his base at RAF Boxted, his Mustang had just a single bullet hole.
For this action, James H. Howard was awarded the Medal of Honor. He is the only fighter pilot in the European Theater to have received this Medal.
Before the War, Howard had been a U.S. Navy pilot assigned to the aircraft carrier USS Enterprise (CV-6) at Pearl Harbor. In June 1941 he went to join the American Volunteer Group—the "Flying Tigers"—in Burma, fighting for the Chinese against Japan. He is credited for shooting down 6 Japanese fighters.
The Mustang that he flew on the day of the aerial battle near Oschersleben was named DING HAO! and carried the victory marks from those AVG actions. ["Ding Hao" was an American World War II slang term based on the Chinese phrase, 挺好的 ("ting hao de") meaning "very good" or "number one".]
MEDAL OF HONOR
HOWARD, JAMES H.
(Air Mission)
Rank and organization: Lieutenant Colonel, U.S. Army Air Corps.
Place and date: Over Oschersleben, Germany, 11 January 1944.
Entered service at: St. Louis, Missouri. Birth: Canton, China.
G.O. No.: 45, 5 June 1944.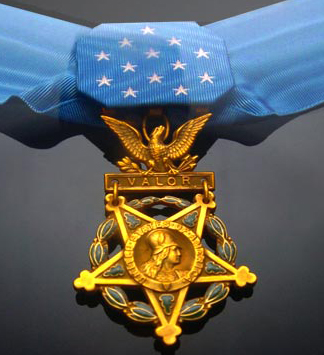 Citation: For conspicuous gallantry and intrepidity above and beyond the call of duty in action with the enemy near Oschersleben, Germany on 11 January 1944. On that day Colonel Howard was the leader of a group of P-51 aircraft providing support for a heavy bomber formation on a long range mission deep in enemy territory. As Colonel Howard's group met the bombers in the target area the bomber force was attacked by numerous enemy fighters. Colonel Howard, with his group, and at once engaged the enemy and himself destroyed a German ME-110. As a result of this attack Colonel Howard lost contact with his group and at once returned to the level of the bomber formation. He then saw that the bombers were being heavily attacked by enemy planes and that no other friendly fighters were at hand. While Colonel Howard could have waited to attempt to assemble his group before engaging the enemy, he chose instead to attack single-handed a formation of more than thirty German airplanes. With utter disregard for his own safety he immediately pressed home determined attacks for some thirty minutes, during which time he destroyed three enemy airplanes and probably destroyed and damaged others. Toward the end of this engagement three of his guns went out of action and his fuel supply was becoming dangerously low. Despite these handicaps and the almost insuperable odds against him, Colonel Howard continued his aggressive action in an attempt to protect the bombers from the numerous fighters. His skill, courage, and intrepidity on this occasion set an example of heroism which will be an inspiration to the Armed Forces of the United States.
The P-51B was the first version of the North American Aviation fighter to be powered by the Rolls-Royce Merlin engine in place of the Allison V-1710. Rolls-Royce had selected the Packard Motor Car Company of Detroit, Michigan, to build Merlin aircraft engines in the United States under license. Early P-51Bs were equipped with the Packard V-1650-3, based on the Merlin 63. It was a right-hand tractor, 1,649-cubic-inch-displacement (27.04-liter), liquid-cooled, supercharged, single overhead cam 60° V-12 engine, which produced 1,380 horsepower at Sea Level, turning at 3,000 r.p.m. with 60 inches of manifold pressure (Military Power). The engine drove a four-bladed Hamilton Standard constant-speed propeller with a diameter of 11 feet, 2 inches (3.404 meters).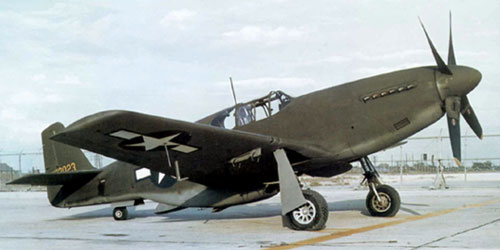 The P-51B was 32 feet, 2.97 inches (9.829 meters) long, with a wingspan of 37 feet, 0.31-inch (11.282 meters). It was 13 feet, 8 inches (4.166 meters) high. The fighter had an empty weight of 6,985 pounds (3,168 kilograms) and a maximum gross weight of 11,800 pounds (5,352 kilograms). Its cruise speed was 362 miles per hour (583 kilometers per hour) and the maximum speed was 439 miles per hour (707 kilometers per hour) at 25,000 feet (7,620 meters). The service ceiling was 41,900 feet (12,771 meters). With internal fuel the combat range was 755 miles (1,215 kilometers).
Armament consisted of four Browning AN/M2 .50-caliber machine guns, mounted two in each wing, with 350 rounds per gun for the inboard guns and 280 rounds per gun for the outboard.
1,988 P-51B Mustangs were built at North American's Inglewood, California plant. 1,750 of the nearly identical P-51C variant were produced at Dallas, Texas. This was nearly 23% of the total P-51 production.
DING HAO!, James H. Howard's P-51B Mustang, was lost in combat 23 July 1944.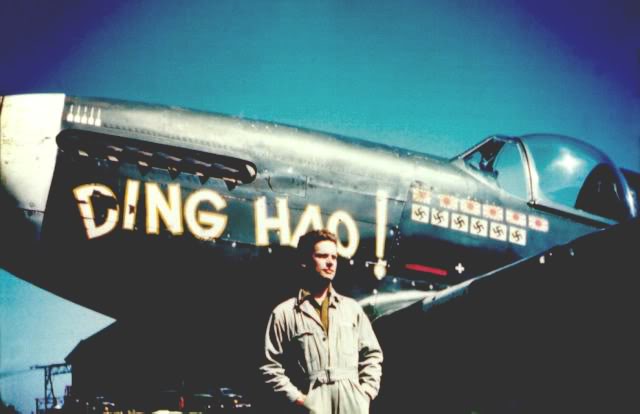 © 2015, Bryan R. Swopes
by