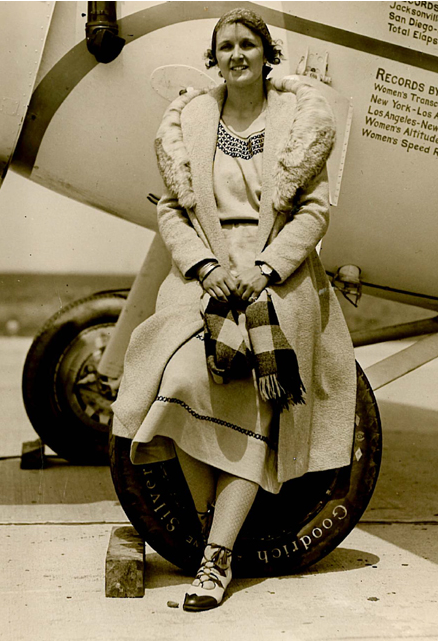 14 February 1932: Taking off from Floyd Bennett Field, Ruth Rowland Nichols flew Miss Teaneck, a Lockheed Vega 1 owned by Clarence Duncan Chamberlin, to an altitude of 19,928 feet (6,074 meters).¹
A contemporary newspaper reported:
RUTH NICHOLS SETS NEW ALTITUDE RECORD
     Ruth Nichols' flight in a Lockheed monoplane powered with a 225 horsepower Packard Diesel motor to an altitude of 21,350 feet [6,507 meters] Friday had been credited to the Rye girl unofficially as a new altitude record for Diesel engines. A sealed barograph, removed from the plane, has been sent to Washington to the Bureau of Standards to determine the exact altitude figure.
—The Bronxville Press, Vol. VIII, No. 14, Tuesday, February 15, 1932, Columns 1 and 2
Miss Teaneck had been modified. The original engine Wright Whirlwind engine had been replaced by an air-cooled, 982.26-cubic-inch-displacement (16.096 liter) Packard DR-980 nine-cylinder radial diesel-cycle (or "compression-ignition") engine. The DR-980 had one valve per cylinder and a compression ratio of 16:1. It had a continuous power rating of 225 horsepower at 1,950 r.p.m., and 240 horsepower at 2,000 r.p.m. for takeoff. The DR-980 was 3 feet, ¾-inch (0.933 meters) long, 3 feet, 9-11/16 inches (1.160 meters) in diameter, and weighed 510 pounds (231 kilograms). The Packard Motor Car Company built approximately 100 DR-980s, and a single DR-980B which used two valves per cylinder and was rated at 280 horsepower at 2,100 r.p.m. The Colllier Trophy was awarded to Packard for its work on this engine.
The Lockheed Vega was a very state-of-the-art aircraft for its time. The prototype flew for the first time 4 July 1927 at Mines Field, Los Angeles, California. It used a streamlined monocoque fuselage made of molded plywood. The wing and tail surfaces were fully cantilevered, requiring no bracing wires or struts to support them.
The Vega was flown by one pilot in an open cockpit and could carry four passengers in the cabin. It was 27 feet, 6 inches (8.382 meters) long with a wingspan of 41 feet, 0 inches (12.497 meters) and overall height of 8 feet, 2 inches (2.489 meters). The airplane had an empty weight of 1,875 pounds (851 kilograms) and a gross weight of 3,470 pounds (1,574 kilograms).
The early Vegas were powered by an air-cooled, normally-aspirated 787.26-cubic-inch-displacement (12.901 liter) Wright J-5C Whirlwind nine-cylinder radial engine producing 200 horsepower at 1,800 r.p.m., and 225 horsepower at 2,000 r.p.m. This was a direct-drive engine which turned a two-bladed Hamilton Standard propeller. The Wright J-5C was 2 feet, 10 inches (0.864 meters) long and 3 feet, 9 inches (1.143 meters) in diameter. It weighed 508 pounds (230.4 kilograms).
The Vega had a cruising speed of 118 miles per hour (190 kilometers per hour) and atop speed of 138 miles per hour (222 kilometers per hour)—very fast for its time. The airplane's range was 900 miles (1,448.4 kilometers). It could fly at an altitude 15,000 feet (4,572 meters).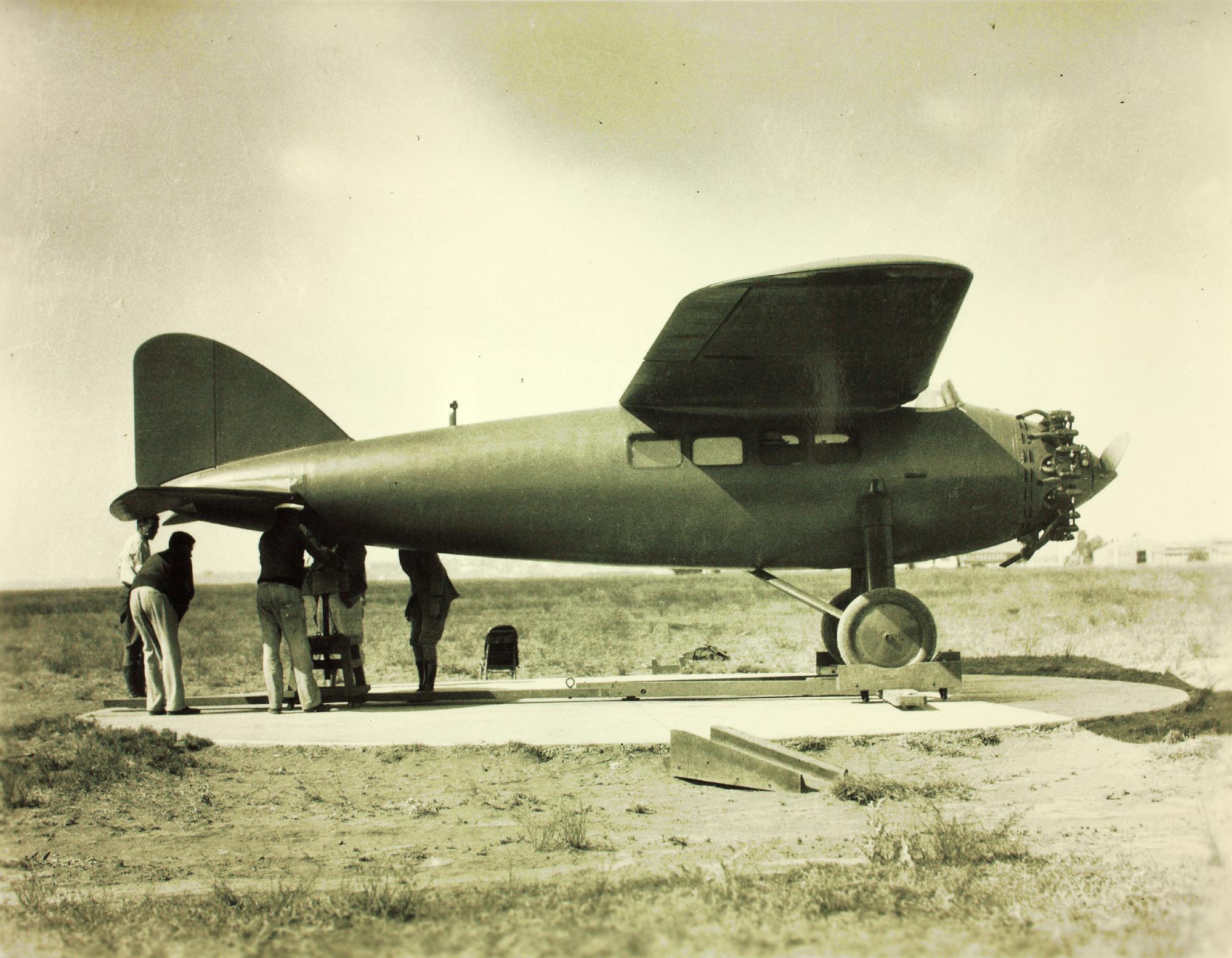 ¹ Virtually every source located by TDiA states that Ruth Nichols established an altitude record with this flight. Many state that it was a "world altitude record" and many also say that this record "still stands today." A check with the National Aeronautics Association did not find such a record. Also, the Fédération Aéronautique Internationale lists three world records credited to Ruth Nichols. This is flight is not listed. A very few sources called this an "unofficial record."
At least one contemporary newspaper report indicated that Nichols reached an altitude of 21,300 feet (6,492 meters), and another says 21,350 feet (6,507 meters).
© 2017 Bryan R. Swopes
by