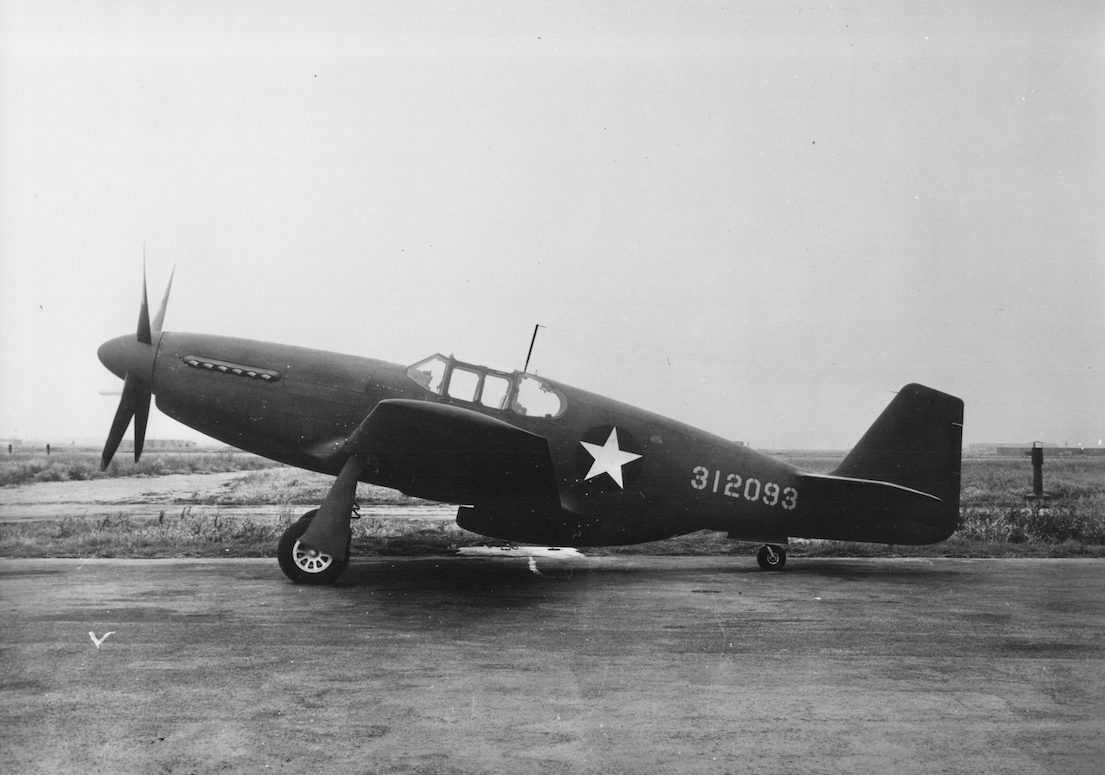 5 May 1943: First flight of a production North American Aviation P-51B-1-NA Mustang, 43-12093 (NAA serial number 102-24541).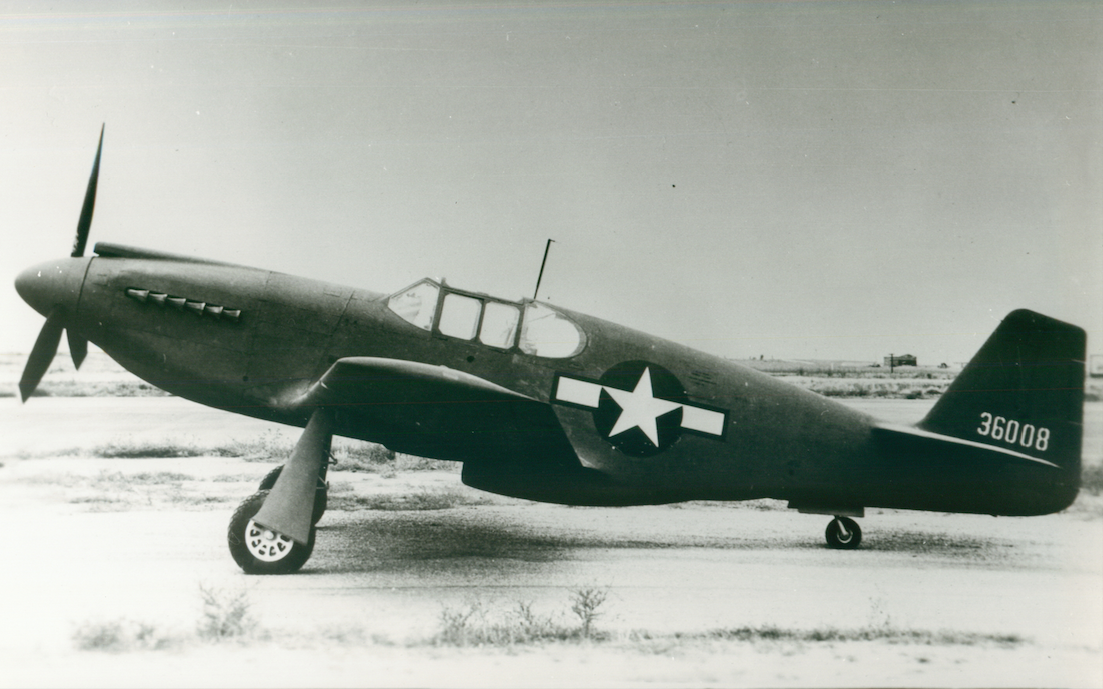 North American Aviation, Inc., located at Mines Field, Los Angeles, California (now, Los Angeles International Airport, or more commonly, LAX), contracted with the British Purchasing Commission to produce a new fighter designed around the liquid-cooled Allison Engineering Company V-1710-F3R V-12 engine. Just 117 days later, the first prototype, the NA-73X, was completed. The airplane made its first flight on 26 October 1940, with free-lance test pilot Vance Breese. The British ordered 320 fighters for the Royal Air Force, and named it the Mustang Mk.I. Soon after, a second order for 300 airplanes came through. On 23 April 1941, North American test pilot Louis Sanford Wait flew the first production airplane, RAF serial number AG345.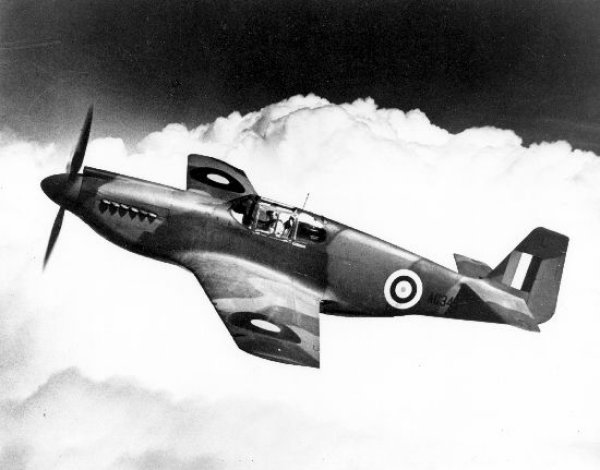 The Mk.I was 30 miles per hour (48 kilometers per hour) faster than its contemporary, the Curtiss-Wright P-40 Warhawk, though both used the same engine and propeller. Below 15,000 feet (4,572 meters), the Mustang was also 30–35 m.p.h (48–56 kilometers per hour) faster than a Supermarine Spitfire, which had the more powerful Roll-Royce Merlin V-12.
The Mustang Mk.I was heavily armed with eight machine guns. Two Browning .50-caliber machine guns were positioned under the engine, synchronized to fire forward through the propeller arc. Two more .50s and four .303-caliber Browning Mark II machine guns were installed in the wings.
Two Mustang Mk.Is, the fourth and tenth production airplanes, were turned over to the United States Army Air Corps for testing at Wright Field, Dayton, Ohio. These were designated XP-51 by the Air Corps. Test pilot Robert Creed Chilton took the first XP-51, 41-038 (ex-RAF AG348) for its first flight, 20 May 1941. Both airplanes were also extensively tested by the National Advisory Committee for Aeronautics (NACA) at the Langley Memorial Aeronautical Laboratory, Hampton, Virginia.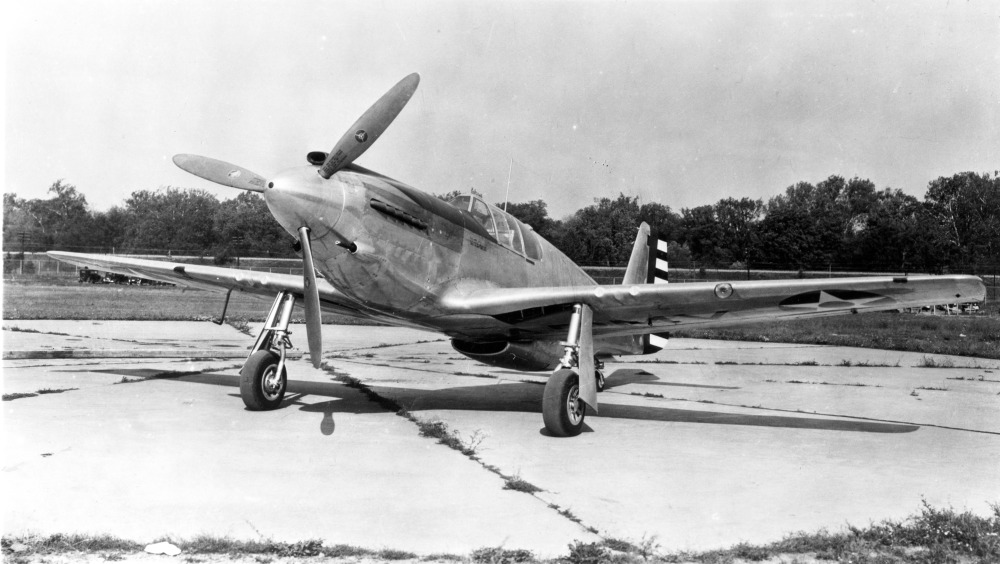 The Air Corps initially ordered the airplane as a dive bomber, designated A-36 Apache. With various changes from the British fighter, on 23 June 1942, the Air Corps ordered 1,200 fighters as the P-51A. Chilton flew the first production P-51A, 43-6003, on 3 February 1943.
In England, tests were made of the Mustang Mk.I with Rolls-Royce Merlin 61 and 65 V-12 engines installed in place of the Allison V-1710. Called the Mustang X, it proved to be a superior fighter, particularly at high altitude. The RAF ordered it as the Mustang Mk.III.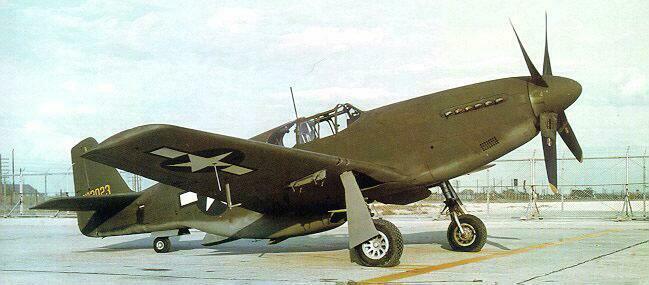 In the United States, the Packard Motor Car Company of Detroit, Michigan, had begun building Merlin engines under license from Rolls-Royce. These American engines were designated V-1650. North American modified two P-51As from the production line to install the Packard V-1650-3. These were designated XP-51B. Testing revealed that the new variant was so good that the Army Air Corps limited its order for P-51As to 310 airplanes and production was changed to the P-51B.
The P-51B and P-51C are virtually identical. The P-51Bs were built by North American Aviation, Inc., at Inglewood, California. P-51Cs were built at North American's Dallas, Texas plant. They were 32 feet, 2.97 inches (9.829 meters) long, with a wingspan of 37 feet, 0.31-inch (11.282 meters) and overall height of 13 feet, 8 inches (4.167 meters) high. The fighter had an empty weight of 6,985 pounds (3,168 kilograms) and a maximum gross weight of 11,800 pounds (5,352 kilograms).
P-51Bs and Cs were powered by a right-hand tractor, liquid-cooled, supercharged, 1,649-cubic-inch-displacement (27.04-liter) Packard V-1650-3 or -7 Merlin single overhead cam (SOHC) 60° V-12 engine which produced 1,380 horsepower at Sea Level, turning 3,000 r.p.m at 60 inches of manifold pressure (V-1650-3) or 1,490 horsepower at Sea Level, turning 3,000 r.p.m. at 61 inches of manifold pressure (V-1650-7). (Military Power rating, 15 minute limit.) These were license-built versions of the Rolls-Royce Merlin 63 and 66. The engine drove a four-bladed Hamilton Standard Hydromatic constant-speed propeller with a diameter of 11 feet, 2 inches (3.404 meters) through a 0.479:1 gear reduction.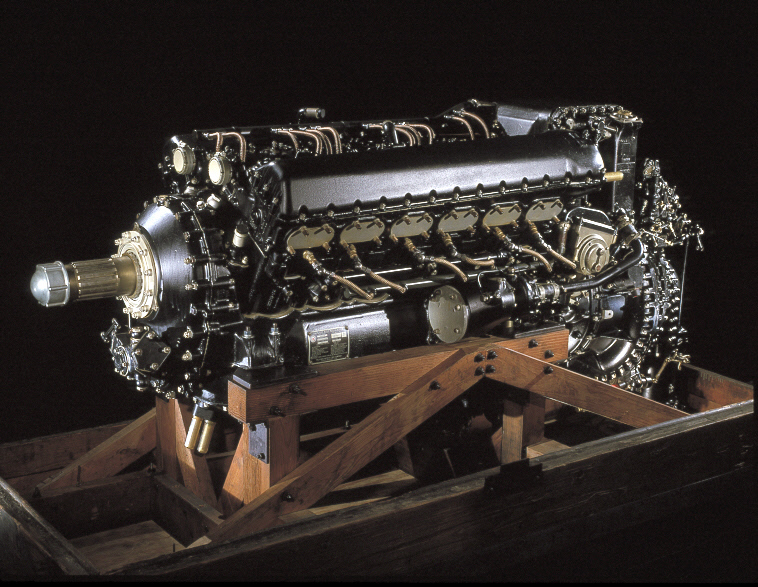 The P-51B/C had a cruise speed of 362 miles per hour (583 kilometers per hour) and the maximum speed was 439 miles per hour (707 kilometers per hour) at 25,000 feet (7,620 meters). The service ceiling was 41,900 feet (12,771 meters). With internal fuel, the combat range was 755 miles (1,215 kilometers).
In U.S. service, armament consisted of four air-cooled Browning AN-M2 .50-caliber machine guns, mounted two in each wing, with 350 rounds per gun for the inboard guns and 280 rounds per gun for the outboard.
1,988 P-51B Mustangs were built at North American's Inglewood, California plant and another 1,750 P-51Cs were produced at Dallas, Texas. This was nearly 23% of the total P-51 production.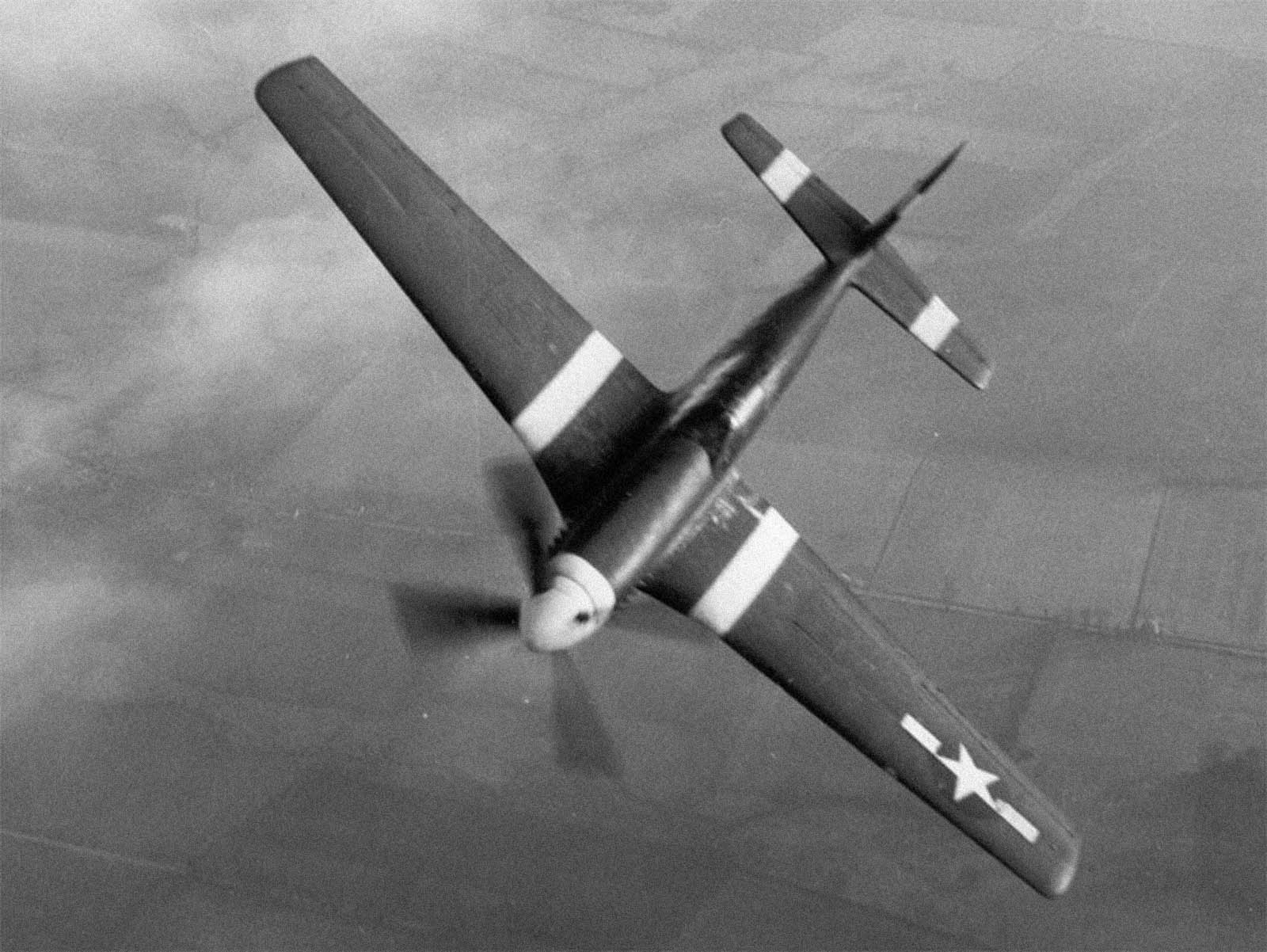 © 2019, Bryan R. Swopes