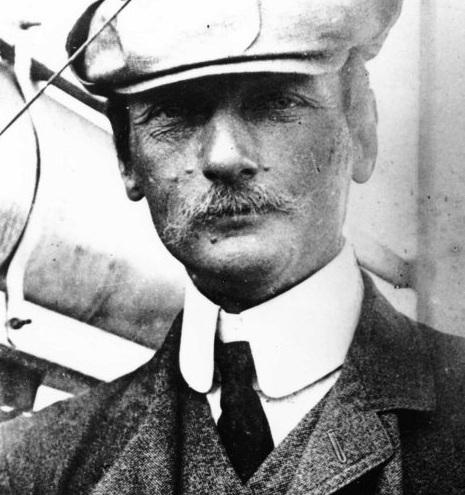 18 October 1909: Charles Alexandre Maurice Joseph Marie Jules Stanislas Jacques Count de Lambert, the first student to successfully complete Wilbur Wright's aviation school at Pau, Pyrénées-Atlantiques, flew his Wright Model A Flyer from Port Aviation (Juvisy-sur-Orge), Viry-Châtillon (in the outskirts of Paris), the World's first airport, to the Eiffel Tower.
The Comte de Lambert departed Port Aviation at 4:36 p.m. He circled the Tower at an altitude of 400 meters (about 1,300 feet) and then returned to Pau, located on the northern edge of the Pyrenees.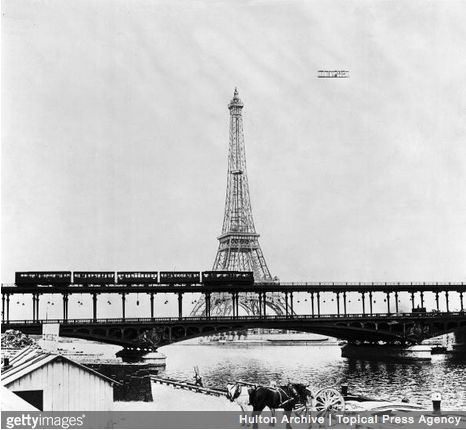 The flight covered approximately 48 kilometers (30 miles) with an elapsed time of 49 minutes, 39 seconds.
Comte de Lambert's flight coincided with an evening banquet celebrating a two-week "Grande Quinzaine de l'Aviation de Paris". L'Aéroclub de France awarded him a Gold Medal for his achievement, and France appointed him Chevalier de la Légion d'Honneur.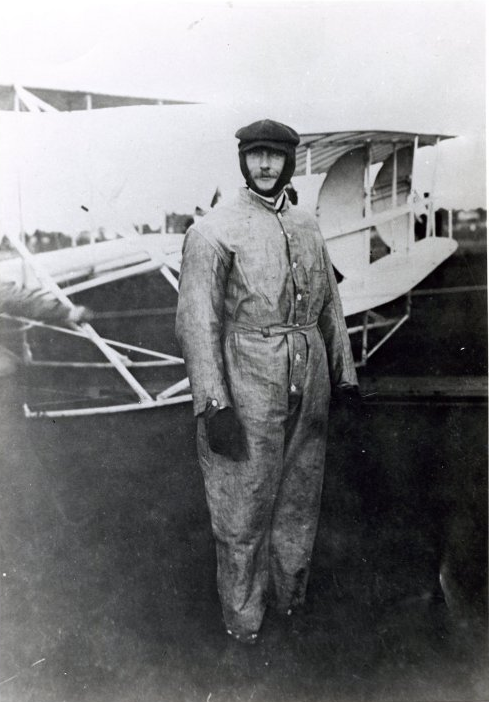 The Wright Model A, produced from 1907 to 1909, was the world's first series production airplane. It was slightly larger and heavier than the Wright Flyer III which had preceded it. It was a two-place, single-engine canard biplane built of a wooden framework braced with wires and covered with muslin fabric. A new system of flight controls allowed the pilot to sit upright rather than lying prone on the lower wing.
The dual horizontal elevators were placed forward and the dual vertical rudders aft. The biplane was 31 feet (9.449 meters) long with a wingspan of 41 feet (12.497 meters). The wings had a chord of 6.6 feet, and vertical separation of 6 feet. The airplane had an empty weight of approximately 800 pounds (363 kilograms).
A water-cooled 240.5 cubic-inch-displacement (3.940 liter) Wright inline four-cylinder gasoline engine produced 32 horsepower at 1,310 r.p.m. Two 8½ foot (2.591 meters) diameter, two-bladed, counter-rotating propellers, driven by a chain drive, are mounted behind the wings in pusher configuration. They turned 445 r.p.m.
The Wright Model A  could fly 37 miles per hour (kilometers per hour).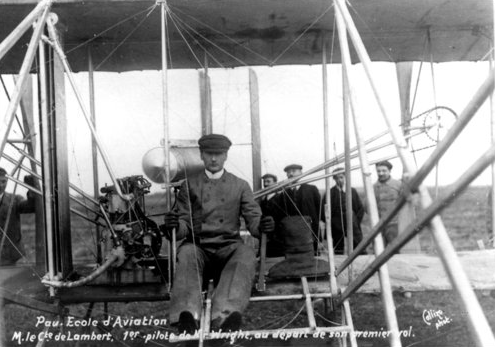 © 2016, Bryan R. Swopes