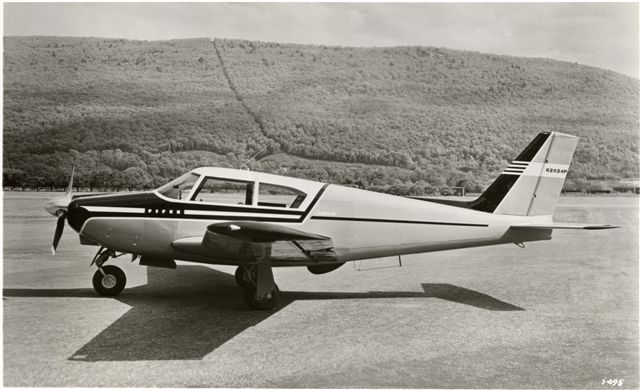 24 May 1956: At Lock Haven, Pennsylvania, Piper Aircraft Corporation test pilot Jay Myer took the prototype Piper PA-24 Comanche, s/n 24-1, N2024P, for its first flight. The airplane was intended to compete with the Beechcraft Model 35 Bonanza which had been in production for nine years. (At least one reliable source says the first flight took place one day earlier, 23 May.)
The PA-24 was developed by Piper's engineers from a preliminary design by Al Mooney. It is a single-engine, 4-place, low-wing monoplane of all-metal construction, with retractable tricycle landing gear. It is operated by a single pilot and is certified for VFR and IFR flight. Two prototypes were built.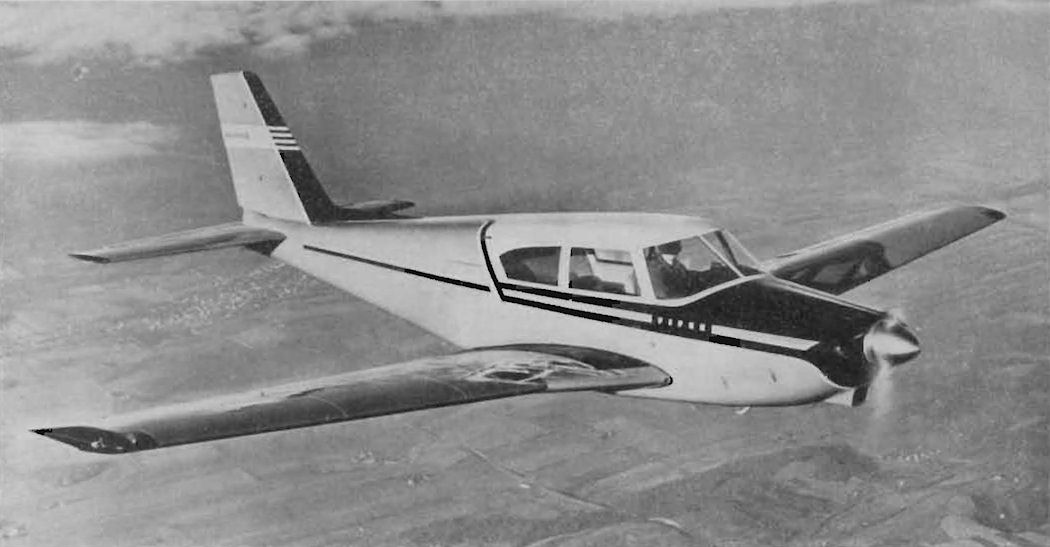 The first production PA-24 Comanche made its first flight on 27 September 1957. There were some changes from the prototypes, most noticeable the trailing-link nose gear strut had been replaced with simpler oleo strut.
The PA-24 (later designated PA-24-180, reflecting its horsepower rating) is 24 feet, 9 inches (7,544 meters) long with a wingspan of 36 feet (10.973 meters) and overall height of 7 feet, 4 inches (2.235 meters). Empty weight, depending on installed optional equipment, is 1,530 pounds (694 kilograms) and maximum gross weight is 2,550 pounds (1,157 kilograms).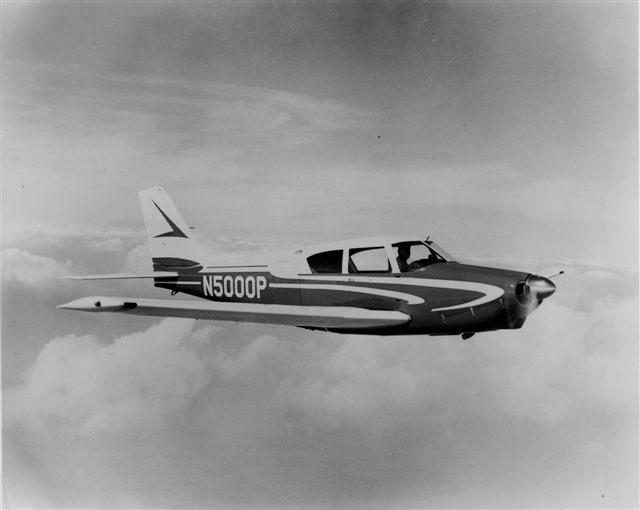 Early production Comanches were powered by an air-cooled, normally-aspirated, 361.007-cubic-inch-displacement (5.916 liter) AVCO Lycoming O-360-A1A horizontally-opposed overhead valve (OHV) four-cylinder engine with a compression ratio of 8.5:1. The O-360-A1A is rated at 180 horsepower at 2,700 r.p.m. at Sea Level. The direct-drive engine turned a two-bladed Hartzell constant-speed propeller with a diameter of 6 feet, 0 inches (1.829 meters). The O-360-A1A weighs 258 pounds (117 kilograms).
The PA-24-180 has a cruise speed of 139 knots (160 miles per hour/257 kilometers per hour) at 75% power, at 8,000 feet (2,438 meters). Its maximum speed is 145 knots (167 miles per hour/269 kilometers per hour) at Sea Level. With a fuel capacity of 60 gallons (227 liters), the PA-24 has a range of 782 nautical miles (900 miles/1,448 kilometers. Its service ceiling is 18,800 feet (5,730 meters).
The Piper PA-24 Comanche was produced in several variants from 1957 until 1972, when the Lock Haven factory was destroyed by flooding. A total of 4,857 PA-24s were built. Of these, 1,143 were 180-horsepower PA-24-180 Comanches.
The prototype PA-24, N2024P, has been registered to John C. Codman, Medway, New York, since 24 October 1978. The FAA registration and airworthiness certificate are current.
The first production PA-24, N5000P, with its original Lycoming engine, was exported to Canada. Its U.S. registration was cancelled 3 June 2003.
© 2018, Bryan R. Swopes