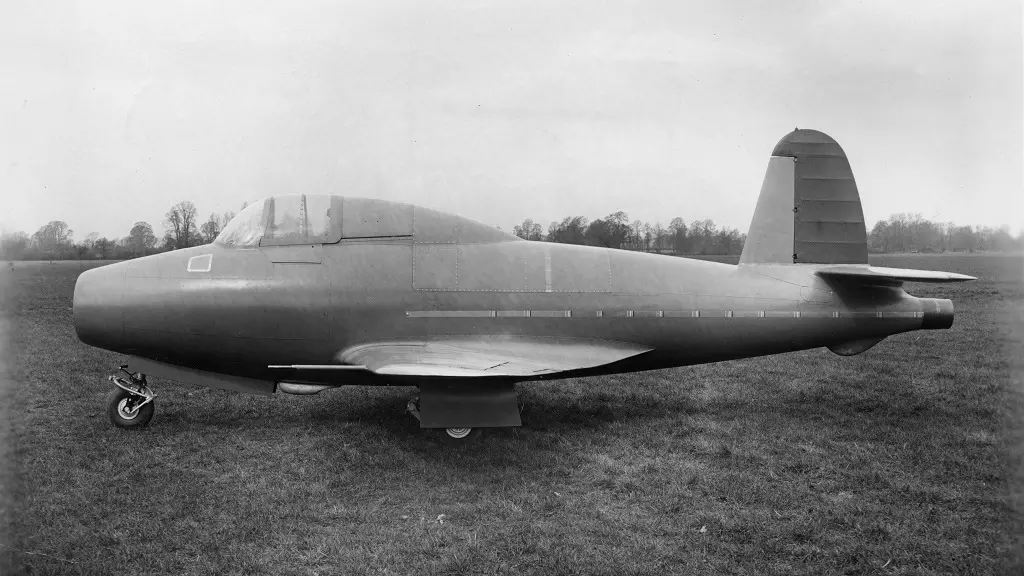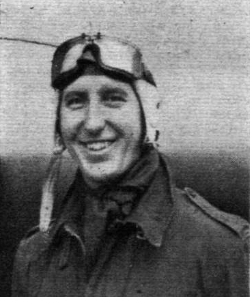 15 May 1941: Having been delayed by weather until 7:40 p.m., Gloster Aircraft Co., Ltd., Chief Test Pilot Phillip Edward Gerald Sayer taxied into position on the long, hard-surfaced runway at RAF Cranwell, stood on the brakes and advanced the throttle. When the engine reached 16,000 r.p.m., Sayer released the brakes and the little airplane began to roll forward.
Acceleration was slow. Relying on the feel of the flight controls rather than a pre-calculated airspeed, Sayer lifted off after 600–700 yards (550–640 meters), at about 80 miles per hour (129 kilometers per hour). At 1,000 feet (305 meters), he retracted the landing gear and continued to climb at reduced r.p.m. He reached a maximum 240 miles per hour (386 kilometers per hour) Indicated Air Speed at 4,000 feet (1,219 meters).
Sayer landed after a 17-minute first flight.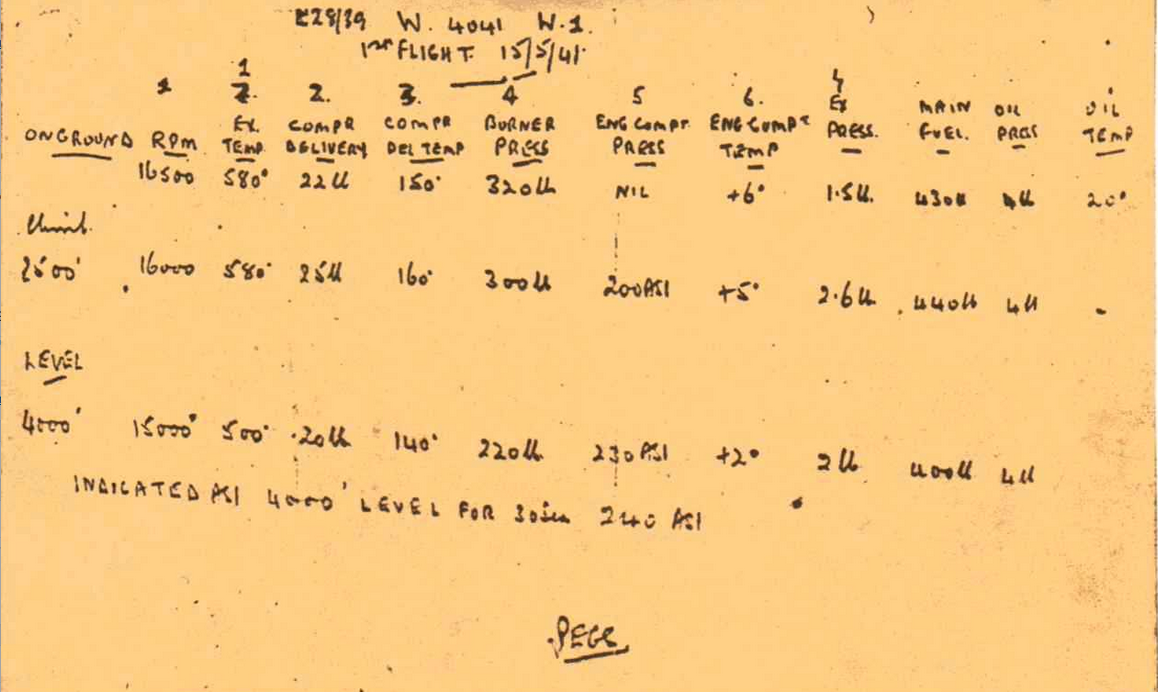 The airplane was the Gloster-Whittle E.28/39, registration W4041/G, the first of two prototype fighters powered by a turbojet engine. (The "/G" in the registration indicates that, for security reasons, the airplane is at all times to be under guard when on the ground.) It was a single-seat, single-engine, low-wing monoplane of all-metal construction. The E.28/39 had retractable tricycle landing gear, one of the first fighter-type aircraft with that configuration.
The Gloster E.28/39 was 25 feet, 3 inches (6.696 meters) long with a wingspan of 29 feet, 0 inches (8.839 meters) and overall height of 9 feet, 3 inches (2.819 meters). It had a fuel tank of just 81 gallons (368 liters) capacity. The prototype's takeoff weight was 3,341 pounds (1,515 kilograms).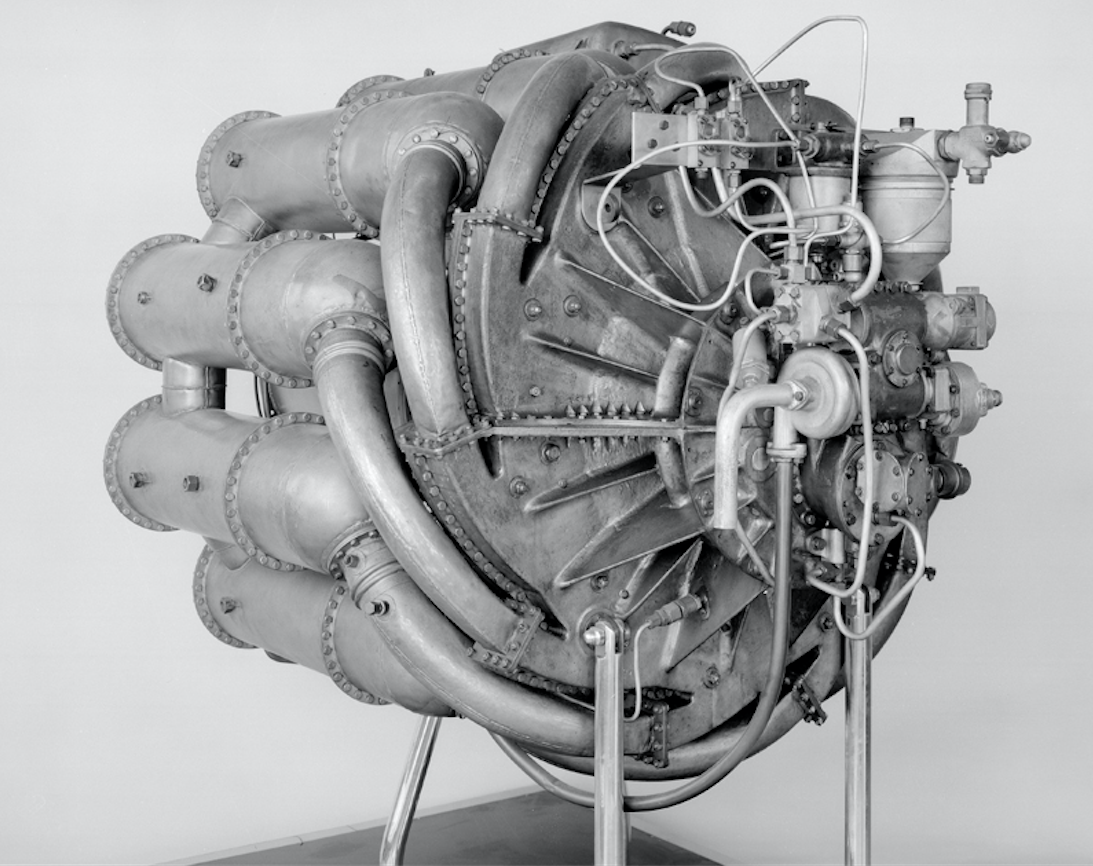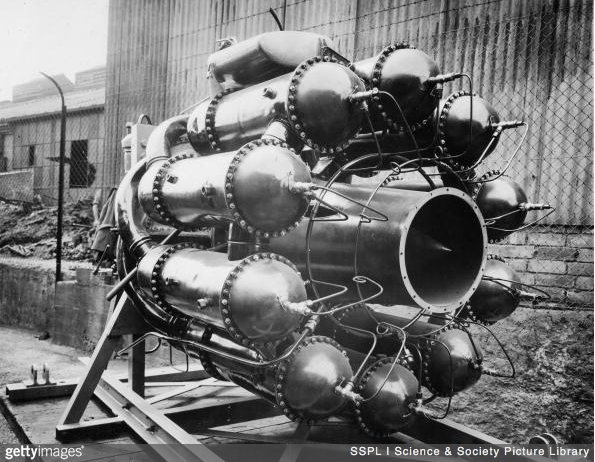 W4041/G was powered by a single Power Jets, Ltd., Whittle Supercharger Type W.1. The turbojet used a single-stage, centrifugal-flow compressor, ten reverse-flow combustion chambers, and a single-stage axial-flow turbine. The turbine had 72 blades. The W.1 produced 860 pounds of thrust (3,825.47 Newtons) at 16,500 r.p.m., burning paraffin (kerosene).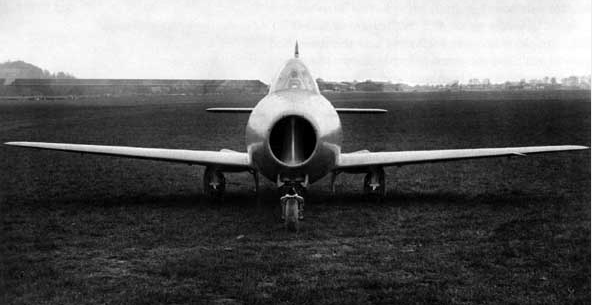 The E.28/39 had a single large air intake at the nose. This split into two ducts which passed around each side of the the cockpit, following the inner contours of the fuselage, and then entered a plenum chamber. Intake air was compressed approximately 4:1 and passed to the combustion chambers. Fuel was mixed with this heated, compressed air, then ignited. Flame temperatures approached 600 °C. (1,112 °F.) This very hot, expanding gas flowed through spiral ducts to the turbine blades, causing the turbine disc to spin to a maximum 17,750 r.p.m., above 4,000 feet (1,219 meters).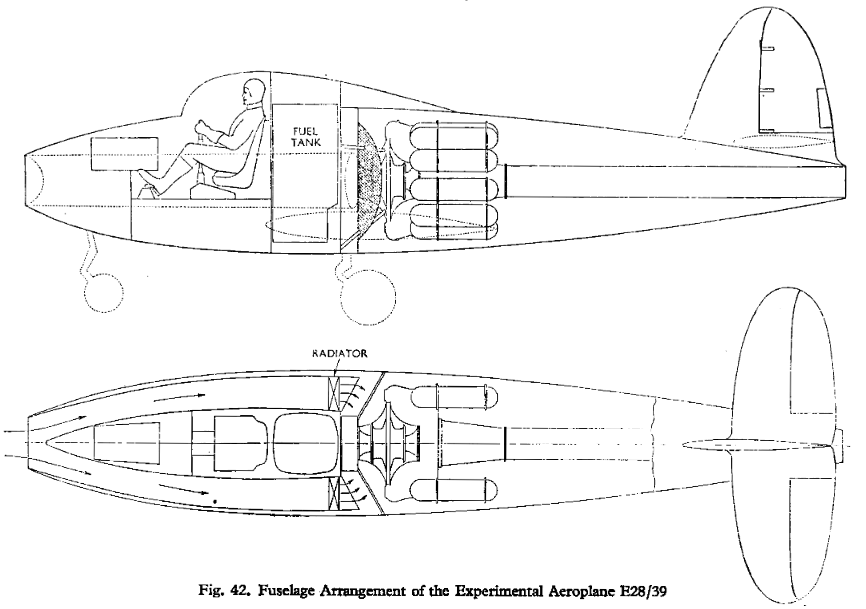 The turbine drove the compressor at the front of the engine through a central drive shaft. The exhaust gas left the engine and passed through a straight pipe to the rear of the fuselage. The high velocity gas exiting the tail of the aircraft—thrust—resulted in the aircraft being propelled forward at a proportional velocity.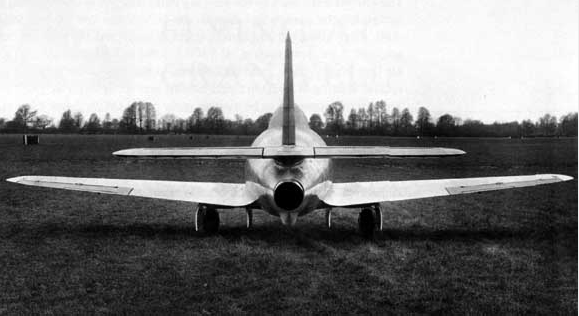 Because of limitations in materials technology, the Whittle W.1 had a limited service life of just ten hours. To keep the most time available for flight tests, early static and taxi tests of the Gloster prototype were made using an engine built from non-airworthy parts and spare components. This engine was designated W.1X.
Over the next thirteen days, Gerry Sayer made fourteen flights, totaling ten hours. The E.28/39 reached a maximum of 25,000 feet (7,620 meters) and 300 miles per hour (483 kilometers per hour). W4041/G was restricted to 2g maneuvers because of stress placed on the cast aluminum compressor case.
Gloster test pilots conducted three series of flight tests with W.4041/G. With Gloster test pilot John Grierson in the cockpit, on 24 June 1943, W4041/G climbed to 41,600 feet (12,680 meters) in 27 minutes, and reached an absolute maximum altitude of 42,170 feet (12,853 meters). This flight completed Gloster's flight test program and the airplane was turned over to RAE Farnborough.
A second Gloster E.28/39 was built, W4046/G. Using an improved Whittle W.2/700 turbojet engine, the second prototype reached a maximum speed of 505 miles per hour (813 kilometers per hour) in level flight at 30,000 feet (9,144 meters)—0.74 Mach.
On 30 July 1943, W4046 was lost when its ailerons jammed at high altitude. The pilot bailed out and parachuted safely, but the prototype jet airplane was destroyed.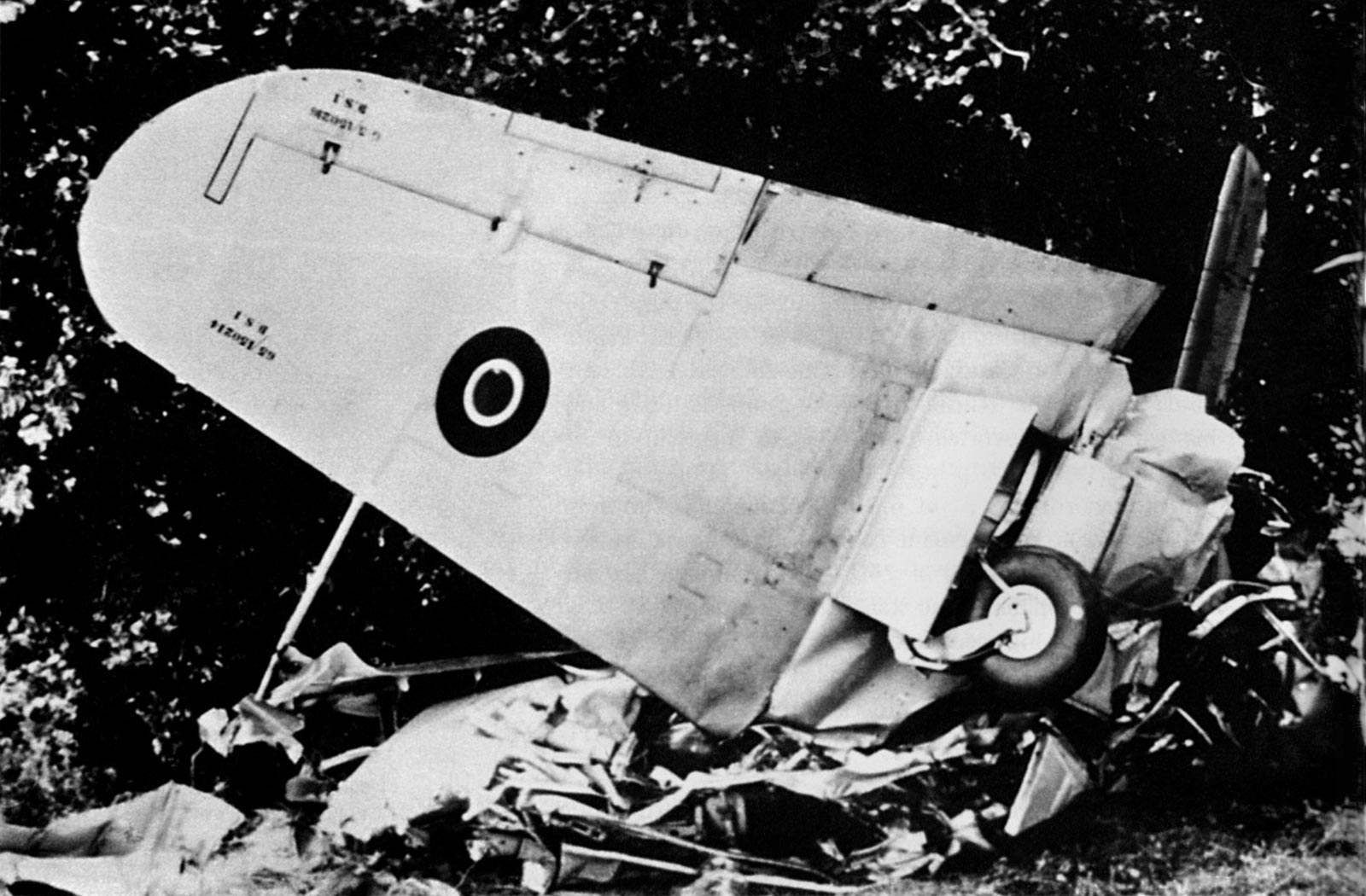 On 27 April 1946, Gloster-Whittle E.28/39 W4041/G was placed in the National Aeronautical Collection, Science Museum, South Kensington, 27 April 1946.
Chief Test Pilot Phillip Edward Gerald Sayer, Esq., was appointed an Officer of the Most Excellent Order of the British Empire (OBE) on the New Years Honours list, 30 December 1941. He was killed in flying accident 22 October 1942, probably the result of a mid-air collision.
RECOMMENDED: "No Airscrew Necessary. . ." by Robert J. Blackburn, Flight and Aircraft Engineer, No. 2131, Vol. LVI., Thursday, 27 October 1949, at pages 553–558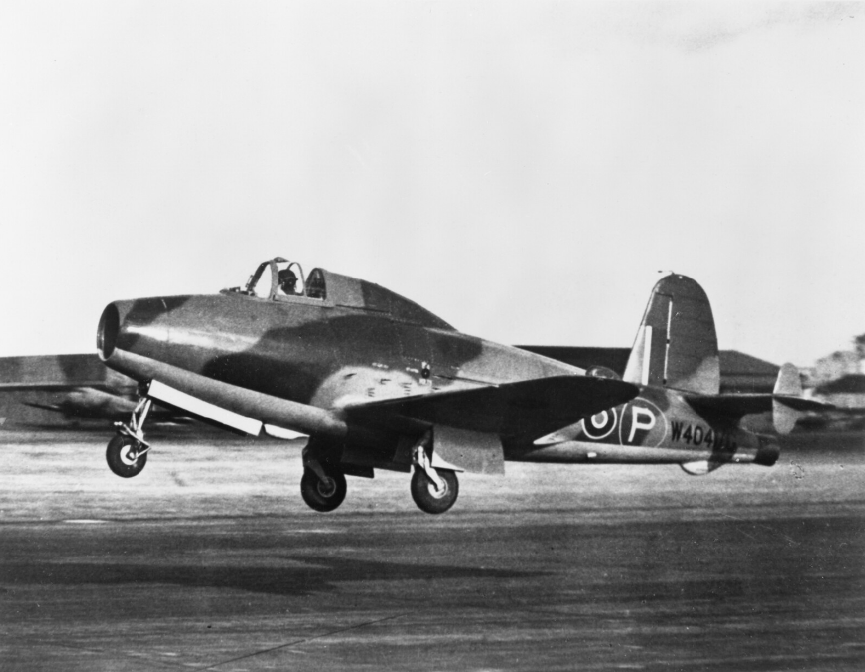 © 2017, Bryan R. Swopes