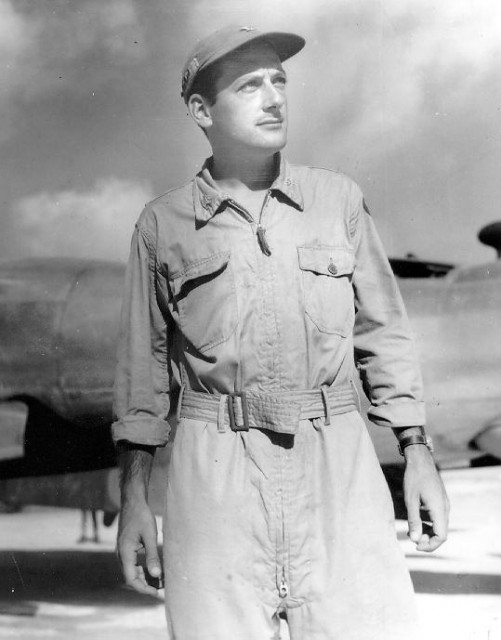 25–29 November 1945: Colonel Joseph Randall ("Randy") Holzapple, U.S. Army Air Force, commanding officer of the 319th Bombardment Group, Light, departed Savannah, Georgia, as the pilot of a Douglas A-26C Invader twin-engine light attack bomber. His co-pilot on this flight was Lieutenant Colonel Charles R. Meyers. The navigator was Lieutenant Otto H. Schumaker and Corporal Howard J. Walden was the airplane's radio operator.
The A-26 headed west, and kept heading west. 90 hours, 54 minutes later, Colonel Holzapple and his crew arrived at Washington, D.C. They had flown completely around the world, covering 24,859 miles (40,007 kilometers).
The A-26C Invader was built by Douglas Aircraft Company at its Long Beach, California and Tulsa, Oklahoma plants. It was 51 feet, 3 inches (15.621 meters) long with a wingspan of 70 feet, 0 inches (21.336 meters) and overall height of 18 feet, 6 inches (5.639 meters). It was designed to be flown by a single pilot, with a navigator/bombardier and a gunner. The Invader weighed 22,850 pounds (10,365 kilograms) empty an had a maximum takeoff weight of 35,000 pounds (15,876 kilograms).
Power was supplied by two air-cooled, supercharged 2,804.4-cubic-inch-displacement (45.956 liter) Pratt & Whitney Double Wasp 2SB-G (R-2800-27) two-row, 18-cylinder radial engines with a compression ratio of 6.65:1. The R-2800-27 had a Normal Power rating of 1,600 horsepower at 2,400 r.p.m. at 5,700 feet (1,737 meters), 1,450 horsepower at 2,400 r.p.m. at 13,000 feet (3,962 meters), and 2,000 horsepower at 2,700 r.p.m for takeoff. The engines turned three-bladed propellers through a 2:1 gear reduction. The R-2800-27 was 75.72 inches (1.923 meters) long, 52.50 inches (1.334 meters) in diameter and weighed 2,300 pounds (1.043 kilograms).
The A-26 was a fast airplane for its time. It had a cruise speed of 284 miles per hour (457 kilometers per hour), and maximum speed of 355 miles per hour (571 kilometers per hour). The service ceiling was 22,000 feet (6,706 meters) and its range was 1,400 miles (2,253 kilometers).
Armament varied. The attack bomber could carry as much as 6,000 pounds (2,722 kilograms) of bombs in the bomb bay and underwing hardpoints. Two .50-caliber Browning AN/M2 machine guns were mounted in upper and lower remotely-operated power turrets for defense, and as many as 14 forward-facing fixed .50-caliber machine guns were installed, with eight in the nose and three in each wing.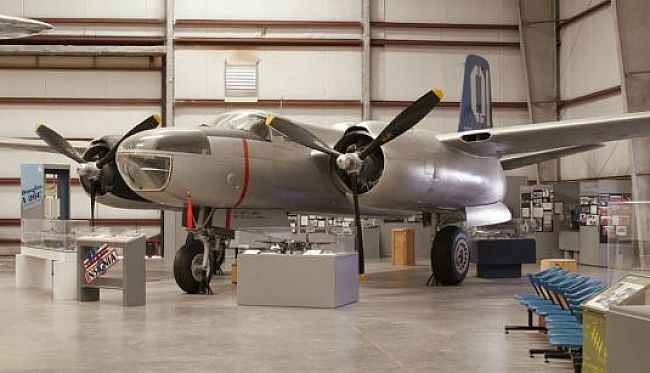 Joseph Randall Holzapple flew combat missions in the Mediterranean and Pacific operating areas during World War II, flying the Martin B-26 Marauder, North American Aviation B-25 Mitchell and the Douglas A-26 Invader. His unit, the 319th Bombardment Group, Light, was the first unit to be transferred from Europe to the Pacific as a complete unit.
After the war, Holzapple commanded the 47th Bombardment Wing at RAF Sculthorpe, and then served in a series of increasingly responsible positions. He attended both the Armed Forces Staff College and the National War College. From 1969–1971, General Holzapple was Commander in Chief, United States Air Forces Europe, based at Wiesbaden, Germany. He retired in 1971. General Holzapple died in 1973.
© 2016, Bryan R. Swopes
by