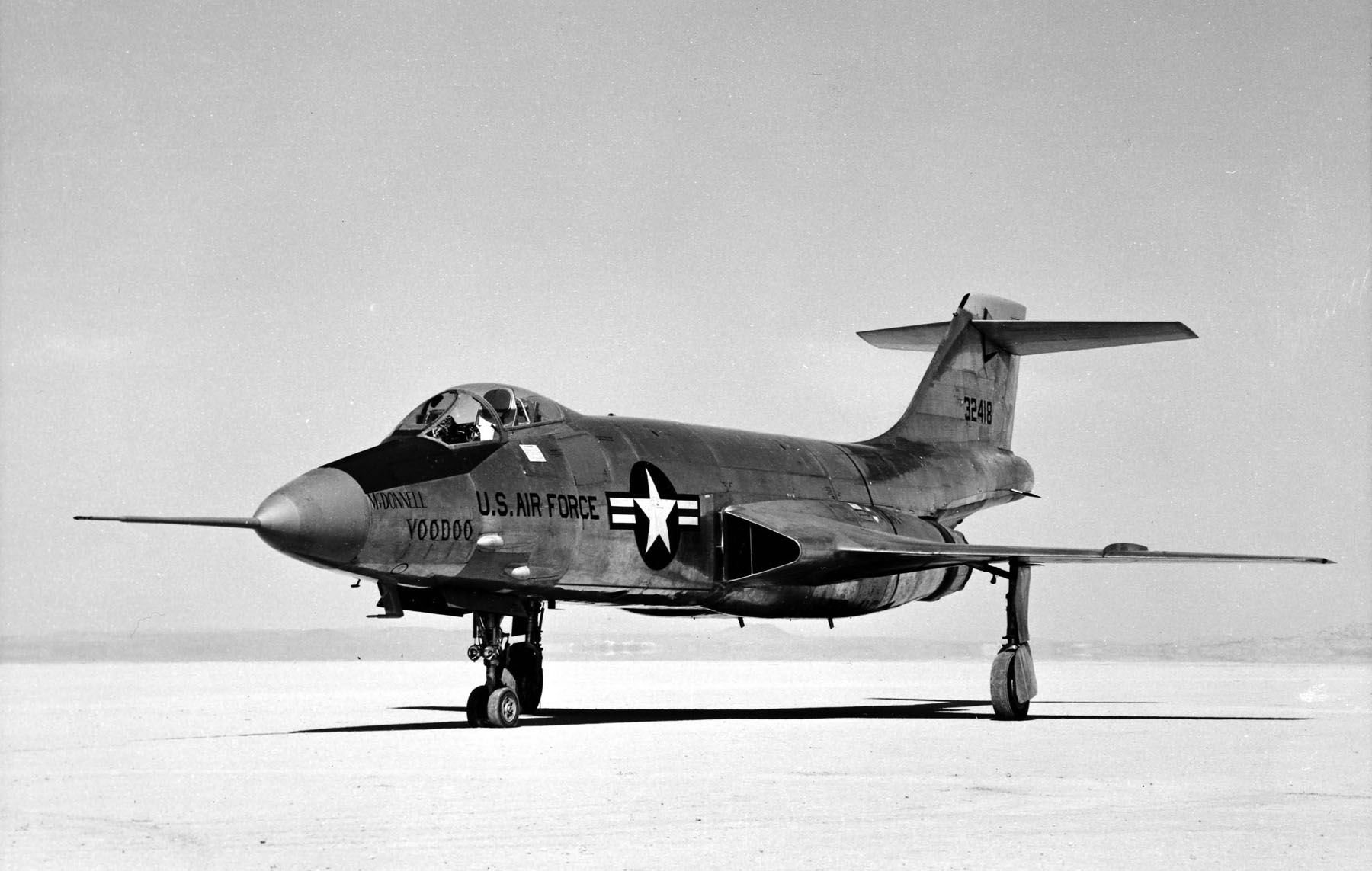 2 May 1957: The United States Air Force accepted the first production McDonnell Aircraft Corporation F-101A Voodoo supersonic fighter.
The McDonnell F-101 Voodoo was originally designed as a single-seat, twin-engine long range bomber escort, or "penetration fighter," for the Strategic Air Command, but was developed as a fighter bomber and reconnaissance airplane. 53-2418 first flew 29 September 1954, and it was the first production F-101A to be delivered to the Air Force.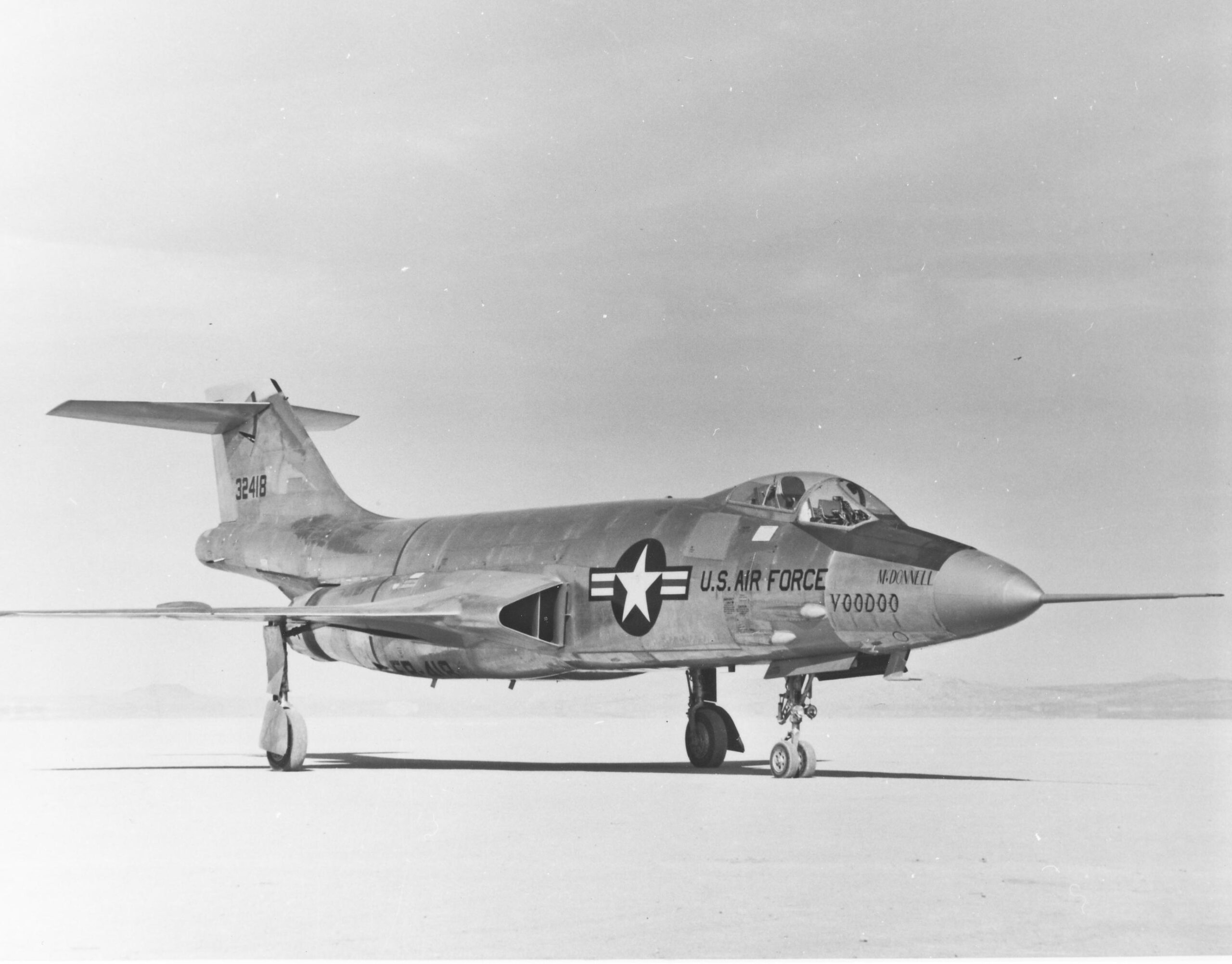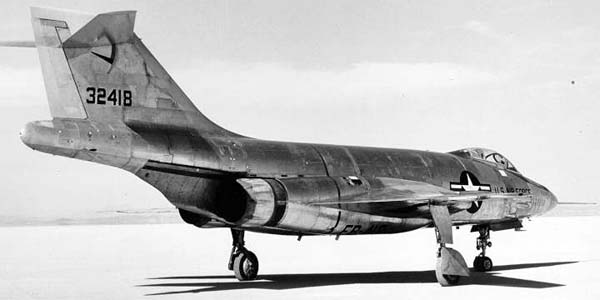 The F-101A was 67 feet, 5 inches (20.549 meters) long with a wingspan of 39 feet, 8 inches (12.090 meters). It was 18 feet (5.486 meters) high. The total wing area was 368 square feet (34.2 square meters). The wings were swept 36° 36′ at 25% chord. The angle of incidence was 1°, with no twist or dihedral. The Voodoo weighed 25,374 pounds (11,509 kilograms) empty and had a maximum takeoff weight of 51,000 pounds (23,133 kilograms).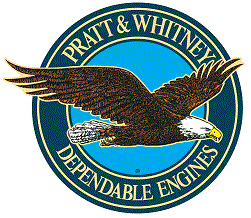 The standard F-101A was equipped with two Pratt & Whitney J57-P-13 turbojet engines. The J57 was a two-spool axial-flow turbojet which had a 16-stage compressor (9 low- and 7 high-pressure stages), 8 combustors and a 3-stage turbine (1 high- and 2 low-pressure stages). The J57-P-13 was rated at 10,200 pounds of thrust (45.37 kilonewtons), and 15,800 pounds (70.28 kilonewtons) with afterburner. The engine was 3 feet, 4.3 inches (1.024 meters) in diameter, 17 feet, 7.0 inches (5.359 meters) long, and weighed 5,025 pounds (2,279 kilograms).
The Voodoo had a maximum speed of 876 knots (1,008 miles per hour (1,622 kilometers per hour) at 35,000 feet (10,668 meters). Service ceiling was 45,700 feet (13,929 meters). It carried a maximum of 2,305 gallons (8,725 liters) of fuel internally. With external tanks, the fighter bomber had a maximum ferry range of 1,898 nautical miles (2,184 statute miles/3,515 kilometers).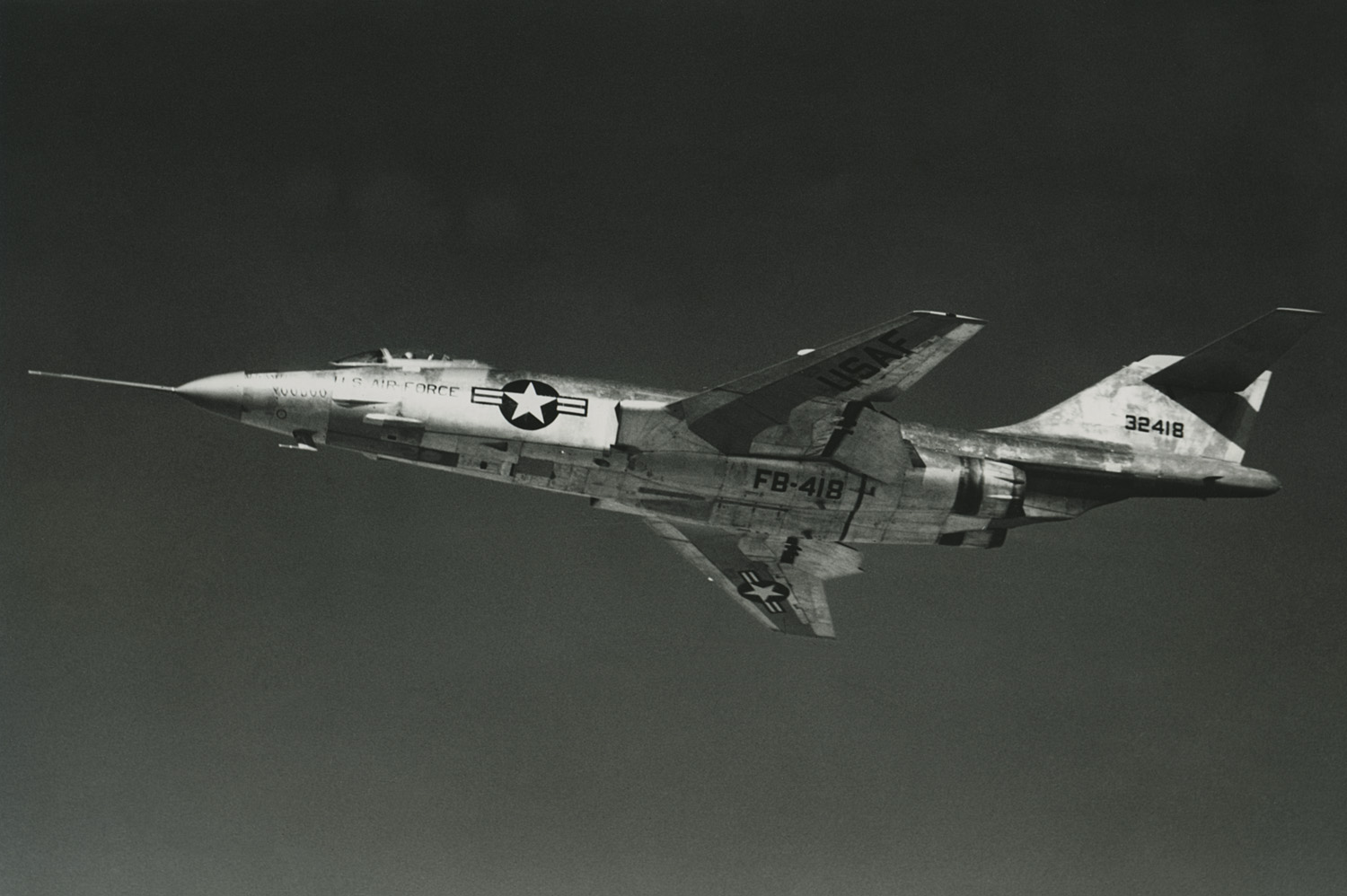 The F-101A was armed with four 20mm Pontiac M39 single-barreled revolver cannon, with 200 rounds per gun. It could carry a Mark 7, Mark 28, or Mark 43 "Special Store" on a centerline mount.
McDonnell built 77 F-101As for the Air Force. 29 were later converted to RF-101G photo reconnaissance airplanes by Lockheed Aircraft Services.
F-101A 53-2418 was transferred to General Electric for testing of the J79 afterburning turbojet engine which would later power the McDonnell F-4 Phantom II.
General Electric returned the Voodoo to the Air Force in 1959. Now obsolete, it was used as a maintenance trainer at Shepard Air Force Base, Texas. It was next turned over to a civilian aviation maintenance school and assigned a civil registration number, N9250Z, by the Federal Aviation Administration. The airplane was sold as scrap, but was purchased by Mr. Dennis Kelsey.
In 2009, Mrs. Kelsey had the airplane placed in the care of the Evergreen Aviation and Space Museum, McMinnville, Oregon. After being partially restored by the Evergreen Air Center, Marana, Arizona, 53-2418 was placed on display at the Evergreen Museum.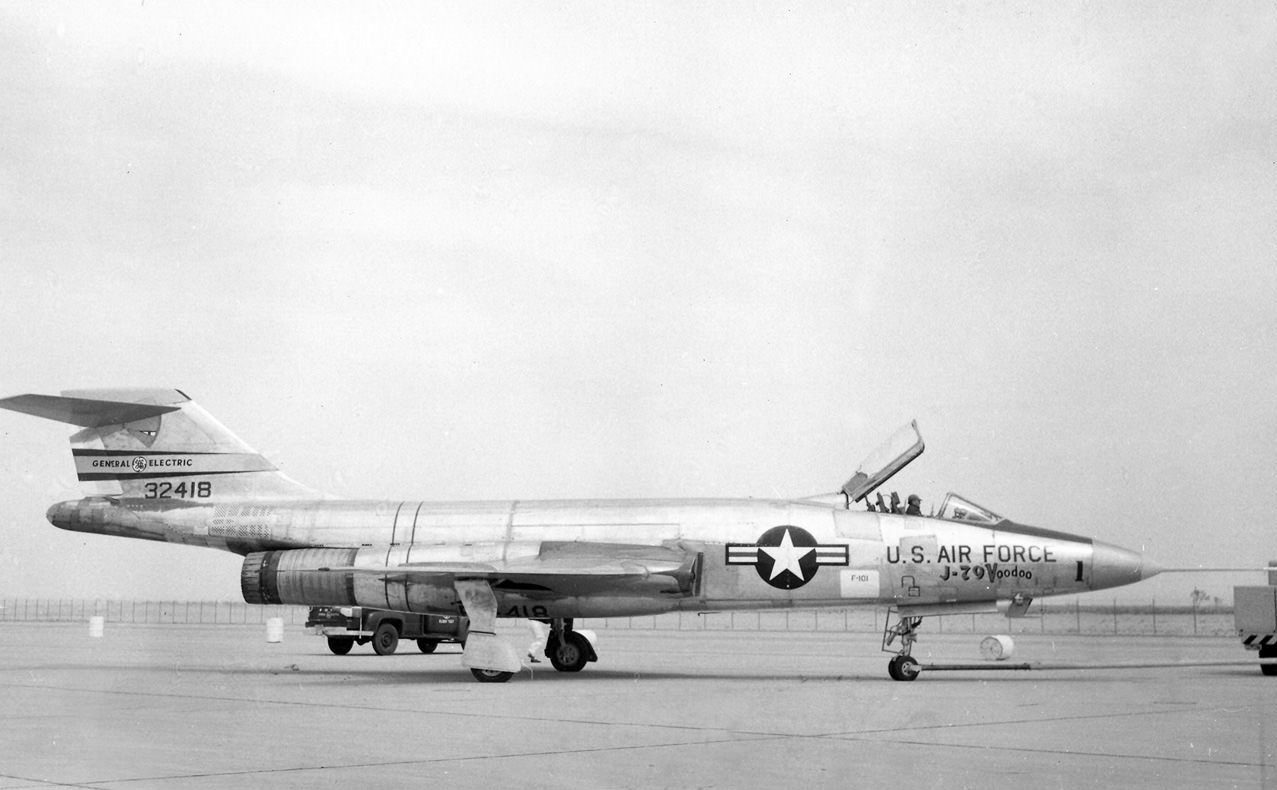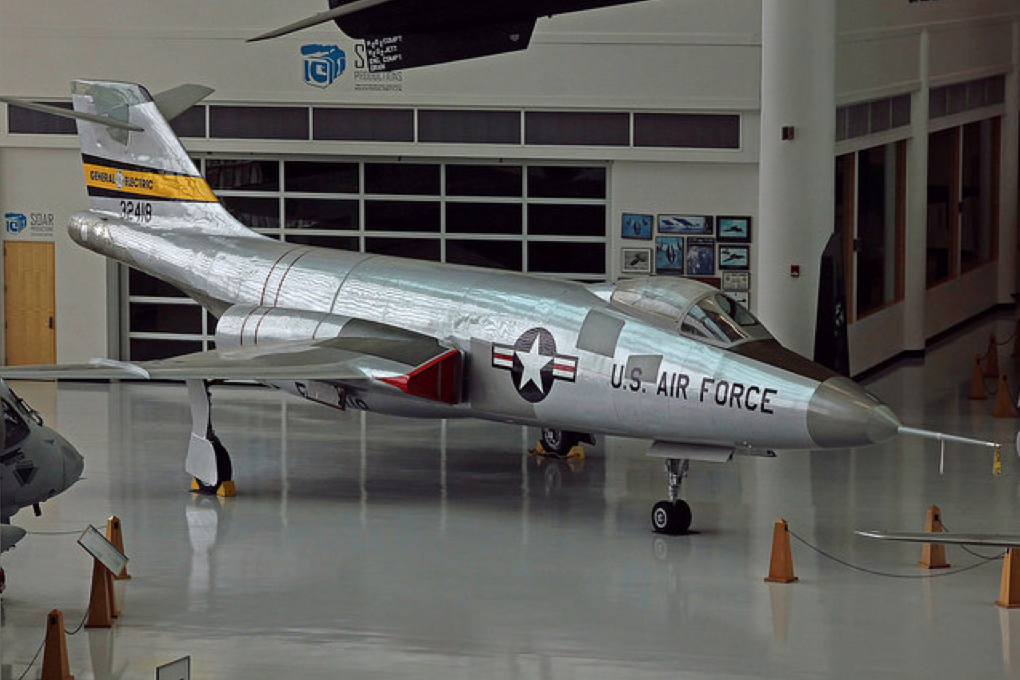 © 2019, Bryan R. Swopes