29 June 1955: The first operational Boeing B-52 Stratofortress, RB-52B-15-BO 52-8711, was delivered to the 93rd Bombardment Wing, Heavy, at Castle Air Force Base, Merced, California. The bomber was accepted from Boeing at Larson Air Force Base, Moses Lake, Washington, by the 93rd's commanding officer, Brigadier General William Emanuel Eubank, Jr., U.S. Air Force, before flying to Castle. The new long-range heavy bombers would replace the 93rd's Boeing B-47 Stratojets.
Fifty B-52Bs were built by Boeing at its Plant 2, Seattle, Washington. Twenty-seven of these were RB-52B reconnaissance bombers. They were designed to accept a pressurized electronic intelligence and photographic reconnaissance capsule with a two-man crew that completely filled the bomb bay. Without the capsule aboard, the RB-52s were capable of the same bombing missions as their sister B-52Bs. The change could be made within a few hours.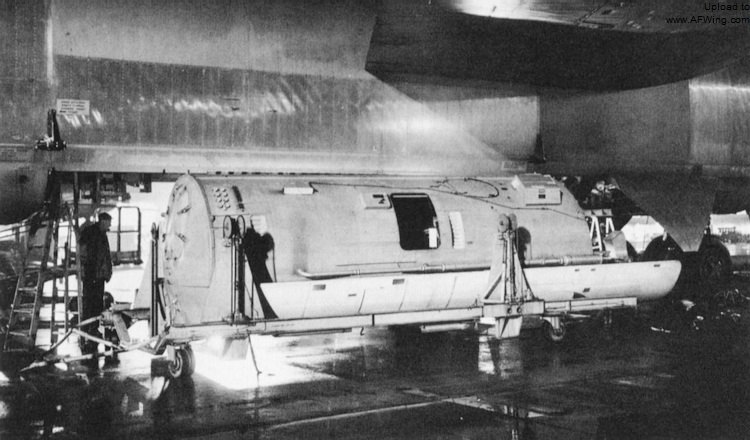 The B-52B/RB-52B was operated by a six-man flight crew for the bombing mission, and eight for reconnaissance. These were the aircraft commander/pilot, co-pilot, navigator, radar navigator/bombardier, electronic warfare officer, and gunner, plus two reconnaissance technicians when required.
The airplane was 156.6 feet, (47.7 meters) long with a wingspan of 185.0 feet (56.4 meters) and overall height of 48.3 feet (14.7 meters). The wings were mounted high on the fuselage ("shoulder-mounted") to provide clearance for the engines which were suspended on pylons. The wings' leading edges were swept aft to 36° 54′. Their angle of incidence was 6° and there was 2° 30′ dihedral. The wing area was 4,000 square feet (372 square meters). The B-52B's calculated empty weight was 164,081 pounds (74,426 kilograms), with a combat weight of 272,000 pounds (123,377 kilograms) and a maximum takeoff weight of 420,000 pounds (190,509 kilograms).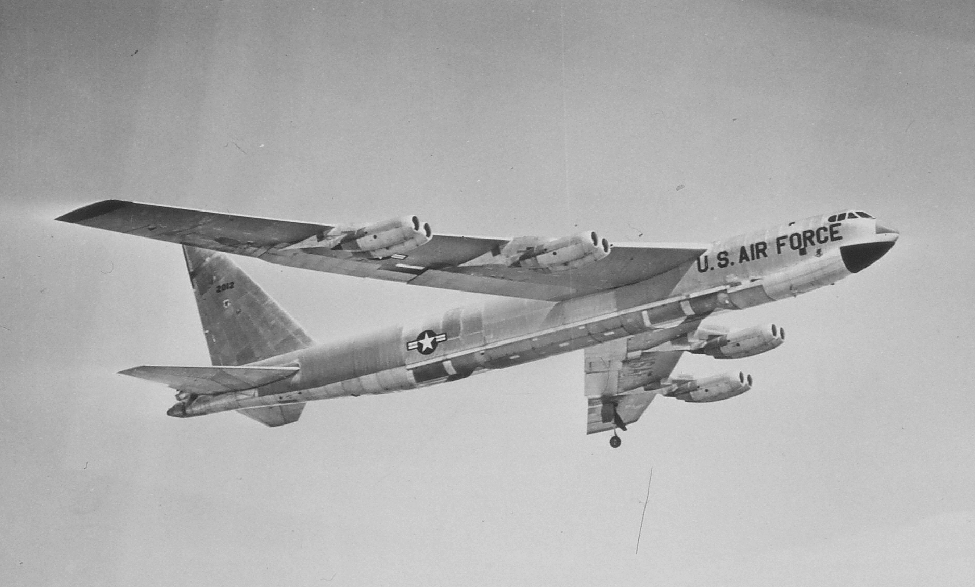 Early production B-52Bs were powered by eight Pratt & Whitney J57-P-1W turbojet engines, while later aircraft were equipped with J57-P-19W and J57-P-29W or WA turbojets. The engines were grouped in two-engine pods on four under-wing pylons. The J57 was a two-spool, axial-flow engine with a 16-stage compressor section (9 low- and 7-high-pressure stages) and a 3-stage turbine section (1 high- and 2 low-pressure stages). The J57-PW-1 engines had a Normal Power rating of 8,250 pounds of thrust (32.698 kilonewtons) at 9,720 r.p.m., N1, continuous; Military Power, 9,500 pounds thrust (42.258 kilonewtons) at 9,950 r.p.m., N1, for 30 minutes; and Maximum Power, 11,100 pounds of thrust (49.375 kilonewtons) with water injection, at 9,950 r.p.m., N1, 5 minute limit. The J57-PW-1 was 3 feet. 4.5 inches (1.029 meters) in diameter, 13 feet, 1.2 inches (3.993 meters) long, and weighed 4,210 pounds (1,910 kilograms).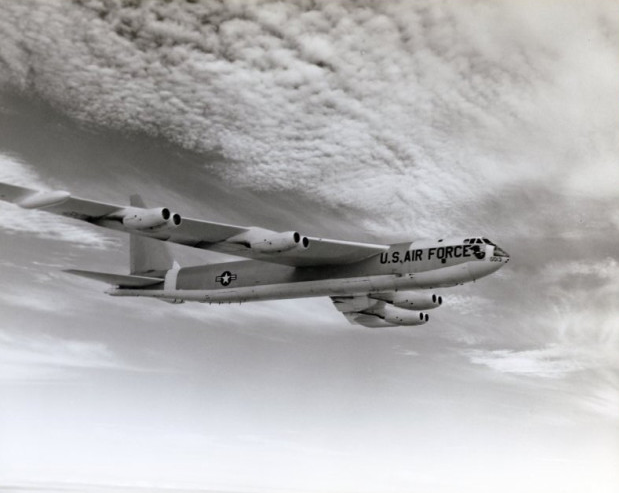 The B-52B/RB-52B had a cruise speed of 453 knots (521 statute miles per hour/839 kilometers per hour) at 34,950 feet (10,653 meters). The maximum speed was 551 knots (634 miles per hour/1,020 kilometers per hour) at 20,300 feet (6,187 meters). The service ceiling at combat weight was 47,700 feet (14,539 meters). The maximum service ceiling was 55,700 feet (16,977 meters).
The B/RB-52B had a maximum fuel capacity of 37,550 gallons (142,142 liters) of JP-4. It also carried 360 gallons (1,363 liters) of water for injection during takeoff. The bomber's maximum ferry range was 6,380 nautical miles (7,342 statute miles/11,816 kilometers). With a 10,000 pound (4,536 kilogram) bomb load, the B/RB-52B had a combat radius of 3,070 nautical miles (3,533 miles/5,686 kilometers). With inflight refueling, the bomber's range was world-wide.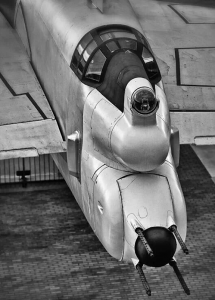 Defensive armament consisted of four Browning Aircraft Machine Guns, Caliber .50, AN-M3, mounted in a tail turret with 600 rounds of ammunition per gun. These guns had a combined rate of fire of 4,800 rounds per minute.
The B-52B could carry twenty-seven 1,000 pound (454 kilogram) bombs, or two Mk.21 17,000 pound (7,711 kilogram) Special Weapons (thermonuclear bombs). The maximum bomb load was 43,000 pounds (19,505 kilograms). (At the time 52-8711 entered service, only fission weapons were available. The most powerful of these was the variable yield Mk.6, which could produce a maximum 160 kilotons of energy.)
Boeing manufactured 744 B-52 Stratofortress bombers, with the final one rolled out at Wichita, Kansas, 22 June 1962. As of June 2016, 75 B-52H bombers remained in service with the United States Air Force.
RB-52B 52-8711 remained in active service until 29 September 1965. Today it is on display at the Strategic Air and Space Museum, Ashland, Nebraska.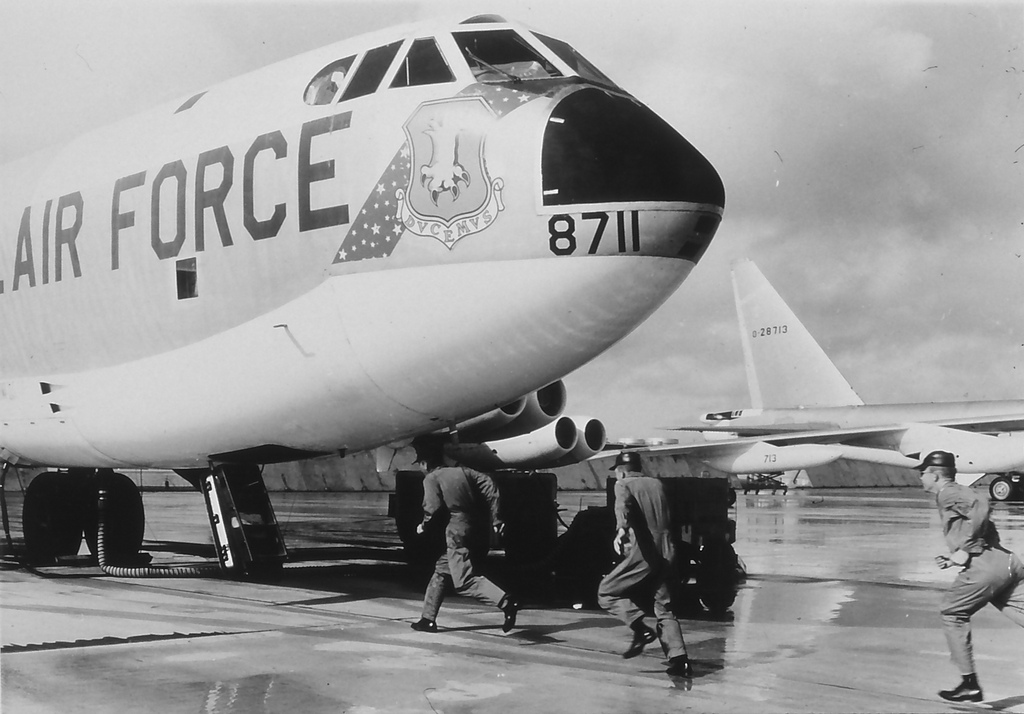 © 2023, Bryan R. Swopes