29 June 1955: The first operational Boeing B-52 Stratofortress, RB-52B-15-BO 52-8711, was delivered to the 93rd Bombardment Wing, Heavy, at Castle Air Force Base, Merced, California. The new long-range heavy bomber would replace the 93rd's Boeing B-47 Stratojets.
Fifty B-52Bs were built by Boeing at its Plant 2, Seattle, Washington. Twenty-seven of these were RB-52B reconnaissance bombers. They were designed to accept a pressurized electronic intelligence and photographic reconnaissance capsule with a two-man crew that completely filled the bomb bay. Without the capsule aboard, the RB-52s were capable of the same bombing missions as their sister B-52Bs. The change could be made within a few hours.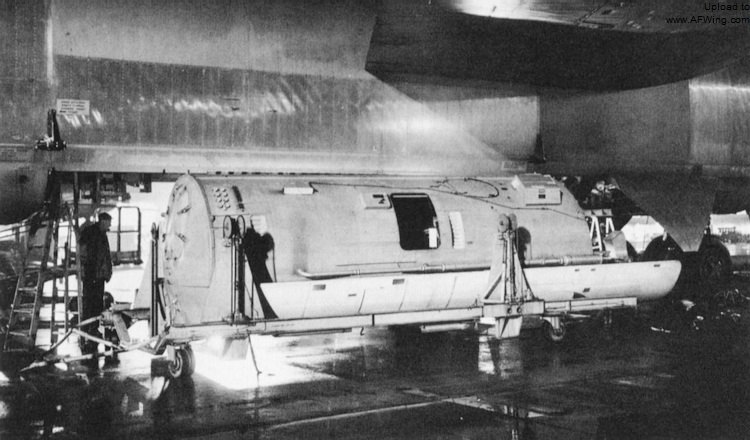 The B-52B/RB-52B was operated by a six-man flight crew for the bombing mission, and eight for reconnaissance. These were the aircraft commander/pilot, co-pilot, navigator, radar navigator/bombardier, electronic warfare officer, and gunner, plus two reconnaissance technicians when required.
The airplane was 156.6 feet, (47.7 meters) long with a wingspan of 185.0 feet (56.4 meters) and overall height of 48.3 feet (14.7 meters). The wings were mounted high on the fuselage ("shoulder-mounted") to provide clearance for the engines which were suspended on pylons. The wings' leading edges were swept aft to 36° 54′. Their angle of incidence was 6° and there was 2° 30′ dihedral. The RB-52B's empty weight was 162,969 pounds (73,921 kilograms), with a combat weight of 257,900 pounds (116,981 kilograms) and a maximum takeoff weight of 390,000 pounds (176,901 kilograms). (MTOW was later increased to 420,000 pounds.)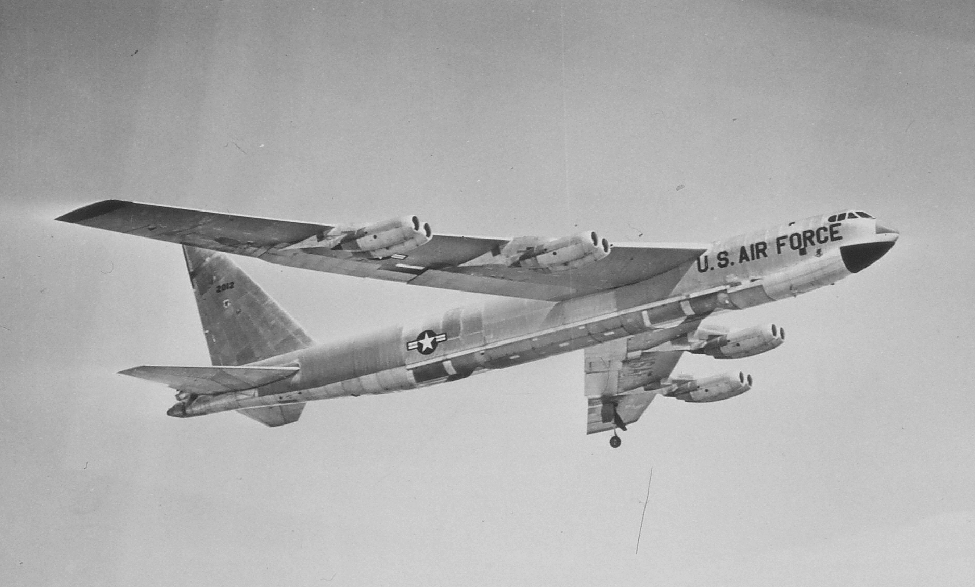 Early production B-52Bs were powered by eight Pratt & Whitney J57-P-1W turbojet engines, while later aircraft were equipped with J57-P-19W and J57-P-29W or WA turbojets. The engines were grouped in two-engine pods on four under-wing pylons. The J57 was a two-spool, axial-flow engine with a 16-stage compressor section (9 low- and 7-high-pressure stages) and a 3-stage turbine section (1 high- and 2 low-pressure stages). The J57-PW-1 engines had a Normal Power rating of 8,250 pounds of thrust (32.698 kilonewtons) at 9,720 r.p.m., N1, continuous; Military Power, 9,500 pounds thrust (42.258 kilonewtons) at 9,950 r.p.m., N1, for 30 minutes; and Maximum Power, 11,100 pounds of thrust (49.375 kilonewtons) with water injection, at 9,950 r.p.m., N1, 5 minute limit. The J57-PW-1 was 3 feet. 4.5 inches (1.029 meters) in diameter, 13 feet, 1.2 inches (3.993 meters) long, and weighed 4,210 pounds (1,910 kilograms).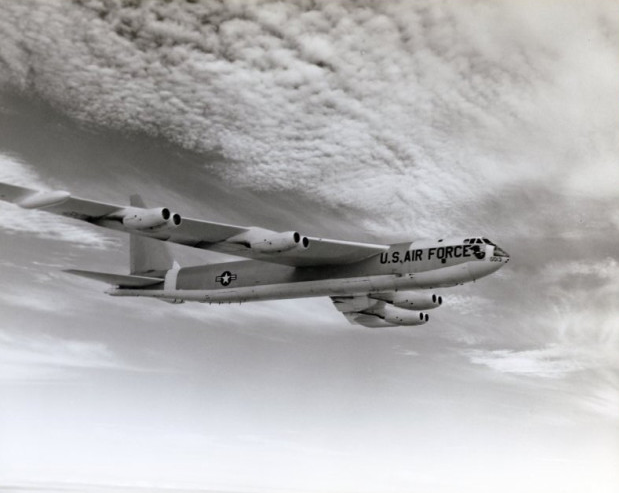 The B-52B/RB-52B had a cruise speed of 517 knots (595 miles per hour/957 kilometers per hour) at 35,000 feet (10,668 meters). The maximum speed was 542 knots (624 miles per hour/1,004 kilometers per hour) at 19,500 feet (5,944 meters). The service ceiling at combat weight was 47,600 feet (14,508 meters).
The RB-52B had a maximum fuel capacity of 37,385 gallons (141,518 liters). Its maximum ferry range was 6,460 nautical miles (7,434 statute miles/11,964 kilometers). With a 10,000 pound (4,536 kilogram) bomb load, the RB-52B had a combat radius of 3,110 nautical miles (3,579 miles/5,760 kilometers). With inflight refueling, the bomber's range was world-wide.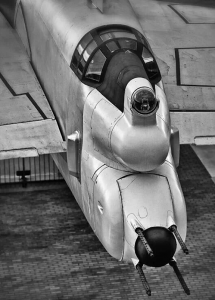 Defensive armament consisted of four Browning Aircraft Machine Guns, Caliber .50, AN-M3, mounted in a tail turret with 600 rounds of ammunition per gun. These guns had a combined rate of fire of 4,800 rounds per minute.
The B-52B could carry twenty-seven 750 pound (340 kilogram) bombs, or two 25,000 pound (11,340 kilogram) Special Weapons (thermonuclear bombs).
Boeing manufactured 744 B-52 Stratofortress bombers, with the final one rolled out at Wichita, Kansas, 22 June 1962. As of June 2016, 75 B-52H bombers remain in service with the United States Air Force.
RB-52B 52-8711 remained in active service until 29 September 1965. Today it is on display at the Strategic Air and Space Museum, Ashland, Nebraska.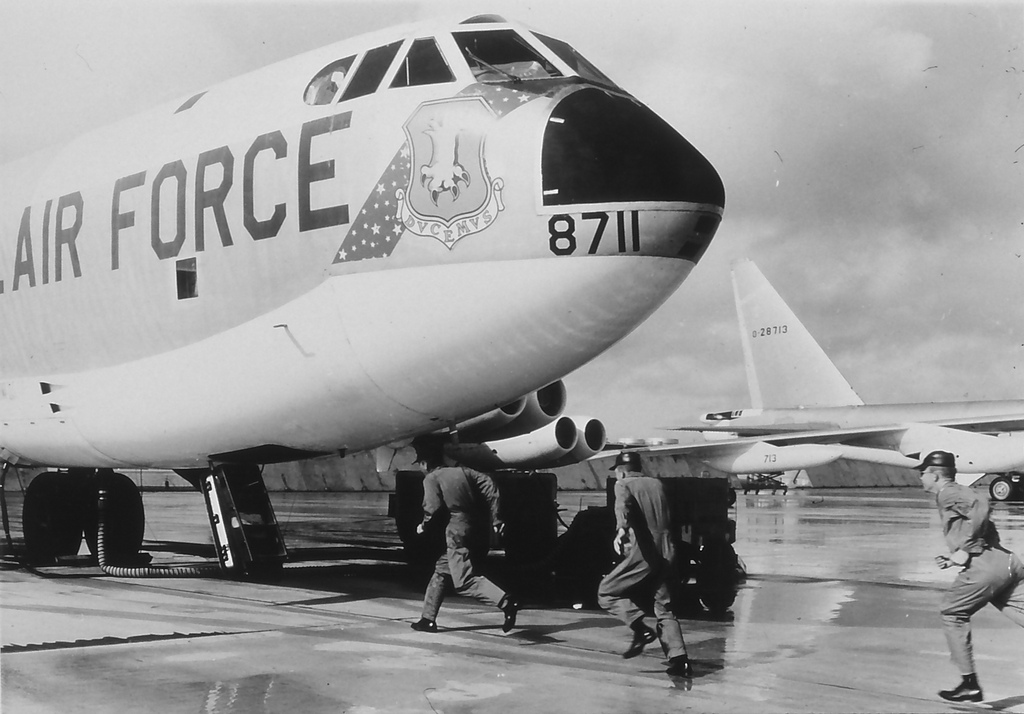 © 2019, Bryan R. Swopes