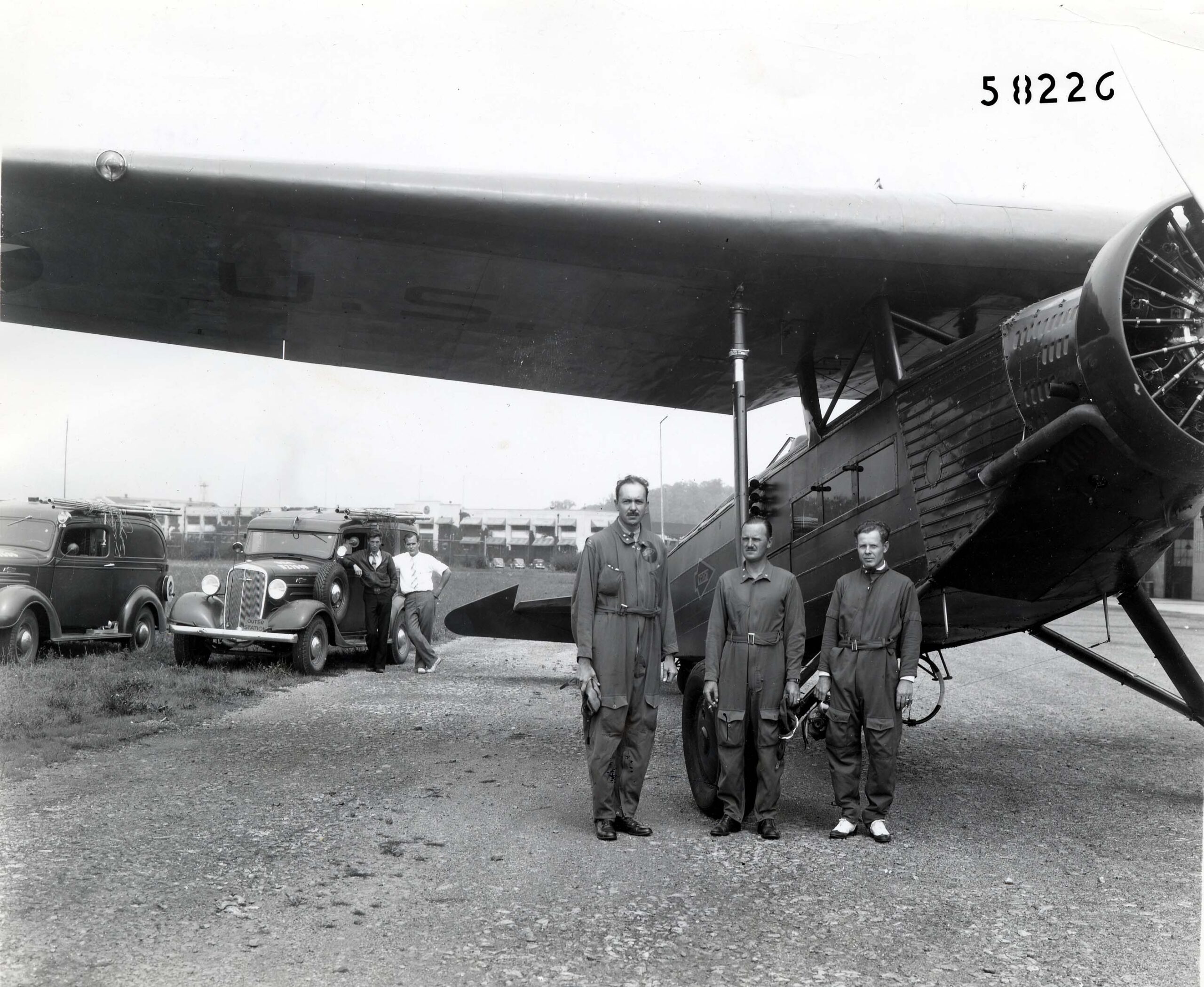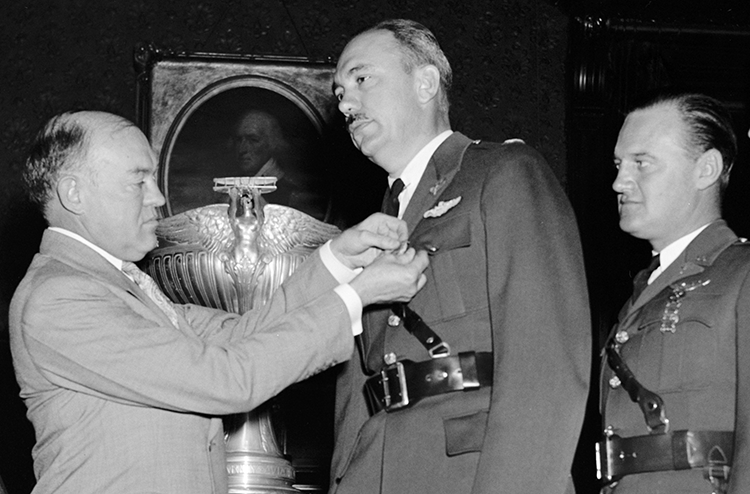 The President of the United States of America, authorized by Act of Congress, July 2, 1926, takes pleasure in presenting the Distinguished Flying Cross to Captain (Air Corps) George V. Holloman, U.S. Army Air Corps, for extraordinary achievement while participating in aerial flights in connection with the design and development of the airplane automatic landing system which made possible the first complete automatic airplane landing in history. Over the period of two years during which this system was under development, Captain Holloman, with utter disregard of his personal safety, performed virtually all of the great amount of flight testing which was required for the numerous items of equipment which go to make up the complete automatic landing assembly, and when finally on 23 August 1937, the first experimental automatic landing flights were made, he was in the cockpit of the airplane used for this purpose. The engineering skill, judgment, and resourcefulness displayed by Captain Holloman, and his courage in performing hundreds of test flights with highly experimental equipment, contributed largely to the ultimate successful development of the automatic landing system.
General Orders: War Department: American Decorations, 1940 (Supplement IV-1940)
Action Date: August 23, 1937
Service: Army Air Forces
Rank: Captain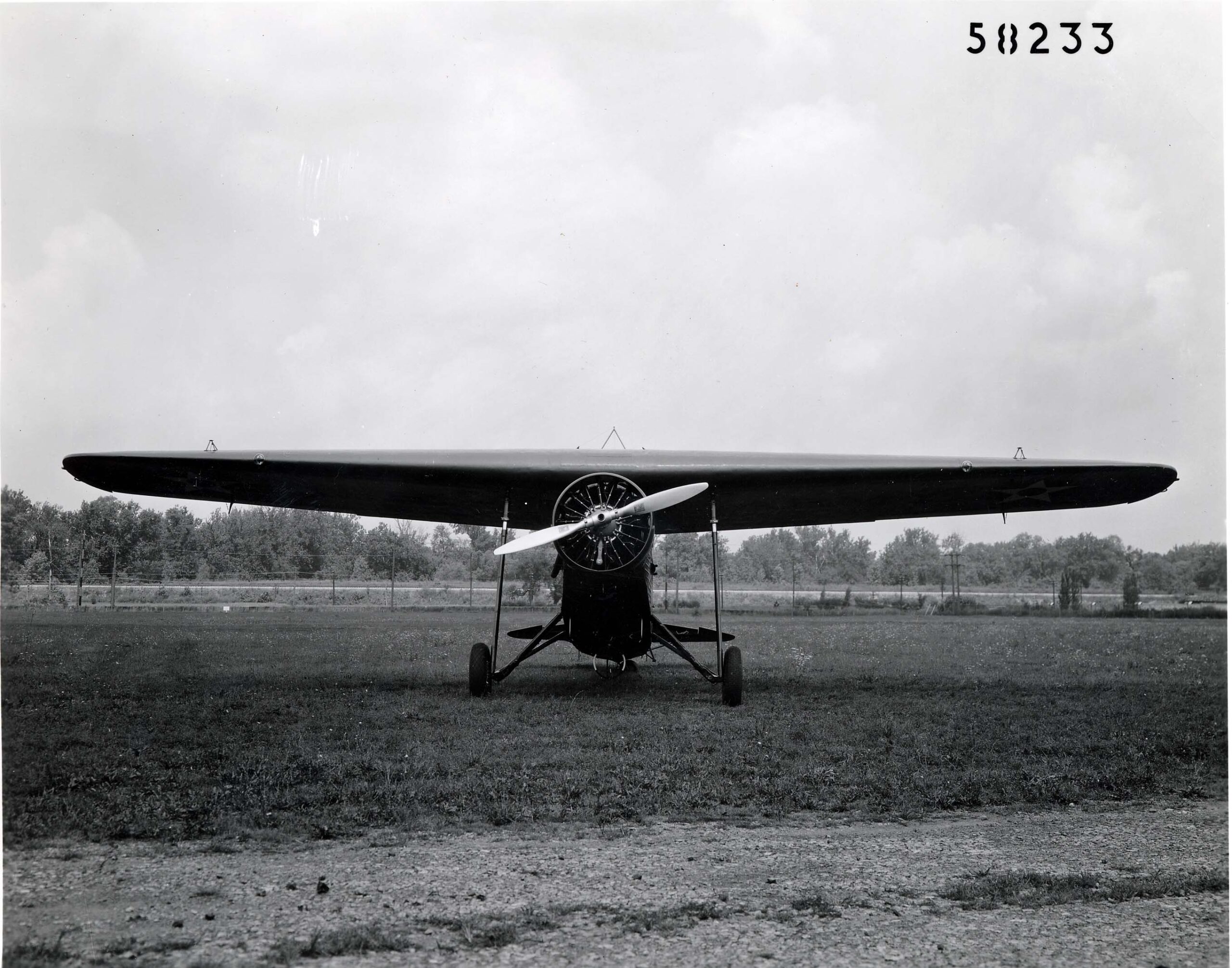 Mackay Trophy Capt. George Carl Crane, Capt. George V. Hollomam "For their successful development and demonstration flights of the Automatic Landing System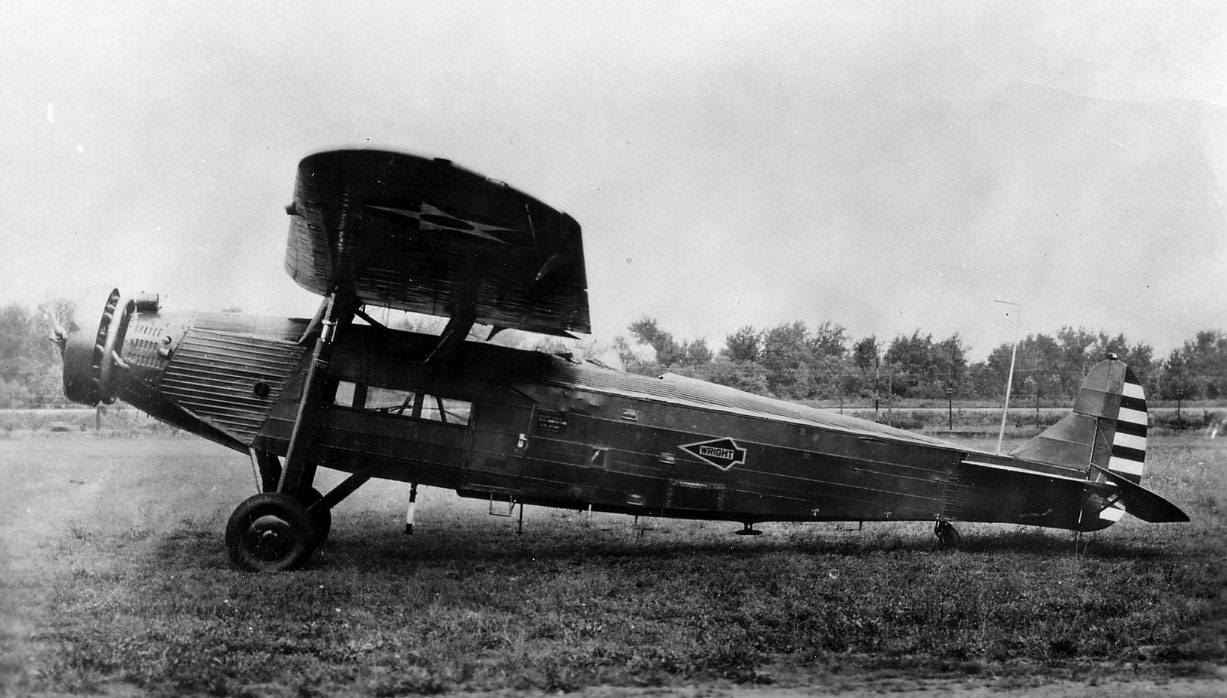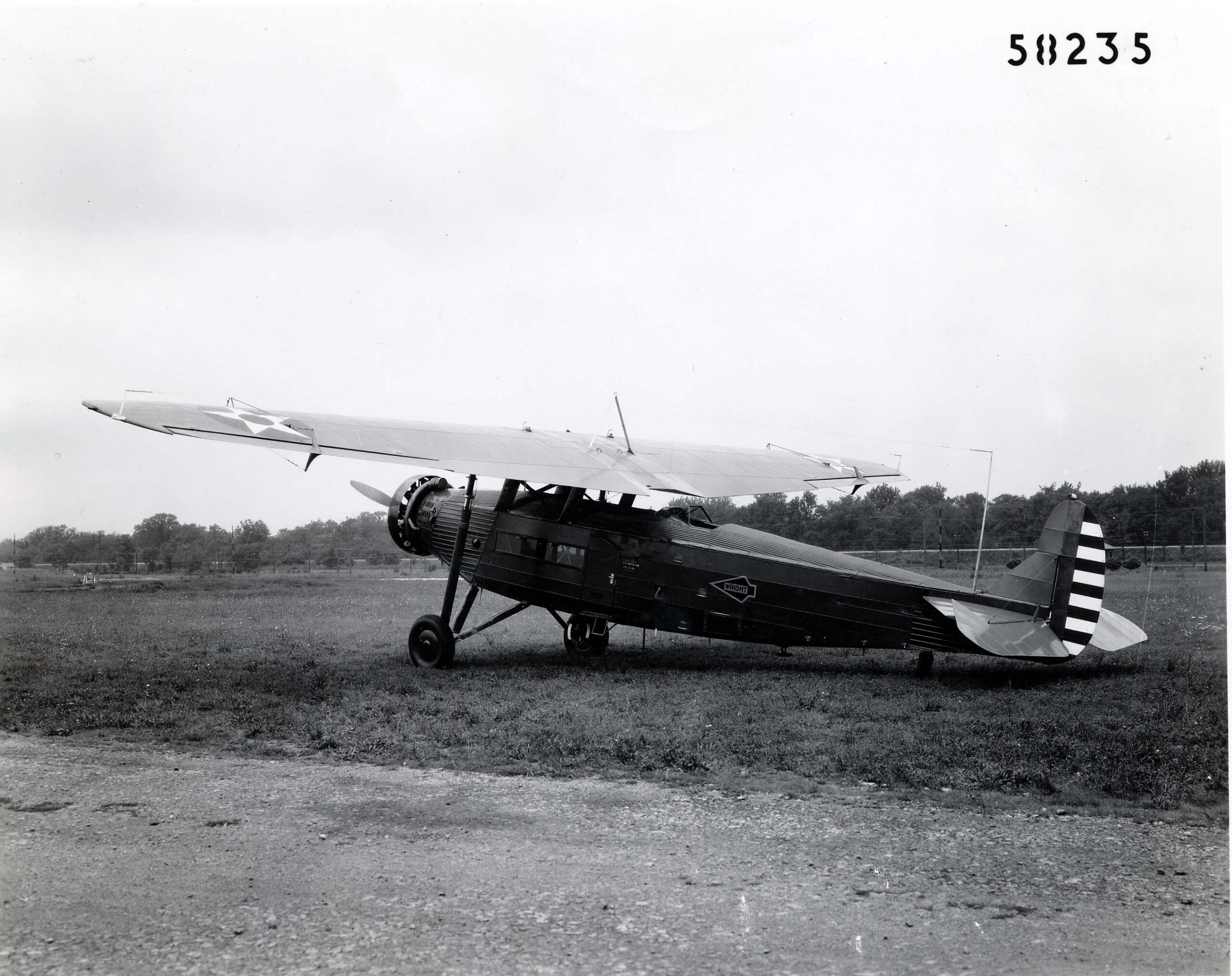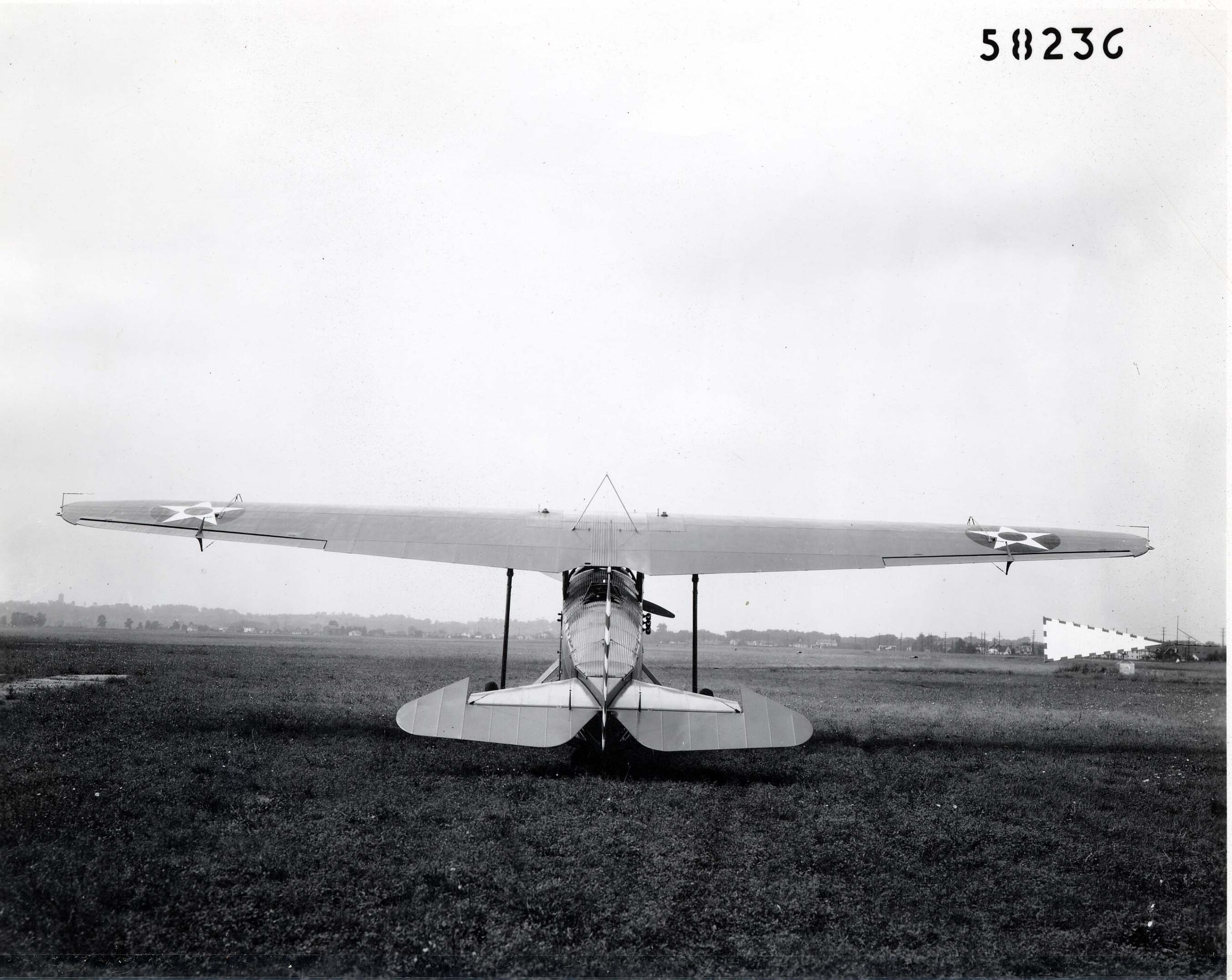 Fokker C-14B
"After two years of research and preparation daring pilots and engineers of the Army Air Corps in 1937 began to make automatic "blind" landings without any control from the occupants of the airplane or observers on the surface. On Monday, August 23, a day when the air was bumpy and the wind decidedly adverse, a big Army plane swung over the horizon near Wright Field, at Dayton, O., and glided straight down on the runway, rolling a few yards and then coming to a stop as if it had been at all times in the hands of an expert pilot. But nobody had anything to do with this landing; There were three men in the Army's cargo plane, and they were the three experts who had developed the apparatus. Like true scientists they had gone up and come down on this test to for themselves just how there creation would work. But let them tell the story of this amazing achievement. . . .
—The AIRCRAFT YEAR BOOK FOR 1938, Howard Mingos, Editor, Aeronautical Chamber of Commerce of America, Inc., New York, 1938, Chapter II at Pages 43–50
© 2018, Bryan R. Swopes
by