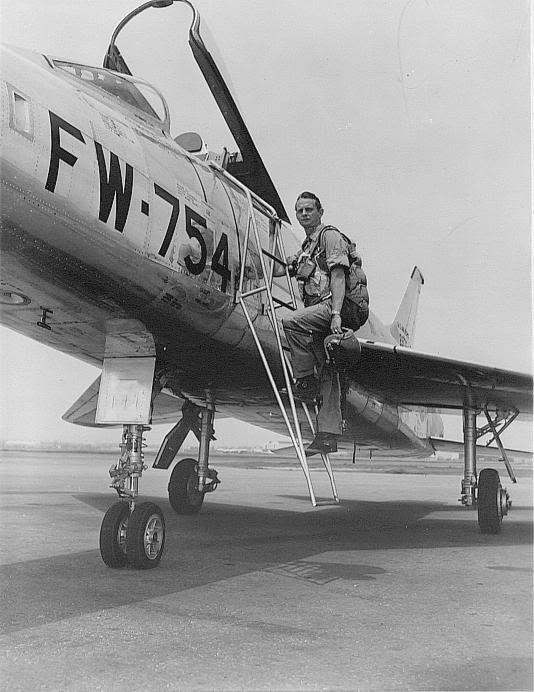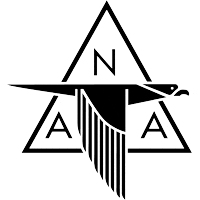 25 May 1953: North American Aviation Chief Test Pilot George S. Welch took the YF-100A Super Sabre, U.S. Air Force serial number 52-5754, for its first flight at Edwards Air Force Base. The airplane reached Mach 1.03.
Development of the Super Sabre began with an effort to increase the speed of the F-86D and F-86E Sabre fighters. The wings had more sweep and the airfoil sections were thinner. A much more powerful engine would be needed to achieve supersonic speed in level flight. As design work on the "Sabre 45" proceeded, the airplane evolved to a completely new design. Initially designated XF-100, continued refinements resulted in the first two aircraft being redesignated YF-100A.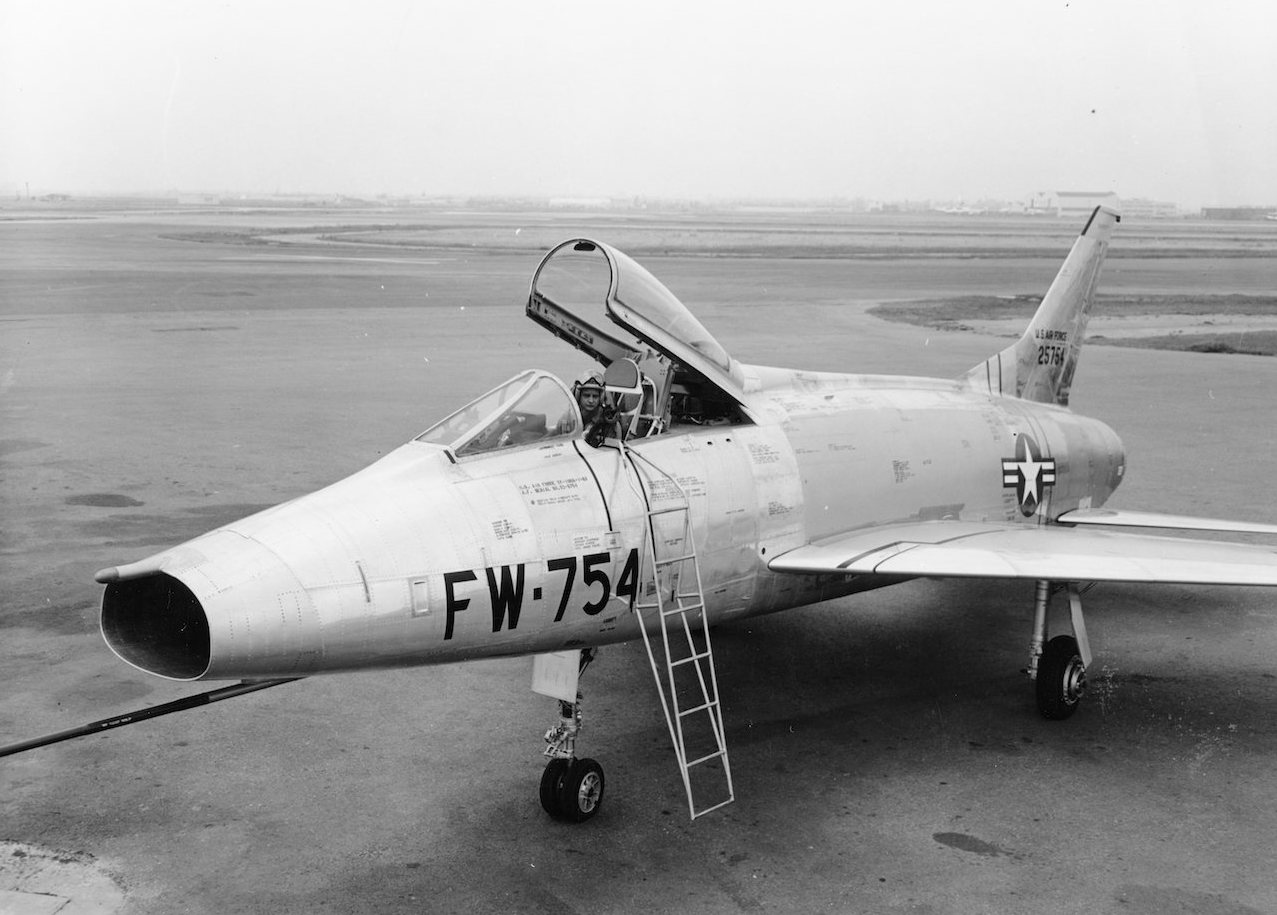 The two YF-100As, 52-5754 and 52-5755, were 47 feet, 11¼ inches (14.611 meters) long with a wingspan of 36 feet, 7 inches (11.151 meters) and height of 16 feet, 3 inches (4.953 meters). The wings were swept to 45° at 25% chord, and had 0° angle of incidence and 0° dihedral. The ailerons were placed inboard on the wings to eliminate their twisting effects at high speed. The airplane had no flaps. The pre-production prototypes weighed 18,135 pounds (8,226 kilograms) empty, and had a gross weight of 24,789 pounds (11,244 kilograms).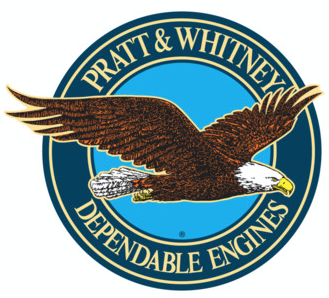 The new air superiority fighter was powered by a Pratt & Whitney Turbo Wasp J57-P-7 engine. The J57 was a two-spool axial-flow turbojet which had a 16-stage compressor section (9 low- and 7 high-pressure stages) and a 3-stage turbine (2 high- and 1 low-pressure stages). The J57-P-7 had a Maximum Continuous Power rating of 8,000 pounds of thrust (35.586 kilonewtons) at 5,875 r.p.m., N1, and 9550 r.p.m., N2. The engine's Military Power rating was 9,700 pounds thrust (43.148 kilonewtons) at 6,275 r.p.m./9,900 r.p.m., for 30 minutes; and 14,800 pounds thrust (65.834 kilonewtons) at 6,275 r.p.m./9,900 r.p.m. with afterburner, limited to five minutes. The engine was 20 feet, 9.7 inches (6.342 meters) long, 3 feet, 3.9 inches (1.014 meters) in diameter, and weighed 5,075 pounds (2,303 kilograms). Later production aircraft used a J57-P-39 engine, which had the same ratings.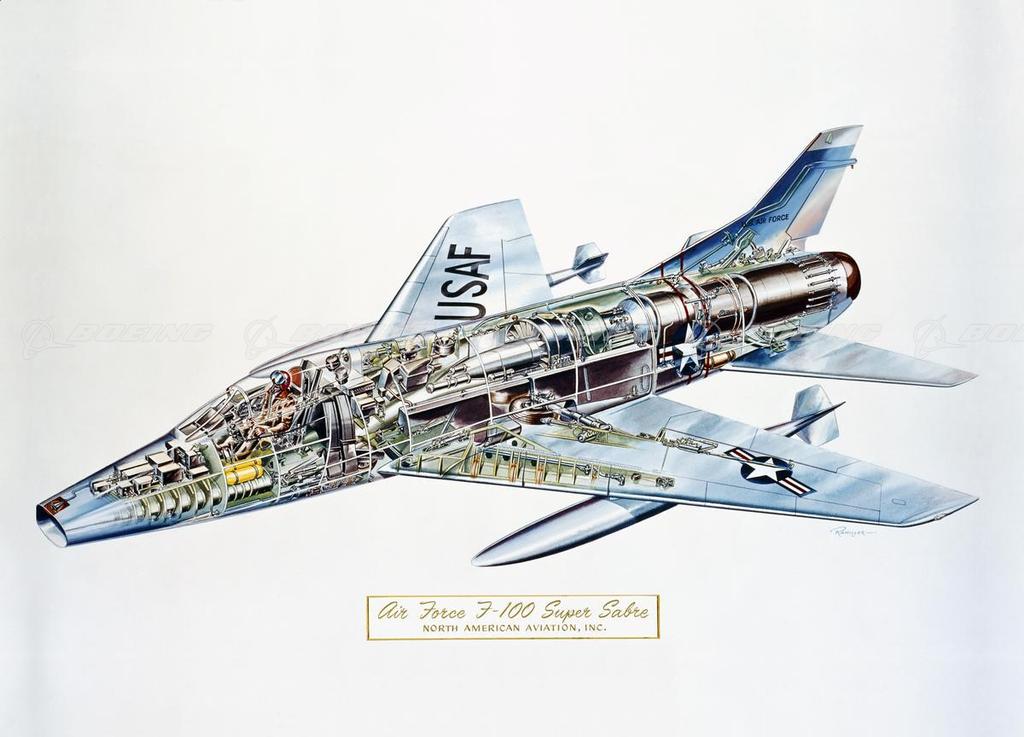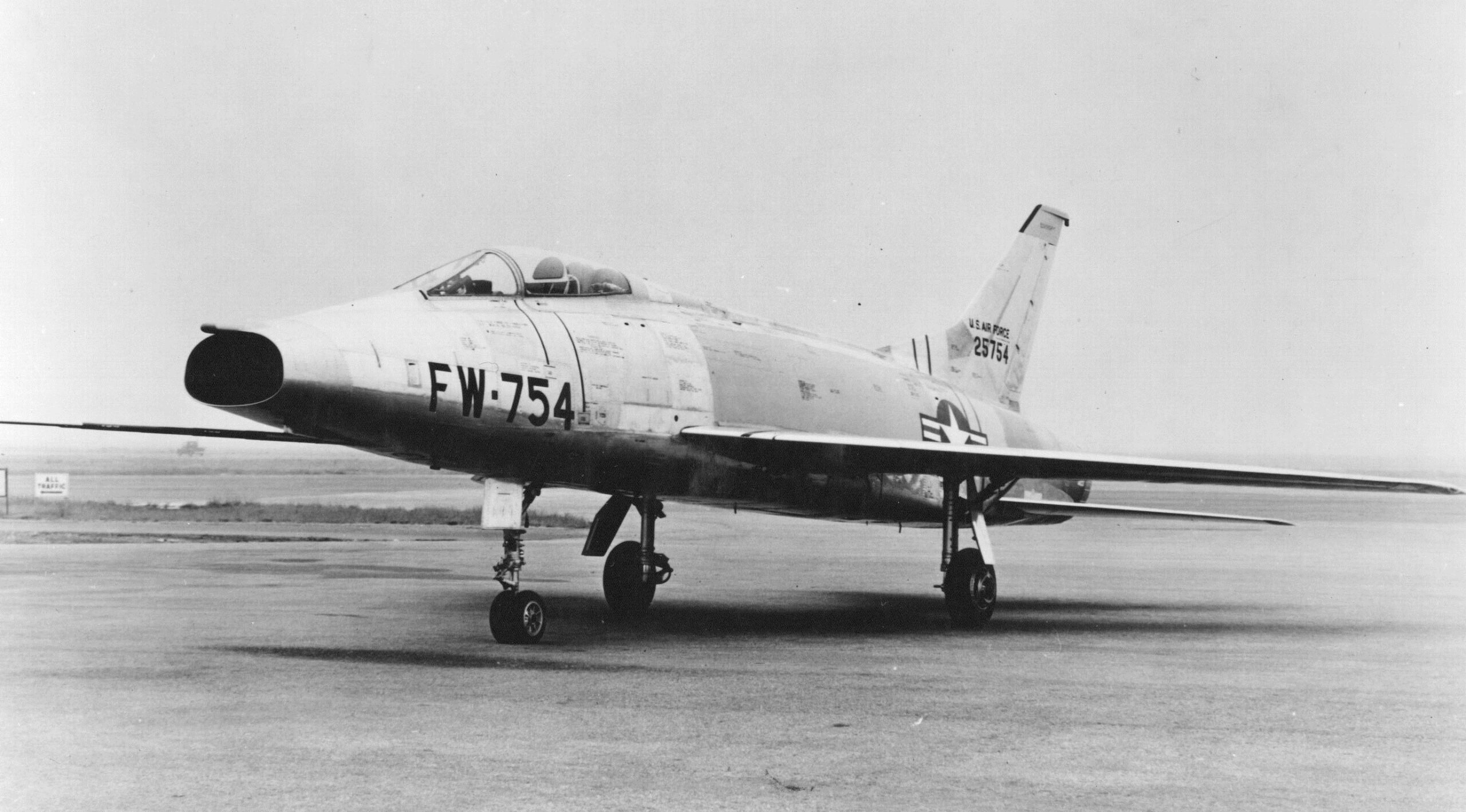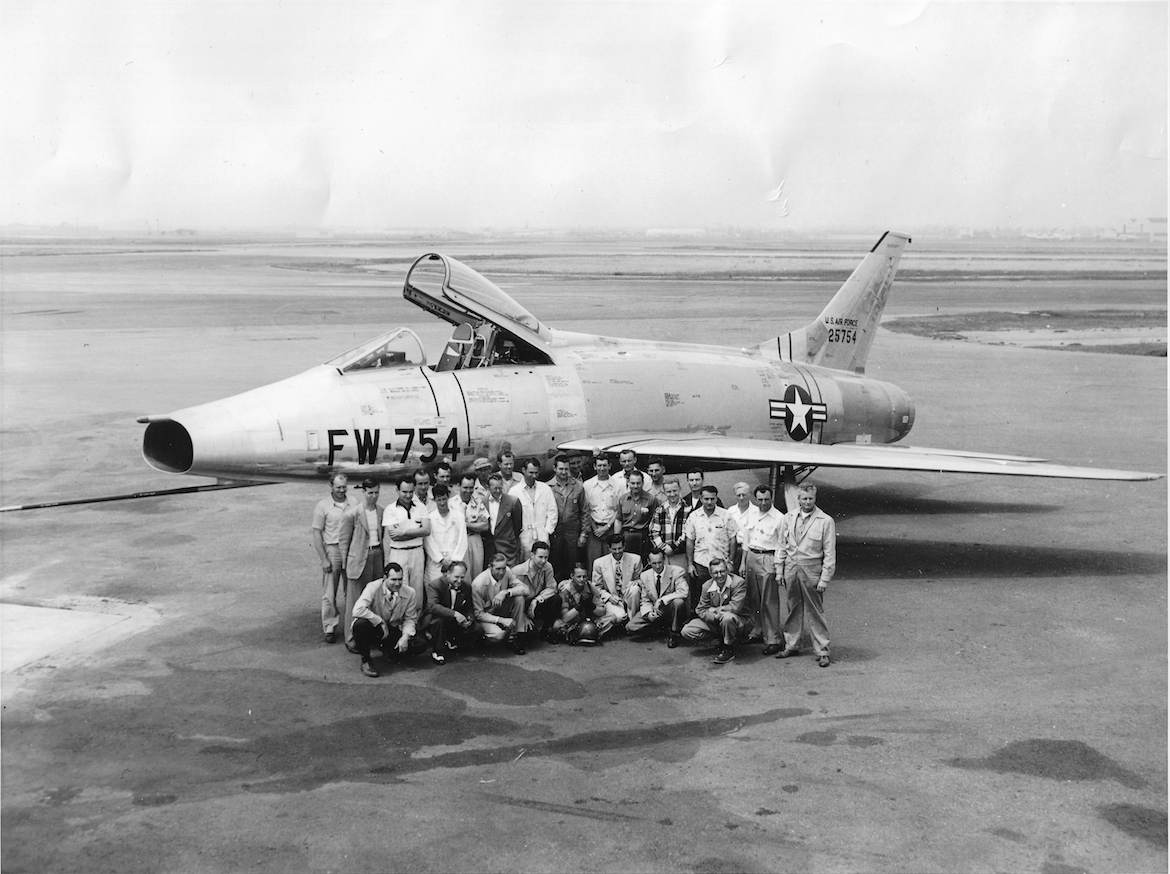 The YF-100A had a maximum speed of 660 miles per hour (1,062 kilometers per hour) at 43,350 feet (13,213 meters). The service ceiling was 52,600 feet (16,033 meters). Range with internal fuel was 422 miles (679 kilometers).
During testing, 52-5754 reached Mach 1.44 in a dive. On 29 October 1953, Colonel Frank K. Everest set a world speed record of 1,215.298 kilometers per hour (755.151 miles per hour) with 754.¹
In service with the United States Air Force, the Super Sabre's mission changed from air superiority fighter to fighter bomber. It was used extensively during the Vietnam War. North American Aviation, Inc., built 2,294 single and tandem-seat Super Sabres between 1954 and 1959.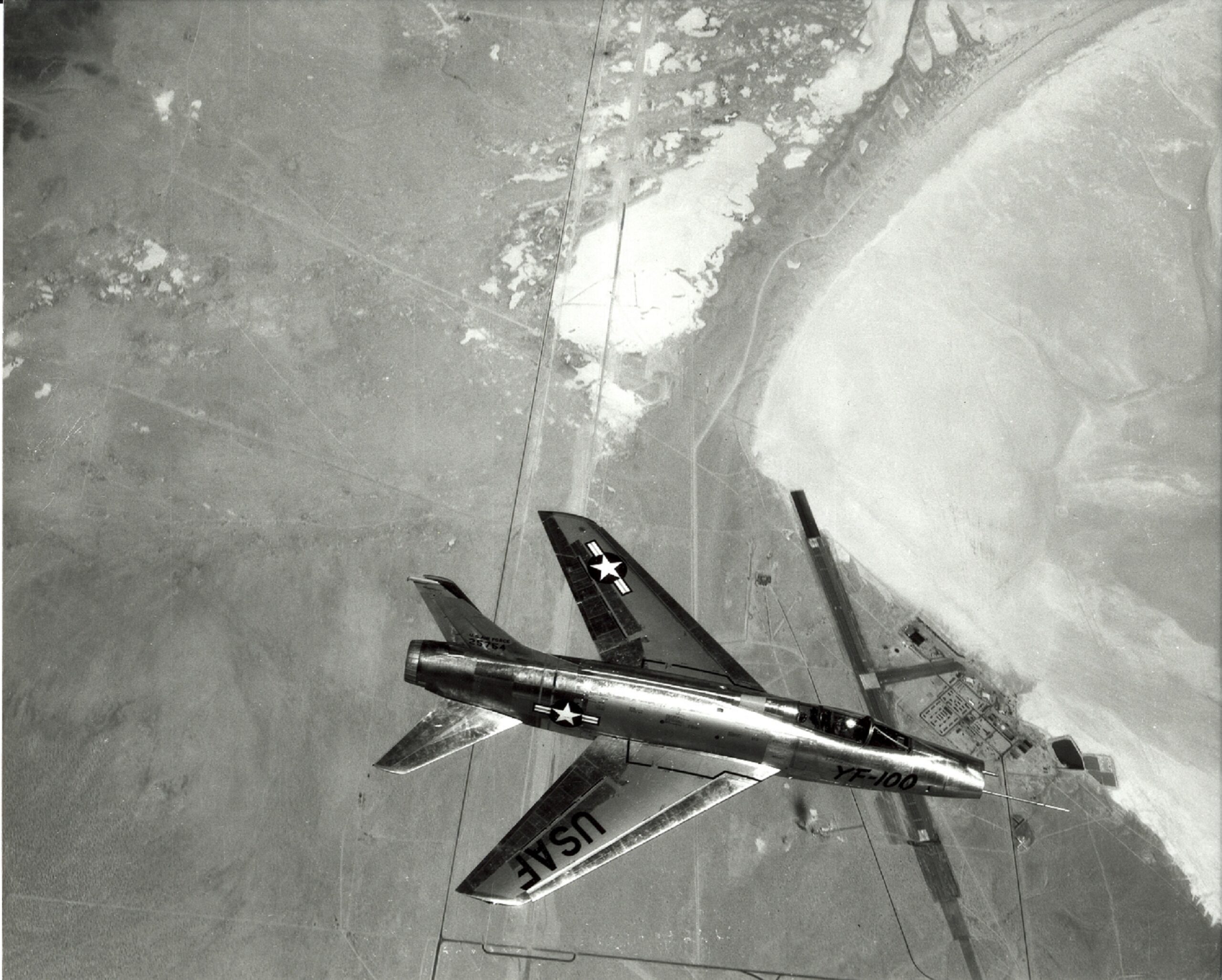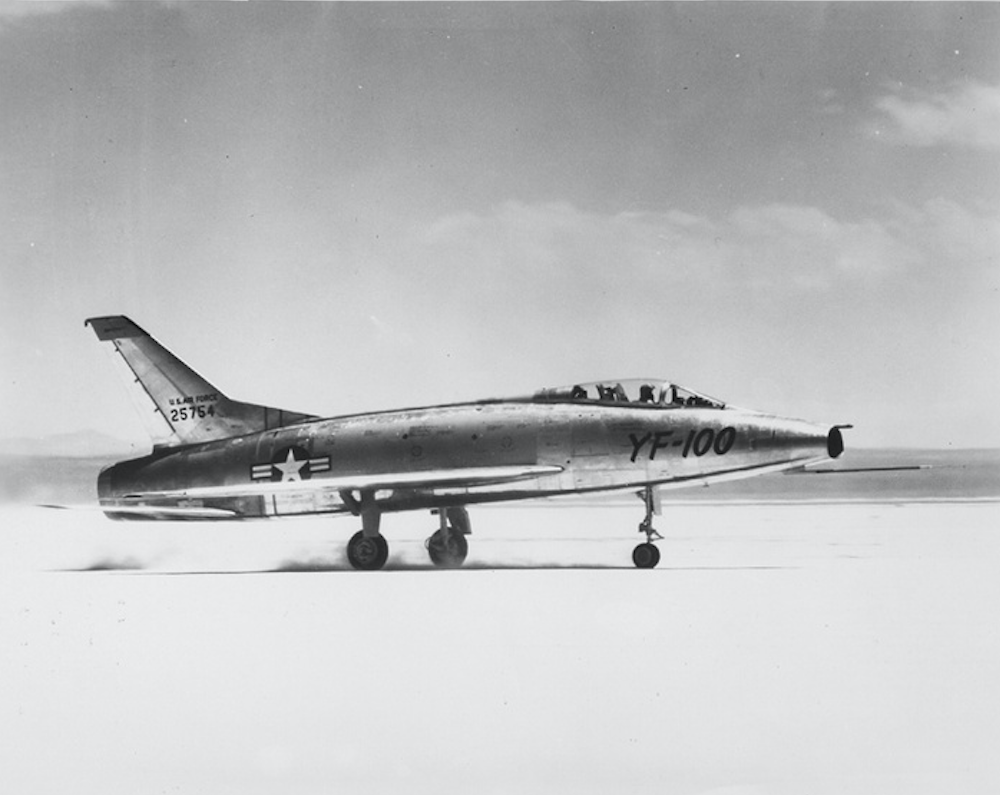 George Welch was born George Lewis Schwartz, in Wilmington, Delaware, 10 May 1918. His parents changed his surname to Welch, his mother's maiden name, so that he would not be effected by the anti-German prejudice that was widespread in America following World War I. He studied mechanical engineering at Purdue, and enlisted in the Army Air Corps in 1939.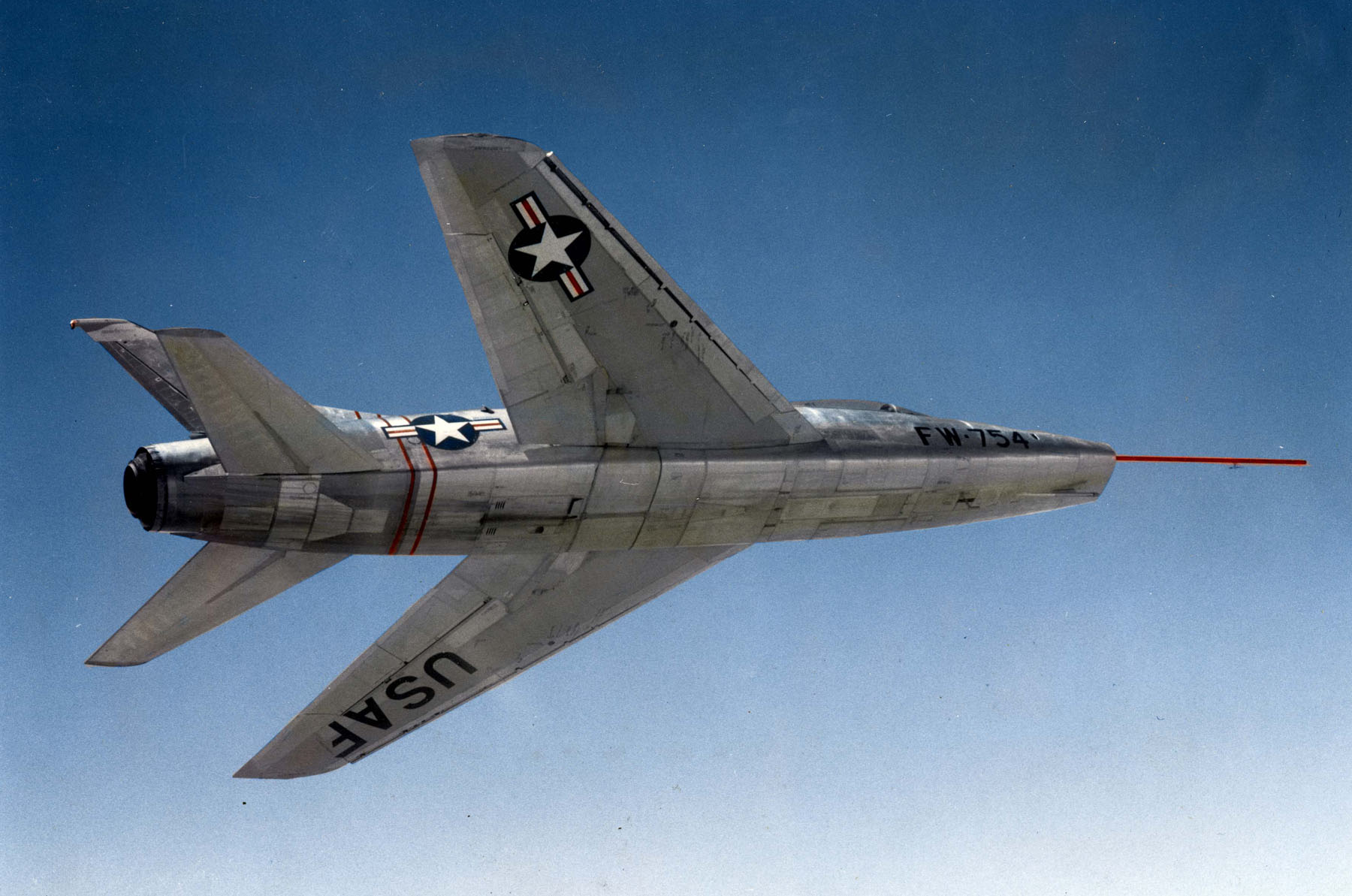 George S. Welch is best remembered as one of the heroes of Pearl Harbor. He was one of only two fighter pilots to get airborne during the Japanese surprise attack on Hawaii, 7 December 1941. Flying a Curtiss P-40B Warhawk, he shot down three Aichi D3A "Val" dive bombers and one Mitsubishi A6M2 Zero fighter. For this action, Lieutenant General H.H. "Hap" Arnold recommended the Medal of Honor, but because Lieutenant Welch had taken off without orders, an officer in his chain of command refused to endorse the nomination. He received the Distinguished Service Cross. During the War, Welch flew the Bell P-39 Airacobra and Lockheed P-38 Lightning on 348 combat missions. He had 16 confirmed aerial victories over Japanese airplanes and rose to the rank of Major.
Suffering from malaria, George Welch was out of combat, and when North American Aviation approached him to test the new P-51H Mustang, General Arnold authorized his resignation. Welch test flew the P-51, FJ-1 Fury, F-86 Sabre and F-100 Super Sabre. He was killed 12 October 1954 when his F-100A Super Sabre came apart in a 7 G pull up from a Mach 1.5 dive.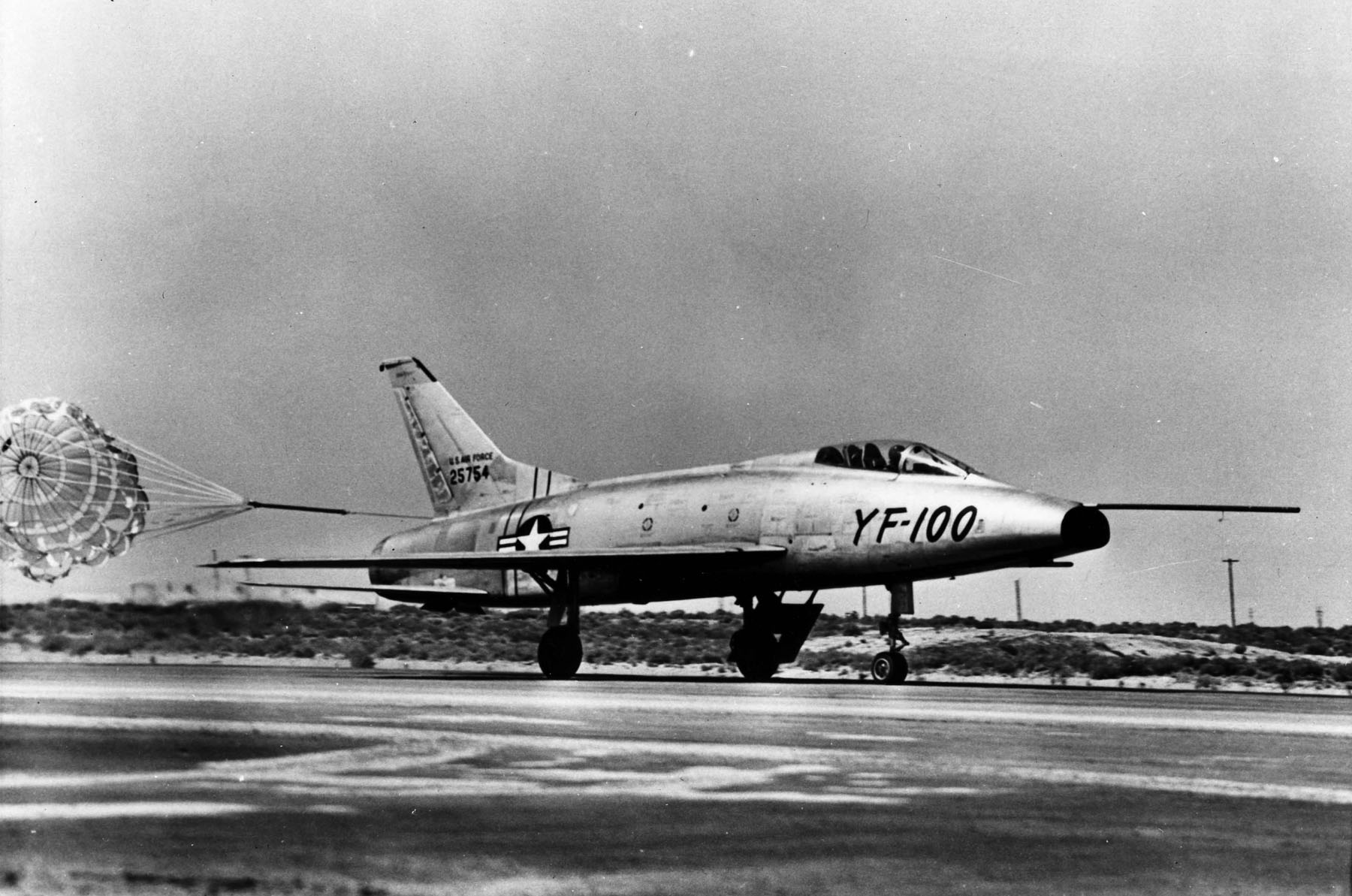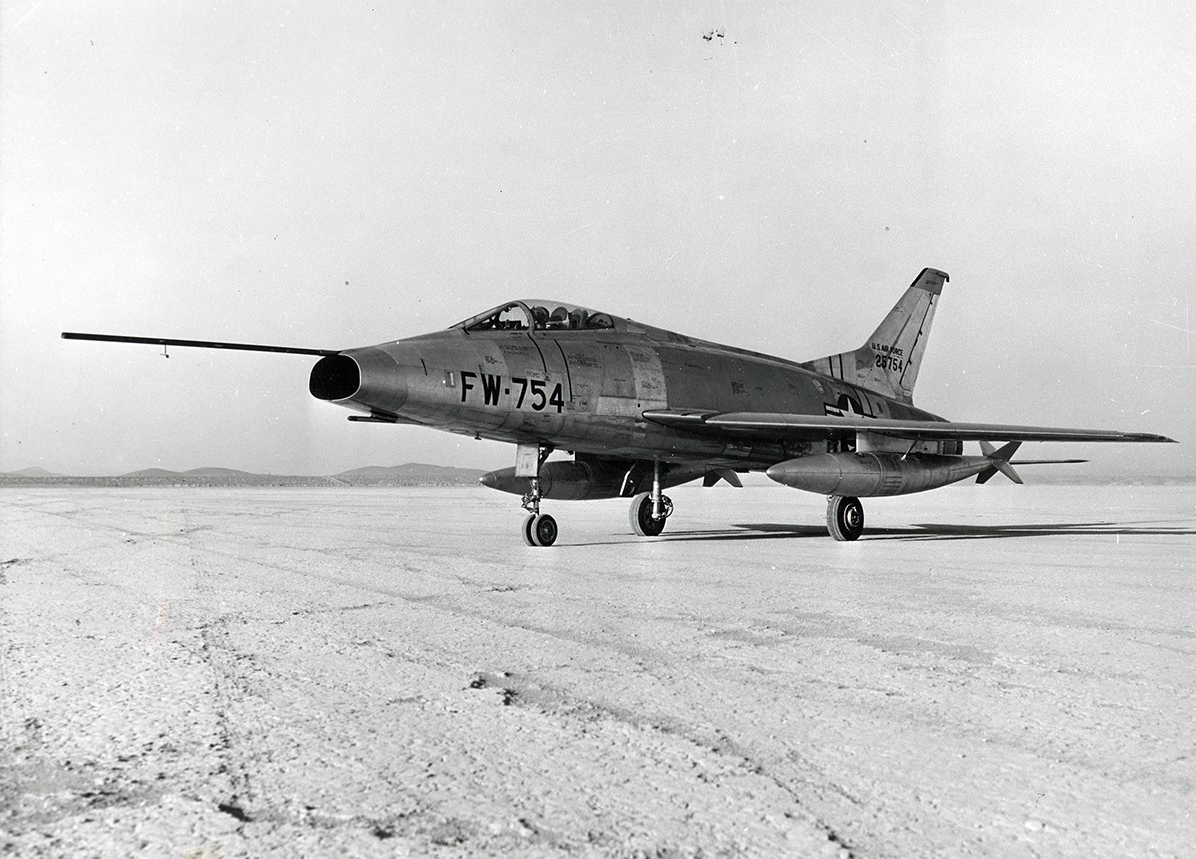 ¹ FAI Record File Number 8868
© 2018, Bryan R. Swopes